During the tour, the governor hinted at who else could be included next in receiving the COVID-19 vaccine, as the state prepares to expand the groups eligible.
Kemp said he expects to make an announcement soon about expanding vaccine eligibility, and is strongly considering adding medically fragile employees to the group.
"We have other groups that have been advocating, and for good reason, to get the vaccine to our medically fragile population, especially individuals that have developmental disability, their caregivers, and their parents," he said. "My goal has been to continue to protect the most vulnerable, which is why we have the classes that we do now, and that is what we will be looking at as we expand."
Currently the state is vaccinating those in phase 1A+, which includes health care workers, long-term care facilities' residents and staff, adults 65+ and their caregivers, along with law enforcement and fire personnel.
State officials said the Delta Flight Museum vaccination site has been running smoothly since it opened at the beginning of the week. There haven't been long lines, according to officials, and they are getting people in and out.
Kemp was joined on his tour of the site by Georgia Department of Public Health Commissioner Dr. Kathleen Toomey, Georgia Emergency Management and Homeland Security Agency Director Chris Stallings, and Delta's CEO Ed Bastian.
Since Monday, health officials said they have given shots to about 4,000 people at that site alone. Three other mass vaccination sites - in Macon, Habersham County, and Albany - opened this week as well.
Since demand hasn't been as high at the Albany location, GEMA transferred some of the vaccines from there to the Delta site.
It's important to note that the four sites are only offering the Pfizer vaccine at this time. GEMA is trying to alert people who need their second dose from Moderna to look elsewhere.
The state believes it is on track to meet its goal of vaccinating 22,000 people by the end of the week at all four sites.
As of Wednesday afternoon, DPH totals show that 1,834,738 vaccines had been administered, which shows that about 82% of doses received in Georgia have been administered.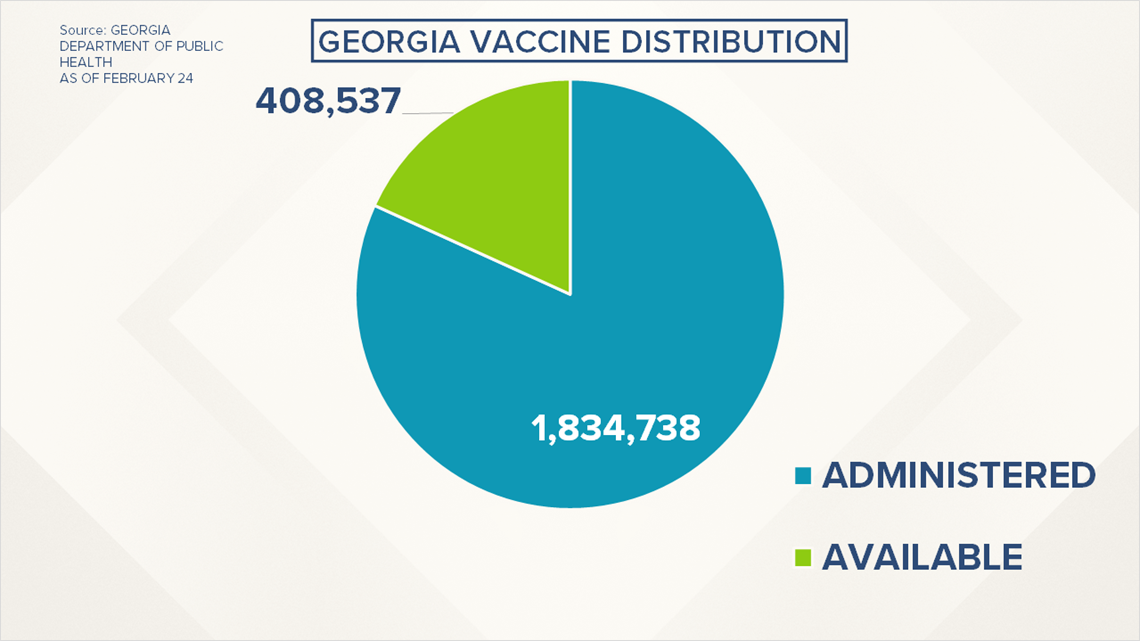 The graph above shows how much of the vaccine is available compared to how much has already been administered in Georgia.
Kemp announced last week that a new website has been created that will help streamline the process for scheduling COVID-19 vaccination appointments across the state. On the website, Georgians can pre-register for the vaccine. Even if they are not eligible yet, they can sign up and receive updates about eligibility.