"Despite our partnerships and undeniable progress, our testing numbers in Georgia continue to lag," Kemp said. "As I've said before the status quo is unacceptable and Dr. Toomey is pushing public health officials across our state to collect more specimens and process more tests."
As of noon Thursday, the Georgia Dept. of Public Health reported nearly 68,000 tests had been completed statewide.
Data gathered by the Kaiser Family Foundation and updated on Thursday afternoon placed Georgia toward the bottom nationally for testing complete.
KFF's list organizes states by the number of tests completed with results per 1,000 people, with New York and Louisiana being placed at the top of the list.
Georgia was ranked at 46, placing it behind all neighboring states - Tennessee, Flordia, Alabama, and the Carolinas.
Georgia was listed as having completed 6.1 tests per 1,000 people. The national figure for testing was listed as 9.9 tests.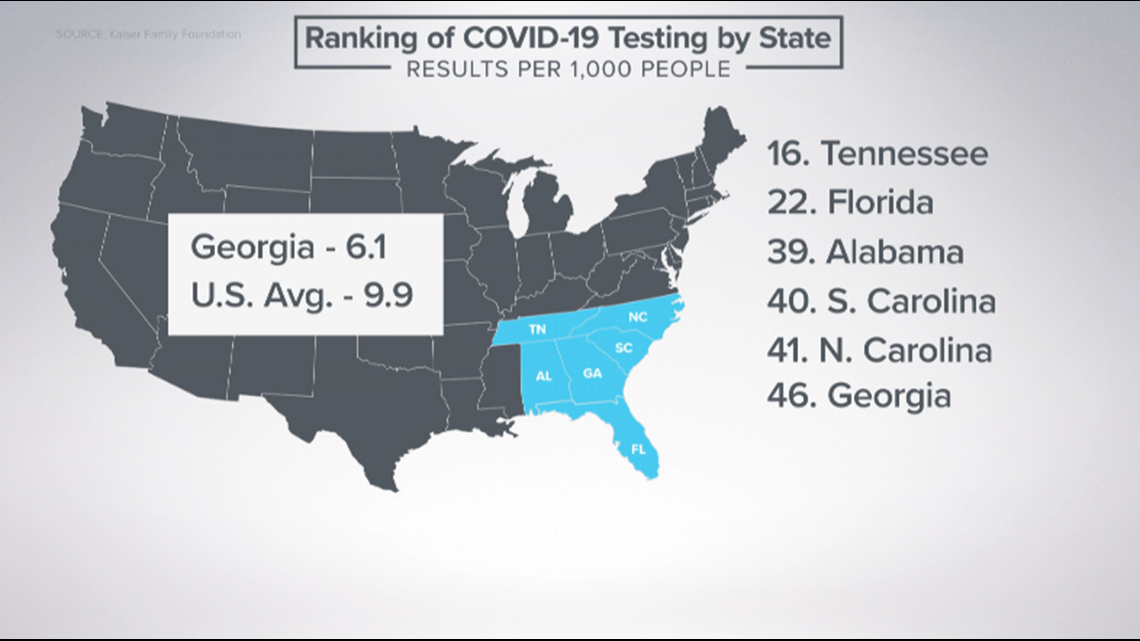 When asked about Georgia's ranking for COVID-19 testing completed, Governor Brian Kemp's office directed 11Alive to his comments made on Monday.
"To be candid that is about where we usually rank, we are actually in the bottom quintile or the bottom 20 percent for most health indicators," said Dr. Harry J. Heiman.
Heiman is a clinical associate professor at Georgia State University's School of Public Health. He has been closely following testing in Georgia.
"I've been tracking the number of tests and they're stuck at about 3,600 per day," Heiman said. "I can tell you that if you're living in a low-income urban neighborhood in metro Atlanta or living in a rural area in Georgia you can't walk someplace to get testing. It isn't safe to take public transportation in many cases."
President Donald Trump this week has been leading a conversation nationally about hopes of re-opening certain states shortly after May 1.
Heiman said before there are conversations in Georgia about the state beginning to return to business as usual, testing needs to be expanded - especially to communities that have been previously undertested.
"I think it is fine to have a timeline to shoot for, but I feel like rather than focusing on that let's identify what needs to be in place in our state to feel that it is safe and appropriate."
Heiman added that along with expanding testing and collecting more specimens, the testing must be high-quality meaning extensive information is also being collected.
"Meaning what do we know about those people that test positive," Heiman said, "how old they're, their race, ethnicity, what's their clinical status, did they have mild symptoms, were they hospitalized or on a ventilator."
Also currently being undertested he added are the 25 percent of people the CDC estimates are asymptomatic, meaning they're carrying the virus but don't show symptoms. Often, showing symptoms has been a requirement before a testing kit will be administered by the state.
On Wednesday the Georiga Department of Public Health announced testing would be expanded to several groups. According to GaDPH, all symptomatic people can now be tested for COVID-19, plus health care workers, first responders, law enforcement and long-term care facility residents and staff, regardless of whether they are showing symptoms or not.
People seeking testing are still required to have a referral to receive state testing at a public health collection site, but can now receive the referral from their local health department or health care provider.
Heiman called it an improvement on past requirements.
"I think it is positive language and rhetoric of where we need to go," he said.
A GaDPH spokeswoman on Thursday also told 11Alive that currently, the state is able to process around 5,000 tests per day, between the Georgia Public Health Lab and several partnerships with other public and private labs.
The expansions would including adding more lanes to existing drive-thru testing locations or setting up additional sites.
One week ago the state signed a contract with Ipsum Diagnostics. Information from GaDPH details the agreement is for Ipsum Diagnostics to supply and process 2,000 tests per day with the ability to expand that volume as needed. Since signing the contract, GaDPH reports those testing kits are already being used at state testing sites.
11Alive is focusing our news coverage on the facts and not the fear around the virus. We want to keep you informed about the latest developments while ensuring that we deliver confirmed, factual information
We will track the most important coronavirus elements relating to Georgia on this page. Refresh often for new information.
MORE CORONAVIRUS HEADLINES