ATLANTA — It's an awful situation for families to be in, but it's one some metro Atlanta parents said they're facing: some of their kids fighting cancer here cannot get the treatment they need to survive.
A shortage of a drug called vincristine is forcing physicians to make difficult decisions about who will get what amounts of it they have left.
11Alive's Kaitlyn Ross talked to some of those families who said they feel helpless and are scared for their kids. Among them, Hailey Allen, who has taken her daughter to every doctor she can find in the last six months to treat her rare and aggressive cancer.
"She was diagnosed on her first birthday, May 16," Allen said. "She has sarcoma in both legs - stage four."
Allen said when her daughter was diagnosed, she only had a 20 percent chance to live.
"And that's with the necessary treatment," Allen stated. "It means that's a possibility she won't be able to beat the cancer."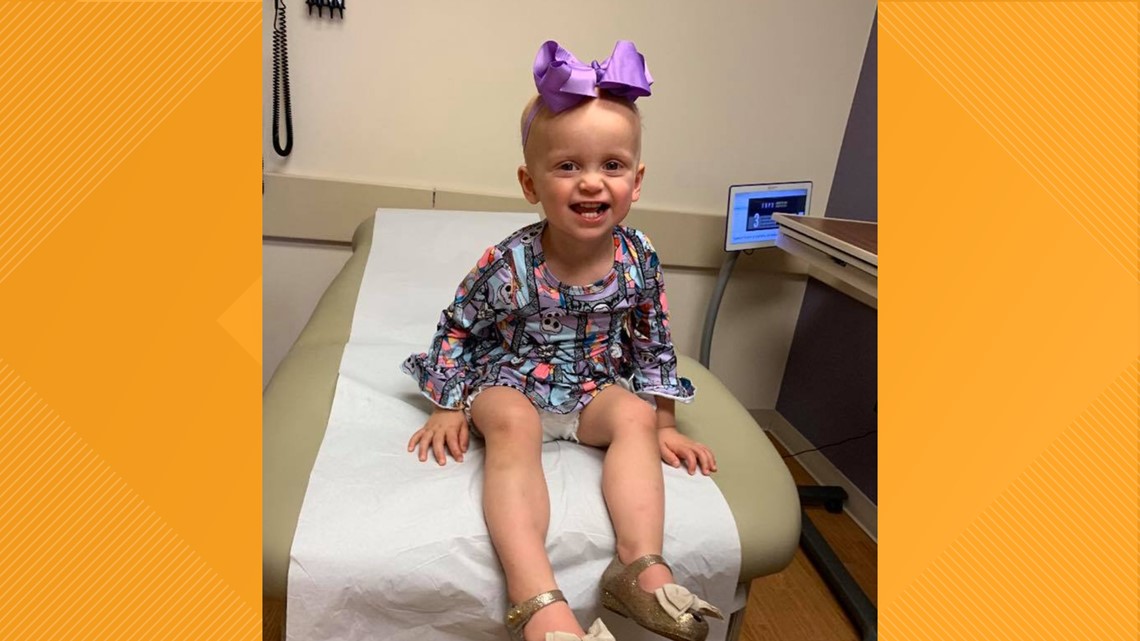 Vincristine is used to manage many childhood cancers. The patent on the drug has expired, and only two companies were making it - Teva and Pfizer.
Teva stopped production of the drug in July, calling it a "business decision." The Food and Drug Administration issued an alert about the possible shortage, but it's an explanation that Allen said is unacceptable.
"The fact that one pharmaceutical company decided to stop making it as a business decision, leaving it all on another who can't keep up with the demand, it's absurd," she said.
The drug is produced in other countries, but the FDA would have to give special approval to ship it in. Pfizer said it has tripled its production, to keep up with the demand, but patients here in Atlanta, like 14-year-old Ethan, are already missing doses.
Ethan is battling blood cancer, and went to his appointment at Children's Healthcare of Atlanta Tuesday to get the dose of vincristine. But his family told 11Alive he was turned away because they didn't have enough.
"It's terrible. For them to say that some kids are more important than others," Allen said.
According to the Children's told 11Alive they are treating its patients as its top priority. In a statement, the hospital said they are monitoring the supply of the chemotherapy product closely.
"We share our families' concerns, and we are committed to doing anything possible to lessen the impact on our kids," Children's said. "Our clinical and pharmacy teams are working to pool supplies, evaluate allotment and determine the best course of action for each individual patient currently receiving vincristine. This is our highest clinical priority and our physicians are establishing criteria within these restrictions for use moving forward until the shortage is addressed by the manufacturer. We stand with our patient families and we are committed to providing the best treatment possible given the current situation."
Meanwhile, Allen is racing back to her daughter's hospital Wednesday afternoon to get half a vial of vincristine it has leftover from another patient. She said it's risky, but they'll do whatever they have to to keep their daughter alive.
"If I knew where they were making it, I would be standing outside with my sign," Allen said. "All we can do is hope that they figure out the problems before she has to miss a dose."
The Children's Oncology Group, an organization that makes pediatric cancer guidelines, released a letter late Wednesday afternoon addressing the shortage and citing FDA reports that the drug will resume distribution by the end of October and be back up to stock by December and January.
"We are hopeful that this distribution will help avert more patients not being able to receive drug as scheduled," the letter stated.
"Members of the Children's Oncology Group strongly believe that every child with cancer whose treatment requires vincristine should receive the drug as scheduled, and that a situation that requires rationing of drug is unacceptable," the letter continued.
Allen agreed wholeheartedly.
"I don't like that pharmaceutical companies are gambling with my daughter's life," she said. "Before she can even have a conversation with us, she's having to fight for her life."