The Henry County District Attorney's Office has dropped felony charges against Desmond Marrow, the ex-NFL player who was slammed to the ground by police. And, now, the officer responsible has been fired.
"We are transferring the misdemeanor charges to the Office of the Solicitor-General for review," District Attorney Darius Pattillo said. "We have reviewed the police reports, witness statements, 911 calls, audio and videos, as well as interviewed witnesses, and determined there is insufficient evidence to present any felony charges to a grand jury."
The move comes after a now-viral video which showed an arrest of Marrow where he was arrested for allegations fo road rage. However, the video also appears to show Marrow being slammed to the ground before being pinned into a position and apparently passing out.
Now, the officer accused of choking him, Officer David Rose, has been fired.
"The Internal Affairs investigation revealed that unnecessary force was used by Officer David Rose and that Officer Rose was recorded stating that he choked Mr. Marrow," Henry County Police Chief Mark Amerman stated. "He was also recorded stating that he was not going to write that information in his report. This statement was recorded on Officer Rose's in-car video camera system."
Marrow was arrested on charges of terroristic threats, felony obstruction of a law enforcement officer, reckless driving, and aggressive driving.
PHOTOS | Former NFL player injuries allegedly due to excessive force by police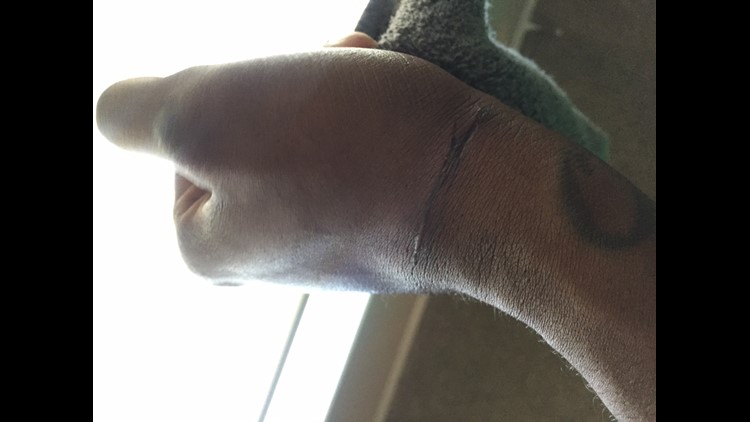 The report states Marrow was driving on Jonesboro Road at I-75 when someone in another car threw a cup of coffee at his vehicle. That's when Marrow reportedly began aggressively chasing the car into a McDonough shopping center.
An officer witnessed Marrow driving aggressively and followed the car.
When the officer arrived, Marrow and "several others" were in the parking lot apparently in the middle of an argument. The officer asked if anyone had thrown any punches, then asked for Marrow to stop using profanity. While discussing with the officer, a witness apparently said he overheard Marrow say he was "going to shoot them."
By that time, other officers had arrived. Police asked Marrow if he had a gun, to which he responded, no. One officer patted him down, and no weapon was found.
A magistrate court judge later dismissed the terroristic threats charge and bound the other charges over to superior court.
From there, the district attorney's office began investigating the felony charges based on all information available - including the videos recorded at the scene.
Pattillo emphasized that the partial video that was shared across social media only shows a portion of the events that occurred during that December arrest and is "not representative of all the facts of the case."
"It is my responsibility as District Attorney to fully investigate all felony crimes that occur in Henry County based on facts, evidence and the law, and not be swayed by outside influences," Pattillo said. "This case was investigated no differently than any other case we handle and was given the full resources of my staff, as are all felony crimes that occur in our jurisdiction."
His use of force and officer-involved death review panel is continuing to investigate the officer's conduct in the Dec. 2 arrest. The panel is still working to determine whether the force used was justified.
"We are currently waiting for the police department to complete its internal affairs investigation to proceed with our use of force review," Pattillo said.
Chief Amerman said that this was an isolated incident and not "a reflection of the many dedicated officers who perform duties of their office every day."