ATLANTA — This week is Severe Weather Preparedness Week here in Georgia. Along with our local National Weather Service Office, 11Alive will address how to stay safe in all types of weather this week.
On Monday, the focus is on the family and talking through a plan so all of your family members are on the same page in the event severe weather strikes.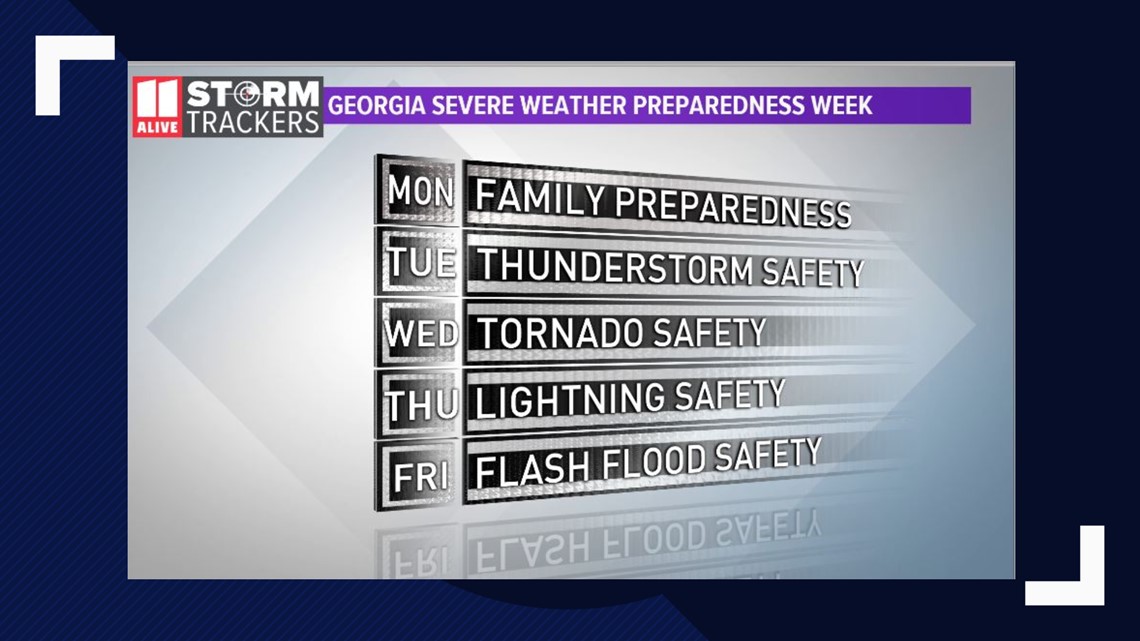 Georgia's emergency management agency is encouraging families to be self-sufficient in the event of a natural disaster. GEMA is encouraging all residents to assemble a survival kit, developing an emergency plan and staying informed in times of severe weather.
Attached is a list of suggested items that you may want to put in a survival kit from GEMA, including:
Water - At least 3 gallons per person, for drinking and hygiene
Food - At least a 3-day supply of non-perishable food
Can opener for food, if kit contains canned food
Radio - Battery-powered or hand crank NOAA Weather Radio with tone alert and extra batteries
Emergency charger for mobile devices
Flashlight and extra batteries
First aid kit
Whistle - To signal for help
Face mask - To help filter contaminated air and plastic sheeting and duct tape to shelter in place
Moist towelettes, garbage bags and plastic ties - For personal hygiene
Wrench or pliers - To turn off utilities
Local maps
Severe Weather Preparedness Week continues Tuesday, as your 11Alive StormTrackers will be focusing on how to stay safe during Severe Thunderstorms.