Jessica Boynton says she's 'free as a bird'
"I'm free as a bird," she said, with a flock of soaring black birds inked on her shoulder, flowing across her back.
Jessica Noll / WXIA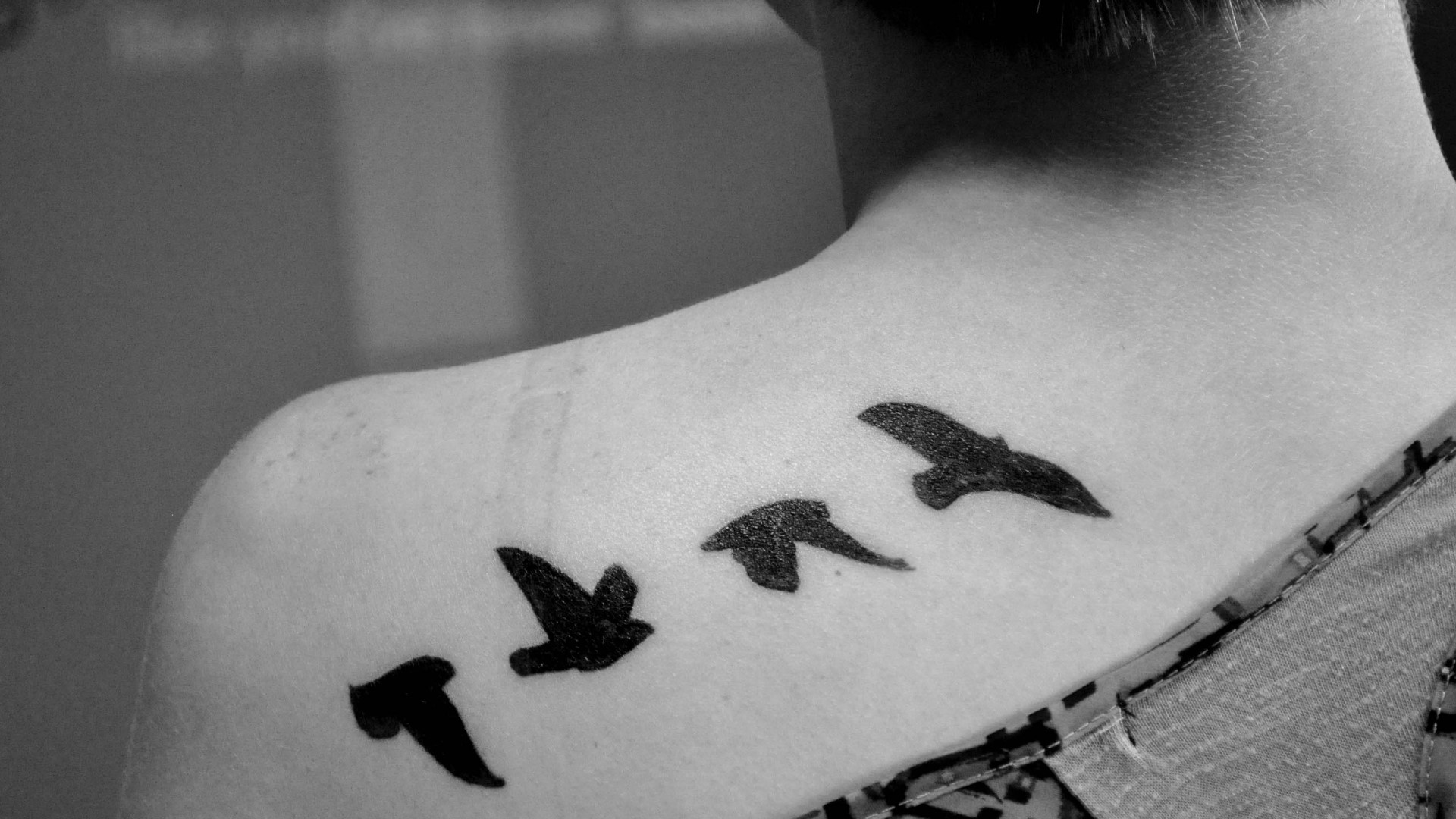 This article was originally published in 2017.
COMMERCE, Ga. – April 15, 2016 is the day Jessica Boynton can't remember, but cannot forget.
It's a date that changed her family's life forever. It's a date that's seared into her memory—but in a twisted irony, it's a date when she can't recall a single thing that happened to her after 11 p.m.
"I'm still very much alive," she said from her new home in Commerce, Ga. That's one thing she does remember, every single day.
It's been a year since the birds sang, since the soft wind met with warm air, and since the trigger of a .40-caliber Glock pistol was squeezed inside Boynton's closet—and the probe into who and how and why, began.
These days, Boynton, now 20, is living life quietly with her two young sons in the country, off a barely one lane dirt road, about an hour from the hustle and bustle of Atlanta.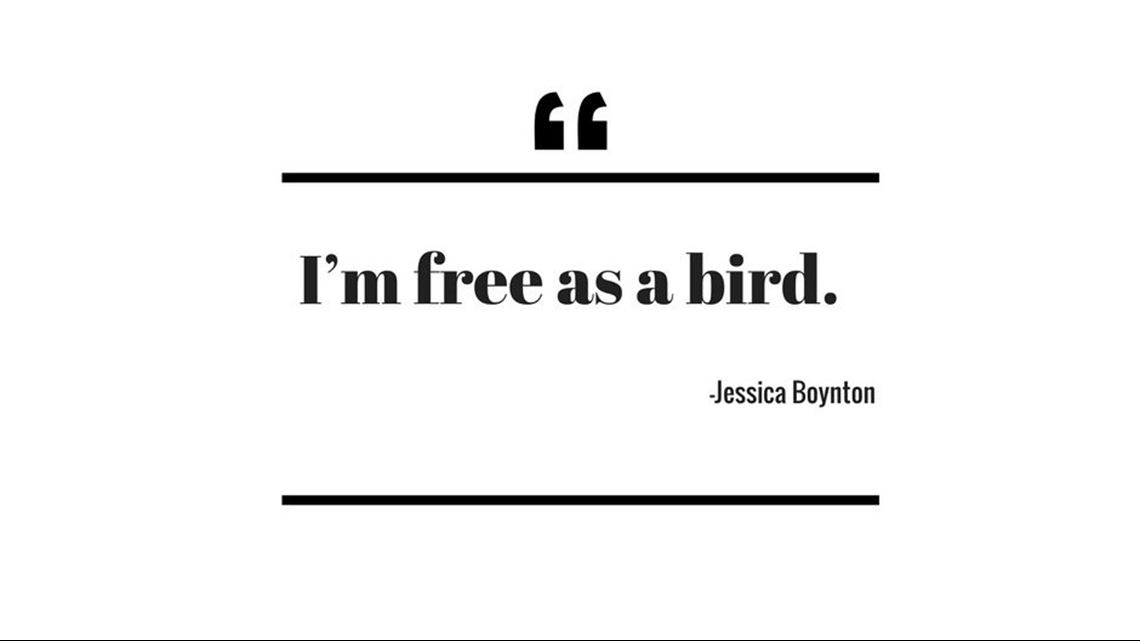 Her sons' colorful, plastic toys clutter the front porch, where an American flag waves proudly amidst the blue sky filled with plush, white clouds. The hot Georgia sun peeks past the flag as it whips back and forth in the gentle breeze.
Springtime is evident across her property, as the trees are in full-bloom with cotton blossoms and lavender flowers, birds are chirping and frequent the tiny house swinging from the tree in the abundant front yard.
"I'm free as a bird," she said, with a flock of soaring black birds inked on her shoulder, flowing across her back.
Thursday, April 14, 2016
Tucked inside a rural apartment complex in Griffin, Ga., is the second-story apartment where the Boyntons live, including Jessica, her husband and high school sweetheart, Griffin Police Officer Matthew Boynton and their two young sons, Tollin, then-2, and Tyler, 8 months.
Matthew, 20, is in the shower, using his cell phone, when Jessica walks into the bathroom. She pulls the shower curtain back and snatches his phone. He gets out of the shower and repeatedly asks her for his phone, but she refuses, until he admits to her that he is cheating on her. She begins aggressively poking him in the chest with her finger, telling him that he had to admit there was another woman.
It's the second infidelity in their relationship—Jessica admitted to cheating on him before they were married.
According to Jessica, she needed his phone to get a number for the boys' doctor to make Tollin an appointment. That's when, she said, his SnapChat popped up on his phone and displays a photo of a girl with the caption: "Shower time." She said she woke him up and confronted him about the photo. He denied, denied, denied.
From there, she said she went to a neighbor's house and logged into his Facebook page and found messages from a girl he worked with—the same girl from SnapChat.
The young couple needs to make a quick trip to Walmart because Tyler needs formula, but again, they spat. She takes both boys to her neighbors'. Twenty minutes later Matthew comes to retrieve his wife and children to go to Walmart. Jessica is apprehensive, but relents.
While at Walmart, they squabble further over what type of formula to buy. He's transitioning from breast milk and Jessica explains to Matthew that he needs a certain type of formula so he can digest it and evolve easily. Miffed, Jessica refuses to go to the truck with him.
Eventually she caves and gets into the truck with her boys and heads home.
It's just after 10:30 p.m.
They arrive back at the apartment and as they walk up to their steps, her neighbor is on her patio and says, "Hi."
Jessica throws her hand up with a brief wave and continues her include to the second floor.
Once inside the apartment, Jessica puts a tiny collar and leash on the family dog, Bentley, a Yorkie-Chihuahua mix, to walk him.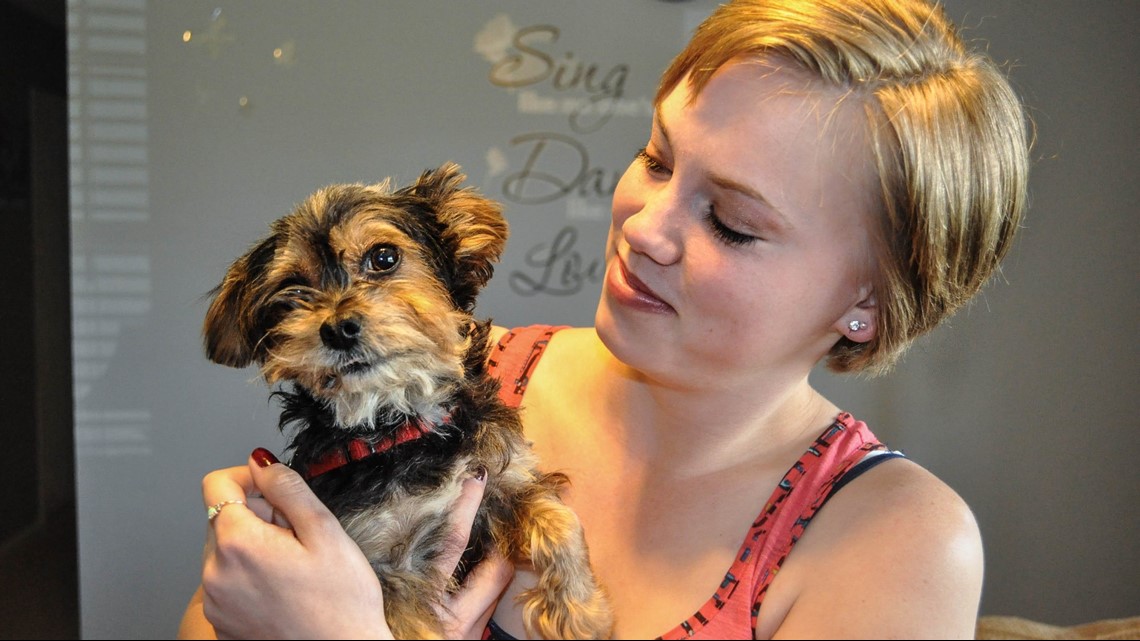 She heads to the closet to grab some shoes to change from her heels. It's been raining all week, and the ground is soft and muddy. But she never takes him outside.
Jessica needs to get an outfit ready for the next day and head to bed soon. She wants to give her new employers the right impression, since tomorrow is her first day at a local chiropractor's office. She's eager with anticipation.
It's just one piece of the brand-new beginning the young mother and wife has been putting together for her and her sons.
Things were looking up, finally. She had met with a divorce attorney and was getting everything in order for her and her boys.
A red and black composition notebook, which is usually carefully tucked under a pile of clothes inside her closet, has been left on top of some folded clothes. It's the journal where she's been keeping detailed notes about divorcing Matthew.
PHOTOS | Inside Jessica Boynton's 'divorce' notebook
Moments later, she is standing inside her bedroom closet, arguing about cheating and formula with Matthew.
That's the last thing the 19-year-old remembers.
Matthew leaves for Waffle House for a late-night food run with on-duty cop and best friend, Officer Joshua Guthrie—leaving his service weapon, a Glock .40, at home, in its holster and in the closet. As a grandson of the then-county sheriff, a career in law enforcement was in his genes.
Despite the raised voices in the room next door, Tollin and Tyler are sound asleep in their rooms.
Three weeks later, Jessica wakes up believing it's the next day.
Who shot the officer's wife?
:
Officer Adam Trammel reports to a non-emergency call from the Boynton residence at Ashford Place on Ashford Way, in Griffin, Ga. Since his bodycam wasn't charged, it doesn't record this call.
Matthew reads a text from Lt. Curtis Keys, "look for police car."

He responds to Keys, "Trammel is here."
Once he arrives on the scene, Trammel contacts Matthew, who tells him that he and his wife got into an argument.
Trammel doesn't check on Jessica.
Friday, April 15, 2016
Guthrie calls Matthew and they chat for two minutes.
Still peering down at his phone, Matthew also sends a text to his girlfriend, a Spalding County dispatcher. One of about 70 messages they exchange throughout the night.
A text message is sent to his phone from Jessica's phone.
"I can't do this anymore. Take care of Tollin and Tyler Please tell them I love them everyday. I have been suffering for a while now and no one has noticed. Here lately I have not been able to recognize the person I see in the mirror. This is not the first time I have had suicide thoughts. I love you and the boys."
"Hahaha you about have me a heart attack freak!!!" his girlfriend texts him.
Matthew calls Jessica. No answer.
"Haha I'm sorry I didn't think about that lol..." he sends to her after receiving a text from her--moments following his text from his wife.
The glowing yellow and black, blocked-letter Waffle House sign illuminates his truck as he drives by, turning around to head back home. Just one minute later, Matthew calls 911, reaching Spalding County dispatch.
He receives a text from his girlfriend.
"I left the location, I'm back en route, I'm on Carver Road right now. I'll be back there in about two minutes. She's having suicidal thoughts," he calmly says about Jessica to the dispatcher.
"My kids are at home with her, so I'm trying to hurry up and get back there."
"I'm driving. She just said that she's been experiencing suicidal thoughts right now, she told me to take care of the boys. So, I'm trying to hurry and get back home just to make sure that nothing's going to happen to them."
"Any weapons inside the house?" the dispatcher inquires.
"Uh, just my service weapon," he responds.
He reads another text from his girlfriend, while driving 90 mph.
Matthew makes it home, jumps out of his truck, races through the breezeway of his apartment building and bolts up the stairs. He enters, checking the master bedroom. He bangs on the locked closet door. He calls out for Jessica, but no answer.
He grabs his police radio, stationed and charging on top of the white microwave in the kitchen, and leaves his phone on the counter.
Trammel is dispatched to the scene.
Officer Robert Brian Jones is also dispatched to the Ashford Way apartment building.
Lt. Curtis Keys is dispatched to the scene.
Matthew sends another text to his girlfriend, a Spalding County dispatcher:
"Give me a few. To text back long story I'll tell you later."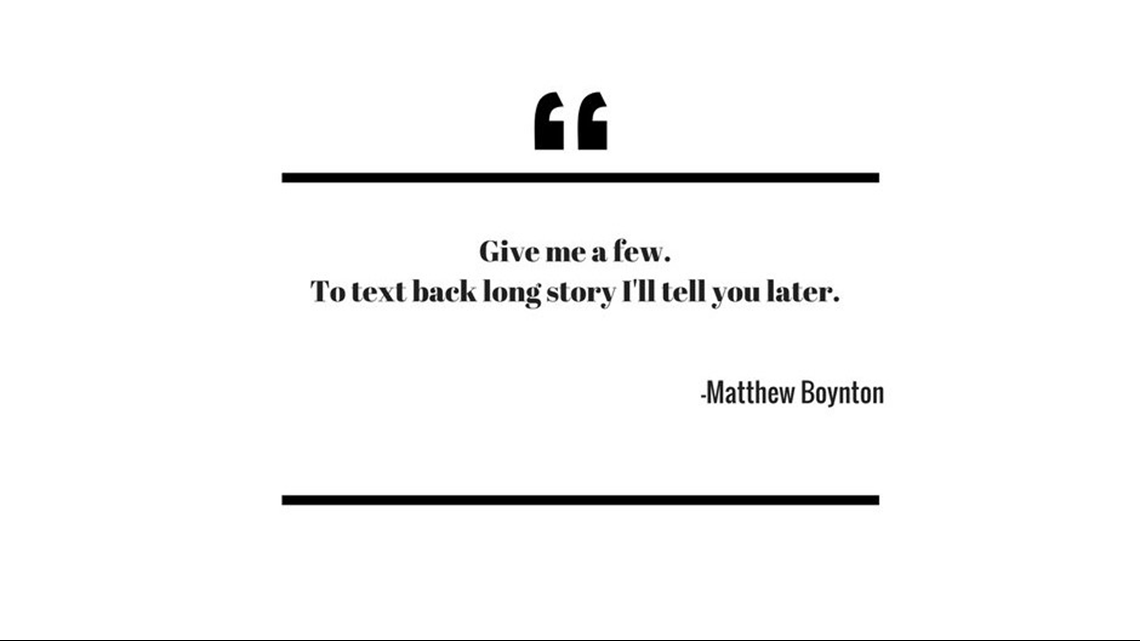 Matthew makes it home and races to the breezeway of his apartment and enters, checks the master bedroom and bangs on the locked closet door. He calls out for Jessica, but no answer. He grabs his police radio, stationed on top of the white microwave in the kitchen charging, and puts his phone on the counter.
Making his way outside, seconds later, he calls for assistance over his radio.
"I believe I just heard a shot fired coming from my residence. I just came up the stairs, two rounds… be advised I smell gun smoke, and I can't get an answer at the door," he says out of breath and panicked.
He later tells investigators that he heard Tyler crying, and then, "POP-POP!"
Jones advises Matthew over the radio, "Stay outside. I'll be there in about two. Stay outside."
"10-4," Matthew says, audibly crying.
Keys reports to the scene.
Running across the parking lot and up the stairs, responding officers head toward the apartment.
A message to Matthew's phone is received and marked as read, from his girlfriend--from inside the evidence bag.
"Okay..........goodnight."
Armed with body camera attached to their uniforms, the officers burst through the door, quickly passing Matthew's phone, a black and grey Verizon LG smartphone, on the kitchen counter.
While Trammel's body cam is out of juice tonight, Jones' bodycam spots Trammel, already inside, as the other officers enter the apartment.
"Police department!" Officer Robert Brian Jones shouts, as he travels deeper inside the two-bedroom apartment—his weapon drawn.
With his gun raised and arms poised, he holds his weapon out in front of him with both hands. Jones slides past a framed portrait hung on the wall. His flashlight's beam reveals a smiling family of four.
He hears a baby crying as he carefully steps into the bedroom where a dark brown crib is situated.
"Stay out, Matt," one the officers advises his fellow officer.
Jones checks on a locked closet door between the master bedroom and hallway, across from the bathroom. He assigns another officer to standby at the door until the rest of the apartment is cleared.
The baby's muffled cry echoes, getting louder as the officers sweep their guns back and forth, searching for the shooter. Jones eyes a small child sleeping on a bottom bunk bed in the back bedroom.
The air is thick with the trepidation, as officers approach the locked closet.
"[I'm] gonna have to kick that door in…" Jones relays to the other officers standing on the other side of the closet, barreling through it in just two swift and deliberate kicks.
Inside, they find Jessica, wearing tan slippers adorned with fur, black yoga pants and a red T-shirt.
Her limp body is on the floor, just behind the door.
Jessica's shoulder-length, blonde hair is saturated in crimson. Her wound is soaked into the green and white pillow, where her head rests.
Her blood is contained to that one stain and a few nearby drops.
"Everybody clear out," says Jones, who has Keys call for an EMT.
"Get him downstairs. Get him downstairs," one of the officers whispers to another.
The conversation bounces from officer to officer.
"She's trying to get up."
"Can we get her out to the bedroom?"
Police investigate further and find a gun underneath Jessica's seemingly lifeless body. It's one of their own—a police-issued .40-caliber Glock. And it's assigned to Matthew.
"GSW, possible to the head. She's still breathing. She's moaning."
After Jones pushes the gun away from underneath Jessica's body, placing it inside the bedroom, he and Officer Josh Howell move Jessica from the closet to the bedroom floor next to the foot of her bed so that EMS can begin working on her. They turn her over from her stomach to her back.
"Do you know what she used?" asks one of the emergency responders in the room.
The ceiling fan's light shines down on Jessica's eyes. They're re slit open while her head flops from side to side on the beige carpet, as one female EMS works on her. While she places a blood pressure sleeve around her arm, an officer stands over her, shining a flashlight on Jessica's face, revealing that it's covered in blood.
She's breathing, but unresponsive.
The paramedic begins assessing her head wound, but they're having a hard time finding it through her hair and thick blood.
The ceiling fan circles on high speed. Around. Around. Around.
The quiet is broken when the baby begins to mumble from the other room. Above Jessica, pinned to the wall, is a large black letter "B" for Boynton.
With dark, latex gloves on, an officer kneels down and touches her neck with his fingers. Jessica jerks, grabbing his arm with her left hand, while her other arm falls to the ground.
Jones removes the gun—which has a tactical flashlight attached to the bottom of its barrel— from the room and places it on the kitchen counter on his way outside.
Still inside, some of the officers look closer and find two bullet holes inside the closet.
Collectively, they examine the bullets' trajectories from the closet, into the bedroom wall and ceiling.
"So just one?" an officer questions the others.
The first bullet went upward at 54-degree angle. And the second bullet went up at 25-degree upward angle 1'10" off the floor.
PHOTOS | Inside the Boynton shooting
Outside, things are taking a frantic turn.
Jones approaches Matthew to find out what happened.
The officer, overcome with emotion, tells Jones that he left the apartment and was meeting Guthrie at Waffle House, when he received a text from Jessica that indicated she was going to kill herself. He drove back to the apartment, he tells Jones, but it was too late.
EMTs start carrying Jessica down the stairs on a backboard and click her into a gurney and swing open the ambulance doors. They hoist her inside.
"God damn it, man! This couldn't happen man. I f***ing love her. She loved me. She told me she loved me right before she did it," Matthew says, sobbing, as the paramedics roll her gurney into the ambulance and slam the doors shut.
"What are my kids going to do?" he pleaded, his voice cracking with emotion. "If I could have been there 10 minutes earlier I could have jumped in front of the gun and try to get it from her man."
"Where did she shoot herself at? She would never have done this. I don't know why. If I could have been here sooner, maybe I could have stopped her…" Matthew says, spiraling. "If I just would have left my f**king duty belt in the car."
An officer tries to console his grieving coworker.
"Man, look, she's still breathing. She's got good pulse. Blood pressure."
"F**k man!" Matthew says.
"She's even fighting with EMS, dude," the fellow officer tells Matthew.
The ambulance pulls away with Jessica in critical condition, to the fire station located on Carver Road, where the medical helicopter picks her up and takes her to an Atlanta hospital—an hour away.
Matthew and Jessica's two sons are still inside. Once the scene is secure, investigator Misty Gresham checks on Tollin, who's sleeping, and Tyler, who is awake and still crying in his crib—both unharmed.
A request is made to notify the Georgia Bureau of Investigation.
Chris DeMarco, GBI's assistant special agent in charge, arrives on the scene and meets with Griffin Police Chief Michael Yates for a briefing. Griffin Police Capt. Donald Britt, Lt. Darrell Dix, Lt. Keys and Beam are also present.
Trammel records the 10:53 p.m., incident report from April 14.
GBI begins interviewing neighbors and Matthew interviews with the GBI later that morning.
Reliving his steps inside the apartment after he heard gunshots fired, he said, "My whole upper body went numb. I was scared to death, because I couldn't find [Tyler]—that she would shoot me, I mean shoot him, shoot me, and then kill herself."
"After you got on the radio and you were outside communicating on the radio, you never went back in to actually check, check on the kids," the agent questioned Matthew about once he removed himself from the apartment.
"I didn't know if I was dealing with a possible active... active scenario where she still had the gun and she had shot Tyler," he replied. "And I could have been the next target."
Agent DeMarco approaches Meagan Browning, who's joined by Eric Kshywonis, at 61 Ashford Way—the apartment just downstairs from Jessica and Matthew.
"She's like a sister to me," Browning says, her voice quivering.
"Her husband is cheating on her with another woman," reveals Browning, who said, they called dispatch a few nights earlier because he took the kids. The dispatch operator notified Matthew on Facebook, Browning says.
"This is who he's sleeping with," points to the Facebook post that she says she was holding for Jessica for her divorce. "If he's willing to cheat on his wife, he's willing to cheat the law."
"She wanted to file for divorce," says Kshywonis. "She had an appointment Monday."
At about 10:45 p.m., he continues, he thought he heard a gunshot while they were lying in bed.
"We heard something and said 'what was that'," recalls Browning.
"It sounded like a gunshot. I'm prior military so to me it sounded like a gunshot," he tells DeMarco.
Matthew interviews with the GBI early that morning.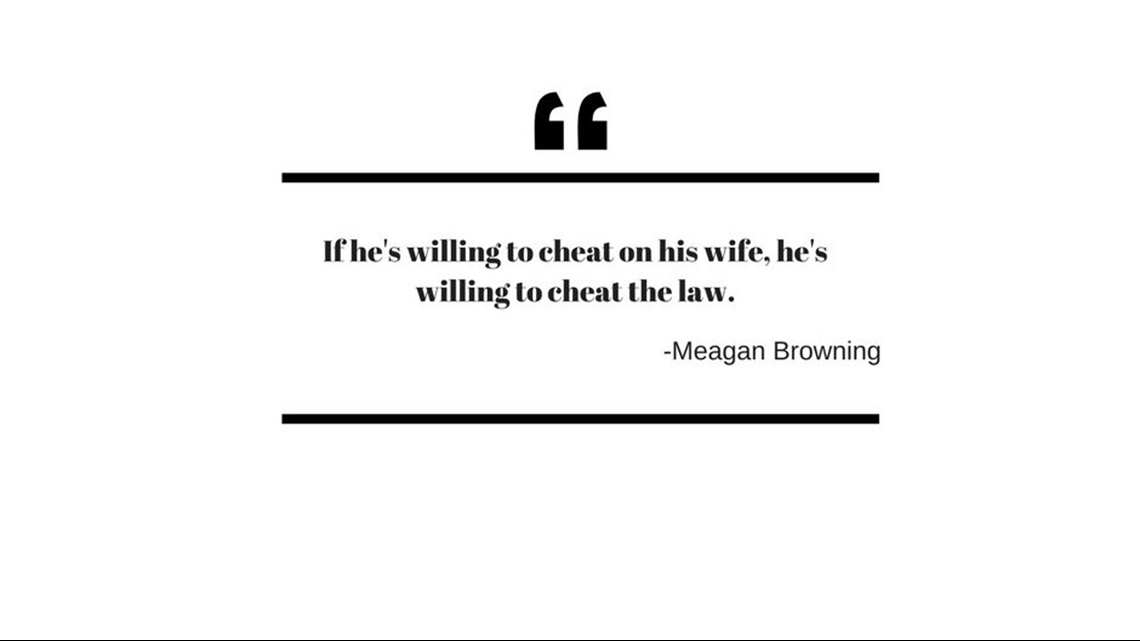 "I'm sure as you've heard, I'm getting a divorce. I was," he says to the GBI agent. "Here recently she did confirm that the second baby's not mine. Which I knew that."
Jessica, on a few occasions, hit and slapped him, he tells the GBI. Everything, he says, led to him wanting out of the marriage.
Matthew says that he told Jessica, "…I'm not happy anymore and I can't. I can't keep doing this."
The agent then probes Matthew, asking if he has a girlfriend.
"I had a friend who was a girl, or is a girl," he answers, further admitting that the relationship had become sexual.
Reliving his steps inside the apartment after he heard gunshots fired, he says, "My whole upper body went numb. I was scared to death, because I couldn't find [Tyler]—that she would shoot me, I mean shoot him, shoot me, and then kill herself."
"After you got on the radio and you were outside communicating on the radio, you never went back in to actually check, check on the kids," the agent questions Matthew about once he's out of the apartment.
"I didn't know if I was dealing with a possible active... active scenario where she still had the gun and she had shot Tyler," he replies. "And I could have been the next target."
The agent continues to interview Matthew, who's wearing a red hoodie, asking him if the clothes he was wearing were the ones he was wearing the entire night.
"Yes, I didn't have time, you know with everything going on, I didn't think anything about getting any other clothes, so I didn't know if y'all would want these or not. I didn't bring any other ones with me. I didn't wash may hands, nothing like that either, that way for GSR."
"There's a possibility that we might collect your clothes…"
"OK. That's fine. Absolutely," Matthew assures DeMarco. "I didn't, I didn't, I didn't try to brush off anything. I didn't try to wash my hands, anything, because I knew GSR and all that would be involved."
"Yeah, if we've got to get the clothes, obviously, we'll bring you back up to the apartment for you to get some clothes obviously," says the agent.
"On something like this, does it usually take a while?"
"Right now it depends on what happens with Jessica, too. Her condition."
For the next three and a half weeks, Jessica remains in a coma with a traumatic brain injury—tubes protruding from her brain to alleviate pressure and fluid. Her head shaved. Her mouth covered with a breathing apparatus and several machines attached to her, in an effort to monitor her condition.
A love story and 'true love'
2012
Matthew met Jessica during her sophomore year at Pike County High School during an open house in 2012. She was 15 and he was 16 years old. She thought he was a little full of himself, but nice. He friended her on Facebook and two months later, they started dating.
He was the kind of boyfriend, she said, who left "I love you" Post-It notes plastering her locker with roses hidden inside.
But, she said, he had a controlling side—pushing away her friends and telling her what to do.
By her senior year, she was pregnant with Tollin and engaged to Matthew.
Jan. 3, 2014
Tollin was born at 8:17 a.m., and that's a day that is engrained into her memory.
"That cry, when you first hear them… it made me tear up," she said, remembering the first time she heard her baby's voice.
The nurse brought her son to her.
"He looked like a baby doll, a head full of hair and he was tan."
Holding him for the first time was "true love," she said, her eyes welling up with joy.
"It was really awesome. It was amazing. I wouldn't trade it for anything."
With a baby in tow, she wrapped up high school from home, earning her diploma in May 2015.
Sept. 24, 2015
A year and a half after Tollin arrived, Tyler was born.
Oct. 24, 2015
And after a swift month-long planning frenzy by her mom and aunt, the two young parents tied the knot during her favorite season, the fall.
Yellows, oranges, purples and reds canvased the church, and her aunt's music filled the pews.
With her sister by her side as her maid of honor and Matthew's brother as his best man, Jessica was a blushing bride, excited to spend the rest of her life with the man she loved and the family they had started.
"Everything was going really good," she said. "We were happy then."
Six months later, the love they once shared would be a distant memory. They moved to Griffin and she said everything imploded.
PHOTOS | Jessica and Matthew Boynton's wedding
April 20, 2016
Five days after his wife had been shot, Matthew talked with the GBI again. This time for a DNA consent.
"We're going to be doing that to do touch DNA on the gun, and um, and why we're doing that is obviously one to corroborate everything that's what believed happened, and that way it also, it also eliminates the possibility of her family saying, you had something involved in this, or whatever," the GBI agent said to him.
"That's what they're all assuming," Matthew said. "One of her aunts is all over Facebook."
GBI agent said, "The bullet didn't even enter the skull…"
"It's like some of my family they hear all these people say, 'Oh I think he did it and it was planned.' It's like I tell them, they make it twice as bad because I'm a cop," Matthew said.
"I know eventually the chief would eventually like to get his officer back as well as his service weapon back as well, so we're going to try to expedite this as fast as possible, and when I mean expedite you know, within the next few weeks to a month," the agent said.
Jessica was still in a coma with a traumatic brain injury—tubes stemming from her brain to alleviate pressure and fluid. Her head shaved. Her mouth covered with a breathing apparatus and several machines attached to her monitoring her condition.
But this wasn't the end of Jessica's story, rather a new beginning—but not the one she was hoping for.
After three weeks, she woke up.
Jessica Boynton in hospital
May 10, 2016
While spring was in full swing, Jessica spent Mother's Day, recovering in an ICU hospital bed. Matthew brought her sons for a visit.
"It was hard but I was glad I got to see them," she remembered.
Two days later, she was ready to talk to the GBI.
"I know that we got into an argument, but that's about all," she said, not remembering much of what had happened on April 15. She told the agent, they were at home when they argued about his mistress and the photo that Jessica found on his phone that night.
The agent asked her if she had ever held her husband's service weapon.
"No. I can't even get it out of its case," she replied. "He's asked me to go get it out before. I told him, 'You're going to have to go get it, because I can't get it out of the case.'"
"Do you know how it was that you got shot?"
"Have you ever had any type of thoughts about hurting yourself?"
"No, never. Which is very off that this happened, because I never, ever had any thoughts like this before. Especially because of my children. I never wanted to hurt myself before," she said, going on to say that she's never handled a gun, nor shot one.
He asked her what she thought could've happened.
"Honestly, I have no idea. I hadn't really put much thought into it," Jessica told him.
"Do you think Matthew did something?" he asked her bluntly.
"It's possible, but I mean it's very doubtful, because he's never hurt me before. I mean he might have grabbed my arm before, but I don't think he would intentionally do anything to hurt me—but like I said, he's changed so much here, lately," she said. "I don't know if it's just his job or what, but like I said I don't think he would intentionally hurt me."
"They were calling me the miracle child… Because what I went through, not a lot of people survive through it," she said, nearly six months after the incident in October 2016—her golden blonde hair now growing back.
She made a full recovery, but doesn't remember a thing. And the GBI agents have closed her case.
"They're saying it was self-inflicted," she said.
But she doesn't buy it and said she had every reason to live.
"I was looking for a job and I finally found one. They wanted me to come back Friday for orientation for the job," she said. "I finally had the evidence that I needed that Matthew was cheating on me. And that's all I needed, so I was on cloud nine."
The GBI didn't report finding any blood spatter on the closet wall. However, Yates said, that's not that uncommon.
"What you have from a close-range press contact wound is high-velocity blood spatter, which is very small, and it might not be very visible with the naked eye, or easily visible from photographs. I don't know," he said.
There were two bullets, on different walls inside the closet. One of those bullets went through the roof, the other lodged into the baby's bedroom wall. No bullet fragments were recovered from her head.
The other problem: she said she didn't know how to get his gun out of his holster—nor has she ever held or shot a gun. She remembered an instance when Matthew asked her grab his gun.
"He was going to clean his gun and he asked me to go get it for him. Well I couldn't get it for him because I couldn't get it out of his gun holster," she said.
But Yates said the holster is designed to have some retention capability.
"The purpose of it, is when you're fighting with somebody to keep the weapon from coming out of your holster, but it's certainly easy to take it out under most cases. If you play with it a little bit, it's not hard."
Jessica talks about what happened, Chief Yates trusts investigation
She rebukes the text message that was sent from her phone to Matthew's that night and said she didn't have a lock on her phone, so anyone could've sent it. Furthermore, she said, there were too many errors and discrepancies for her to have sent a text like that.
"It doesn't sound like anything I would say. There's so many useless words thrown in there, then there's so many words left out," she said. "I would have said, 'I can't do this anymore, comma, take care of Tollin and Tyler, period.' I would have said, 'suicidal' not 'suicide thoughts.'"
But Yates said, Matthew was not the shooter and trusts the investigation's outcome.
"Did he cause his estranged spouse's injury? And based on the totality of circumstances, all the facts and circumstances, all the forensics, and the conclusion of the case, as well as the GBI's and the district attorney's recommendation, is no, he did not cause her injuries," Yates concluded in an interview with 11Alive for "Trigger: Who shot the officer's wife."
Less than a month after her hospital-bed interview, Matthew was verbally cleared by the GBI, according to his chief.
And while she was recovering in her hospital bed, Matthew was filing a temporary protective order for their kids.
The day she was released from the hospital and arrived home, she sent Matthew a Facebook message because he had changed his phone number. She said that she asked him to bring the boys over so that she could see them and her belongings. She said he told her that he would bring them over on Saturday.
The following day, her grandmother received a phone call from the Pike County Sheriff's Office because they needed to serve Jessica papers.
June 6, 2016
Matthew returned to full duty with a new service weapon in his holster at the beginning of June.
Per the report, GBI investigators never conducted a re-canvass of the apartment complex, and did not talk with the immediate next door neighbor for four and a half months, despite reports from other residents that they heard a single gunshot hours earlier than the officer's call claiming shots had been fired. The next-door neighbor interview was conducted after Matthew returned to full duty. And, the first officer on scene, as recorded by body cam footage, was not interviewed by the GBI for months after the incident.
Four days later, he appeared in court, wearing his police uniform, and testified that he had been cleared by the GBI in a custody hearing. He was there to tell the court that he wanted to keep Jessica away from him and their two sons, because he said, he feared for their safety—because she allegedly fired his gun in the house while their boys were home.
But Jessica's trauma surgeon, a 30-year veteran in the field, had a few thoughts of his own about what could have happened and what likely did not happen that night.
June 10, 2016
Dr. Vernon Henderson, chief of Trauma and Critical Care at Atlanta Medical Center was on-call the morning Jessica came in and treated her for the next month while she was in the hospital.
In a letter to Jessica's attorney, dated June 10, Henderson questioned the finding that Jessica's head injury was a self-inflicted gunshot wound, indicating that there was no investigation conducted by authorities at the hospital.
Henderson also said in the letter, that he did not believe that Jessica's head injury was the result of a gunshot wound, and furthermore, questioned how she got the injury at all.
"First of all, the wound that she suffered was toward the vertex of her skull on the right side of her head; this would imply that she shot herself with a gun pointed downward near the top of her skull," the doctor continued in the letter.
The second-most striking observation he said he made while assessing Jessica, was that "neither of her hands had any evidence of any gunpowder stippling from gunpowder blow-back," noting her "pristine and unmarked" hands.

Furthermore, he said, it's his observation that self-inflicted gunshot wounds are very unusual among women.
He said the description of a self-inflicted gunshot wound "didn't fit," and calling it a "very unusual direction in which to point the gun at one's self with the intention of committing suicide."
Matthew's attorney, however, told the court that Jessica was the one who shot the gun and that initially, Matthew believed that she was shooting at him.
"He cautiously went into the residence to try to make sure that the children were OK. He was able to confirm that they were all right," his attorney told the judge.
If his wife, Matthew's attorney continued, was capable of attempting to take her own life, there's a chance that she might do something to their children.
Even though doctors were able to save her life, they couldn't save her from what was about to happen to her family—losing custody of her children. The court ruled in his favor, giving him custody and granting Jessica once-weekly supervised visitation.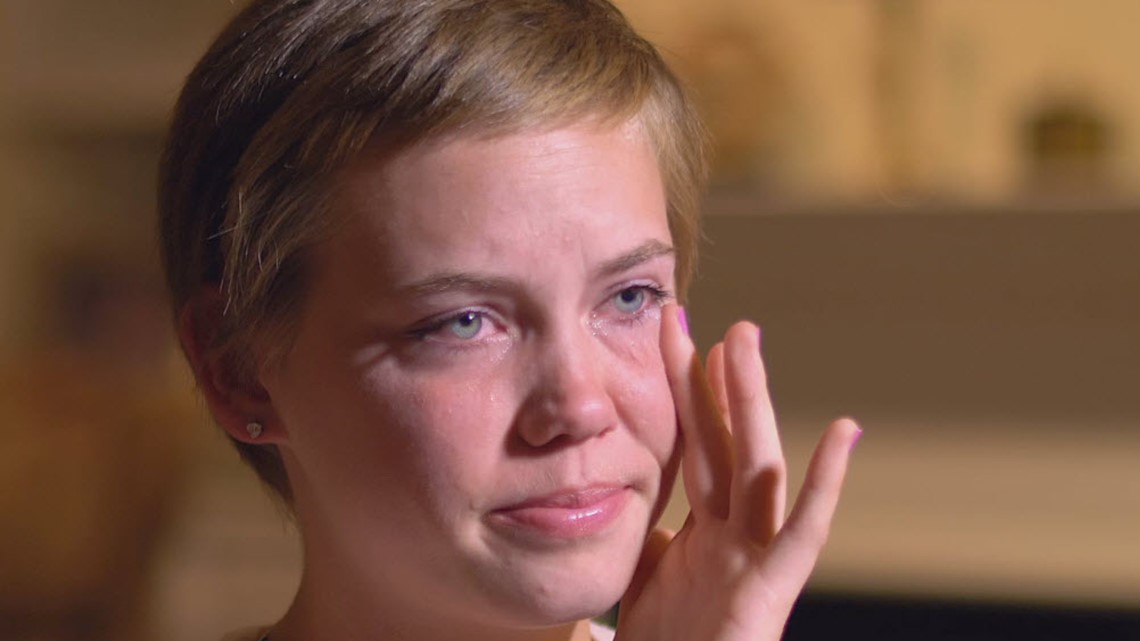 "The only reason he got temporary custody was because nobody bothered to look into what happened further than they did," Jessica said in a recent interview. "They just took his word because he was a cop—which yeah, you're supposed to be able to trust cops. But when the only one person who calls it in, hears a gunshot around 1 o'clock, but nobody else does? I think that's reason enough to look into it."
She would spend $100 every Sunday for court-appointed supervision. And for the next two months, she would see her sons once a week for four hours. For a month following that, she had to have a Matthew-approved, family member present during her visitation.
"[I miss] getting to see them every day and getting to watch them grow more and more into the boys and men that they're going to be someday," Jessica said sobbing, in an interview in 2016.
Her bright blues eyes glisten as they well with emotion.
"They're my everything. I wouldn't trade them for anything no matter the situation. I wouldn't trade those two boys for anything," she said, swiping away tears streaming down both cheeks.
July 20, 2016
Jessica's trauma surgeon was not interviewed by the GBI until mid-July.
The last word
:
More questions than answers
Once the investigation was closed, reporter and publisher, Sheila Mathews, investigated the shooting for her newspaper, The Grip.
While sifting through pages and pages of the report, a GBI evidence photo caught her attention, including the GBI writing an official letter closing the case, deeming Jessica's "death" as a "suicide."
A key piece of evidence was photographed inside the kitchen after officers arrived on the scene.
But it was used after Matthew had said he left the apartment in fear of his life, and did not return.
That piece of evidence was a photo showing Matthew's cell phone next to the microwave inside the apartment. A phone that text messages were sent and received to/from following his recollection of hearing, "POP-POP!" and running out of the apartment.
Sept. 28, 2016
A Griffin Police Officer's wife herself, the reporter called DeMarco, in September, the investigator who was in charge of the investigation for the GBI, to question him about the case and the photo that nagged her, and that for her, called into question how anything they investigated was trustworthy.
"This activity on his cell phone had to have taken place inside the kitchen inside his apartment," Mathews said to DeMarco in a recorded phone conversation.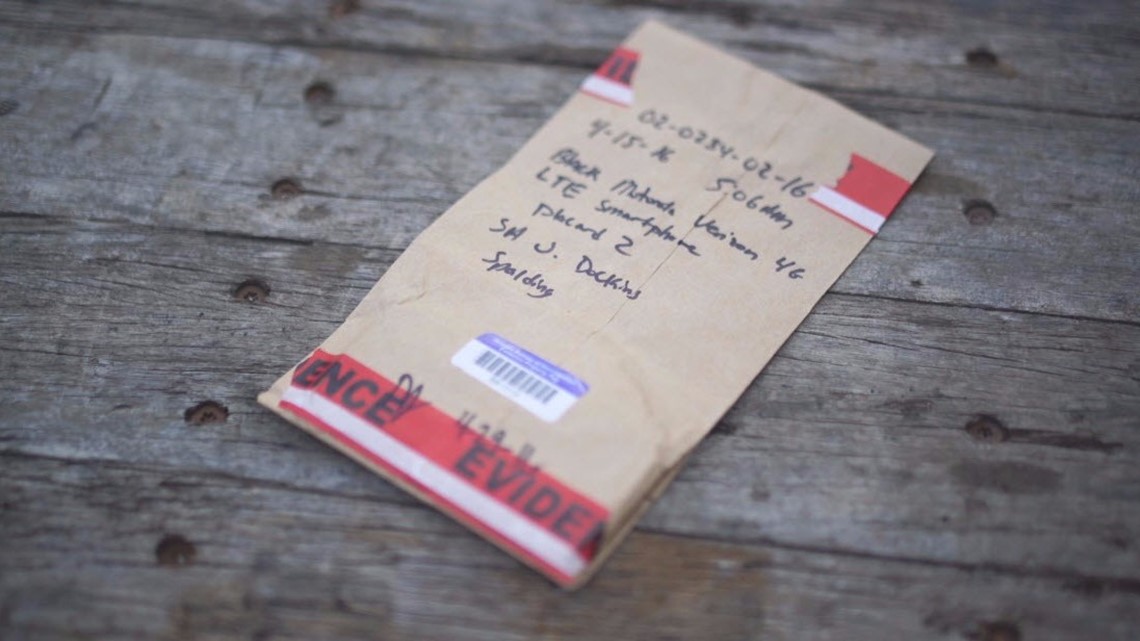 "Well, how do you come to that conclusion?" the GBI agent posed a return question.
"Because if you go to the photographs that are part of your investigative case file, there's a photograph after the evidence report for his cell phone…" she said.
"It was retrieved from the kitchen counter in front of the microwave oven," she probed further.
"No it wasn't. It was actually from him. We put it on the counter to take a picture of it," he confirmed to Mathews.
However, the GBI's own photographs, search warrant and evidence log all corroborate that the officer's phone was on the kitchen counter after Matthew had already left the apartment.
"How did his phone get in there? Is that what you're saying?" DeMarco pressed Mathews.
"How did his phone get in there and how was there activity on his phone if he was not in the kitchen with his phone?" she asked.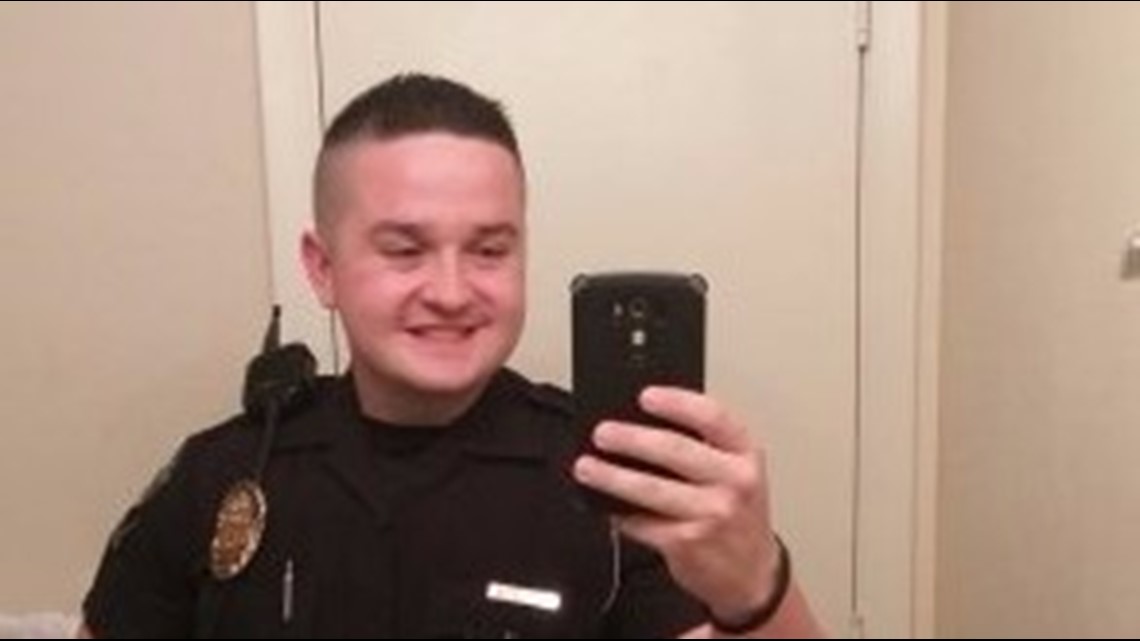 "Well I don't know. It could have been simply that um, all his, he left his stuff there. His phone was given to someone else at Griffin PD, they put the phone in the thing because they knew GBI wanted it, and that's where we're gonna be while he was taken to the police department. I mean, I'm sure there's a plausible explanation to it without trying to come up with some sort of, you know, theory that, 'Oh, he has to be here in the kitchen answering these text messages.'"
If the phone was found by the GBI in the kitchen—if the phone is on police body camera footage sitting on the counter by the microwave, and he was outside never returning inside—how is it possible for Matthew to text his girlfriend, while he's calling in shots fired while outside of the apartment?
"My understanding of the laws of physics is that one person cannot be in two places at the same time," Mathews said in an interview with 11Alive.
But DeMarco insisted to Mathews during their phone conversation, that the timeline was not relevant.
"You know, you're trying to match up times of where he is getting these text messages or how he's responding to them, that he has to be in the kitchen. I mean you can't prove that," DeMarco.
"That was when approximately 24 minutes into the conversation, his demeanor changed and everything flipped," she recalled.
Immediately following that flip, Mathews said, DeMarco asked if she was recording their conversation.
"Am I recording it? Yes, for an article, just to make sure I get quotes proper."
"Well listen, if you're going to start quoting, you gonna start recording these things, you need to let me know ahead of time before you do, before I'm starting answering questions," DeMarco ordered the reporter.
After she agreed, he continued.
"That's the way we're gonna play this game, Sheila. If that's what you want to do. You want to start recording me, and started quoting me, you'd better let me know ahead of time, or we're gonna have a problem."
Following that phone call, Mathews, perceiving that she was threatened, called the GBI's director of professional standards to file a formal complaint and to gain clarity about what he meant by, "We're gonna have a problem."
"What you're saying to me, that's not, you know, I don't see anything he did wrong by saying that," Fred Mays told Mathews.
Her complaint, which she checked on, was never filed.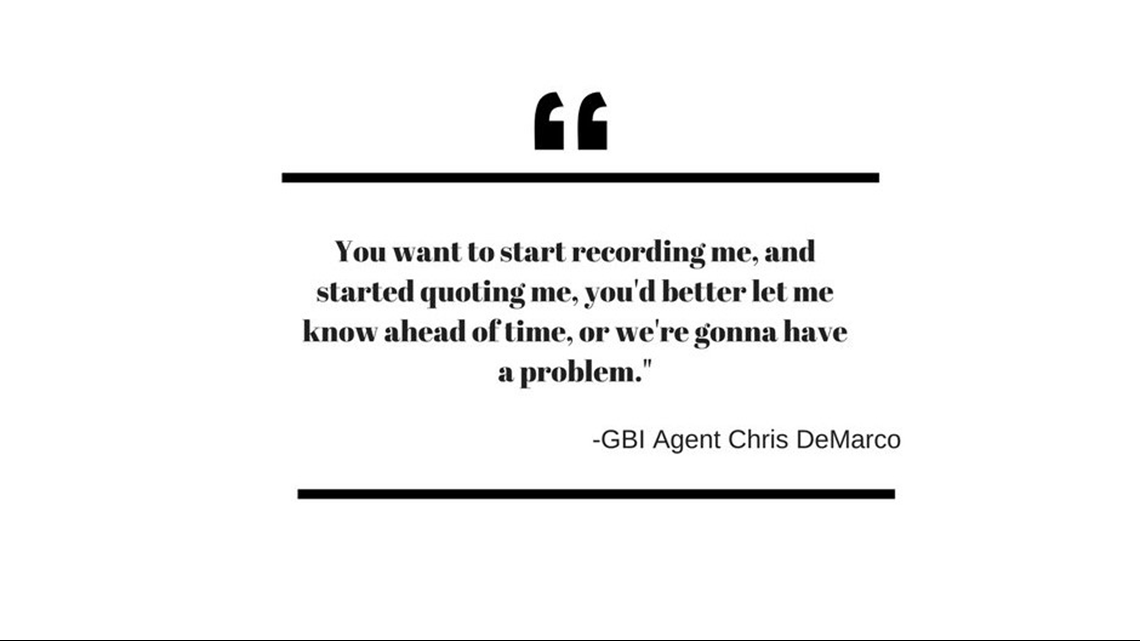 "There are a lot of questions that I would love to have answered. That's the bottom line for me.
And, unfortunately it appears those questions will never be answered," Mathews said.
Like, how hours after the shooting, the phone was put into an evidence bag, sealed and logged into GBI evidence, it was still calling Matthew's girlfriend.
"I figured out what happened. That phone never got back into the officer's hand. The agent had that phone, I think DeMarco, Chris DeMarco had the phone and they was [sic] trying to get in the gate, and, uh, he accidentally hit, I guess, the last number dialed, called or whatever. And he called the girlfriend, so…" Mays said to Mathews.
But according to Mathews, that was not the last number dialed, so it could not have just been a redial accidently called through the evidence bag.
Having faith, a future and creating her own happy ending
:
March 3, 2017
Jessica and Matthew's divorce is final.
April 2017
"Life isn't about waiting for the storm to pass, it's about learning to dance in the rain."
Inspirational quotations plaster Jessica's new home's walls, amidst framed photos of her family.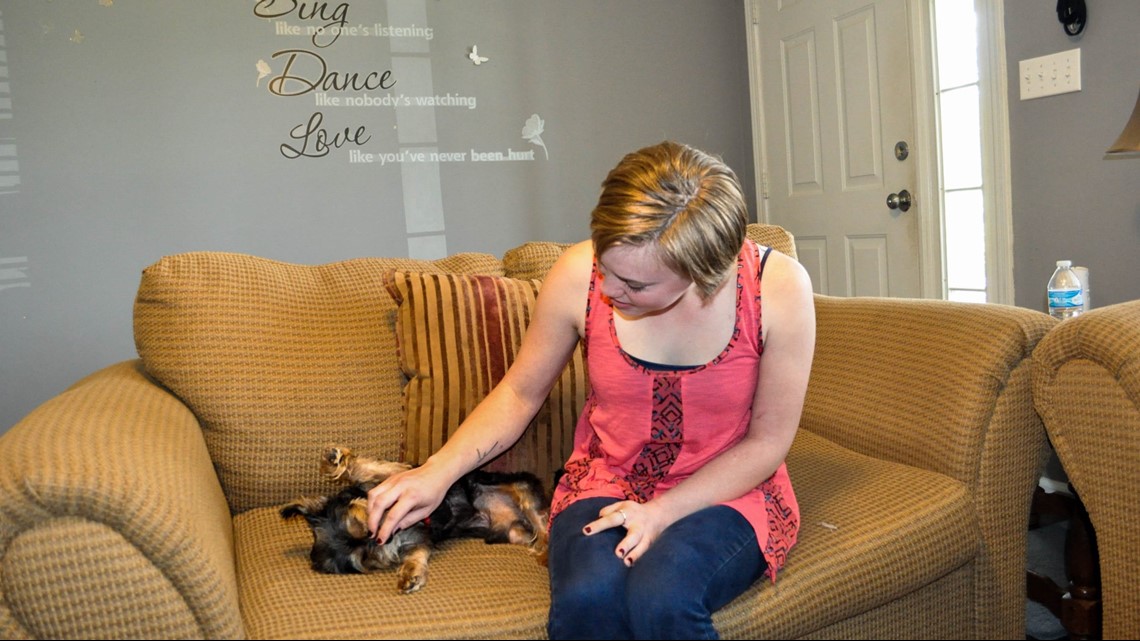 "Sing like no one's listening; Dance like nobody's watching; Love like you've never been hurt."
Ready to begin anew and love again, Jessica left Griffin a few months ago. And for her, she said, it's been the best decision she's ever made. And things are looking up.
Now, the self-proclaimed "homebody" lives in the country and loves it. She is taking life one day at a time, cherishing every second with her boys, Tollin, now-3, and Tyler, 20-months-old.
Jessica and Matthew finally reached a settlement agreement for joint custody. The young mother picks them up every other Friday and drops them off the following Friday.
Regardless of her custody situation, she said, "you're still a mom no matter what."
Tollin is chatting up a storm; he's a runner and always on the go, she said. And Tyler is her "chill baby." They are total opposites. He will lay down on the couch with her and snuggle, watching T.V. And he loves food.
"I've never seen a baby who can't eat more food than that child," she said laughing.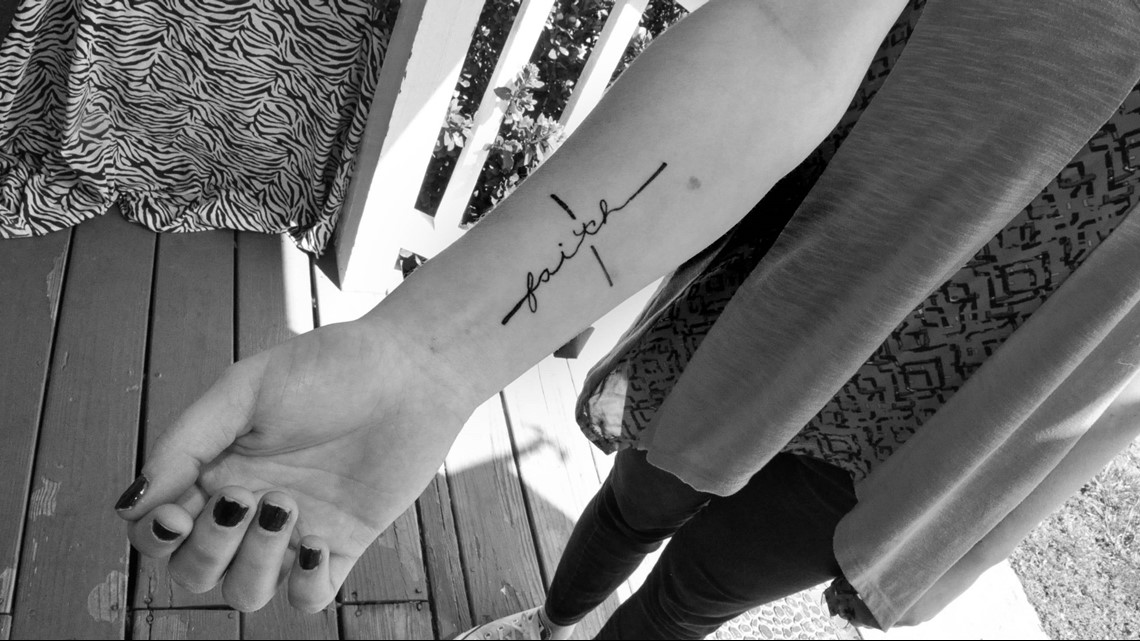 She's not just keeping her babies close, but also her faith. As a reminder, she got a tattoo on her right forearm with the simple word: FAITH, inked in black. Her faith keeps her strong.
"I'm strong because I have two little people who depend on me," she said. "They mean everything to me."
And even though she can't remember the details of April 15, 2016, she can't seem to shake what happened to her and maybe never will. She still feels the lasting effects of her head injuries including severe headaches, ringing in ears, nausea and limited mobility in her left leg and foot.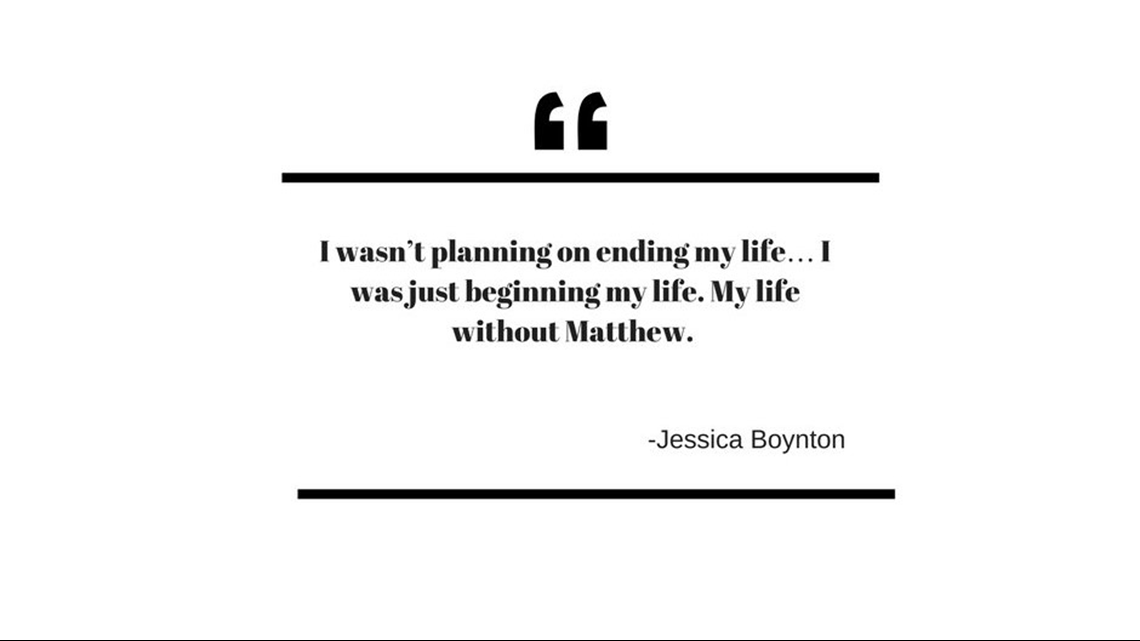 She may never know what transpired that spring night.
"Honestly, he's the only one who knows what really happens," Jessica said about her ex-husband. "And he's not going to tell anybody."
One thing she is sure of, is that she did not shoot herself.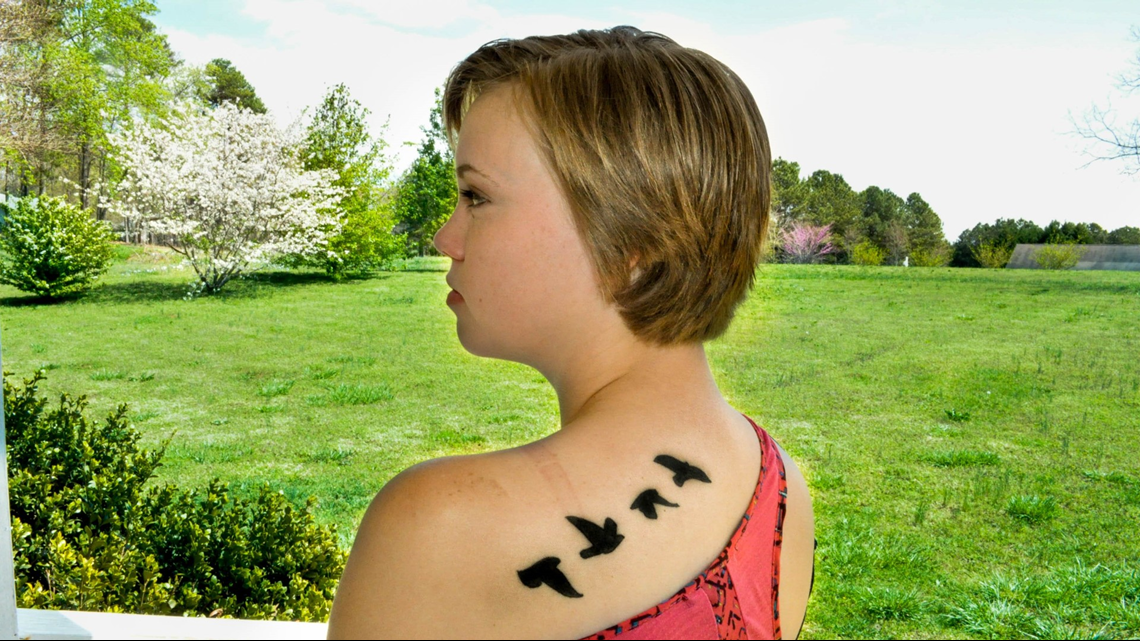 "I have no idea. I mean, I can make assumptions like everyone else," she said about what happened to her a year ago. "I can tell you that there is no way I shot myself."
She said, she was looking forward to her future.
"I wasn't planning on ending my life… I was starting over," she said. "I was just beginning my life. My life without Matthew. And I was content. I was perfectly fine with that."
"Looks like a happy life."
11Alive reached out to Officer Matthew Boynton, however, phone calls were not returned.
In response to 11Alive's questions about the case, the GBI said, "We are confident in the investigation that was conducted."