IRWIN COUNTY, Ga. — Ocilla, Ga., was always best known for its Annual Sweet Potato Festival each year. That was, until a Tara Grinstead went missing in 2005.
Grinstead, 30, a high school history teacher and former beauty queen vanished from her Irwin County, Ga., home on Oct. 22, 2005 after attending the Georgia Sweet Potato Festival.
For 12 years, the community, her family and law enforcement were baffled.
But in 2017, the Georgia Bureau of Investigation announced the arrest of two men, Bo Dukes, 34, and former classmate, Ryan Alexander Duke—lifelong community members and former students of Irwin County Schools where Grinstead taught.
Bo was recently convicted of concealing her death and Ryan is slated to stand trial for her murder.
Photos | Tara Grinstead missing 12 years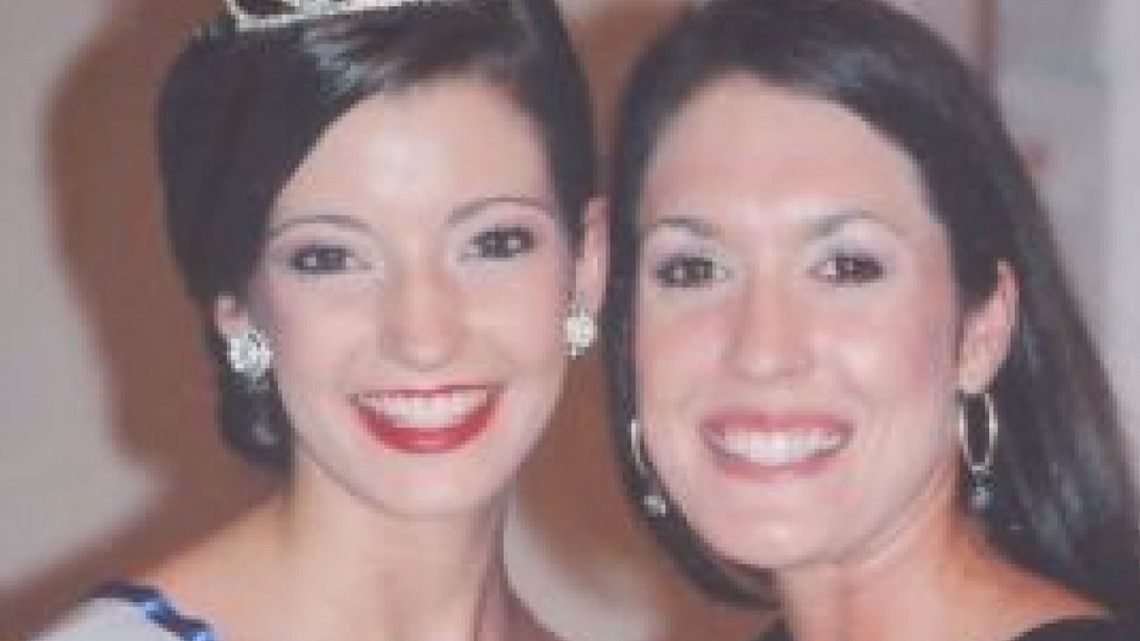 SWEET POTATOES AND HOME SWEET HOME
Ocilla is a quaint southern town with a population just under 4,000. It's a town that boasts on their history and famous names who got their start there, like actress Paulene Myers, baseball pitcher Dennis Anthony Dove and also a few politicians, like Georgia state representatives Tyler Harper and Jay Roberts.
And of course, it's annual fall festival.
Held on the last Saturday in October each year in Ocilla, the Annual Sweet Potato Festival and its accompanying parade easily draws folks from all over Georgia to the small town to celebrate the sweet vegetable each year—a proud tradition for the community since 1961.
Now each year, October haunts the town with disturbing memories, including black and yellow police tape surrounding one woman's house, neatly tied yellow, black and red ribbons adorned to mailboxes and missing flyers plastered to every light pole in town.
AP Photo
These days, Ocilla is most notable for the infamous mystery of what happened to Tara Grinstead.
A story that remained a mystery for more than a decade—changing the small town forever.
One woman, who teaches 7th grade at Irwin County Schools, said the community she was born and raised in is hushed by shock and scared by what happened to Grinstead.
"I think the main thing is people want closure and want justice for Tara. And knowing that two former students are involved, it really has, I think, hurt the community—you know, emotionally. We really do not want somebody in the community to be the ones who killed her. You never want that," she said.
The teacher, who will be referred to as Jane, chose to remain anonymous because she still teaches for the school where Grinstead also taught.
"I just want justice. We deserve the truth and so does Tara's family."
And her community, she said, has been forever changed since Grinstead's disappearance.
"We've never had anything like this happen in the community. That's one thing that has really put us on the map and I hate it. I want people to remember our county for something positive."
"What's really crazy is if I'm out in public and someone asks me where I'm from, I say, 'Irwin County' or 'around Ocilla' that's the first thing they ask me is about Tara. Now, we have answers but forever we didn't. Before Ryan and Bo were arrested, people were still asking us about Tara—about what we thought happened to her. Of course, we had no idea," Jane said.
AP Photo
GONE COLD
Jane met the beauty queen when Grinstead started teaching high school history at the school where she taught 7th grade.
"We're a very small school system, so everyone knows each other and works together. And so, that's how I met her," Jane said, who worked with Grinstead up until the time she disappeared at Irwin County Schools.
"One thing about Tara, she loved her kids, her students. She loved teaching and she was just very dedicated to her profession and to the kids."
One of those ways the cheerleading coach showed her students how much she cared was with a pageant she created for girls in her school called the Red and Black Pageant. She also lent a helping hand to girls who needed assistance with prom dresses.
"She thought all of the senior girls should go to their prom and if she found out that some of the girls did not have a dress, she would go and help them find a dress and would actually buy the dress and they would just pay her back. That's just the kind of person she was—just very giving," Jane remembered.
"I want people to remember that she was such a good person. She cared about everybody. Just working with her, if you ever needed any assistance, she was there for you. And she cared about her students. She wanted her students to learn and she was just so dedicated to everyone."
And, she said, Grinstead was planning a future with her work in education.
"She was getting her degree in leadership, so she could be a principal. And I really think she was just going to be an awesome principal because she was so good working with us, the teachers, and with students."
But on Oct. 22, 2005, her future dreams and goals would cease, and nothing would ever be the same for her school, her students or her community.
Grinstead left the Sweet Potato Festival and headed to a cookout with friends.
But that's the last time anyone saw her.
Police found the 30-year-old's cell phone, car and dog, Dolly Madison, at her Ocilla home—about 200 miles south of Atlanta. But her keys and purse were missing. And there was no sign of break-in or signs of struggle.
While police questioned several people close to her, including an ex-boyfriend, no arrests were ever made.
"We knew something was immediately wrong," Wendy McFarland, a co-worker, told 11Alive in 2015. "She was not the kind of teacher that would not show up without alerting somebody."
And law enforcement knew that her vanishing was something sinister from the start.
"I realized this thing might be really bad," said Gary Rothwell, who at the time was the special agent in charge of the Georgia Bureau of Investigation office in Perry, Ga.
>>>FULL COVERAGE: THE BEAUTY QUEEN MURDER
RELATED: Break in the case: What happened to the Georgia beauty queen?
"We treated it as if she had been abducted from the beginning," he said.
Rothwell said the GBI interviewed more than 200 people, never calling any of them a suspect or even a person of interest. Still, they were not able to clear anyone from her disappearance either.
Hundreds poured into the small town, tucked away in the deep south, within 24 hours, setting up a command post, tip lines and scoured the landscape on foot looking for traces of the missing teacher.
After a massive community-led search ended with zero answers, investigators focused on Grinstead's life.
Police said that her ex-boyfriend was a former Army Ranger; a married police officer had left a business card in her door; and there was an incident involving a former student attempting to break into her home.
But one thing that investigators really zeroed in on was a piece of evidence: a single latex glove found adjacent to her house in the yard. After a test, there was trace DNA evidence found in the glove.
Again, they came up empty-handed. No match found.
In 2011, the Irwin County Sheriff said that he received a tip telling him to search near a bridge on Reedy Creek.
A dive team and deputies searched for more than four hours, but found nothing, GBI special agent in charge, J.T. Ricketson, told 11Alive in 2011.
In February 2015, investigators also drained a pond in Fitzgerald, Ga., in Ben Hill County, after another tip came in, Ricketson said. The pond was a few miles from Grinstead's home.
Ricketson would not describe the tips or the evidence that was found at that time, as it needed further review and analysis.
"It's an old case, but it's not a cold case," Ricketson reassured the public.
"You can only have hope in this kind of case," he said about the file that is now the largest file in the GBI's 80-year history.
Rothwell, who is now retired from the GBI, said it's much more a search for evidence in a crime than a missing person.
"I think about Tara virtually every day," he said. "I can tell you the dates and the times of the occurrences that happened that weekend, and those are things that are burned in my memory. I don't think I'll ever forget them."
The community will also never forget her.
"Every year when the weather changes to cool, it just reminds us of Tara," McFarland said. "Because it was those cool mornings and nights that we were out looking for her."
"Ten years, 10 days, 10 months, it's all the same," McFarland said. "That hole doesn't get bigger or smaller. It just remains the hole."
But with Ryan's upcoming trial, that hole could finally be filled with closure.
"I believe the truth shall set you free, and I pray one day we will get that," McFarland said.
A BREAK IN THE CASE
There are currently 2,136 total missing people in Georgia. Around 900 of those have been active for over a year, according to the GBI as of February 2019.
Grinstead was one of those long-unsolved missing persons.
But after 12 years, the GBI announced a major break in Grinstead's disappearance.
The GBI held a press conference at the Irwin County Courthouse in Ocilla in 2017 and announced Ryan's arrest.
According to the warrants, Ryan was accused of entering Grinstead's home, burglarizing it and injuring her with his hands. The warrants alleged that he tried to conceal her death by removing her body from the home.
Ryan was arrested and charged with murder, burglary, aggravated assault and concealing her death.
Ryan attended Irwin County High School, where Grinstead taught. He had graduated three years prior to her disappearance.
Authorities said that the arrest was made after someone came forward with new information.
The suspect "never came up on our radar" during the investigation into Grinstead's disappearance, investigators said at the news conference.
RELATED: Suspect in Tara Grinstead murder was arrested for DUI in 2010
"It's just been crazy not knowing all this time. And then all of sudden, out of the blue, they have suspects. The day I found out, I was really shocked," said Jane, who taught Ryan in the 7th grade.
"He was quiet, smart, hard-working. Just a good student—never got in trouble. You didn't know Ryan was in the classroom, he was that quiet. He was very respectful," she recalled.
Grinstead's family asked the community for their continued support.
"So many people have been hurt by this," Grinstead's mother said at the 2017 press conference. "We hope with time that so many people in this community can have closure."
Following Ryan's arrest, investigators continued to sift through leads and searched for her remains on a pecan orchard, Fitzgerald Farms, owned by Randy Hudson, CEO of Hudson Pecan Company.
"Our most sincere prayers go out to the Grinstead family," Hudson said during the 2017 search of his property. "I'd also like to say that we are cooperating with the local sheriff's agency and the Georgia Bureau of Investigation in regards to this matter on our farm."
According to the company's website, Hudson harvests more than 1,500 acres of groves in several counties and processes more than 5 million tons of pecans a year.
It's a family-owned company that's been in business for more than 150 years.
RELATED: GBI searches pond for evidence in Grinstead case
One week after Ryan was arrested, the GBI named and arrested a second man, Bo Dukes—Ryan's classmate, who also graduated a few years prior to Grinstead's disappearance. They were her former 11th-grade history class students.
RELATED: EXCLUSIVE | Second suspect charged with 'concealing death' in beauty queen murder case
RELATED: Bo Dukes | What we know about 2nd suspect in Tara Grinstead murder case
Bo was charged with concealing Grinstead's death, hindering apprehension or punishment of a criminal and tampering with evidence. Bo was first arrested in Ben Hill County, Ga., but was released the same day on a $16,700 bond.
His uncle, Randy Hudson, owns Fitzgerald Farms off Bowen Mill Hwy. 129 in Ben Hill County, the pecan orchard where officials searched for Grinstead's remains. But investigators kept what they found at the orchard under wraps.
The Savannah, Ga., native has a sordid history with the law.
He was arrested and convicted for theft in 2013, when he stole $150,000 in goods from the Army. He was sentenced to 27 months and was released in 2015, after serving two years in federal prison. He was required to attend AA meetings once a week for the first 12 months after his release.
In June 2017, a grand jury indicted Bo on three charges: concealing a death, tampering with evidence and hindering apprehension of a criminal. Investigators alleged that Bo helped Ryan burn and bury Grinstead's body at his uncle's pecan grove in 2005.
He pleaded not guilty to the charges.
New indictments against Bo said that he lied to a GBI investigator who questioned him in 2016 about Grinstead's disappearance.
This brought four new charges against Bo: two counts of making false statements, one count of hindering apprehension of a criminal and one count of concealing the death of another.
In November 2018, a federal judge ruled Bo had violated his parole in his federal case by failing to keep up with restitution payments and community service work.
He was sentenced to an additional six months in federal prison.
In January 2019, Bo was on the run after allegedly sexually assaulting two women at gunpoint in Houston County, Ga., launching a four-day manhunt for Bo.
RELATED: Bo Dukes | What we know about 2nd suspect in Tara Grinstead murder case
WMAZ
He was eventually found at a family member's home in Irwin County.
A Houston County grand jury indicted Bo on a dozen charges, including one count of rape, two counts of aggravated sodomy, two counts of kidnapping, two counts of aggravated assault with a dangerous weapon, four counts of possession of a firearm during commission of a felony and one count of possession of a firearm by a convicted felon.
BO DUKES: GUILTY
On March 18, Bo Dukes went on trial in Wilcox County, Ga., for concealing Grinstead's death by burning her body more than a decade earlier.
He was charged with four counts in Wilcox County: two counts of making false statements, one count of hindering apprehension of a criminal and one count of concealing the death of another.
The details described during the week-long trial brought closure to the community but also a newfound pain.
On his final day in court, Bo entered the courtroom dressed in an orange jail uniform, and Connie Grinstead, Tara's stepmom, wasted no time speaking on behalf of the family.
"He watched whole communities in turmoil, because Tara was missing," she said.
Connie admitted she couldn't even spend time with her elderly mom near the end of her life, because they were out looking for Tara. She mentioned how Bo loaded truckloads of wood onto Tara's body and burned it to ash.
"What kind of person does that to a human being?" she questioned. "He underestimated how much she meant to so many people."
WMAZ
With Judge Robert Chasteen Jr., presiding, Bo's trial started with opening statements that revealed more about the crime than the public knew prior.
District attorney for the Cordele Circuit, Brad Rigby, started his opening statement by giving the jury gruesome details of the disposal of Tara's body.
"It takes 1,200 degrees to burn human bones... and pecan wood burns really hot," Rigby said.
He told to the jury how Ryan and Bo allegedly burned Tara's body in the pecan orchard that Bo's uncle owns. He mentioned how their alleged lies and cover-ups unraveled over the years to their close friends.
"A daughter, a sister, a teacher, a cheerleading coach, a pageant queen," Rigby said. "She invested her life in others."
But Rigby made sure to make one thing clear.
"We're not here to try Dukes for Tara's murder."
He went on to say the case was not about the murder, but about Bo's lies, "lies that lasted from 2005 to 2016."
Bo's defense attorney, John Fox, started his opening statement by reminding the jury that job was to try and figure out what happened in an interview that lasted less than 15 minutes.
During the first day of the trial, the state called Kim Sheridan, Bo's girlfriend, Brooke Sheridan's mother, to the stand.
Assistant district attorney, J.D. Hart, questioned Kim about a meeting between Brooke, herself and her friends in January 2017. She testified that Brooke told her that it was at that meeting that Bo had said he helped conceal Tara's lifeless body.
Bo allegedly told them that he never asked Ryan why he killed Tara.
11Alive
Stephen Duke, Ryan's brother, testified that he couldn't confirm if they were all together in a trailer in Fitzgerald the night Tara disappeared, which conflicted with Ryan's recently released alibi.
RELATED: Tara Grinstead murder suspect points finger at another person
Randy Hudson, Bo's uncle, testified that his nephew made bonfires in his pecan orchard back in 2005, and he didn't like it—and said that he never tried to cover for Bo.
When retired GBI special agent in charge, Gary Rothwell, took the stand, it was revealed that the bureau knew about Ryan and Bo long before the 2017 public announcement.
Rothwell testified that Bo and Ryan's names were mentioned in a 2005 Irwin County Sheriff's Office report and again in a 2008 interview with the GBI. However, those leads were not followed up on. Rothwell took full responsibility for it, as he thought it was something local police departments had already looked into.
"We should've have followed up, and we did not, and that is my responsibility," he admitted.
Further, Rothwell said the media coverage Tara's case gained caused a high volume of possible leads, including tips from psychics. He said they tried to look into all of the information, even though it put a strain on their resources.
When asked if there were things that happened back in 2005 that make sense now after the arrests, Rothwell answered, "absolutely."
He said the glove found near Tara's front porch was important, because it was "out of place" and "didn't make sense." Rothwell said the glove contained Tara's DNA and a male's DNA.
"It had immediate significance for us," he said.
He went on to say the glove had to be cut up to determine which parts would be best to find a fingerprint on. He said around 200 people were swabbed as a result to find a match.
This is the same glove the GBI said had Ryan's DNA on it at his bond hearing in February.
When asked if there seemed to be a struggle at Tara's home, Rothwell said the scene was ambiguous. He also said they couldn't determine if the blood left on the comforter was indeed blood or menstrual fluid.
Garland Lott was called to the stand to testify that he was friends with Ryan and Bo in high school and that they attended to parties together.
Hart questioned Lott and had him describe a particular party that took place at the Hudson pecan orchard a few weeks after Tara went missing. Lott said there was a fire they were standing around, alcohol and "more than likely" other substances as well.
Lott testified to a comment that was made at the party: "We killed her and burned her body."
Lott said he wasn't sure who said the statement but was adamant on the stand that Bo and Ryan were the individuals who said it, and that he was encouraged by others to take it to authorities.
GBI special agent, Jason Shoudel, was called to the stand to discuss recorded interviews between the GBI and Bo.
One recording played for the courtroom was from a June 16, 2016 interview between Shoudel and Bo at the Rochelle Police Department in Wilcox County. In that recording, Bo denied the conversation with friends and confessing to burning a body.
However, Bo's girlfriend, Brooke Sheridan, testified that he suffered from panic attacks and suicidal thoughts after his June 2016 interview with the GBI, and that he confessed his involvement to her in January 2017.
And during a February 2017 interview with the GBI—prior to Ryan's arrest for Tara's murder—Bo told Shoudel about the night Tara went missing and what happened in the days after.
In that recording played for the jury, he recapped exactly what happened with Ryan the weekend Tara went missing in October 2005.
He said that Saturday night, there was a party at his trailer in Fitzgerald, Ga. He said he drank and passed out, and that Ryan woke him up the next morning.
According to Bo, Ryan confessed that he broke into Tara's home using a credit card, got into bed with her and strangled her to death. He said Ryan told him that he used Bo's white Ford F-150 pick-up truck to move her body to the pecan orchard and stopped at a laundromat dumpster to throw away her keys on the way.
In the next few days, Bo said he told Ryan's brother, Stephen Duke, what Ryan had told him. Together, Ryan and Bo drove to the pecan orchard, where, he said, Ryan showed him Tara's "unclothed" and "discolored" body.
"He'd only been [to the orchard] a few times, I was surprised he found the place," Bo told GBI agent.
He recalled seeing marks on her neck.
"You could tell it was something," he said in the recording.
He said it was cold that day and remembered that he was wearing a sweatshirt and said that he and Ryan stacked a bunch of wood on top of the body to burn it. And together, they burned her body for two days.
RELATED: Bo Dukes says it took 2 days to burn Tara Grinstead's body in taped confession
"It's stuff you can't even tell a therapist," he said to Shoudel. "You want to talk to somebody, and you can't tell them."
RELATED: 'It's stuff you can't even tell a therapist:' GBI interview footage of Bo Dukes shown at trial
Shoudel asked him why he didn't give them this information during his 2016 interview.
Bo said it was just a secret he kept for a long time.
However, Bo told Shoudel in the 2017 recording that he had told multiple people over the years, including his girlfriend, his ex-wife and multiple friends and family members.
Dukes' brother, Jake Dukes, testified that he didn't find out about Bo or Ryan's involvement in the case until the news broke of their arrests in 2017.
As the recording continued, Bo claimed that Ryan drank a lot and did cocaine occasionally. He also said that he had only talked to Ryan once in March 2016, and once again in the week before this interview. Before then, the last time Bo said that he had spoken to him was in 2007.
Shoudel mentioned the glove found in Tara's front yard the morning after, but Bo said Ryan told him he didn't use gloves. He also said Ryan never confided in him why he killed Tara.
Forensic biologists Lisa Ellison and Ashley Hinkle said they both found Tara's DNA and a male's DNA on the glove outside Tara's home following her disappearance. Hinkle confirmed it was Ryan's DNA on the glove.
Hinkle also tested the blood found on Tara's comforter, but she said she could not determine what kind of blood it is, whether it's from a cut, nosebleed or menstruation.
Jesse Worley, a latent fingerprint examiner with the GBI, was called to testify and discuss her test results from three latent prints found on the glove. She said two of the impressions matched Ryan's, and the third was inconclusive.
Following the 2017 interview, Bo took Shoudel and GBI Agent Logan Holland to the pecan orchard to point out the general area of the burn site.
Holland interviewed Bo on the drive down to the Hudson pecan orchard in Ben Hill County from Perry. The interview reaffirmed statements he made about burning Tara's body.
Pictures of the visit were released to the jury, showing Bo standing in the general area of the burn site, on the outskirts of the pecan orchard near some pine trees.
In late February 2017, after the meeting with Bo, Shoudel said, he interviewed Ryan at the Ocilla Police Department.
Soon after their interview, Shoudel said he went to the orchard with Ryan, who was in custody at the time and in handcuffs. He said Ryan pointed out the same general area of the orchard that Bo pointed to as the location where they burned the body.
Forensic anthropologist for the GBI, Dr. Alice Gooding, testified that burned fragments of human bones were found at the orchard. She confirmed that the human remains were found at a site excavated on Feb. 28, 2017.
Pictures were shown to the court of hand fragments, skull fragments, fragments from the spine and even a tooth that were found at the site. Gooding explained she could tell the bones were burned because of their bluish-grey color and their weight.
Before stepping off the stand, Rigby asked Gooding how hot a fire would have to be to burn human remains. She said the threshold would have to be about 1,200 degrees, the same number Bo allegedly told his Army friend, John McCullough—who testified that Bo told him during Christmas break in 2006, that he helped someone burn Tara's body in a pecan orchard.
The defense did not present a case, but delivered a closing argument accusing law enforcement of botching the investigation, since they had Ryan and Bo's names on file since 2005.
"The answer was in their file, all they had to do was read it, and simply put, they dropped the ball," Fox said. "You cannot conceal from the state what they already know."
Fox asked the jury to focus on the fact that Bo was intoxicated when he allegedly confessed to burning Tara's body to McCullough, and that it is reasonable Bo could not recall the conversation when interviewed by the GBI in 2016, a decade later.
"Draw on your own life experiences," Fox urged.
Rigby started his closing argument the same way he opened the case to the jury just a few days earlier.
"It takes 1,200 degrees to burn human bones," Rigby said.
And, he said, Bo repeatedly said "no" in his GBI interviews when asked if he ever spoke about burning Tara's body.
"The whole defense in this case proves he's guilty."
Rigby said Bo was at a crossroads in June 2016 when he was interviewed by the GBI but chose to protect himself and Ryan and "embrace the darkness."
Rigby cited a Bible scripture from the book of Isaiah, chapter 61.
"Today, your verdict can burn bright... it can burn hot."
After a four-day trial, the jury found Bo guilty.
Tara's sister, Anita Gattis, said she was relieved when the verdict was handed down.
"We finally got a little bit of justice for Tara. I know we have two more trials to go, and I hope we get the same verdict in those two, but I was very thankful that the jury actually saw the truth," she said.
Dixie Hudson, Bo's mother, also spoke to the courtroom.
"Your queen will never be forgotten," Hudson said to the Grinstead family.
Hudson said it was obvious her son has problems but pleaded with the judge for some form of rehabilitation for him.
The defense made its case for a sentence of 12 years, highlighting Bo's career as a decorated soldier in the Army and his willingness to give a statement to the GBI in February 2017.
Bo addressed the court, struggling to say the words without choking up.
"I am truly sorry," he said. "My actions were calloused and cruel."
WMAZ
He said he was more interested in self-preservation than doing what was right for Tara and prays for forgiveness from the Grinstead family. He also apologized to those who were wrongly accused during the investigations.
"I cannot undo that damage, and I sincerely apologize," Bo said, with tears welling up in his eyes.
"I failed Tara Grinstead, I failed her family, I failed her community."
He ended his statement by saying that he was "truly remorseful."
Rigby spoke for the state and asked for the maximum sentence for each count, totaling 25 years.
Chasteen called it an "unfortunate situation" that families had to grieve for so long.
While the judge acknowledged Bo service in the United States Army, he reminded the defense that during that time, he was convicted of stealing $150,000 from them. He said Bo had several times to come forward and was even asked about Tara but said nothing.
RELATED: The beauty queen murder case: Who is Bo Dukes?
"I just can't quite wrap my head around what was done," the judge said. "You were an adult, 21 years old when this happened."
Ultimately, Chasteen sentenced Bo to the maximum sentence of 25 years for lying to the GBI and concealing Tara's death.
Bo still faces charges in Ben Hill County for allegedly burning Tara's body on his uncle's pecan orchard, and in Houston County for allegedly sexually assaulting two women at gunpoint.
RELATED: Tara Grinstead Case: Bo Dukes found guilty on all charges in Wilcox County
THE STATE V. RYAN DUKE: DELAYED
Ryan was slated to stand trial for Tara's murder on April 1, 2019, however, after his attorney filed several motions with the Georgia Supreme Court, his time in the courtroom has been delayed pending those motions' outcomes in May.
RELATED: Beauty queen murder trial delayed
The Georgia Supreme Court stated on March 28:
The Supreme Court of Georgia has granted a delay in the trial of Ryan Alexander Duke, who was scheduled to go on trial Monday, April 1 for the 2005 murder of Tara Grinstead. With today's order, the high court has granted a stay of the proceedings in the trial court to consider whether it has jurisdiction to review the substantive appeal being requested.
In February, during a bond hearing for Ryan, more claims came to light involving Bo.
Ryan's brother, Stephen Duke, was called to the witness stand and alleged that Bo was actually the one responsible for Tara's murder.
Shoudel said all the evidence still points to Ryan as the culprit, however, told the court while testifying in Bo's trial, that it was Bo who leaked Ryan's alleged confession online in December 2018.
Ryan's defense attorney, Ashleigh Merchant, has filed several motions this year, including a change in venue, a change in his alibi—pointing the finger at Bo for Tara's murder, as well as requesting that her defendant sit closest to the jury box.
Meg Strickler, a criminal defense attorney, said she's never heard of a motion for the defendant to sit closest to the jury.
"In Georgia you have to have the prosecution next to the jury. It's just the rules. I don't know why it's like that. But there's a lot of things brought in to make the prosecution look better. Because you're sitting right next to them that's just… symbolic. 'Hey, we're all together here. That's the bad guy.' That's how I feel. We're already starting a step behind," said Strickler who practices law across the state.
His attorney, Strickler surmised, is likely trying to do whatever she can to shed a positive light on Ryan to the jury.
The same idea is behind the motion for a change in venue, she said. And his attorney could file the same motion again after jury selection to drive home the point.
"She may do it several times before we start the trial, so the judge is cognizant… 'Hey, we think there's an issue here.' And there could be. It's a small town," Strickler said.
"These people are born and bred there. Which is fine. Meaning they've lived there their whole lives so even if the defendant doesn't know everybody they may know him. Or they went to school with that person. It is so easy. So, to say they won't know each other is an impossibility. It's more can they be fair and impartial. And it goes to this guy's reputation back in high school. Was he a jerk? Does everybody hate him? But if the entire world decides they can't be fair and impartial it will be moved."
Merchant also filed a pre-trial motion indicating that Ryan was recanting his confession to killing Tara, rather that Bo was actually the culprit in her murder—naming his brother as his alibi.
RELATED: Tara Grinstead murder suspect points finger at another person
According to those court documents, Ryan said he was asleep at home the night the beauty queen went missing from her home on Oct. 23, 2005.
WXIA
Ryan now claims he was home with his brother on Oct. 22-23, 2005. Ryan said his brother, Stephen, was also at the home, as well as Bo and Ben McMahan. According to the alibi motion, Ryan said he and his brother fell asleep and never left the home, but Bo and McMahan did leave the home at some point.
While Strickler is stumped about the defense's strategy of this motion, she said, as an attorney, she would present an affirmative defense, essentially telling the prosecution they've got the wrong guy—as opposed to defending his actions in the case.
However, during Bo's March trial Ryan's brother took the stand and did not back up his new alibi story.
"That's just an oops," Strickler said. "We're saying we're asleep and he doesn't remember. When he testifies at the new trial, [the prosecution] can bring in the transcript from Bo Dukes' trial and say, 'Look you said this…. What say you now?' Which kills his credibility. Kills the whole defense."
With one trial over, ending in a conviction, and one on the horizon, 11Alive asked Strickler what lessons could be learned from Bo's trial moving into Ryan's upcoming proceedings.
She assessed that Bo will likely take the stand for the state against Ryan.
"He's got nothing to lose at this stage. Again, I'm not his lawyer so I'm not sure. But I think the judge, when he handed down his sentence, he enunciated what his issue was. Which was, 'Look, if you really cared and you mean all this stuff like, 'I'm so sorry. I screwed up.' When the GBI came to speak with you… almost 10 years later …. And you lied you're credibility has just gone into the toilet. And that's why I'm gonna sentence you consecutive,'" she said.
"But he burned himself and the judge explained himself. And he was really thinking it through. And you could tell how emotional he was. But he's like… 'You could have made this right. They came to you. What did you do?' And [the judge] didn't even really elude to the other interactions with the criminal justice system. But he's like, 'You're somebody who served your country. You know what honesty is.'"
As a witness, she said, Bo can only hurt Ryan from the stand.
"When you are two people doing something together, it doesn't matter who pulled the trigger. I know there's no gun in this case. But you don't know, and we don't necessarily need to know."
What will be key in Ryan's trial, she said, is the relationship between those two men, who did what and who knows what.
The Georgia Supreme Court has ordered a briefing and oral argument on the motions filed by the defense and is scheduled for May 7, 2019.
WMAZ and Becky Kellogg contributed to this report.
WXIA
CONTACT THE REPORTER |
Gone Cold is an ongoing series, where 11Alive Journalist Jessica Noll investigates some of the most infamous and lesser-known cold cases in Georgia. She's digging for answers for the still-grieving families who long for them, and for the victims who have never found their justice.
Noll is a multimedia journalist, who focuses on in-depth, investigative crime/justice reports for 11Alive's digital platforms. Follow her on Twitter @JNJournalist and like her on Facebook to keep up with her latest work. If you have a tip or story idea, email her at jnoll@11Alive.com or call, text at (404) 664-3634.
Join our "Gone Cold" Facebook group and join our discussions about cases like these, at https://www.facebook.com/groups/gonecold/ and follow us on Twitter: @11AliveGoneCold.
Gone Cold
MORE GONE COLD>>>
RELATED: GONE COLD | The beauty queen murder
RELATED: GONE COLD | The case of the missing dancer
RELATED: GONE COLD | The Dumping Grounds: A trail of bodies hidden in plain sight
RELATED: PODCAST | 5 Roses: 2 women, 50 years, Gone Cold
RELATED: GONE COLD | The Doll and the Monster
RELATED: GONE COLD | Into the woods: Where is DeCorrius Jones?
RELATED: Are you a true crime buff? We want you.
RELATED: GONE COLD | A family massacred, a case left cold
RELATED: GONE COLD | Widow creates triumph out of tragedies
RELATED: GONE COLD | Justice for Love: A mother's relentless pursuit to find her daughter's killer
RELATED: GONE COLD | Finding Tiffany Whitton
RELATED: GONE COLD | Man of faith meets evil
RELATED: GONE COLD | Mystery off I-85: Do you know Jane?
RELATED: GONE COLD | Drawing a fresh look into a cold case
RELATED: GONE COLD | Mother and daughter's rapist, murderer gets 2 life sentences
RELATED: GONE COLD | Arrest made in 13-year-old Gwinnett County cold case
RELATED: GONE COLD | A lake with no leads: Who killed the Dermonds?
RELATED: GONE COLD | 18 years later: Who killed Elaine Nix?