A Georgia grandfather who was granted partial custody of his granddaughter wrote about killing his estranged son in a journal and used his background in law enforcement to track the family when they tried to leave the state.
Dale Roberts sued his son Brandon under the new Georgia Grandparents' Right Law last year.
When his granddaughter was an infant, Dale was one of her primary caregivers. After a few years, Brandon Roberts said his father became obsessed with the little girl.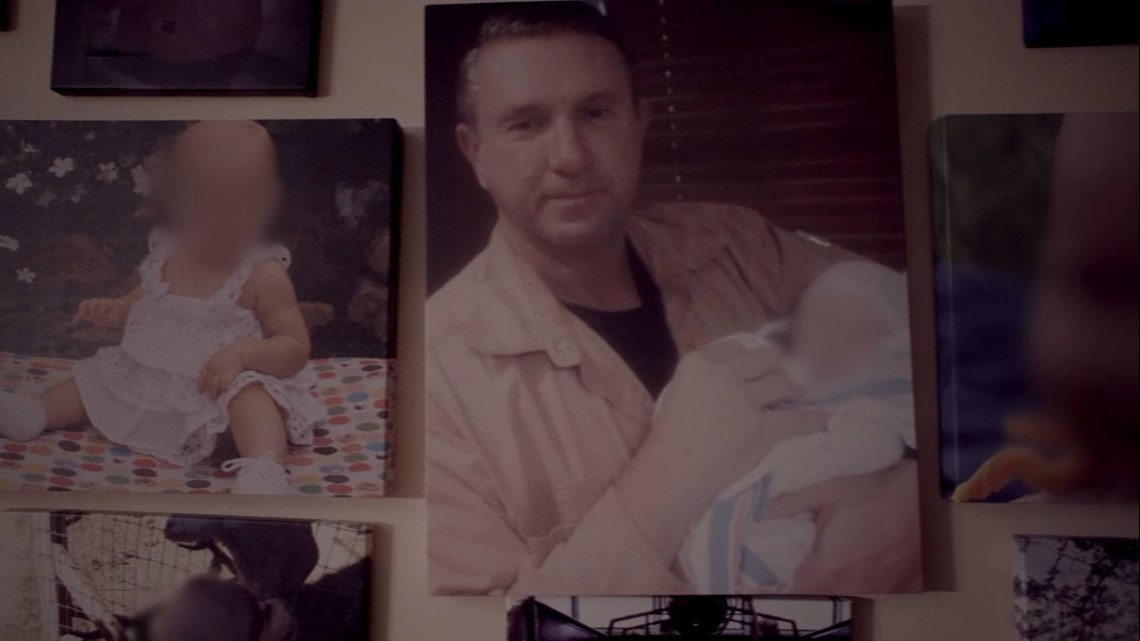 "We advised him that he could come see her at our house, but we did not feel safe with her going over there by herself anymore," Brandon said.
During the trial, Dale's journal was admitted into evidence by his attorney to show how much he loved his granddaughter. That journal, however, contained many disturbing statements about Brandon and his wife, Stephanie.
"I hate Brandon so bad I could put a bullet between his eyes and not blink," Dale wrote.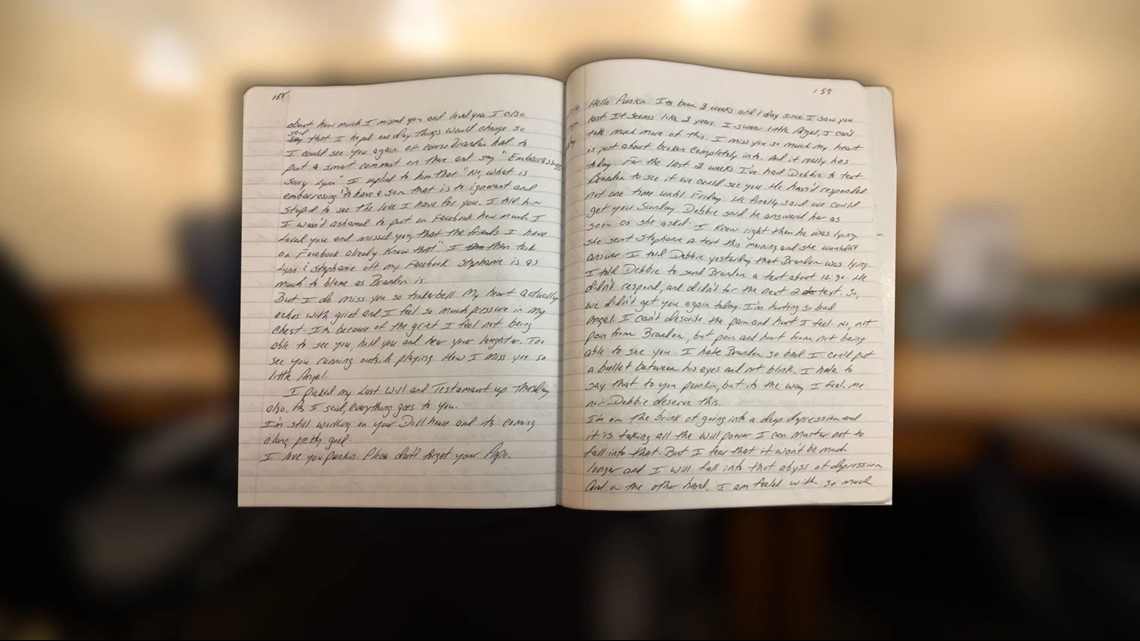 11Alive Investigator Brendan Keefe sat down with Dale to get his side of the story.
"All I could do is sit there and cry, because I didn't know if I'd see her again," said Dale about his granddaughter.
Brendan Keefe: "Do you wish your son was dead?"
Dale Roberts: "Not really. I was speaking out in anger, and I hated my son. I really hated him for what he has done."
After the judge's decision to give Dale custody of his granddaughter two weekends every month and two full weeks in the summer, Brandon and Stephanie left Georgia -- and Dale -- in their rear-view mirror.
"It was a parent's visitation that he got. He got more than the biological mother originally got for visitation... As a step-parent, even if I were to adopt, he would still have more rights than I would. Which is crazy," said Stephanie.
The family ended up in Iowa, where they thought it would be hard for Dale to find them.
However, Dale was able to track them down in the middle of the Iowa bean and corn fields.
He told 11Alive investigator Brendan Keefe that he hired two private investigators, but later confessed that he used his law enforcement position to find them.
Dale Roberts is a Georgia State Trooper.
After our 11Allive investigation aired, Trooper Roberts was questioned by Georgia State Patrol Internal Affairs.
Lt. James Corbett, GSP: "How did you find out where Stephanie and them, Stephanie and Brandon, had moved?"
Dale Roberts: "This is what's gonna get me in trouble, probably. But I run Brandon's license number and that's what I found where he was at and -- and all."
Investigators pulled the computer data out of Dale's department cruiser and audited his searches through the state's confidential crime information database.
Lt. James Corbett, GSP: "That's the number of times Stephanie and Brandon were run..."
Records show that Dale used the secure government system 16 different times to try and track his son and his son's wife, Stephanie.
Dale Roberts: "Well I run 'em through Texas to start with.... Tennessee, Alabama, Kentucky, Florida, and South Carolina, maybe North Carolina. So, I guess it does add up that many times."
When we first sat down with Brandon, he said he believed his father used his job to hunt him down and got local law enforcement in Iowa involved by calling them, stating he was a trooper.
"Even though he said that he used private investigators, now we know the truth was he used his tools as a Georgia State Trooper to find us," Brandon said.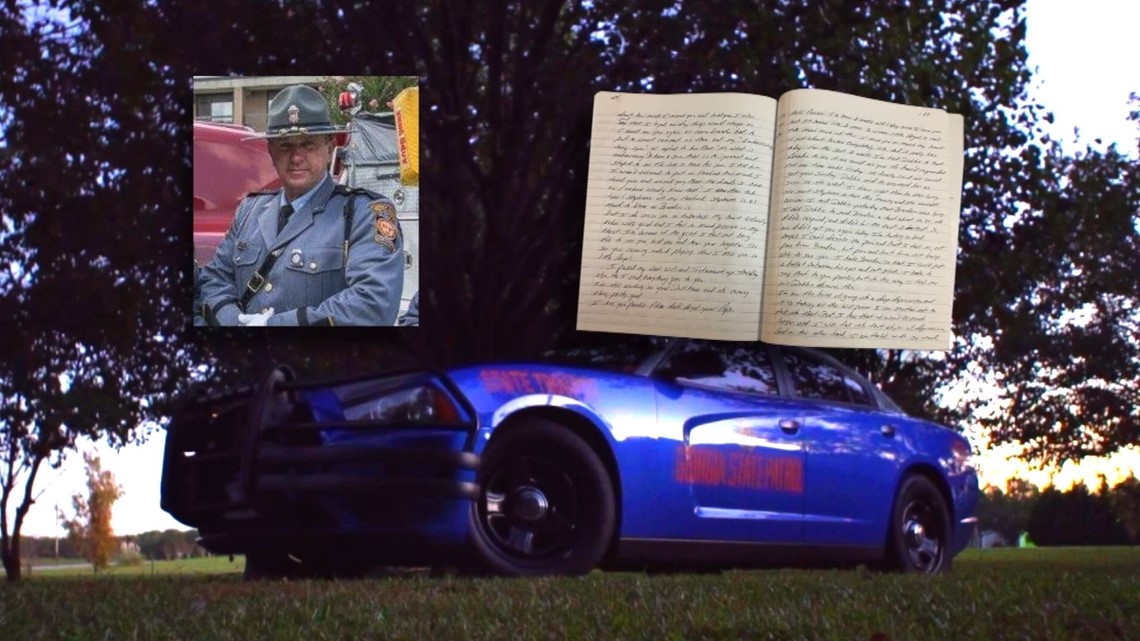 The internal affairs investigation didn't stop there. Dale's journal was booked into evidence and used by the department to question him about the passages where he fantasized about killing his son.
"I have never threatened Brandon. If I had threatened Brandon or his mama by killin' them, even though I said those things in the journal, I would have been done locked up," Dale told internal affairs investigators.
This text message Dale admitted to sending to his ex-wife, Brandon's mother, was also booked into evidence in this case.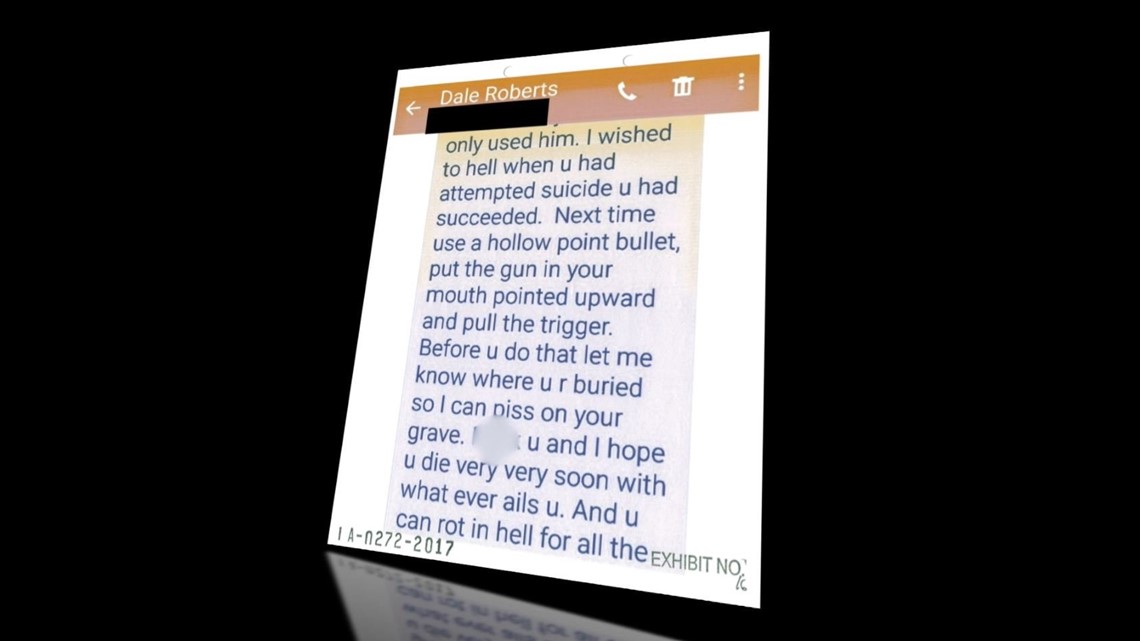 "I wish to hell when u had attempted suicide u had succeeded. Next time, use a hollow point bullet, put the gun in your mouth pointed upwards and pull the trigger. Before u do that let me know where u r buried so I can piss on your grave," Dale texted.
There was something else written in the journal that caused concern to investigators -- Dale's use of the N-word.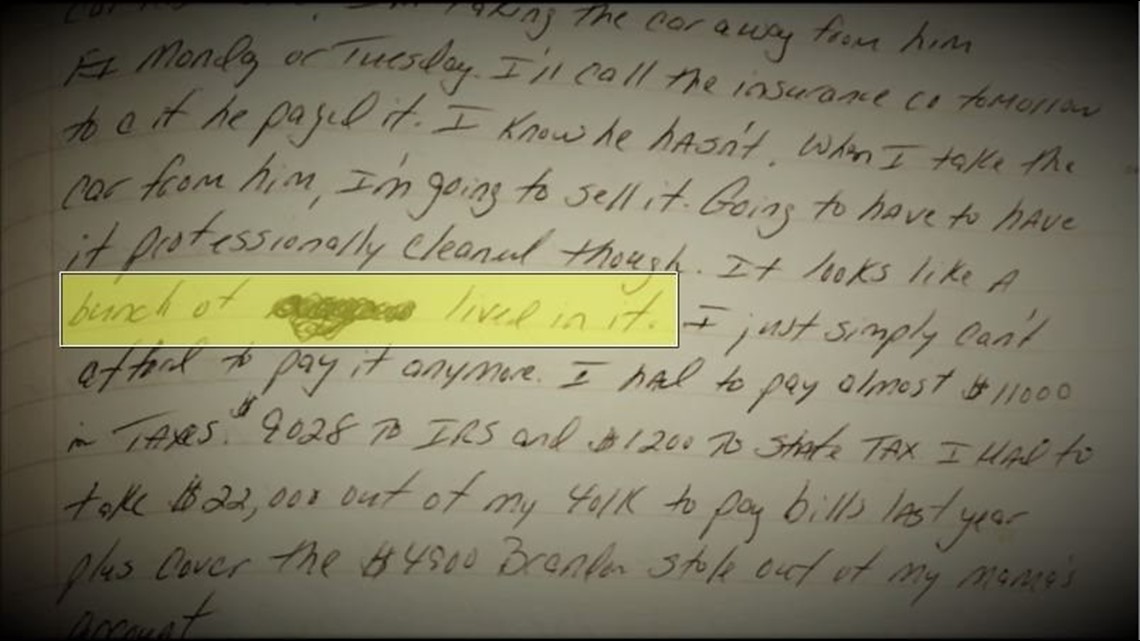 When we sat down with Dale and asked him about it, he denied that the word scribbled out is the N-word.
Brendan Keefe: "There's a word scribbled out there. Do you know what that word was?"
Dale Roberts: "Umm, no sir... idiots? No.."
Brendan Keefe: "There appears to be two G's in the middle of the scribble."
Dale Roberts: "I know where you're going, but no sir."
Brendan Keefe: "That's not the N-word?"
Dale Roberts: "No sir, it's not."
Brendan Keefe: "Okay, so a bunch of..."
Dale Roberts: "It could have been idiots, I don't know, but it is not that word."
Brendan Keefe: "Do you use that word?"
Dale Roberts: "No, I do not."
However, when asked later about it by internal affairs, Dale had a different answer.
Lt. James Corbett, GSP: "One of the last things is the use of the N-word in the journal."
He continued to tell internal affairs, "I am not a racist. Have I used the word? Yes. I'm 61 years old. That's the way we're brought up. Most of the time we said it, it didn't mean anything. And it's just, ah - sometimes it slips out."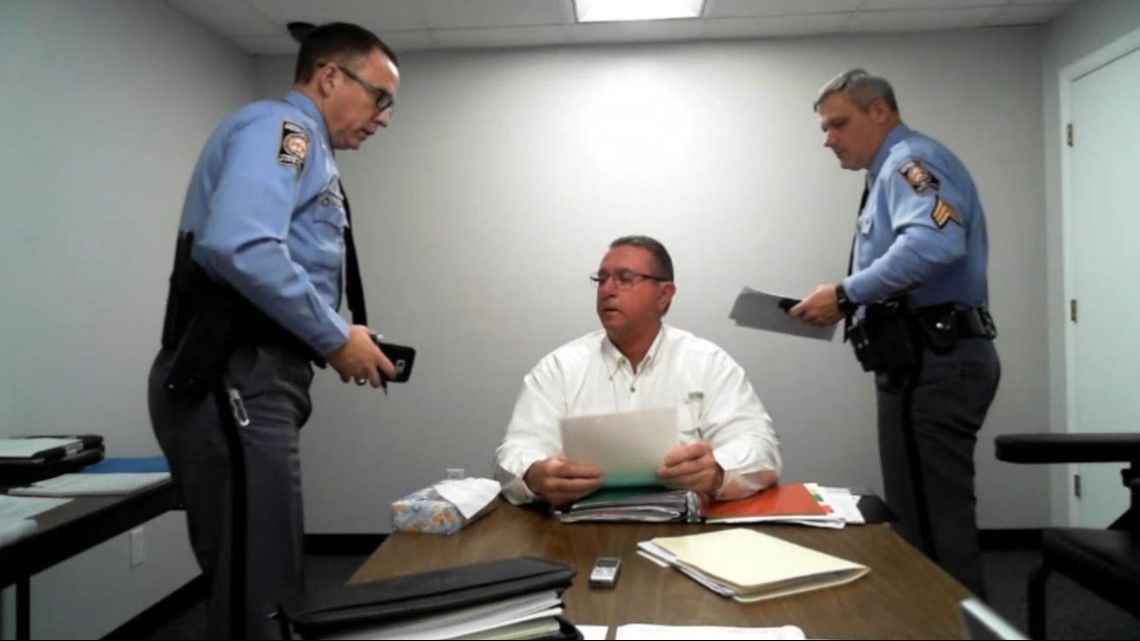 Dale told internal affairs that his State Patrol Command Staff had no problem with him using the N-word in his journal.
"I owned up to it. I didn't have nothin' to hide, and Sergeant Harrell said 'I've said the N-word myself.' Captain Dixon said, 'if nobody said they don't say, is a liar,'" Dale explained.
So, what happened as a result of this internal affairs investigation?
Trooper Dale Roberts was allowed to retire from the department.
"He was allowed to retire. He lost his job, but they gave him the option to retire," said Brandon.
Even with admitting on camera that he used the secure government database to hunt down his estranged son's family, the State Patrol told us the case was closed with the Trooper's retirement.
When 11Alive pushed further for answers, the commissioner referred investigators to the Georgia Bureau of Investigation. That criminal investigation by the GBI is completed, and now the Griffin District Attorney is scheduled to take the former trooper to the Grand Jury.
According to GBI records, there have been 53 violations reported of police officers and government employees using these government databases for personal reasons in the last 2 years. Of those violations, only three faced charges. Some resigned or were fired, but some got punishments as small as the loss of eight hours pay. As for Brandon and his family, they say they are still looking over their shoulder afraid of what his father might do.
Brandon said his biggest fear is, "what he [Dale] put in the journal. About killing us, in order to get custody of my girls".
Family Flees Across Country from Trooper Grandpa