EDITOR'S NOTE: 5 Roses, 2 women is a digital series—along with the 5 Roses podcast—detailing the timeline account of events, based from the case files received from the Atlanta Police, East Point Police and the FBI via the APD, that included interviews with witnesses and those closest to Mary Shotwell Little and Diane Shields.
EAST POINT, Ga. -- On the morning of Oct. 15, 1965, co-workers join Roy Little Jr., for breakfast at their motel around 7 a.m., and then they all report to work at the LaGrange Bank at 8 a.m.
However, his is new bride, Mary Shotwell Little, does not show up for work at C&S Bank.
Her boss, Gene Rackley, calls her apartment, but no one answers.
Worried, because it is unusual for her to be late for work and not call, Rackley rushes over to her the Belvedere Apartments, where she lives with Little, and the property manager lets him in to check on her.
Rackley calls Little just after 10 a.m., to find out if he spoke to Mary the night before. The two men talk for about five minutes and Rackley indicates that he will call him back in a half hour.
But the concerned husband hangs up the phone and immediately leaves LaGrange and heads back to Atlanta.
He drives straight to their apartment, located at 1629 Line Circle in Decatur.
From the look of things, he does not believe that she slept there the night before because her birth control pill had not been taken Thursday night. Nothing else in the apartment seems to be out of the ordinary.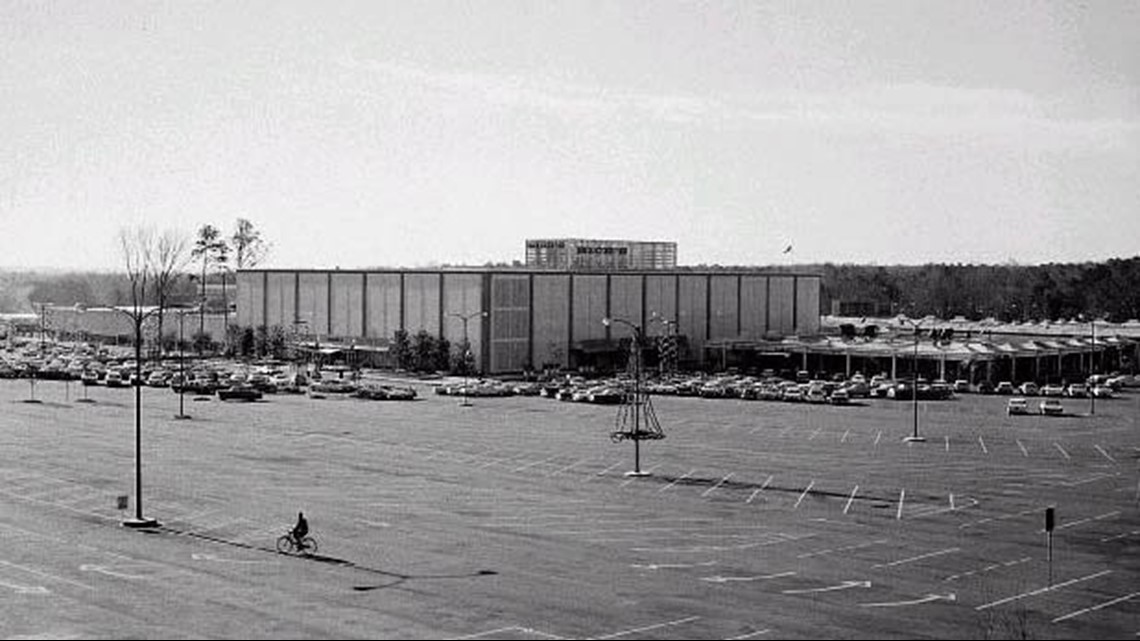 After he cannot find her at her apartment and gets nowhere talking to Little, Rackley goes to Lenox Square looking for Mary's car, since he knows that's the last place Stack saw her the night prior. It's around noon when he finds Bob Fossett, a security guard, standing on a sidewalk outside S&S Cafeteria, and asks him to help him look.
Fifteen minutes into their search, they discover her Comet in Row 32 of the yellow parking lot. Fossett opens the car door and sees a bra on the floor and blood stains on the seat. He makes a call to the Atlanta Police Department.
APD Patrolman H.J. Crouch rolls onto the scene at 12:35 p.m., along with Lt. Marion Blackwell, who also calls Lt. Barnes from homicide.
Barnes receives a signal 59 at Lenox Square. He calls officers McCollister and Faulkner to the scene.
They speak with J.A. Thompson, the Lenox Square security guard who was on duty between 12:30-8:30 a.m., who tells them that Mary's Comet was not parked in the yellow section between 4-8 a.m.
Investigators take a closer look at the two-door sedan.
A red dust has settled on the exterior of the car. But, inside, the ignition keys are missing, and the doors are unlocked.
There is a considerable amount of blood smeared over the entire surface of both tan-colored vinyl front seats, but predominately on the passenger seat. There is blood on the passenger door window and a couple of drops of blood on the outside of the driver's side door near the lock and handle. The blood drops run in a horizontal direction, indicating that the car may have been moving when the blood fell.
Inside, her clothes are neatly folded and placed in the console between the two bucket seats.
There are blood spots on top of her clothes, including a white slip, white lace panties, white girdle and a 9-inch piece of pantyhose, that are cut from foot of hose. Investigators also find a No. 2 desk pad and a Lily shoe box with a pair of used, medium-heeled, size-6 shoes.
There is a soft drink bottle on the floor and a Coke bottle under the driver's seat—an empty pack of Kent cigarettes are sitting on the passenger side's dashboard, containing the remnants of an ashtray. Parking tickets inside the car also indicate that it was not parked there prior to 9:30 a.m.
FBI agent, J.W. Moore, now on the scene, finds a tan-colored shirt button on the floor near the driver's seat.
On the passenger seat, there is a ½-inch-long piece of grass stuck in blood and standing straight out from the back side of the seat.
Her purse and raincoat are missing, but there is a black bra on the passenger side floor board and Mary's bagged groceries are sitting undisturbed in the backseat.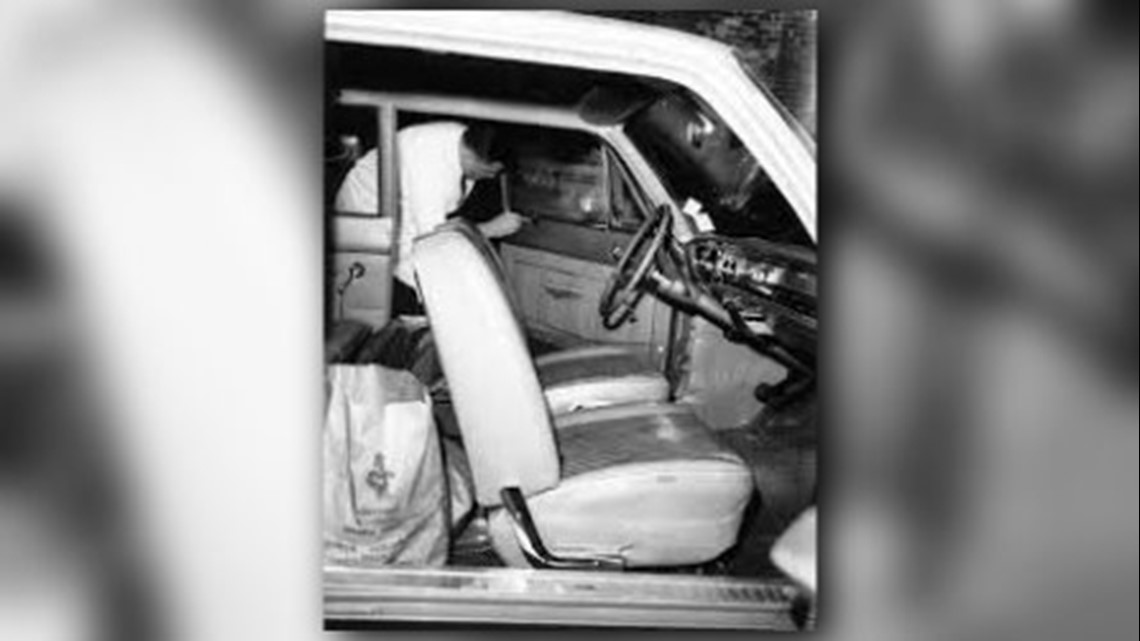 Barnes calls Robinson and Stephens Wrecker Service.
Marion Wheeler, with the tow service, supplies detectives with a crowbar to open her trunk. There is nothing of note inside, and Wheeler tows the car to the APD, where it's processed for latent fingerprints and is photographed by Frank Skokan.
One small, bloody latent fingerprint is lifted from the steering wheel. After review, however, Wayne Spiva, with APD's identification division, says it has no value for comparison.
Several other latent fingerprints are lifted from other parts of the car, which are suitable for comparison. However, all fingerprints appear to belong to Little and Fossett, the security guard, who opened the door that morning.
5 Roses: Inside the Mary Shotwell Little investigation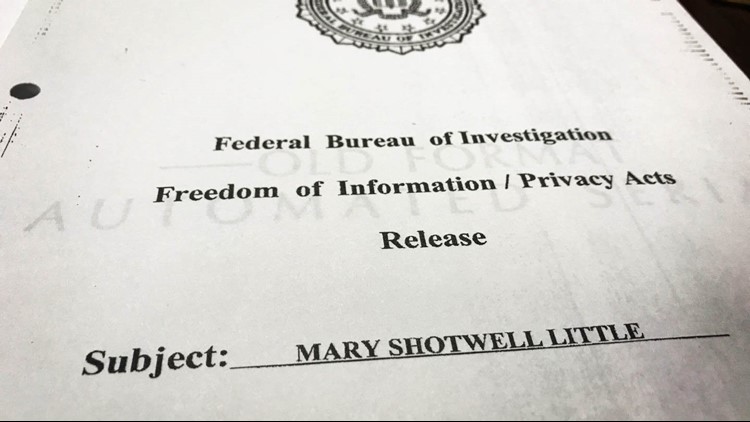 Late in the afternoon, gas is purchased again using the same Humble gas credit card in Raleigh, N.C. The gas station attendants note a man and a woman inside the car.
The woman is sitting in the front seat, wearing a tan raincoat with a blue-and-white striped towel wrapped around her head.
As the woman signs for the gas, the attendant notices blood on her arm and dress, and that her legs are covered with scratches.
Just after 5 p.m., APD blasts a bulletin for a missing person with possible foul play.
Now, the largest manhunt in Atlanta history begins.
The Diane Shields' murder case and the Mary Shotwell Little's missing persons case have gone cold for more than 50 years. Detectives have come and gone—investigated, retired and died, before ever getting to the truth.
Do you know what happened?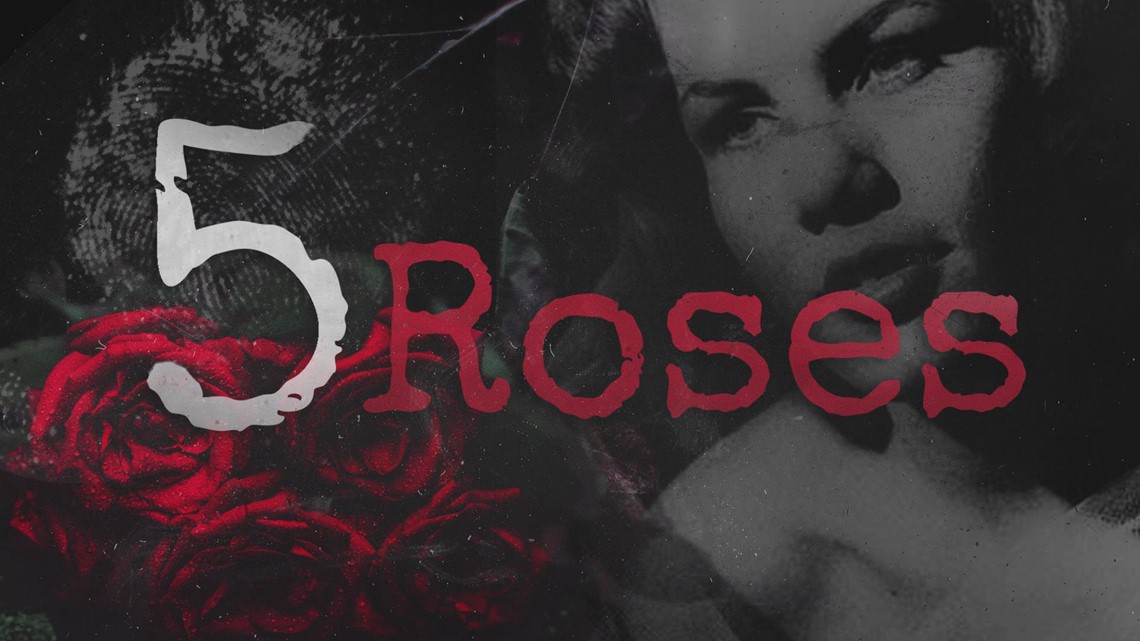 This timeline narrative detailing the last moments of their lives and the investigations that ensued thereafter are taken from the case files and police interviews from the 1960s, as well as interviews with family and investigators from present day.
5 Roses is part of Gone Cold—an ongoing digital series, where Noll investigates some of the most infamous and lesser-known cold cases in Georgia. She's digging for answers for the still-grieving families who long for them, and for the victims who have never found their justice.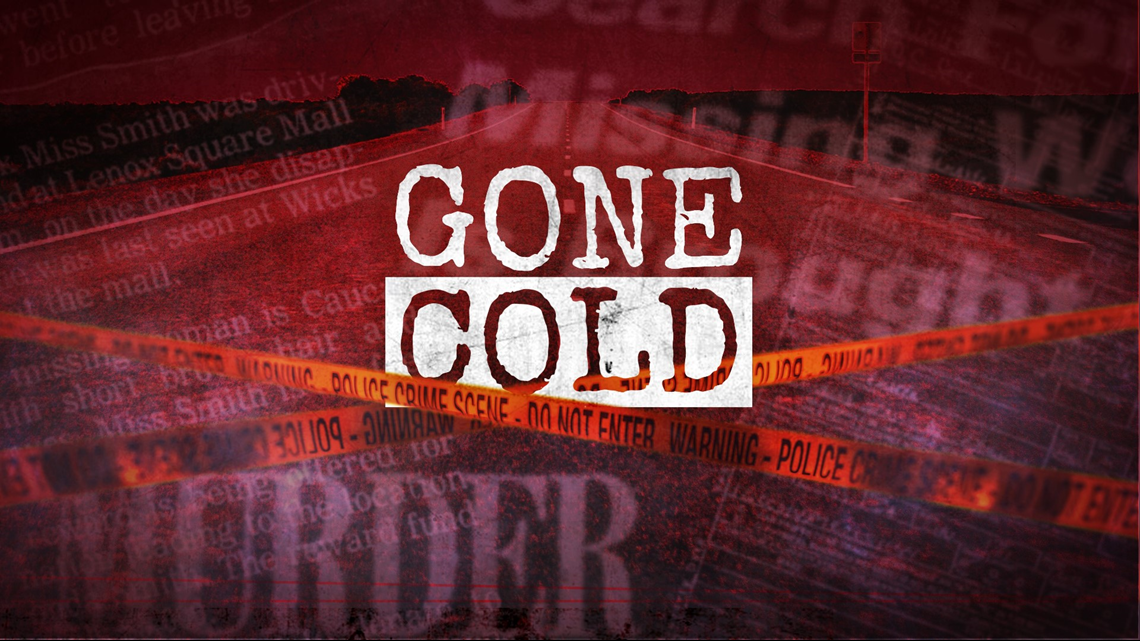 Jessica Noll is a multimedia journalist, who focuses on in-depth, investigative crime/justice reports for 11Alive's digital platforms.
5 Roses photos provided by: APD, East Point PD, John Fedack and Sheryl McCollum.
5 Roses graphic by Joshua Coats.