Kelley Castlin-Gacutan, 47, gently traces her dapper husband's face with her finger on a photograph of him smiling, and sharply dressed in a black tuxedo.
"He loved us so much; he loved family. He loved life. He was ambitious. He was funny, smart, very good looking."
Every single day, she hears his laughter and his calming voice, "Just wait and see… you'll see."
"He was wise beyond his years," Kelley remembered, beaming with undeniable pride.
"He would just tell me, 'You'll see. You just keep on living, you'll start to see some of these things that I'm telling you about.'"
One day, he told her, "People change. Life changes. Things are not always going to be the same."
Kelley, then-31, could not have realized that one of those changes would be not having him in her life.
"Rodney was such a good person—I mean, probably one of the most painful things, when I think about how he left us, is that I know that he was thinking of us when he saw that person put a gun in his face. I know that."
PHOTOS | Solved: Rodney Castlin murder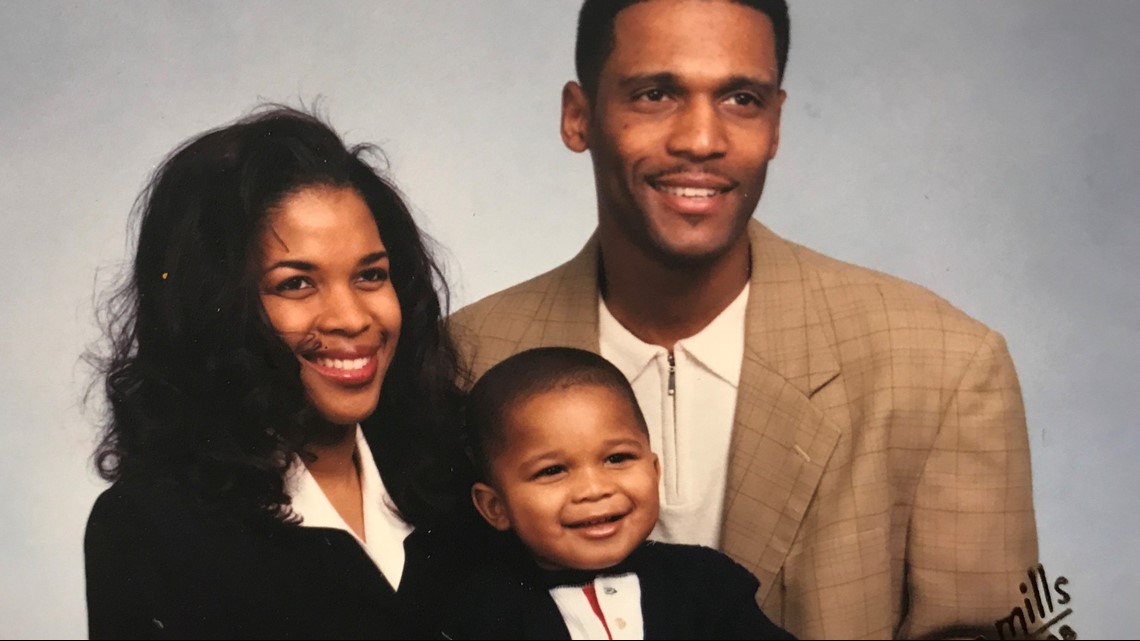 Rodney and Kelley met in the fall of 1991. Their love story was a whirlwind.
Rodney was working for an insurance company and she worked at a bank—both within the same office building.
"A person who worked in the building kept telling us about one another and one day we met in the lobby," Kelley recalled.
Shortly after, they went on their first date. He came to her apartment, she said, and they sat and talked for hours on end.
"I knew he was the one for me because we were the best of friends," Kelley said. "Our connection was even evident to people who were around us. He meant the world to me and I know he felt the same."
A few years after they began dating, Rodney proposed to her at her favorite restaurant at the time: Red Lobster.
With a classic black and white theme, the couple married on April 5, 1995 with a 16-person wedding party, as well as their family and friends to help them celebrate.
With a black tuxedo, complete with a white bow tie and shined black dress shoes, Rodney posed in photos next to his bride, Kelley, who was wearing a delicate pearl and lace head piece, matching a fitted, lace-adorned white gown with a sweetheart cut and satin train.
But on Thursday, Dec. 7, 2000, the Castlin family's fairytale life would take a dramatic detour and change their lives forever.
Rodney, 36, took classes during the day and worked as a hotel manager at night, working toward a business degree at Chattahoochee Technical College— his goal was to open his own business detailing cars.
"We were just a very happy couple, just looking forward to brighter days," Kelley said, after losing a child a year earlier.
On a chilly winter evening, just before Christmas, Kelley remembered that she and their 4-year-old son, Kyle, had pizza for dinner and before going to bed, she called Rodney, who was already at work at the Wingate Inn—a business-class hotel in Kennessaw, Ga., just off Interstate 75, that had only been open for about six months.
He had started at the nearby Days Inn and worked there a year before moving to the newly-opened Wingate--now a La Quinta Inn--taking a position as the night manager.
The young couple spoke around 8 p.m.
Kelley, who was an assistant principal at a local school, remembers it as a brief conversation, just a typical recap of what each other had done that day—especially since they were on conflicting schedules—her on days, him on nights.
When he worked nights, she said, it was always important for them to talk before she went to bed.
"You just never know what the day brings," she said.
That night, while she talked to Rodney, he told her about the audit that he had coming up the following day and how he was preparing for it. It was a busy night for him.
She told Rodney she was going to get Kyle ready for bed and that she was going to go to sleep as well.
"Our last words were, 'I love you,'" Kelley said.
At approximately 11 p.m., Kelley was startled awake by a knocking on her front door.
"I thought I heard someone at the door... and I thought, well, Rodney must have forgotten his garage door opener. I went down the stairs and at my door was sheriff's deputies," she recalled.
They asked to come inside her Acworth home. Catching her breath, she cautiously obliged with confusion about why they were there.
Then-Cobb County detective, Dawes, divulged to her the worst news of her life.
"We want to let you know that there was a shooting at the hotel tonight and Rodney was shot and killed," he told her.
The 8-months pregnant wife and mother's mind began to swirl in utter disbelief, gasping for air and grasping for answers.
"It was awful. It was awful," she remembered. "It was extremely painful. I had to do the best that I could to compose myself."
Amid the chaos and panic, a calming presence came over her. She believes it was Rodney.
"Because of his faith and because of his love for us, I know so well, that I felt comforted by him. So, while it was excruciating, extremely painful, I found a way to cope, even at the onset, because of those factors. It wasn't just me; it was me, having an unborn baby. Me, losing a child. Me, having a 4-year-old—and it is just me now."
Before she knew it, her living room was swarming with people—investigators, neighbors. Kyle woke up and crept downstairs to see what was going on.
"That little 4-year-old looked at me, and he said, 'I have to take care of you and the baby,'" Kelley remembered.
That night, Dawes made a promise to her.
"We will find the person who killed Rodney. You can count on us to do that. We're not going to give up until we find the person who did it."
"Day after day, I would call and say, 'Do we have any leads? Do we know anything?'" she said.
Soon, instead of calling every day, she started calling once a week. Once a week turned into every couple of weeks, to once a month—only to get the same answer: No leads.
"It was very frustrating. It was just incredibly difficult," she said of not knowing.
>>>LET'S TALK | Gone Cold: Unraveling Georgia's mysteries
But what detectives did know was that at 10:30 p.m., on Dec. 7, 2000, two men busted into the Wingate Inn, near Barrett Parkway.
One of the assailants, who was armed, vaulted over the counter, while the second perpetrator made his way inside a small office near the front desk and robbed a hotel guest.
The young, thin man pointed a handgun and demanded cash from the front desk.
During the chaos, Rodney, who was scheduled to clock out at 11 p.m., emerged from the back office.
That's when the gunman confronted him about the hotel's safe.
But, to his detriment, there was no safe in the hotel.
The armed man returned to the front desk and clocked the desk clerk on the back of the head with his .22-caliber handgun, knocking him unconscious.
The man then shot Rodney, striking him in the chest. The bullet exited just below his shoulder blade, and was later recovered from the floor.
The two robbers fled to a car waiting outside, with barely more than a mere $300.
The clerk and the robbed guest sought help, as Rodney laid bleeding, dying on the floor.
The father and husband was pronounced dead on arrival at Kennestone Hospital.
"This was a young man who was literally doing everything that he should do in life. He did everything that we ask of other members of society to do to become productive," Reynolds said.