Handcuffed hero: Good Samaritan arrested after saving woman's life
He spent decades saving others, but the last life this retired fire chief saved, cost him his freedom.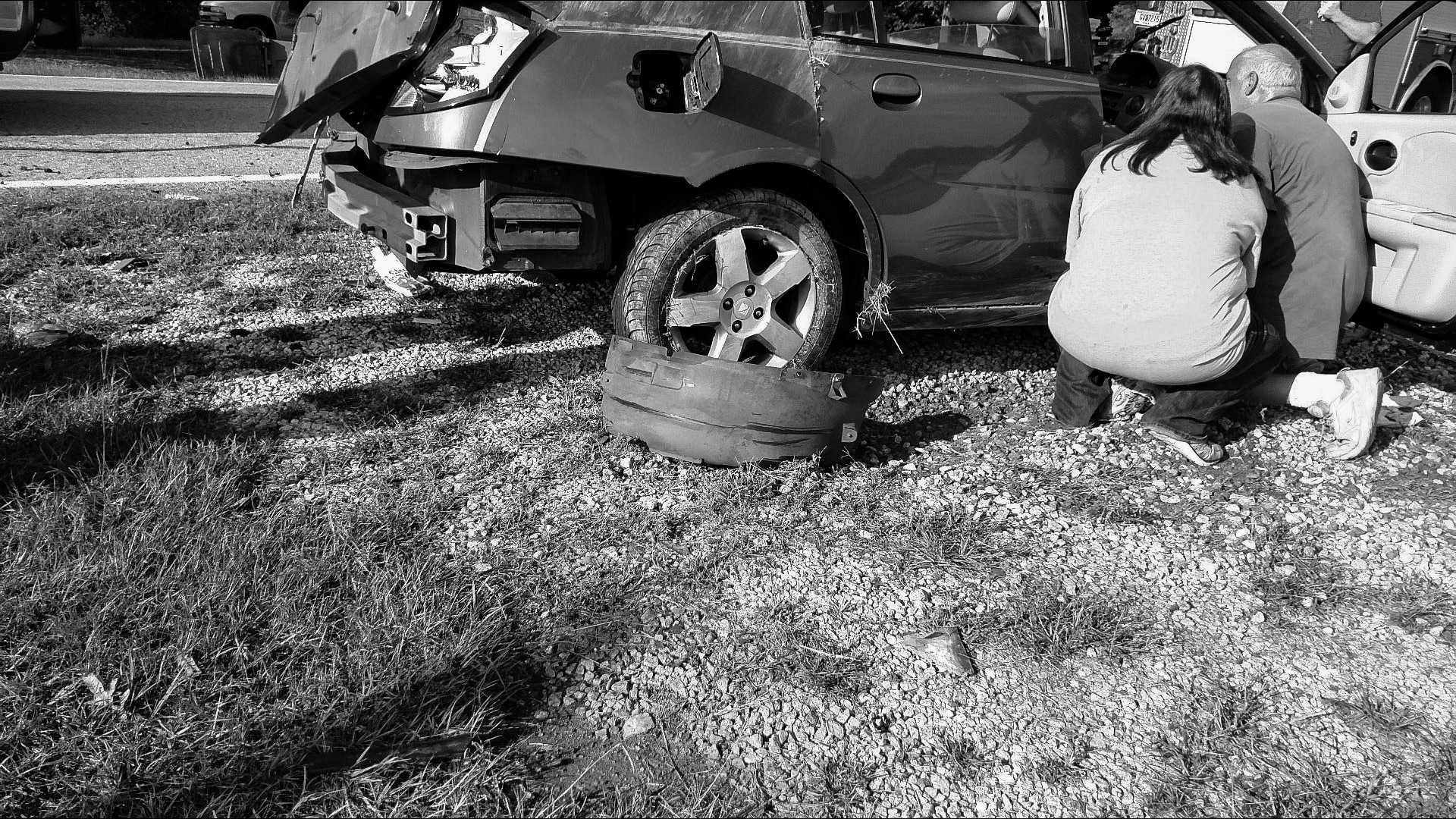 UPDATE: Charges have been dismissed against Rick Rickerson after this story was published. Click here for the update.
:
No good deed...
:
MEANSVILLE, Ga. – There's no white cross on the side of GA 109 symbolizing a lost life. That's what matters to Rick Rickerson.
It all happened so quickly.
A vehicle flips over and over on a desolate stretch of a Pike County highway.
Rickerson witnesses the horrific accident and his instincts automatically kick in. He leaps into action without hesitation—saving lives is what he's known for three decades.
Other good Samaritans stop and pull over to help pry the victim, Rebecca Buchanan, from her crushed, green four-door sedan on the side of the road.
After reviving Buchanan, a Georgia State Patrol trooper orders Rickerson to move his truck from the roadway.
The 30-year veteran fire chief refuses to leave her side.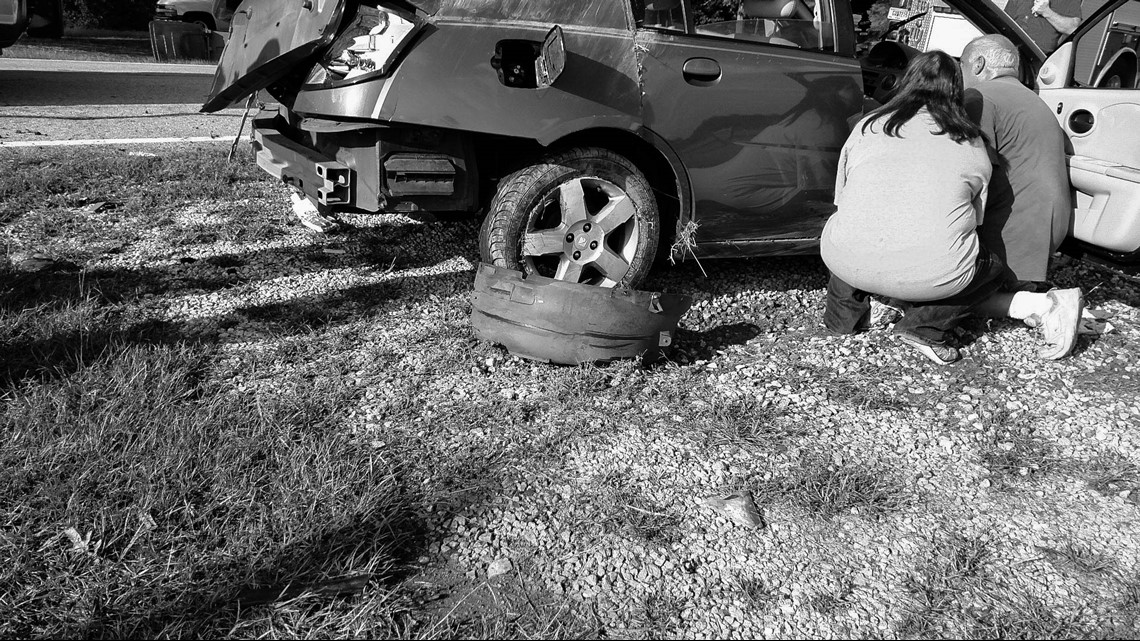 Minutes later, the 56-year-old former battalion chief watches, handcuffed from the back of a police cruiser, as Buchanan, who clings to life, is loaded into a medical helicopter.
He's arrested for obstruction, and later, booked into the Pike County Jail.
What happened that crisp fall evening along that rural two-lane highway has been debated, but all versions of the story conclude with a young mother surviving what could have been a fatal crash, and the man, who she credits with saving her life, ending up behind bars.
Just before 5 p.m., on Tuesday, Oct. 10, 2017, the now-retired firefighter, drives westbound down GA 109 in Meansville, Ga.
It's a bright, Georgia autumn day—blue skies dashed with a sprinkle of white puffy clouds; his 2003 white Toyota Tundra's tires crunch colorful leaves as they blow across the rural, winding road.
In front of him, he watches in disbelief as a driver loses control of her car.
The car fishtails to the right and back to the left.
The driver hits the culvert with the front end of her car, catapulting the car forward.
The car soars into the air, flipping end over end—over and over and over—finally landing on its tires on the side of the road.
Rickerson jumps into action as he's done hundreds of times as a professional first responder, and runs straight to the victim—leaving his truck in the middle of the road with the keys still in the ignition.
"My training pretty much kicked in as soon as I witnessed the wreck," he recalled. "You go into the mode of firefighter when you see this happen.
"Many times, the worst thing you can do is nothing," Rickerson said.
He reaches Buchannan's car to render aid.
He sees that her head is resting in the passenger seat.
"She was not breathing. She was not responsive and there was no breath at all," said Rickerson who's in plain clothing--khaki shorts and a polo shirt, unlike his full firefighter garb of years' past.
Without pause, 911 calls begin flooding into Pike County's dispatch center, including from Rickerson.
Rickerson: "This 911? Pike County? This is Rick Rickerson, I'm a retired battalion chief, Griffin Fire Department. I'm on the scene of an overturned single vehicle with a single occupant, unresponsive at this time."
Rickerson: "The vehicle has overturns a couple of times."
Dispatcher: "OK, we've got help coming. OK?"
Rickerson: "There is entrapment. The doors will not open. The doors will not open. It's on its wheels. It's overturned at least three times."
Rickerson: "She is unresponsive and, at this time, I don't think she's breathing."
Meanwhile, Rickerson and others who stopped to help, including Kristy Rodriguez, put everything they have into opening the car door and it breaks free.
"We noticed that Rebecca was trapped… she wasn't breathing," said Rodriguez, who was fourth on the scene.
"I can hear Rick saying, we need to get her airway open. She's not breathing," she remembered.
One of the bystanders holds her head, another holds her shoulder, while Rickerson opens her mouth.
He clears her airway with her shirt, but her mouth fills back up with blood.
"I never saw Rick leave the side of the vehicle," Rodriguez said. "I believe that Rick was right where he was supposed to be."
After clearing her airway and making sure she can breathe, Rickerson calls 911 again.
Dispatcher: "Pike County 911, what's the address of your emergency?"
Rickerson: Pike County 911, Rick Rickerson again on the wreck at 109."
Rickerson: "No first responders are here yet; can you advise your officer in charge of fire responding that Rick Rickerson is on the scene and I would suggest them requesting life flight."
Dispatcher: "It's already in the air."
PHOTOS: Man saves woman from crash, arrested
The dispatcher calls over the radio.
Dispatcher: "It's a possible fatality."
Trooper: "I'm actually a trooper with the state patrol; I'm in training, so I'm kinda off."
Trooper: "If you have access to life flight, I would definitely have them en route."
Georgia State Patrol trooper, Sgt. Rodney Jeter, arrives on the scene in an unmarked SUV.
Jeter, dressed in black pants, a black polo with the word "instructor" embroidered on it and a black ball cap, gets out of his vehicle and approaches the vehicle, inquiring about the truck in the middle of the road.
Rickerson continues to work on Buchanan.
"I cleared the blood again, and it was probably another 45 seconds before the second breath. And somewhere in that point, between the second and third breath, I heard, 'Whose truck is this?'" Rickerson said.
"I said, 'It's mine,' He said, 'I need you to move it.' And I looked over at him and I said, 'I'm not leaving this patient.'
"He turned sideways and said, 'Sir? I said I want this truck moved!' And again, I said, 'I'm not leaving my patient.' She had had only two or three breaths. I was prepared to breathe for her if she had stopped breathing again. I wasn't leaving that patient."
According to Rickerson, there were no emergency medical personnel on the scene yet.
"There [were] no first responders. So, I was the only one on the scene," he recalled.
But, according to the Georgia Department of Public Safety incident report filled out by Jeter, Rickerson was no longer rendering aid to Buchanan when he approached him about his truck.
"Rickerson was standing behind two others that were kneeling down beside the vehicle. There were three people that were standing immediately around the vehicle," Jeter wrote in his report.
"He was not touching the driver at the time and was not rendering aid. I called out to Rickerson and said, "Hey, sir, can you please move your vehicle?" He replied, "No, I'm not moving my vehicle right now!" I replied, 'Sir, I need you to move your vehicle to make room for emergency vehicles that are coming.'"
"He replied, "I told you, I'm not moving my vehicle right now, and I'm not leaving this patient!"
Jeter, according to the report, walks over to the accident scene, and identifies himself as a Sergeant with the Georgia State Patrol, explaining that he doesn't want his vehicle in the way of emergency vehicles coming to the scene.
"[Rickerson] stated, 'I don't care who you are. You can take me to jail, but I'm not moving my vehicle or leaving this patient right now.'
"He kept following me, wanting me to hear him out," Rickerson said about the trooper. "Telling me he was a paramedic.
"And I questioned him, 'You're a paramedic? You didn't put your hands on that patient. You didn't help us open that door.'
"All paramedics have vehicle extrication training. But he didn't do anything to assist us with this patient," Rickerson said.
Following this exchange of words, one of the other witnesses on the chaotic scene, 40-year-old Emily Meadows, moves Rickerson's truck for him.
"I walked away and advised Mr. Rickerson I would speak with him later," Jeter said in the report.
Distant sirens travel closer and closer.
As first responders arrive on the scene, Jeter points Rickerson out as the best witness for information about the crash to an officer and a few sheriff's deputies. However, he also reveals that he's had a run-in with him—not following an order to move his truck.
"He's gonna be your best bet on some good witness information. I'll let you get that before I tell him what I'm gonna tell him," he can be heard saying on one of the cruiser's dash cam.
"I almost… I come close… I had to really control myself to keep from arresting him just a while ago," he can be heard saying on one of the cruiser's dash cam.
Other officers and sheriff's deputies on the scene chime in.
"He thinks he knows every single thing there is to know about everything."
"He is a piece of s**t. He's a piece of s**t."
"I just hate. I hate. He is a piece. I told you there was something wrong with him."
"This might get interesting," one says, laughing.
"All I did was ask him to move his truck," Jeter responds.
Once Buchanan is loaded into the ambulance on a stretcher, awaiting the medical helicopter's arrival, Jeter approaches Rickerson once again.
"Hey, buddy? Hey, sir? Come here," he's heard saying on the dash cam footage. "All I asked you to do is just move your vehicle."
"And you know if I leave that patient with two civilians…" Rickerson explains.
"I understand all that," Jeter replies.
"…and she goes back not breathing. I opened up her airway to make her breathe."
"I've already told you my whole background," Jeter says to Rickerson.
"I don't care about your background. I care about what happened right here. You're mad at me because I don't care about your background," Rickerson argues. "You know you ain't got no case here."
Jeter wrote in his report, "It was clear to me Mr. Rickerson refused to cooperate the entire time I spoke with him."

A hero locked up
:
For Rickerson, there would be no hero's welcome or reward for his efforts—rather silver handcuffs around his wrists and placed behind his back, and a prime seat in the back of a sheriff's deputies' cruiser, watching as his patient is taken to the hospital, not knowing if she will survive.
"While I was sitting in the trooper's car, the helicopter landed, and she was loaded, I could watch through the windshield, she was loaded from the ambulance to the helicopter and lifted off," Rickerson said.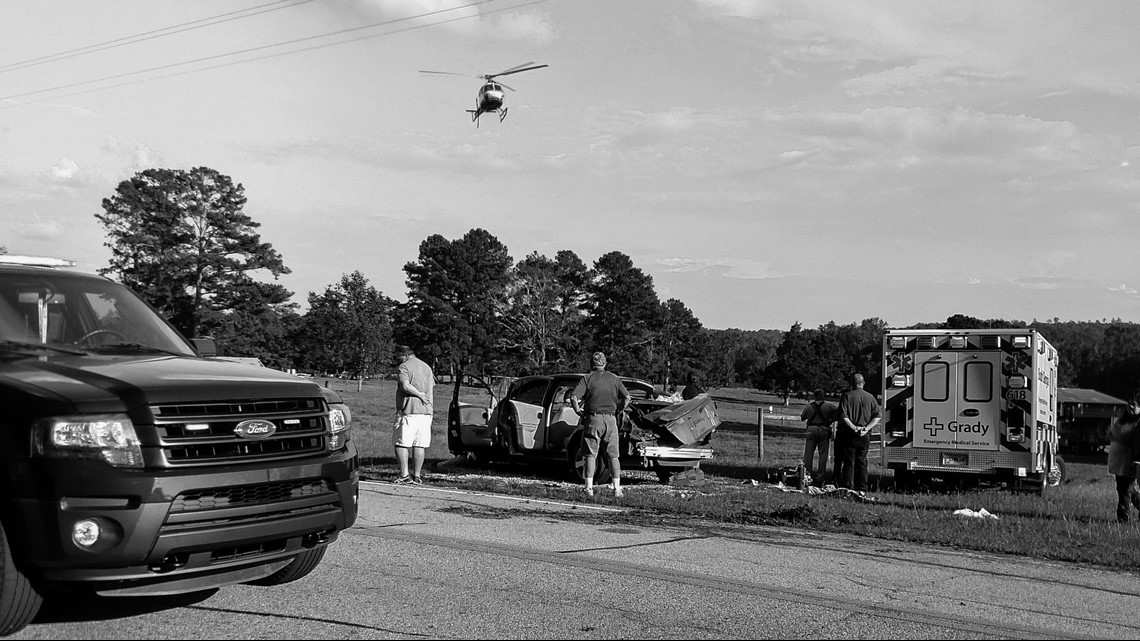 An officer and deputy on the scene, once again, chatter about Rickerson, as overhead on the dash cam.
"He's locking his a** up!"
Perkins Towing takes away Rickerson's truck, while he is taken away to the Pike County Jail in Zebulon, Ga., and booked on an obstruction of a law enforcement officer charge.
"I placed Mr. Rickerson under arrest for obstruction, due to the fact that he consistently refused to remove his vehicle from the roadway," Jeter said in his report.
He sits for the next several hours behind bars.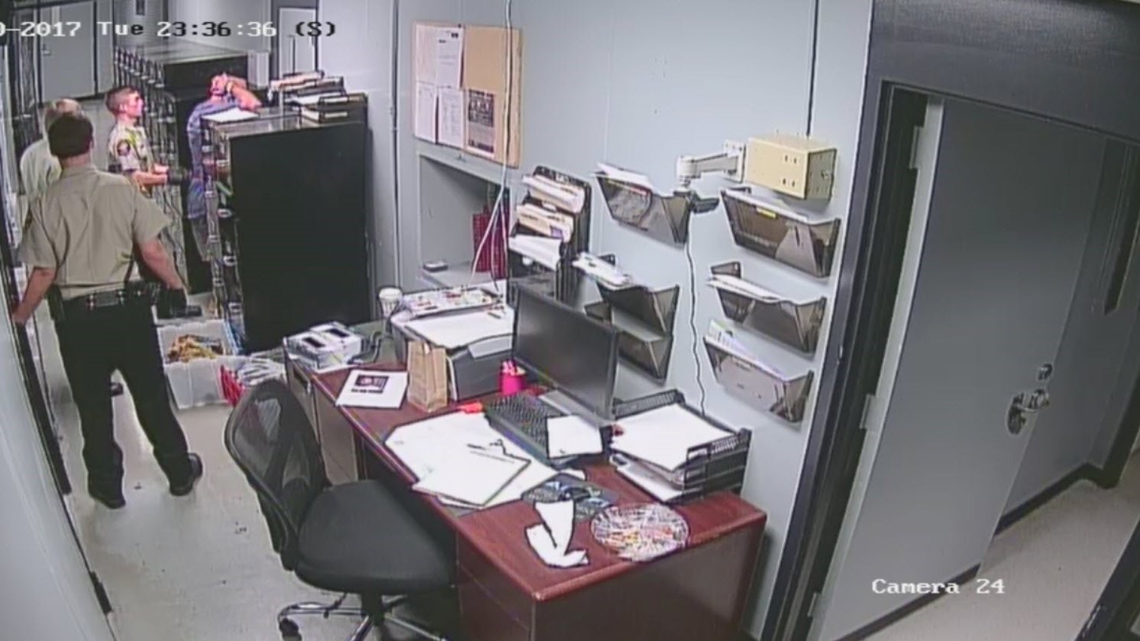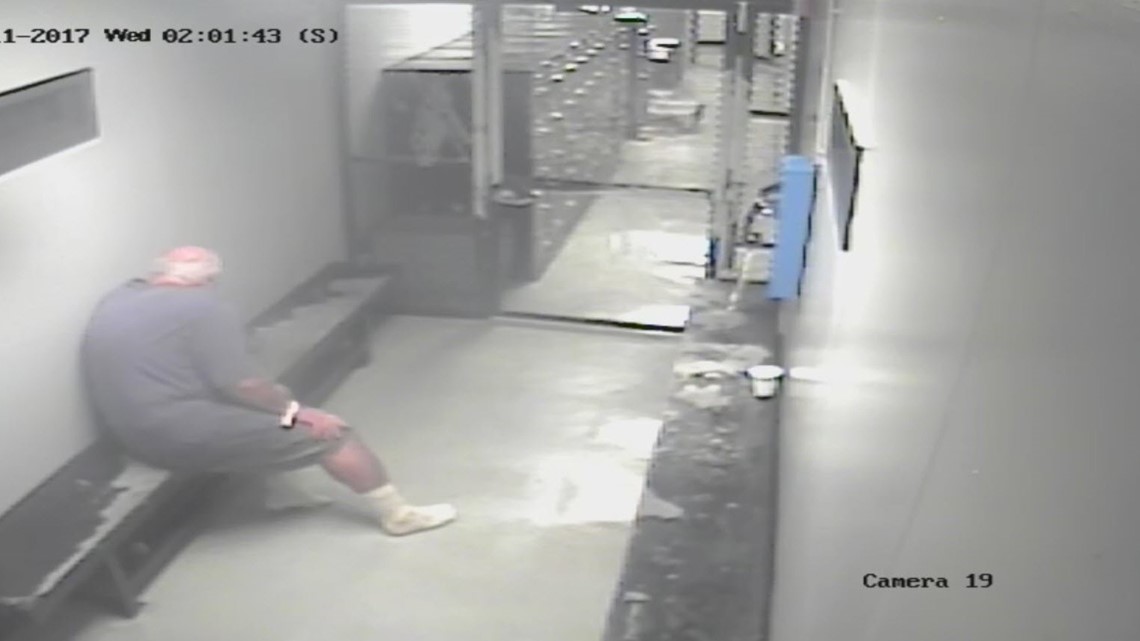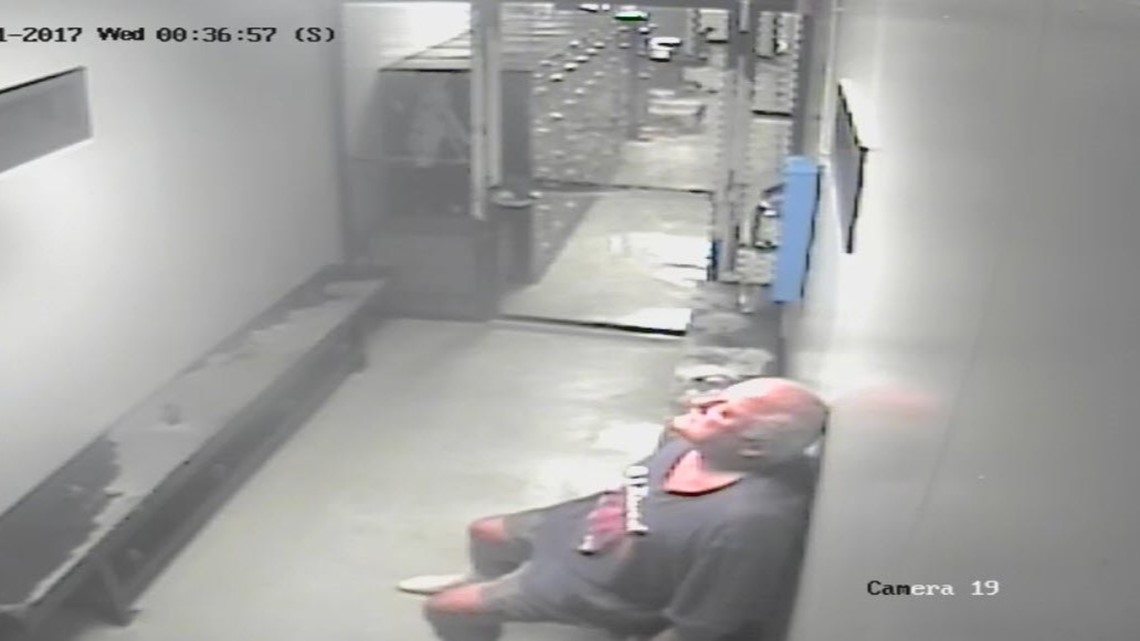 Rickerson has spent his life saving lives.
He joined the Griffin Fire Department in August 1985 and, later, was promoted to lieutenant by then-chief Ronnie Ellis.
The founder of the Firefighters Toy Drive in Griffin, Ga., was also voted as "Best Fireman" in 2006 for the Griffin Fire Department, by Griffin Daily News readers.
PHOTOS: From hero to handcuffs
And, he said, on that October day, he did what he was trained to do. In fact, he did exactly what, he said, he has trained others to do in that situation as a first responder on the scene of an emergency.
"I spotted my vehicle just like I would my command car," he said.
It's not the way that the day should have come to a close, Rickerson said.
"The good Samaritans, the trooper, firefighter worked together to save woman's life. That's what this scene should have been."
"I haven't even had a parking ticket in over 30 years. And now I have an instruction to a law enforcement officer on my record," he said. "I will have to explain this the rest of my life."
But, he would do it all over again if he had to.
Because, Buchanan survived.
"I would not do anything different. The outcome is this lady is alive… there's no cross on the side of the road of that highway."
Survivor meets her good Samaritan
:
Doctors didn't think Buchanan would make it.
"It took seven hours for the surgeons to put all my spinal cord back together and then they fused it together with metal rods," she said.
But she did survive, and she credits Rickerson for that.
She doesn't feel lucky; she feels blessed.
"I drive that road every day. I've never seen Mr. Rick—but for that day for our paths to cross so he could be there to save my life, I feel blessed. And I feel blessed that there are still good people out there like him," she said.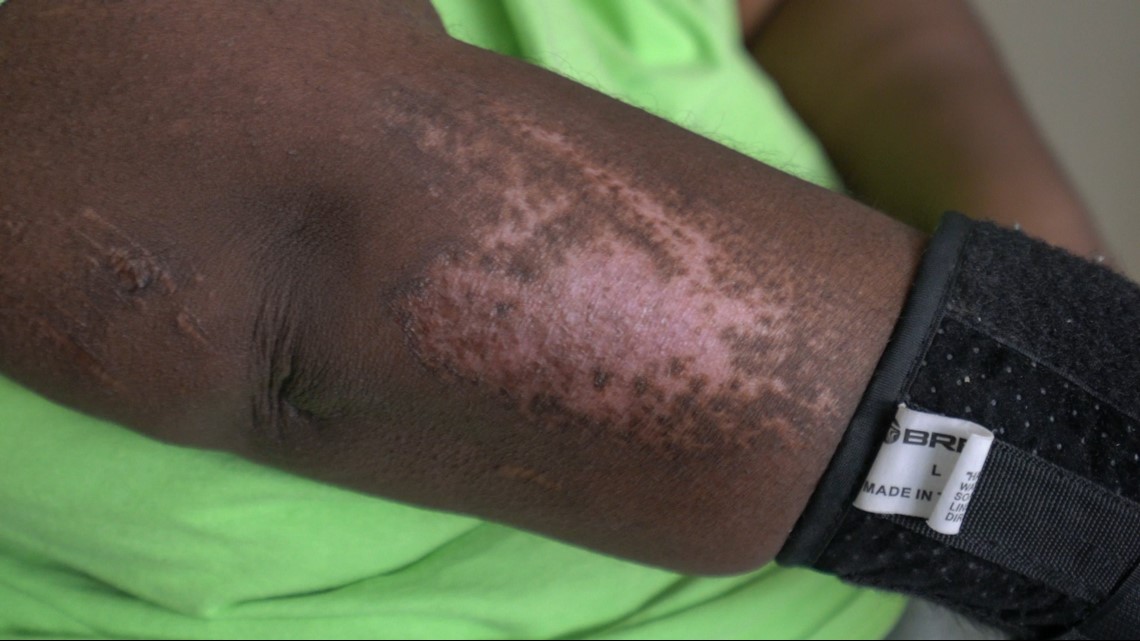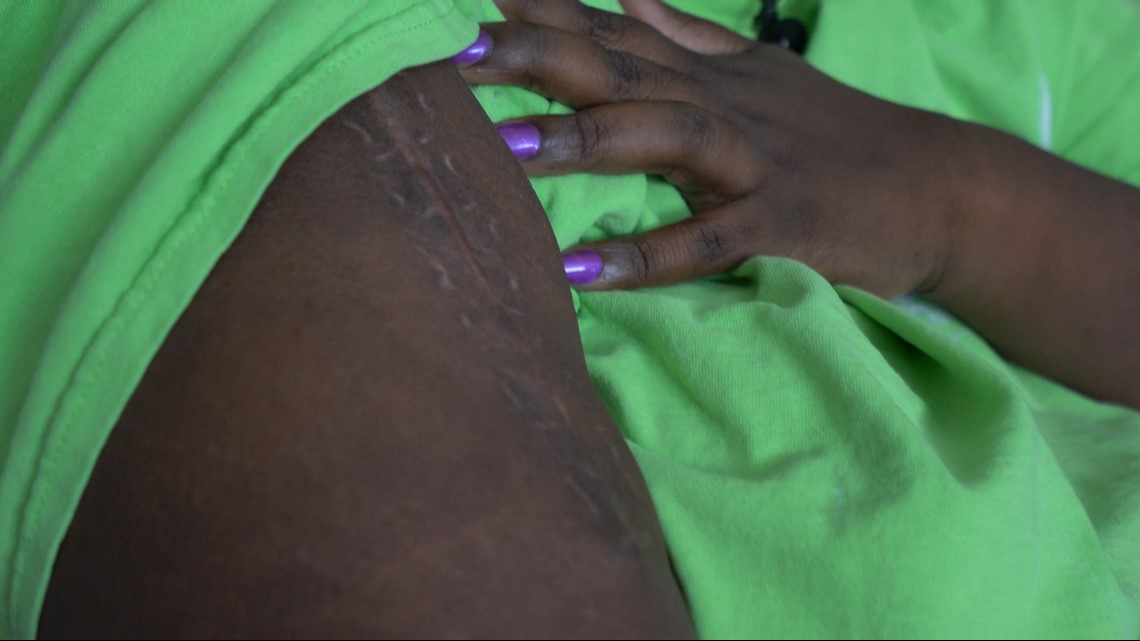 "I'm so thankful that he didn't just see my accident, but he stopped. He got out. He came, and he helped. He was a good Samaritan. He didn't have to. But he did. And I'm very grateful for it," she said sitting in a wheelchair, with a brace on her arm, exposing the degree of some of her injuries.
Her road to recovery, however, will be a long one.
After spending months in rehab, she still cannot walk. And she broke numerous bones in her right arm.
With a dozen red roses in hand, Rickerson went to the hospital to meet the woman he saved.
Tears streamed down everyone's faces… even Buchanan's 5-year-old daughter.
"There was a lot of tears. Her aunt, her dad were crying," he remembered.
To Buchanan, Rickerson is her hero.
"Even after he had saved my life, he didn't go away. When I was in the rehab center, he came to see me. He's always texting my phone just see if I'm OK. He's a good guy," Buchanan said.
"He saved my life. I owe him everything… I tell you one reward he has, is my friendship forever."
*Editor's note: 11Alive reached out to both Sgt. Jeter and The Georgia State Patrol, who denied an interview regarding this incident.