An 11Alive investigation uncovered hidden camera video catching nursing home staff laughing while an elderly patient dies in front of them. The incident happened at the Northeast Atlanta Health and Rehabilitation in 2014, but the video was recently released as part of a lawsuit filed by the family.
Attorneys representing the Atlanta nursing home tried to prevent 11Alive from obtaining the video. They asked a DeKalb County judge to keep the video sealed and then attempted to appeal to the Georgia State Supreme Court. The judge ruled in favor of 11Alive and the nursing home eventually dropped its appeal to the state's highest court.
The video includes almost six hours of video court deposition from a nursing supervisor explaining how she responded to the patient before she knew the hidden camera video existed. The video shows a completely different response.
The deceased patient is 89-year-old James Dempsey, a decorated World War II veteran from Woodstock, Georgia.
In the video deposition, former nursing supervisor Wanda Nuckles tells the family's attorney, Mike Prieto, how she rushed to Dempsey's room when a nurse alerted her he had stopped breathing.
Prieto: "From the time you came in, you took over doing chest compressions…correct?"
Nuckles : "Yes."
Prieto: "Until the time paramedics arrive, you were giving CPR continuously?"
Nuckles : "Yes."
The video, however, shows no one doing CPR when Nuckles entered the room. She also did not immediately start doing CPR.
"Sir, that was an honest mistake," said Nuckles in the deposition. "I was just basing everything on what I normally do."
Watch the extended deposition here where her story changes after watching the hidden video.
The video shows the veteran calling for help six times before he goes unconscious while gasping for air. State records show nursing home staff found Dempsey unresponsive at 5:28 am. It took almost an hour for the staff to call 911 at 6:25a.m.
When a different nurse does respond, she fails to check any of his vital signs. Nuckles says she would have reprimanded the nurse for the way she responded to Dempsey. She called the video "sick."
►OTHER INVESTIGATIONS: Diagnosing Discrimination: Widespread discrimination uncovered at CDC
When nurses had difficulty getting Dempsey's oxygen machine operational during, you can hear Nuckles and others laughing.
Prieto: "Ma'am, was there something funny that was happening?"
Nuckles : "I can't even remember all that as you can see."
(Story continues below photos)
PHOTOS: How a senior care facility failed Mr. Dempsey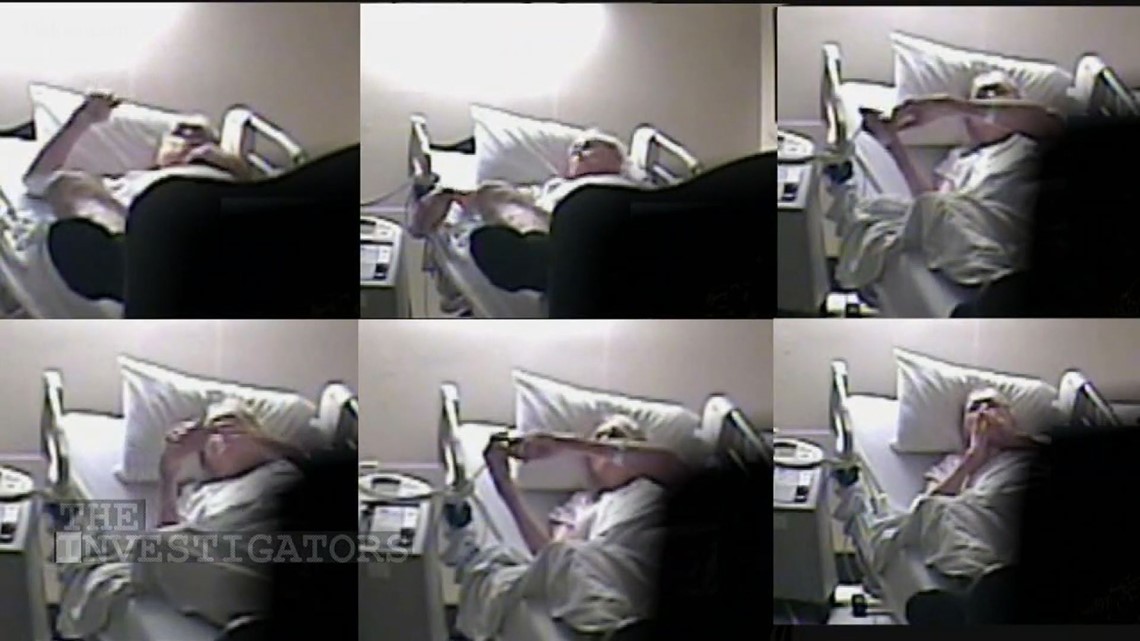 11Alive showed the video to Elaine Harris, a retired nursing professor and expert in adult critical care. "In 43 years in nursing, I have never seen such disregard for human life in a healthcare setting, is what I witnessed," said Harris.
Harris says she identified several violations of care in the video, including failure to respond, failure to assess and failure to act.
►OTHER INVESTIGATIONS: Drug Whisperer: Drivers arrested while stone cold sober
In the video, nursing staff repeatedly start and stop doing CPR on Dempsey. Harris says once you start doing CPR, it should not be stopped until a doctor makes the decision not to resuscitate.
"That is absolutely inappropriate. You never stop compressions," said Harris.
Dempsey's family declined to be interviewed due to a settlement agreement recently reached with the nursing home.
The nursing home operators, owned by Sava Senior Care, declined interview requests. In a prepared statement, a spokesperson wrote they were "saddened by the events, which occurred more than three years ago." The letter also notes it has "new leadership and the leadership team and the staff have worked very diligently to improve quality care and the quality of life for our residents….The facility recently was deficiency-free during our recent annual inspection conducted by the Georgia Department of Health on May 25, 2017."
►OTHER INVESTIGATIONS: Selling Girls: Sex traffickers are targeting America's children
The nursing facility was made aware of the video in November 2015, but according to state inspection reports, the nursing home did not fire the nurses until 10 months later.
According to the Georgia Board of Nursing, Nuckles and another nurse seen in the video, surrendered their licenses in September – about three years after the incident. Nursing board president Janice Izlar says she cannot confirm when the state knew about the video, but the board's action came shortly after 11Alive sent her and other board staff a link to view the video.
On average, it currently takes the nursing board 427 days to fully investigate a nursing complaint. Izlar says that's an improvement from about 2,000 days.
"There is a lot of the process that we absolute do not have control over. For example, if we refer to a different division, a different agency, we have no absolutely no control over the timeline," said Izlar.
►OTHER INVESTIGATIONS: The Hunt: Atlanta's Hidden Serial Killers
►AND: The Dumping Grounds: A trail of bodies hidden in plain sight
State health inspection records show Northeast Atlanta Health and Rehabilitation continued to have a history of problems after Dempsey's death. Medicare records show the nursing home facility was cited at least two dozen times for serious health and safety violations, including "immediate jeopardy" levels, the worst violation. Medicare withdrew one payment and the facility has been fined $813,113 since 2015.
While the facility recently received a good inspection this past May, it still has a one-star rating from Medicare, the lowest score the agency can give. The nursing facility remains open today.
CHECK NURSING HOMES: Click here to see nursing home inspection reports
Do you have a story you want to tell? Contact 11Alive Investigator Andy Pierotti.