UPDATE 1/11/2019: After our REVEAL investigation, the federal government has decided to over-haul it's medical device approval process. This is the first time in over 42 years.
Our investigation uncovered the current system is putting patients at risk. More than 20% of medical devices the FDA clears are based on predicate devices more than a decade old.
The FDA announced they will now require companies to put some medical devices through more rigorous testing before clearing them.
"Advances in material science, digital health, 3D printing and other technologies continue to drive an unparalleled period of invention in medical devices. It's vital that the FDA's regulatory approach continue to evolve and modernize to safely and efficiently advance these opportunities. Not only must we keep pace with this complexity and innovation, but we must also stay ahead of the new and evolving risks that sometimes accompany this progress," according to the FDA's statement about the change.
------------------------------------------------
ORIGINAL STORY 9/19/2018: Every morning, Sheri Booker feels like she wakes up to a ticking time bomb living inside her. That's because she discovered the medical device put in to save her life years ago, is actually put her at greater risk.
In 2014, the Loganville resident went to the doctor in hopes of diagnosing chest and abdominal pain. Her doctor ordered a CT-scan and X-rays.
"He said 'I want to talk to you, want to show you something.' And, I was like, 'is that my heart?'And, he was like, 'Yea, let's talk about that,'" said Booker.
Booker says her doctor pointed to a spider-looking white silhouette. It was a blood filter implanted in her in 2007, but it wasn't where it was supposed to be. It also showed a piece of it broken and lodged in her heart.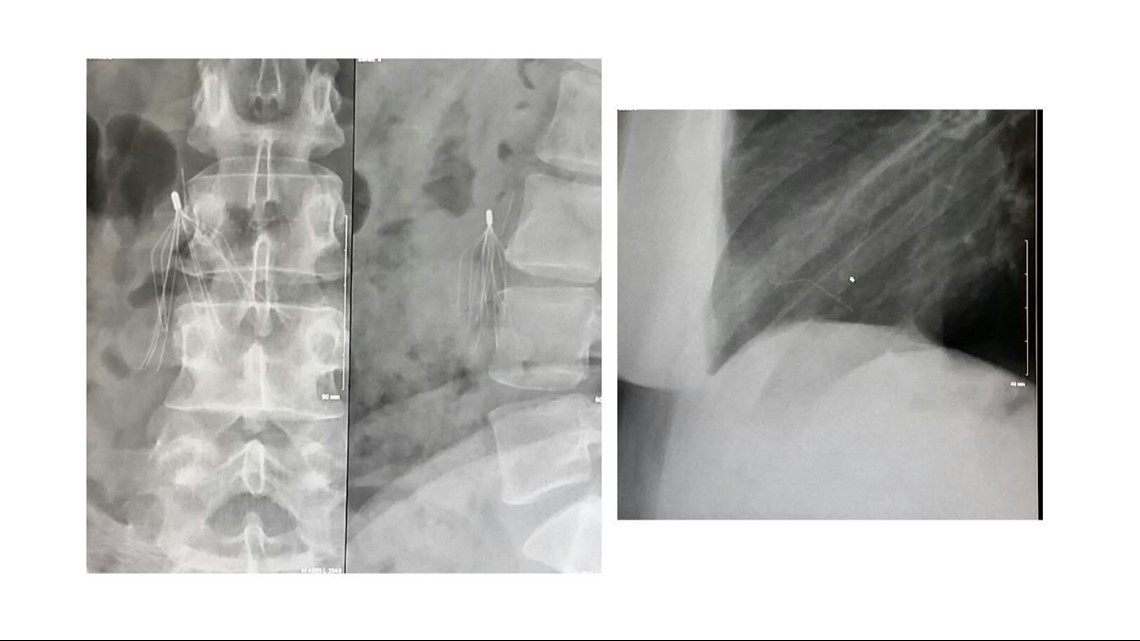 WATCH | The Reveal airs Sundays at 6 p.m. on 11Alive
"He basically was like, if it moves, it could kill me. I only had a certain amount of time to get to the doctor to crack my chest open to do immediate open-heart surgery," said Booker.
Doctors told Booker she originally needed the filter because she had blood clots in the past. The filter is a one-and-a-half-inch wire metal trap, placed in the largest vein in the body, to block clots from reaching the heart and lungs, where they could be fatal.
An investigation by 11Alive Investigator Andy Pierrotti uncovered the filter's maker, C.R. Bard, never proved it was safe for long-term human use before cleared by the Food and Drug Administration. That's because the agency doesn't require companies to put their devices through human trials if a substantially similar product already exists.
Robin Lourie is one of Booker's attorneys. She doesn't believe the Booker's filter and Bard's predicate filter look anything alike. "They changed the entire design of the device." Said Lourie.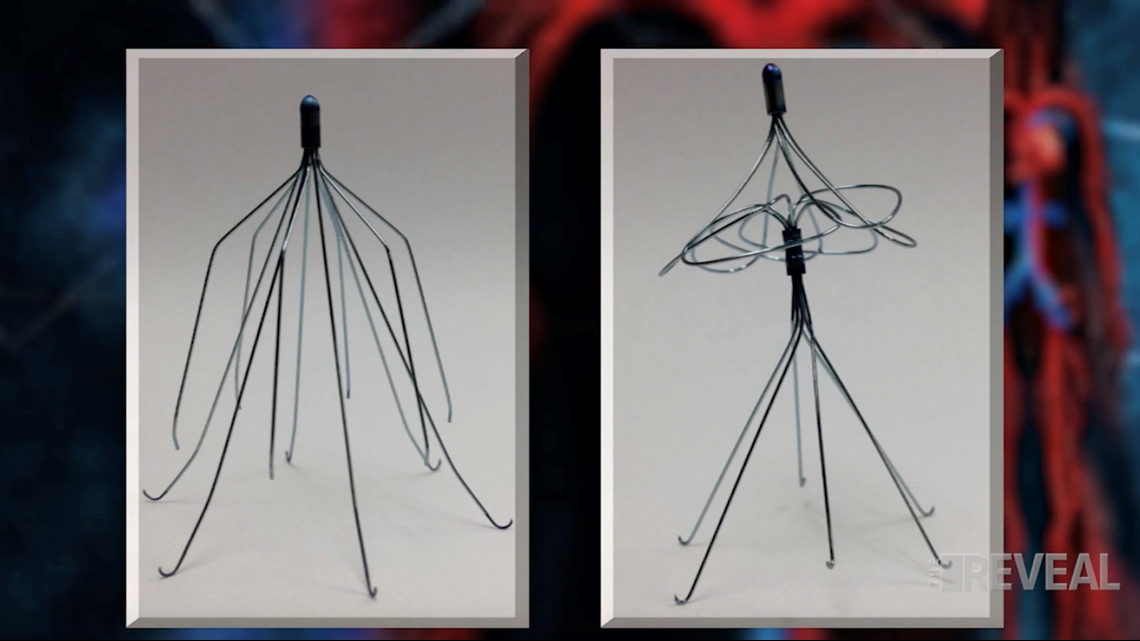 Since the FDA cleared Booker's filter, Lourie points to the thousands of other lawsuits filed against Bard citing similar problems. As early as 2005, FDA knew about more than 921 complications with all filters its cleared from all manufacturers– including migration and detachment.
"I think that's a misperception that people have. I think they think that the FDA is out there doing testing and making sure these products are safe and that's just not the case," said Booker.
Bard declined interview requests, instead, a spokesperson wrote, in part – "Our company fully complies with all regulations from the (FDA) surrounding safety and efficacy testing…" …" we understand that a small percentage of patients required additional interventions …but it is important to note that the filter helped protect these patients …from the life-threatening effects of blood clots."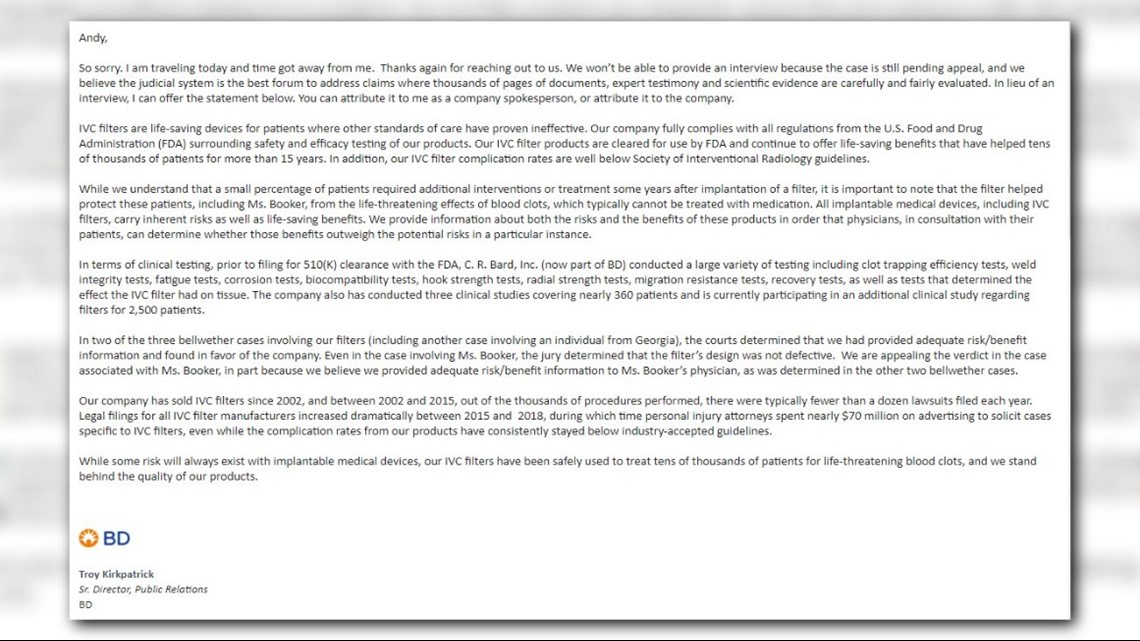 Jeane Lenzer is a physician assistant and author of 'The Danger Within Us', which details the risks of the medical device approval process.
"So, we have a market full of devices where we really don't know which ones are deadly and which ones are really lifesaving," said Lenzer over the phone. "Even the highest risk implantable cardiac devices, the overwhelming majority of them have never subjected to clinical testing."
The FDA also declined interview requests. Instead of an interview, a spokesperson pointed to two letters it released in 2010 and 2014 warning consumers about reports of complications, but the FDA ultimately concluded that physicians are responsible for the ongoing care of patients with retrievable IVC filters.
It took two surgeries to remove the piece of filter in Booker's heart, but a piece doctors could not remove one piece with remains near her abdomen.
"So, I suffer every day wondering if that piece is going to get loose and travel to my heart and kill me," said Booker.
This past March, jurors ordered Bard to pay Booker $3.6 million in damages.
Doctors have implanted thousands of similar blood filters in patients over the past few years. Bard and the FDA suggests working with your doctor to make sure there are no problems, but Bard is not required to pay for the expensive tests, scans and X-rays used to identify potential issues.
The Reveal is an investigative show exposing inequality, injustice, and ineptitude created by people in power throughout Georgia and across the country. It airs Sunday nights at 6 on 11Alive.

More of The Reveal: