UPDATE: The State of Georgia executed Carlton Gary by lethal injection at 10:33 p.m., Thursday, March 15, 2018. He offered no last words, refused his last meal and rejected a last prayer. His final words were only with 11Alive below.
Final words
JACKSON, Ga. – Just hours before he will be executed, convicted serial killer Carlton Gary said he plans on waking up the day he will die like any other day: thanking God.
Carlton, who was convicted of the 1977 murders and rapes of Florence Scheible, Martha Thurmond and Kathleen Woodruff, of Columbus, Ga., said the jury got it wrong. And at least one juror from his 1986 trial agrees.
But with his looming execution, he said, "I'm fine. I'm blessed."
Dead man talking
Inside the public library in Griffin, Ga., a cell phone sits on a conference room table, set to speaker. The calm and confident voice on the other line is coming from inside prison walls at Georgia Diagnostic and Classification State Prison's death row.
It's the man dubbed Columbus' infamous "Stocking Strangler."
What does a man say just hours before he will die?
"I want people to know, you got me wrong," he pleaded. "What they're telling the public is not the whole story."
It's an argument well-documented by his defense attorney, Jack Martin, including during Wednesday's clemency hearing before The Georgia State Board of Pardons and Paroles.
But Carlton's fight to prove his innocence has spanned decades, putting the case and the state under a microscope up to his final day alive. The convicted serial killer has raised questions about DNA evidence that excludes him from at least one of the rapes, shoe prints that don't fit, a bite mark on a victim that does not match his teeth and a surviving victim who changed her story to police seven years after her attack.
"There's substantial doubt in this case. It would be a stain on Georgia to execute a man when there's so much question about his guilt," Martin said.
And Carlton wants the "real story" to be heard.
"The only thing that I want everybody to know about Carlton Gary, is the truth," he said without hesitation.
"You may not like this, because I'm telling you the truth, but I'm just going to tell it to you."

He vehemently denies any involvement.
Noll: Did you rape those women?
Noll: Did you kill those women?
Noll: Did you have any knowledge, or anything to do with their murders?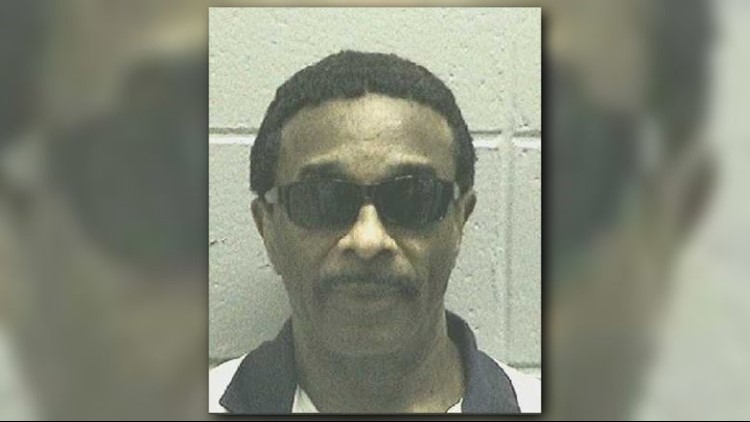 "This is the story that they told—not recorded, not signed, not initialed by anybody," he argued. "The only thing I want them to know is you got me wrong. The lies and stuff that they were talking about, I don't do that."
But, what is the truth according to the 67-year-old facing death?
"Well, the real story is that, from the very beginning, this thing has just been one-sided—from the very beginning," he said.
Over the course of six months, between 1977-78, evil had a stranglehold on the affluent Wynnton neighborhood in Columbus, Ga.
Women, between the ages of 55-89, became the target of nine rapes and seven strangulation deaths—sparking fear and sense of terror in the prosperous suburb.
Sept. 11, 1977 | Gertrude Miller
Sept. 16, 1977 | Mary "Fern" Willis Jackson, 59
Sept. 16, 1977 | Jean Dimenstein, 71
Oct. 21, 1977 | Florence Sheible, 89
Oct. 25, 1977 | Martha Thurmond, 70
Dec. 28, 1977 | Kathleen Woodruff, 74
Feb. 11, 1978 | Ruth Schwob,
Feb. 12, 1978 | Mildred Borom, 78
April 20, 1978 | Janet Cofer, 61
According to the United States District Court, Miller was raped and severely beaten. Knotted stockings were found at the scene. She survived the attack and identified Carlton as the man who attacked her in September 1977.
PHOTOS | On death row: Carlton Gary, the 'Stocking Strangler'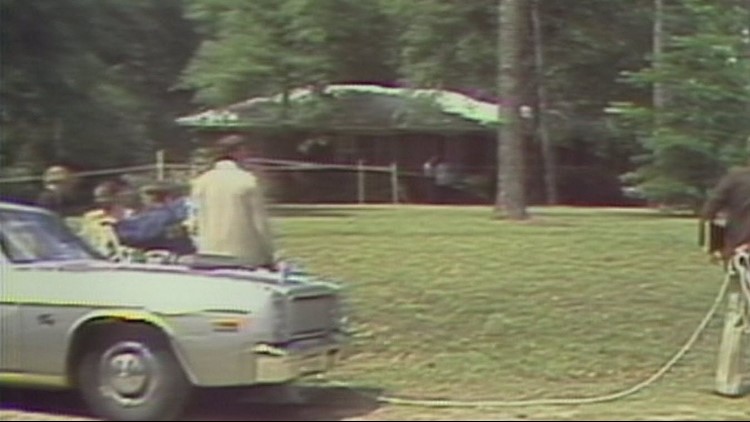 Similarly, Jackson had been beaten, raped and strangled to death with a stocking and a sash from a dressing gown just five days later.
Dimenstein was raped and strangled to death with a stocking in her home the same day as Jackson—her body was covered with sheets and a pillow.
Schieble was legally blind and could walk only with the aid of a walker. Her son and his wife found her lifeless, covered body in October.
Thurmond was found covered by a pillow, blankets and sheets. She had been sexually assaulted, beaten and strangled with a stocking.
Woodruff was discovered, partially covered and lying on her bed. She had been raped and strangled with a scarf on Dec. 28, 1977.
Police found Schwob sitting on the edge of her bed with a stocking tied around her neck. While she survived the attack, she never identified Carlton as her assailant.
One day after Schwob was found brutally attacked inside her home, Borom was discovered lying in a hallway of her home. She was on her back, her face covered. She had been strangled with a window blind cord and raped.

Cofer's body was found in her bed covered with linen, and a pillow over her face. The attacker left a bite mark on her left breast. She too had been raped and strangled with a stocking. Cofer was the only victim who did not reside in Wynnton. However, attended choir practice at the Wynnton Methodist Church the night of her murder.
The parallels in each case made prosecutors believe this was the work of a serial rapist and serial killer.
According to the United States District Court, each of the women lived alone and the intruder sexually assaulted them and left behind pantyhose used for strangling them. All but one of the invasions happened at night.
The "Stocking Strangler" eluded capture for the next six years.
Known as the "Steakhouse Bandit" for several robberies in South Carolina, Carlton was arrested in 1984, when a pistol that was stolen from a home in the Wynnton area in October 1977 was linked to him. Prints from the crime scenes also connected him to the murders.
"Carlton's fingerprints were ultimately found to match the latent prints found at four of the crime scenes. Blood evidence and hair samples taken from the crime scenes were inconclusive—they did not establish Carlton as the perpetrator, nor did they exclude Carlton," according to the United States District Court.
He was convicted and sentenced to death for three of the murders, rapes and burglaries. No one was ever convicted in the other rapes or stranglings that occurred in the same timeframe.
But he said he never confessed to any of the crimes he was convicted of more than 30 years ago.
"Think about this, if I was gonna refuse to be recorded, why didn't they sign the so-called confession? Neither one of the police signed it; neither one of them initialed it—they presented to the jury an unsigned, uninitialed [sic] something that somebody wrote down. They pared it down from 12 pages to three pages. What happened to the other pages that was missing?"
When he was arrested, he said, he didn't even know that he was being charged with murder—he thought he was arrested for robbery out of South Carolina. He said police did not talk to him about the homicides.
"We talked about South Carolina... we talked about the robberies I had in Albany, Ga.; we talked about the robberies I had in Columbus. I didn't find out what I was charged with until I got on the telephone and I called my companion at the time in Augusta, Ga."
"I called her up and I said, 'Listen, I 'spose I'll be back in South Carolina in a couple days, so... She said, 'No, they got you for murder.' And I like to fell out."
But, he maintains that he had nothing to do with any of the rapes or murders that will ultimately be the reason he will receive a lethal injection Thursday, March 15.
He touched on all of the evidence not presented at the trial, and evidence that was presented that he called false—including one of the surviving victims, who testified that Carlton was the one who assaulted her, Gertrude Miller.
"What I feel about that is sorrow. My wife and I have talked about this long before you guys come on the scene, and I've often told lawyers and everybody, you want to talk about an injustice... what they did to that woman. They made that woman lie."
According to his appeals filed by Martin, Miller originally told police she did not see the man. But years later, after Carlton was arrested, she testified in court that he was the culprit who had attacked her.
"She could not identify the person and then she could…?" Carlton questioned.
But, he doesn't blame her for, what he called, misidentification.
"They did that poor woman wrong. She did not have a clue as to what happened and when she saw me on TV, again, surrounded by all these Caucasian police, and they identified me as the so-called 'Stocking Strangler.' She still waited 27 more days before she reported this," he claimed.
"I have the documents... it's not me talking; other people might talk, but we have the documents... it's the facts."
"The one thing I tell people... is you got me wrong," he said. "I don't play no games at all, I'm just straight up."
Regardless of the clemency hearing's outcome—(unknown at the time of this interview)—ultimately, he is holding out for God to show him mercy.
"I trust in God almighty. You know, I have no thoughts of that. We've gone through this before and we don't think along those lines. I understand that realism is going on, but I also understand that according to the good book, that tells me that there were Hebrew boys thrown into the fire, but he come out. I've heard about seas that's been parted; I've heard about water being turned into wine," Carlton said.
"I just prepare for it. I prayed, I know what's facing me, but I do not let it bother me, because I trust in God. I take it to him in prayer."
LISTEN>>> Full interview with Carlton Gary over two phone calls on Wednesday, March 14, 2018
Phone call No. 1
Phone call No. 2
Standing by her man and God
It will be one of the last times she will ever talk to her husband and she gave that phone call to 11Alive.
Like most couples, Debra, 56, talks to her husband, of 22 years, every day on the phone. However, unlike most, she hasn't seen him in person in about a year.
Her unconditional love for him is undeniable.
"He's a wonderful person—one of a kind. He's super intelligence, super smart. He has street smarts; he has wisdom; he has a great sense of humor. We can talk on any subject and I like that, you know, the mental stimulation," Debra said a-matter-a-fact about Carlton.
"I never thought of him as a prisoner. I just thought of him of him as a person," she continued. "He's my husband."
The unlikely couple met in 1991 through, what she called, a shared faith and love of God.
And a Bible sent to prison sealed the deal.
Debra said that she was with a friend one day when they sent Gary a Bible, not knowing who he was or what he was convicted for. In turn, he wrote her friend back a few weeks, later thanking her for the Bible.
But when Debra read the letter to her friend, she felt an instant connection to him.
"It's hard to explain, but it was just a connection when I read his note to her. It was like it was coming from me. I asked if she thought he might like to hear from me."
So, she wrote him a letter.
"I didn't know who Carlton Gary was at the time because I don't watch news; I don't read the papers. So, that's how we met, through a letter," she recalled.
The two started as friends and learned everything they could about each other over the next five years. When they finally met face to face, she said, she already knew he was the one for her.
"We had an open and honest relationship and so we already knew each other before we met each other—and when I first met him, my first thought is, he's so tall and he looked so good. It was like being home because we already knew each other from the inside out... it was home."
With that, she said, she asked him to marry her.
"When we were writing each other, before we met physically, I asked him in a letter, 'Do you think you're my husband?' And he answered my letter. As strange as that may sound… and he said he knew that from the second letter he got from me."
In 1996, the two married. Although, their wedding was, like their relationship from the beginning: unconventional at best—mostly because it was behind prison walls.
She remembers wearing a brown and tan printed blouse and skirt set.
But, it was Carlton who was donning white at their wedding, in his white prison uniform. Their something blue was the blue stripe down his white pant leg and the inmate's blue collar.
They toasted to their lives together with sparkling apple cider in plastic cups and vending machine wedding cake.
"We had a wonderful time," she reminisced with a smile on her face. "Whenever we're together—by phone or in person at the prison—of course, I knew where I was, but it was being home. Being with him is what made a difference."

She doesn't feel like she has missed out on anything being married to a convicted serial killer.
"The only thing that we have been denied, and what we believe up to this point was the Lord working, is being physically together outside of prison walls. That's it. Every aspect of what a real love relationship is, we have it," Debra revealed.
When her husband is scheduled to be executed, she said, she will at home and then work Thursday night. But she has faith that she will see him again.
"Tomorrow won't be the last time I get to talk to him," she said.
It's that immeasurable and insurmountable faith that bonds the couple.
"I feel at peace because the Lord cannot lie. He does not play games with us; he doesn't dangle a carrot out, and say, 'You want a carrot,' and when you get close, snatch it back. What would be the point? He loves me, I know. He loves my husband. If it were to be a negative end, why even let it be? Everything God does has purpose—a good purpose. And with all the evil that's being done, it just takes one person to stand up. Who is that person? Well, we've been chosen to be that person. You can't buy us; you can't tempt us; we're not afraid of any man.
"We stand on truth. Evil cannot win," she vowed.
"The truth is, he's innocent. And, they knew when they arrested him, before they arrested him, that he was innocent."

Maintaining his innocence for three decades
On Dec. 14, 2017, Carlton wrote 11Alive's Jessica Noll a 12-page letter that counters the evidence pointing the finger at him—much of which he echoed in the phone interview on March 14, 2018.
In the letter, he highlighted fingerprints that police produced with no photographs showing where they were found—shoe prints that don't fit him—and a bite mark on a victim that doesn't match his teeth. He also challenged missing DNA evidence and eyewitnesses who came forward, placing him in the neighborhood during the murders.
"I was a model on TV…yet nobody identified me. Then years later, after arrest, after being plastered all over the media, liars popped up and said they saw me in the area of one crime scene," he wrote.
He also claimed no latent fingerprints were ever developed.
"Not one print was photographed 'in situ' (being lifted from a particular spot) to authenticate it, as was protocol."
Carlton argued that the footprints collected at the Schwob residence were size 10—but he is a size 13 ½.
According to him, he has attempted to get his hands on the evidence that convicted him, but to no avail.
"I have always requested any and all evidence, exculpatory and inculpatory. I have always sought funds for experts to assist testing and relevant investigative. The state opposed any and all assistance for me," he wrote in the letter.
"Even after the GA Supreme Court ordered DNA testing, Slater and her henchmen opposed each request. WHY??!! Why would the devils so very boisterously claim they have the right man, so adamantly opposed such requests??"
"The swabs containing my DNA suddenly came up 'missing' from the sample envelopes."
The state of Georgia argued that Carlton raped nine elderly women and killed seven of them in Columbus, Ga., between 1977-78, he was convicted in 1986 of raping and strangling just three—and the jury voted to sentence him to death.
But his attorney has maintained over the years that there was far too much doubt to conclude guilt to the point of a death sentence for his client.
In December 2009, the Georgia Supreme Court halted his execution, after DNA found at the scene proved that one of the three murders he was convicted of was not his. And in 2010, DNA tests excluded Carlton from being the person who raped Thurmond.
"The DNA absolutely, to a scientific certainty, excludes Mr. Carlton as her rapist," Martin said in an interview with 11Alive in 2011.
A separate DNA test did put Carlton at the home of another woman who was raped and killed in Columbus in 1977, but he was never tried for that murder.
But in September 2017, the trial court denied Carlton's motion for new trial. His appeal to the Georgia Supreme Court was denied in December, and his motion for reconsideration was ultimately denied in January 2018—exhausting all his appeals for a new trial or to consider new evidence.
On March 7, his attorney filed for commutation of his death sentence.
The application recapped many of the same contentions made by Carlton, including the DNA evidence, shoe prints and fingerprints, but also points out discrepancies with a bite mark left on one of the victims—as well as combating the recollection of a surviving witness.
"There is a host of physical evidence not available at the time of trail, either because the defense was denied expert assistance to challenge the State's expert testimony, the type of testing now available did not exist at the time of trail or because the evidence was not disclosed to the defense at the time of the trial, which raise serious doubts to Mr. Carlton's guilt, much less lingering doubt as to a death sentence," Martin argued.
According to the filed application for commutation, Carlton's attorneys argue that Miller's identification was skewed since it was made seven years after the attack occurred—and only recognized him because he was on TV with police after being arrested.
The application states that prosecutor, William Smith, later conceded that it was a "troubling identification process fraught with the possibility of misidentification."
However, during his closing arguments, Smith told the jury that it was "burned into [Miller's] memory; it's forged into her memory; she can't put it out of her mind if she wants to."
After the trial and during the state habeas corpus proceedings, the police report was disclosed to the defense. Miller's original statement said that she was asleep at the time of the attack and that there were no lights on in her bedroom—furthermore, she told police that she "would not be able to identify the subject and was not able to describe him"
Cofer was left with a mark on her left breast, thought to be a bite mark left behind by the assailant. And Dr. Kenneth Galbreath, a Columbus-based dentist, was elicited to make impressions of the bite mark prior to Carlton's trial.
Dr. Thomas David, a forensic odontology expert and consultant with the GBI, told the prosecution his opinion was that the impression was "sufficiently distinctive" and could be attributed to Carlton. However, when asked if the impression could exclude Carlton, he said that there was a possibility that it would exclude him.
According to the defense, the prosecution did not disclose that information to them for the trial.
On Nov. 9, 2005, the bite mark mold was found in the bottom of a filing cabinet at the Muscogee County Coroner's Office.
With that, David made an impression of Carlton's teeth to compare the two. His opinion was that the person who bit Cofer had a gap in their upper front teeth and a crooked lower tooth. And that, David said, did not match Carlton's mold.
"Simply put, this evidence shows that the State's theory that Mr. Carlton was a serial killer who had committed seven different rape/murders was not in fact true," the defense stated in the application.
"These are the types of circumstances that call for the commutation of Mr. Carlton's sentence of death. Due to the fact of our all too error prone judicial system, the power of this Board to commute a death sentence is the failsafe to insure [sic] that we do not impose the ultimate and irreversible penalty of death when serious doubt exists as to guilt."
The defense concluded, "There is nothing more terrifying and horrible than for the State to take the life of an actually innocent citizen and this Board stands as a bulwark against that calamity."
Clemency denied
The Georgia State Board of Pardons and Paroles met with Carlton's attorney on Wednesday, March 14, as well as an original juror from his trial where he was sentenced to death.
"[The juror] said that if he had known that Ms. Miller was mistaken, as we now know for certain, that would have changed his mind. He never would have imposed the death penalty," Martin said.
"All this evidence is brand new, not available at the time of trial. That is what caused [the juror] and others to think, wait a second, we're not certain—certain enough to impose the death penalty in this case."

"The state destroyed the evidence in the Thurman case in the GBI crime lab—recklessly destroyed the evidence that would have shown us one way or another whether or not Mr. Carlton is guilty. That fact alone, I believe is sufficient to take the death penalty off."
"There's a bite mark that doesn't match Mr. Carlton; there's a shoeprint that doesn't match Mr. Carlton. Carlton has a 13 ½ shoe—the shoe print was of a size 10. What does the state say? The state says, 'Well, he must've curled his toes underneath. That's just bogus."
But after an entire day of deliberation, the board denied clemency for Carlton.
"I'm an innocent person," Carlton reiterated.
The last thing Carlton wanted to say before hanging up was thank you.
"I appreciate all the people that can see through all this stuff, I really appreciate all the help. Thank God for all the prayers," he said without emotion.
According to the Department of Corrections, Carlton declined to request a last meal. Therefore, he will receive a grilled hamburger, hot dog, white beans, coleslaw and grape beverage.
Sixty-nine men and one woman executed in Georgia since the U.S. Supreme Court reinstated the death penalty in 1976. There were nine inmates executed in 2016 and one in 2017. Carlton, who is one of 54 men on death row, will be the 48th inmate put to death by lethal injection.
At approximately 7 p.m., Carlton will be the first death row inmate in Georgia to die by execution in 2018.
11Alive made multiple requests to the Muscogee County District Attorney's Office and the Columbus Police Department for case files and interviews. Those requests were denied or went unanswered.
EDITOR'S NOTE: Georgia Department of Corrections public affairs staff told 11Alive that there were no family members at the prison or present for the execution. We had no way to independently verify this information because the press was kept in a staging area with no access to the prison, and our scheduled execution witness was denied access to the prison grounds.
After we reported there was no family at the prison for the execution, we were contacted by a man who says he is the grandson of one of the victims who refuted the GDC information. We have requested an interview with him to tell the story from the perspective of the victims' families.