MARIETTA, Ga. — Earlier this week, Marietta Police found a loaded gun in a preschooler's backpack. This incident highlights the increasing safety concerns following the mass school shooting in Parkland, Florida earlier this year.
This begged the question on how many guns have been confiscated at schools in metro Atlanta.
According to records from the five largest metro-Atlanta school districts, police have confiscated at least 33 guns, so far, this school year. Nine of those were recovered after the Parkland Shooting.
After the deadly mass shooting, fear and reports of school threats in Georgia and across the country spiked. According to school records, Atlanta and DeKalb topped the list, recovering nine guns while Gwinnett identified eight. School police confiscated seven guns at Fulton County Schools, one which was responsible for minor injuries.
Cobb County numbers stuck out the most, but not for a reason you might expect.
11Alive spoke with Chief Ron Storey who has spent the past five years as head of the Cobb County School District Police Department. Storey has had 30 years in law enforcement, and most of that time was with Cobb County.
When asked how many guns the Chief has confiscated this year in Cobb, he said zero.
"(It's) A good thing, and I hope it stays that way," Storey added.
Storey said the district did recover 10 BB guns and one toy gun this year. Across metro Atlanta, at least 33 air guns were confiscated from schools.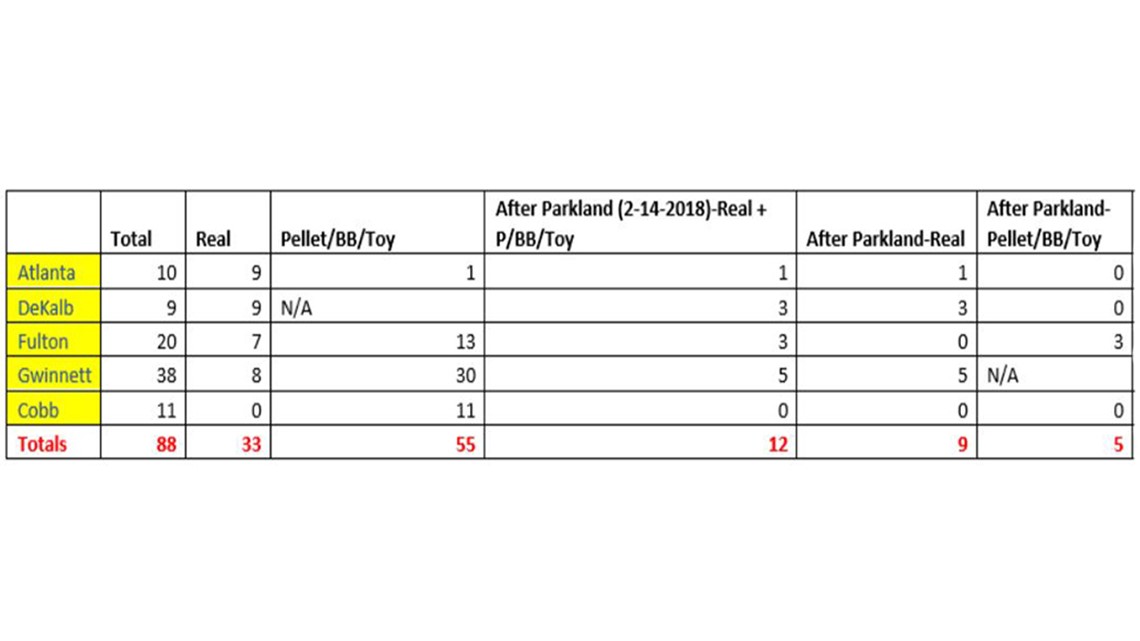 He said even bringing toy guns to school could make his worst fear a reality – mistaking it for the real thing.
"My worst fear... is having a student death in school, whether it comes from firearms or auto accident," Storey said. "Hopefully, it will never happen."