Atlanta airport ambulances found in Ohio, stranded for 8 months
Half of Hartsfield-Jackson's fleet of fully-staffed EMS ambulances were 500 miles away when a 76-year-old with a broken femur waited 95 minutes for an ambulance.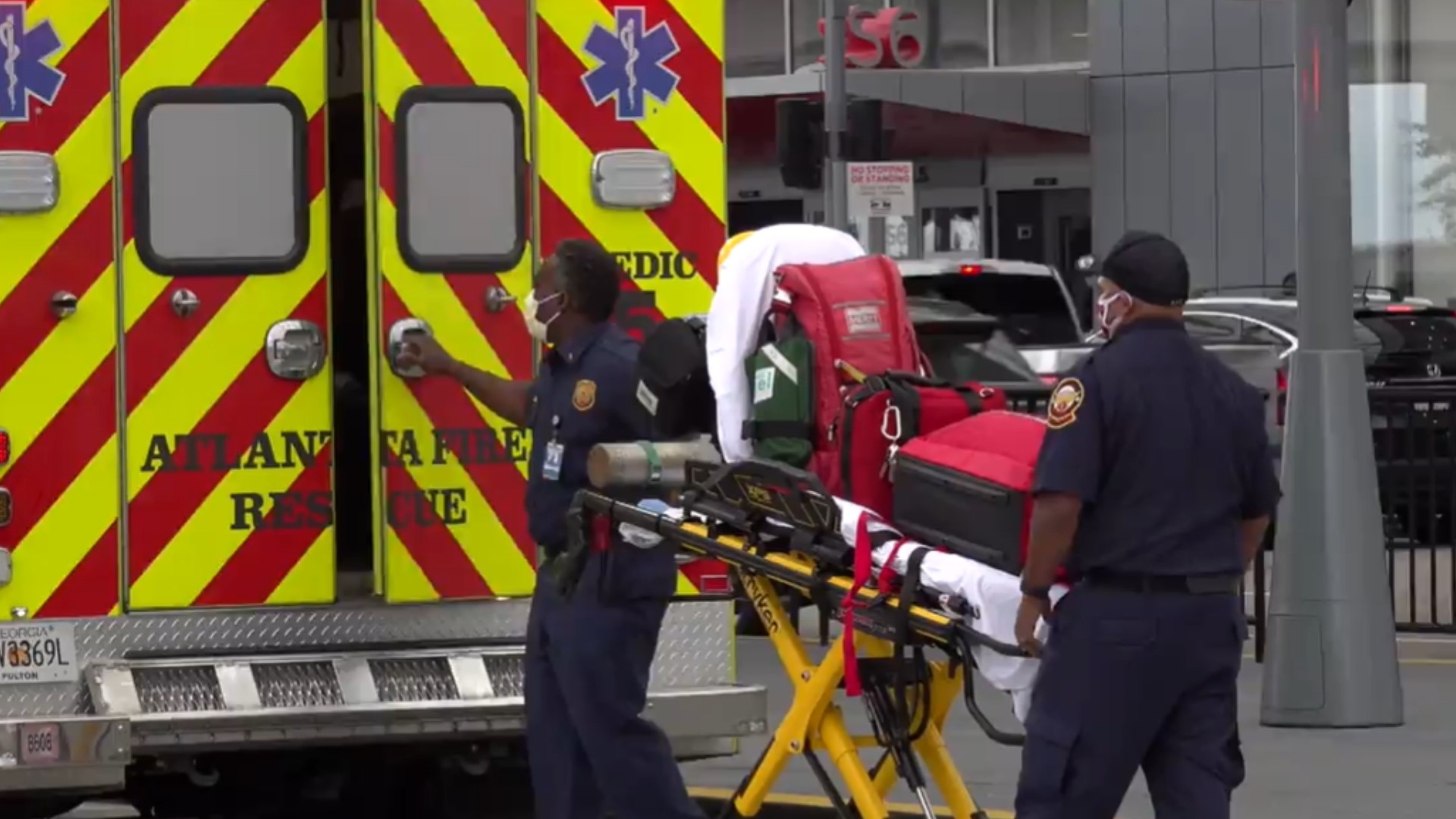 There's a reason a 76-year-old woman with a broken femur had to wait 95 minutes for an ambulance at the main TSA checkpoint in the middle of the nation's busiest airport over the summer.
Half of Hartsfield-Jackson Atlanta International Airport's fleet of fully-staffed EMS ambulances were 500 miles away.
11Alive's investigative team tracked the airport's Medic 1 and Medic 2 ambulances to the back lot of a factory in Ohio, where Atlanta Fire & Rescue had sent them for extended rebuilds with no replacements ready.
90 days or 240?
:
"We were told at the time when those two ambulances went into the shop that they will only take 90 days to get it back in service," Airport General Manager Balram Bheodari told the Atlanta City Council Transportation Committee on Aug. 11. "However, because of the disruption of the supply chain, we were informed it would take 180 days to get those ambulances back," Bheodari testified.
But the city was told the ambulances would be out of service for 240 days, according to internal documents obtained by The Reveal through public records requests.
The vendor's written quote with the 240-day estimate was delivered to the city in November of last year, six months before the ambulances were sent to Ohio. Both Medic 1 and Medic 2 were sent for refurbishment at the same time, further reducing available ambulances at Hartsfield-Jackson, the nation's busiest airport.
The airport had purchased new ambulances in the past, which can replace the old units with no loss of service. However, it's not clear why the city chose a lengthy rebuild instead, or why both units were sent to Ohio simultaneously instead of one at a time.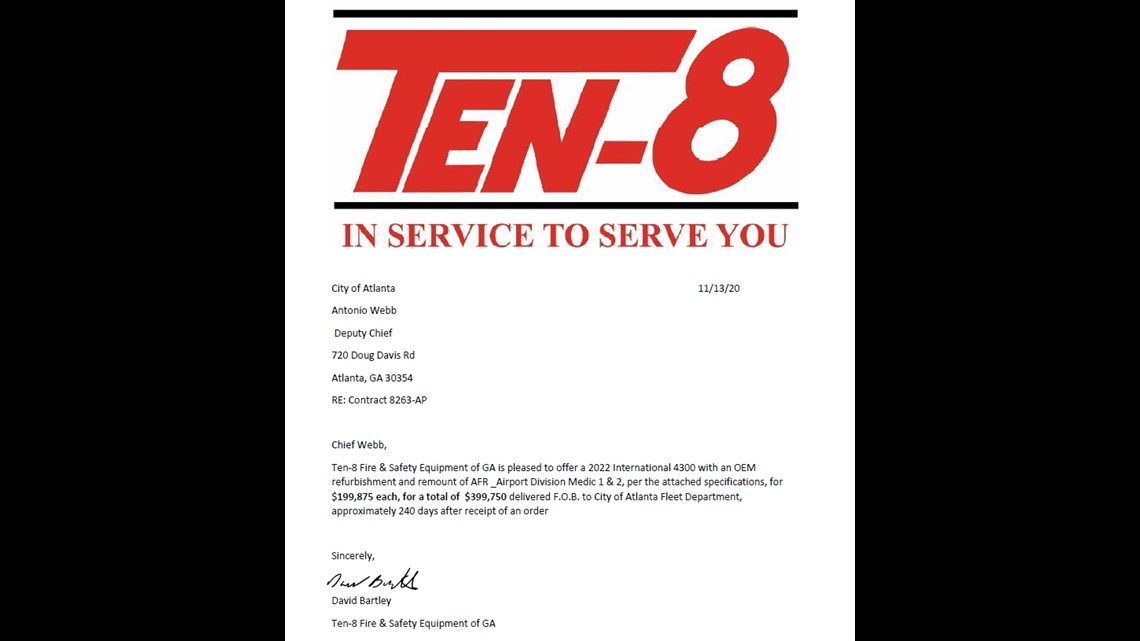 No one is talking
:
Atlanta's Department of Aviation refused our multiple requests for an interview about the ambulances. The fire chief also declined. The mayor's office responded to our requests for an interview by saying no and sending us back to the airport.
We emailed airport spokesman Andy Gobeil about the disparity between what his boss told council and the original written estimate. Gobiel answered in a Sept. 12 email: "Mr. Bheodari's comments were based on the expected turnaround time pre-COVID for a vehicle refurbishment project similar to this."
But that's not what the airport general manager told city council.
In his August testimony, Bheodari said, "we were told at the time when those two ambulances went into the shop that they will only take 90 days to get it back in service." Bheodari also testified that, "the time was doubled" after the ambulances were already out of state.
11Alive asked for all documents related to time estimates, including those specifically supporting the airport's testimony, and we received no other records other than the 240-day written estimate.
On Oct. 11, we sent another email asking Gobeil to clarify his earlier response in light of the documented proof the city knew the ambulances would be gone for nearly eight months. "Let me look into this for you," he replied.
We received no further response to that question in the last three weeks.
Airport's rental ambulances failed inspection
:
Initially, we reported that Chapman had a dislocated hip joint after she tripped over another passenger's roller bag in the line for the TSA checkpoint because that's what airport staff initially believed, according to police bodycam recordings and dispatch records.
But it turns out that Chapman had a broken thigh bone, requiring more than $176,000 in treatment and surgery.
Our Aug. 5 story focused on the demolition of Fire Station 32, the busiest firehouse at the airport and the closest to the domestic terminal. The drive time for an ambulance to Chapman at the main TSA checkpoint would have been under a minute.
While the new gates are nearly completed on the site where the old fire station was located, construction of the new fire station is just getting underway on the other side of the terminal. The airport hasn't said why the demolition of the old rescue facility had to occur before the new station could be built in an entirely different location.
Atlanta's airport will go more than two years without a firehouse near the main terminal.
Airport General Manager Balram Bheodari told council one week after our report that the demolition of Fire Station 32 had nothing to do with the delays that left Carol Chapman waiting 95 minutes for an ambulance while she sat with a broken femur.
Bheodari listed the following reasons as the real problem in his testimony: two of the airport's four regular ambulances were in the shop, the two medic units in service were transporting other patients, and the airport's fifth ambulance was kept "in reserve" for the possibility of a "high priority" call.
Medic 5, the airport's fifth ambulance, was not regularly staffed. Before our last investigative report, records showed Medic 5 was never used on a real medical call. Since then, the airport has been staffing and using it regularly on EMS runs.
"The deputy fire chief airport section started looking for availability of ambulances in the market to rent," Bheodari told council on Aug. 11.
The temporary replacement for Medic 1 is 19 years old. The rented Medic 2 is 15 years old.
Also, Rental Medic 1 passed reinspection on Aug. 21, while Rental Medic 2 sat unused for a month outside the airport shop. This was because it had a broken door latch and the wrong color emergency lights, according to DPH inspection records. That rented ambulance finally passed reinspection on Sept. 15.
The real Medic 1 and Medic 2 were taken out of service for retrofitting on May 14, but the airport didn't rent temporary replacements until after our report on ambulance delays aired in August.
Adding the delays for failed inspections on the rental units, the busiest airport in the nation was without a full fleet of ambulances for four months.
EMS is a 'secondary function' of airport fire and rescue
:
In Bheodari's testimony to city council, he admitted that Emergency Medical Service is a "secondary function" of the airport's fire & rescue teams.
The airport's general manger said: "When the new Fire Station 32 does come online, it will not diminish our response capability for our secondary function, and that is EMS service to the thousands of travelers that come through the airport."
The primary function is putting out fires.
Hartsfield-Jackson's operating certificate depends on meeting the FAA requirement to get fire trucks to the center of every runway within three minutes of an emergency call.
However, there is no such requirement for ambulances at the terminal. Such lifesaving service is entirely optional under federal regulations, reflected in the airport's EMS decisions.
Ambulance "got lost" on way to deal heart attack call
:
Lawson had collapsed in the South Economy Parking Lot last November. It took 22 minutes from the time his wife Ruth called 911 until the time airport medics started CPR on Thomas Lawson's lifeless body.
We discovered that 911 operators at Atlanta's airport were not trained to give CPR instructions over the phone. The dispatcher who answered Ruth Lawson's call was previously a supervisor at Fulton County 911 with training to give medical pre-arrival instructions, but she was barred from guiding Lawson through CPR because the airport did not have such a program.
The airport initially defended its policy, then abruptly reversed course as a result of our reporting on Lawson's death.
"Because of the incident in the parking lot, we are moving forward to hire an entire cadre of dispatchers who are certified to do Emergency Medical Dispatching." Bheodari said in his testimony.
Fire Station 32 would have been the closest firehouse to Thomas Lawson the morning he collapsed, but it had been demolished months earlier.
"The team that responded to that 911 call got disoriented and took an extra long time to reach that patient, to make patient contact," said the airport's general manager. "So, it was not about the location of the fire station or where they were reporting from, it was just purely and simply they got lost."
"I just thought they missed the entrance," Ruth Lawsons said recently when returning to the airport where her husband died before her eyes. "To get lost just puts salt in the wound," she said.
Lawson is disappointed that the airport refuses to answer any more questions on camera in light of the new information 11Alive's investigative team has uncovered. She has her own questions for airport leadership.
Lawson asked, "why the h*** did you leave me sitting out there with no help for so long, watching him die? How would you feel about it if it was your loved one and you were sitting there, what would you have done?"
Airport EMS response times have dropped since we started investigating
:
The average ambulance response time at the airport has dropped below eight minutes for the first time in two years, according to data analyzed by 11Alive for every medical run between mid-May and mid-September.
Overall EMS response times have been cut by an average of 40 seconds since our first report.
How are they responding more quickly despite missing ambulances and a demolished firehouse?
Once we started asking questions about EMS delays, the airport began staging fire trucks and ambulances outside the doors of the domestic terminal.
Firefighters are now spending hours sitting in their trucks and medic units instead of at a distant firehouse.
Sometimes it's just a ladder truck, but they're staffed with EMTs who can respond quickly to any call inside the main terminal.
On Nov. 4, Atlanta Fire and rescue tweeted out this statement, detailing all of the changes made since we started asking questions.
The statement was signed off by Fire Chief Roderick Smith, who refused to do an interview with 11Alive.