Cop: Nation's busiest airport only has 'one damn ambulance'
Response times for two airport EMS units are up 65 percent since Atlanta's airport decided to knock down its busiest firehouse.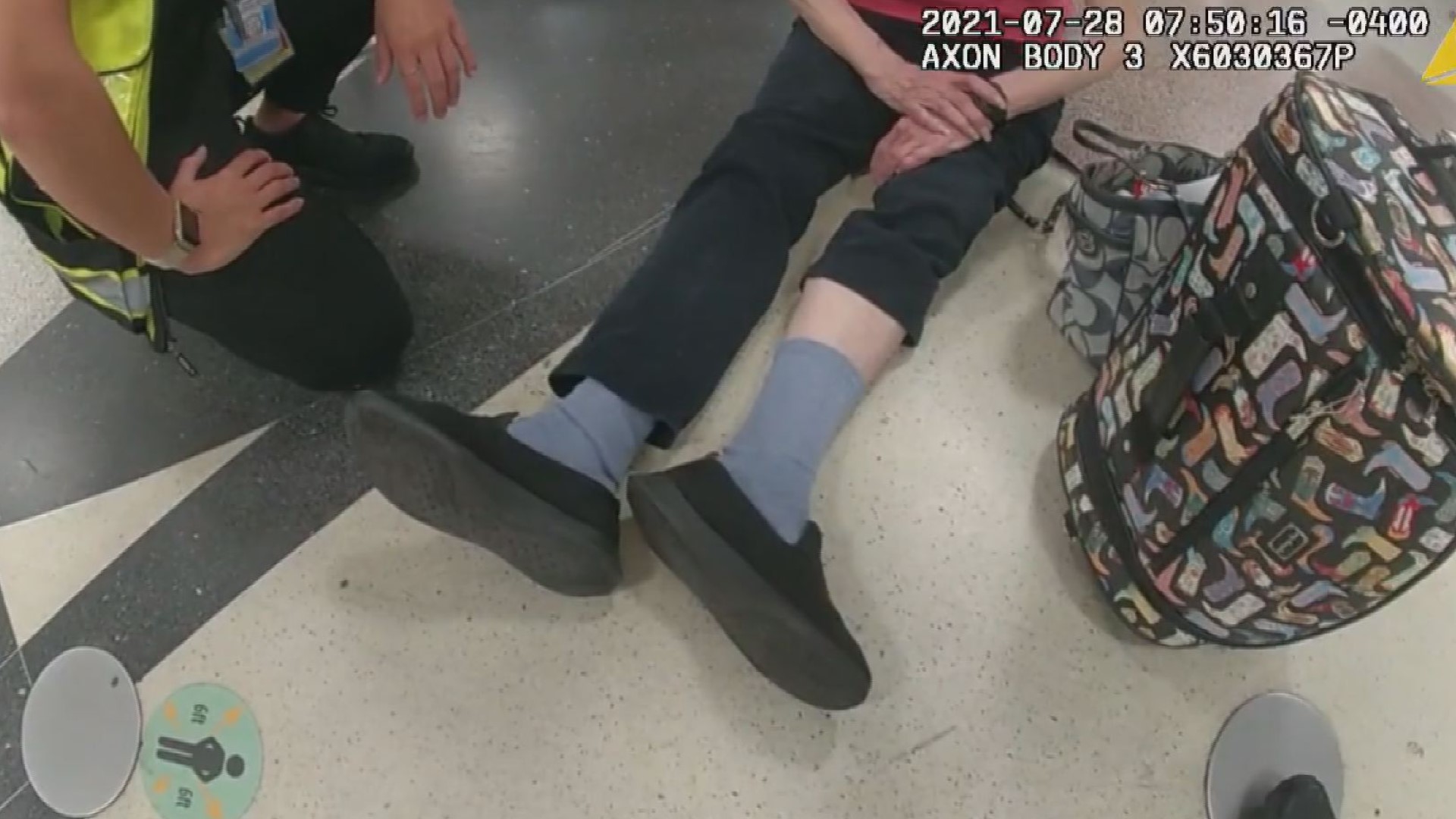 When a 76-year-old passenger fell in the security line at Hartsfield-Jackson Atlanta International Airport on July 28, she had no idea she would be forced to wait more than an hour and a half for an ambulance.
Carol Chapman was flying home to New Jersey when the fall dislocated her hip.
"Did you break your leg," an Atlanta Police sergeant asked after he radioed for an ambulance, seeing Chapman's foot twisted in an unnatural direction.
The injured passenger would end up sitting on the floor of the main TSA checkpoint for a full hour before firefighters put her in an airport wheelchair, where she'd wait another 35 minutes for an ambulance.
A relatively-new airport operations employee grew concerned, saying to the police sergeant, "it's been about 12 minutes since the fall." He responded, "yeah, they're notoriously slow."
A fire engine arrived after nearly 15 minutes, but still no ambulance.
"Are they anywhere close? Where are they coming from?," the APD sergeant asked responding EMTs from Engine 24.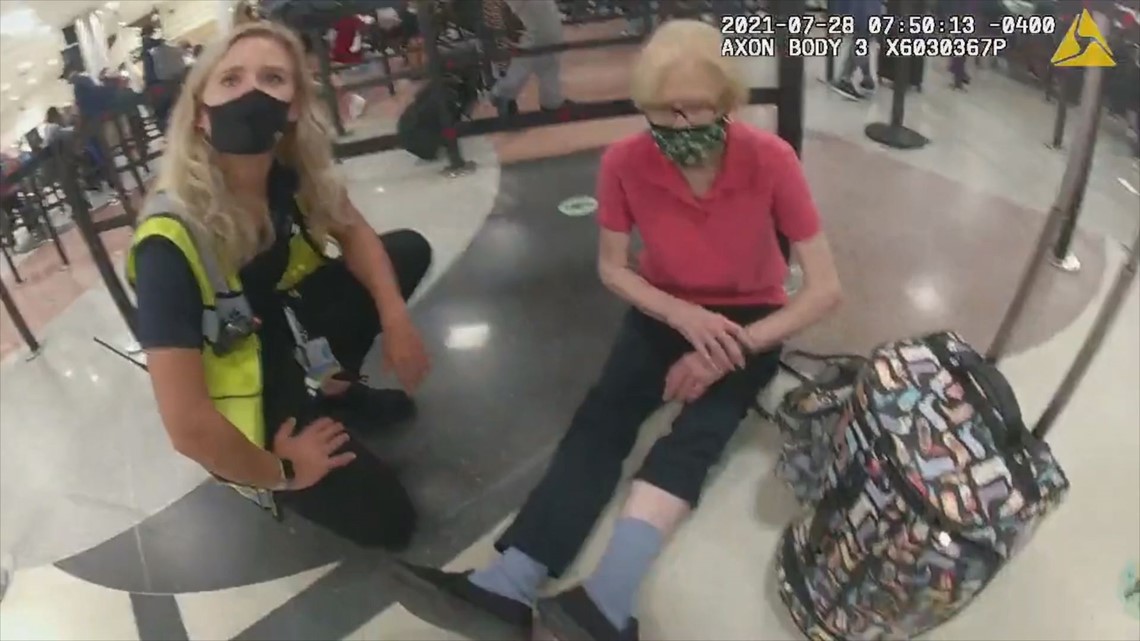 The airport's Medic 4 had been dispatched, but was later diverted to a cardiac call on a plane. "So that tells me you only have one ambulance working today," the police sergeant asked. The Atlanta Fire Rescue Department sergeant answered, "we should have two."
There are four ambulances assigned to the airport.
"We ain't got enough people to work," the fire sergeant said, recorded by the police body camera. The police sergeant scoffed, "still not enough to cover when you have 65,000 employees and 250,000 passengers coming through [the airport every day]."
Dispatch records show the airport's 911 center called Grady EMS for help, but Grady did not have an ambulance available either. Then airport dispatchers called Clayton County. The fourth try was with the City of Forest Park which sent an ambulance to take the 76-year-old woman to the hospital.
"We're still waiting on a transport unit," the police sergeant said. "This is ridiculous. This is the busiest airport in the world and they've got one damn ambulance?"
FIRE STATION DEMOLISHED
:
There was an ambulance just 57 seconds away from the center of the domestic terminal.
But not on July 28. Fire Station 32 was closed a year earlier.
The airport's busiest firehouse, at the northern tip of the T concourse, was bulldozed to make way for five new passenger gates.
The initial design for the new gates included rebuilding Fire Station 32 along with the extension of the T concourse. The airport shelved those designs even tough they were "100 percent complete, priced, permitted and ready to be constructed," according to a 2019 working group report obtained by 11Alive's investigative team, The Reveal, through an public records request.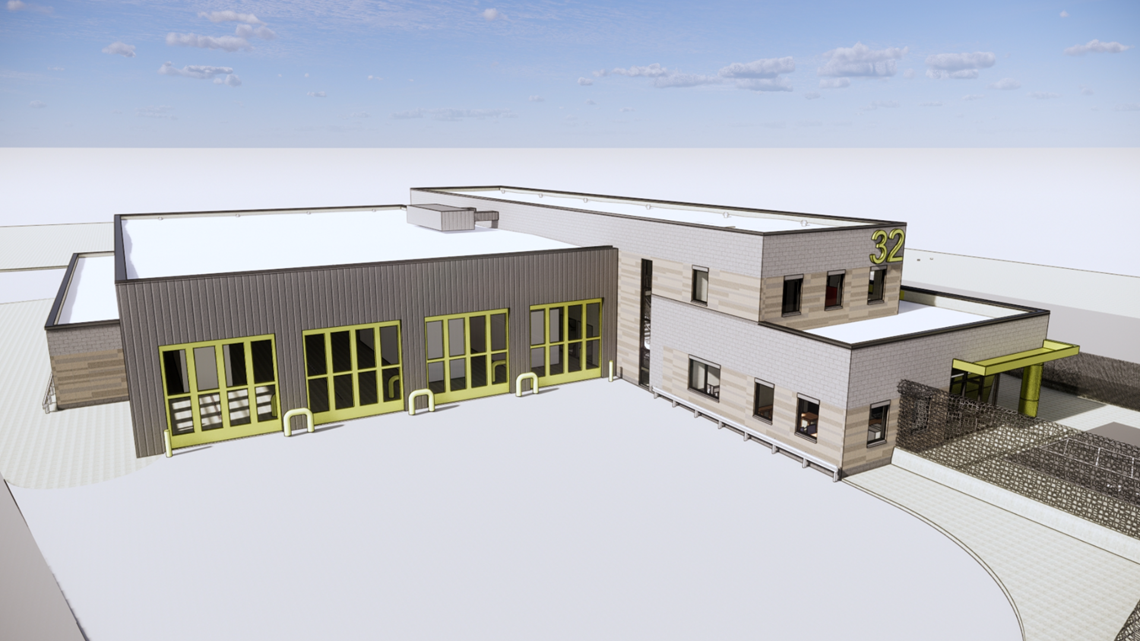 Construction of the five new passenger gates — now already well underway — was given priority over the replacement fire station, which is just getting started at a different location.
The new Fire Station 32 won't be completed until the end of 2022, leaving Atlanta's airport without a rescue station near the domestic terminal for two and a half years.
An airport spokesman released this statement to The Reveal:
"As part of the work required to expand Concourse T North, Fire Station 32 has been temporarily closed. In an effort to mitigate any impacts caused by the temporary closure, ATL and AFRD are staging personnel and equipment inside the concourse and along the terminal roadway. We are confident that with the reassignment of personnel and enhancements to emergency response patrols, the airport will not experience any degradation in services."
Less than 13 hours after that statement was released on July 27 — promising no degradation in service — 76-year-old Carol Chapman waited 95 minutes for an ambulance in the middle of the domestic terminal with her dislocated hip.
RESPONSE TIME INCREASED
:
The Reveal obtained a database of EMS response times from January 2019 through mid April of this year. It was shared internally among Atlanta's airport and fire rescue, both of which are city departments.
An analysis of thousands of medical runs before and after the closure of Fire Station 32 shows an overall increase in the average EMS response time of more than two minutes, airport-wide.
Those numbers are skewed by response times for Engine 32 and Medic 1, which jumped 65-percent. Both of those Advanced Life Support EMS units used to be parked right next to the domestic terminal when Fire Station 32 was still standing.
Engine 32 and Medic 1 had an average EMS response time of 6:49 seconds before the closure of the station. Now they're averaging 10:30 through mid-April of this year, an increase of 3:41 per medical run.
"AFRD utilizes mutual aid agreements with partner agencies to ensure proper coverage of its response area at Hartsfield-Jackson Atlanta International Airport. As always, ATL remains committed to providing superlative emergency response services to its passengers and employees," the Atlanta airport management said in a statement to 11Alive.
AIRPORT WARNED
:
In 2019, the airport's own working group pushed for the construction of a replacement Fire Station 32 at the same time as the T concourse extension.
The working group report warned two years ago that "elimination of Station 32 significantly increases Fire/EMS response times to the areas of greatest demand" near the domestic terminal." The report predicted increases of several minutes to EMS response times.
The 2019 working group considered three alternatives, including not rebuilding the fire station at all, but the study did not consider any option of delaying the demolition of the busiest fire station at the airport until after a replacement could be built elsewhere.
The replacement for Fire Station 32 will be built next to the cell phone lot on the south side of the main terminal — a location unaffected by the construction of the new passenger gates. It's not clear why construction of the new station could not take place before the demolition of the existing rescue station.
22 MINUTE WAIT FOR CPR
:
Engine 32 responded from farther away, and firefighters started CPR 22 minutes after Lawson's wife Ruth called 911 for help. She reached a medically-trained dispatcher who was not allowed to give CPR instructions over the phone because the airport's 911 center didn't allow it.
After our first report on Thomas Lawson's death, the airport immediately signed a contract to medically train all of its dispatchers, and the city is now hiring Emergency Medical Dispatchers and EMD supervisors for the airport's 911 center.
FAA REQUIREMENTS FALL SHORT
:
Hartsfield-Jackson Atlanta International Airport's operating certificate depends on how quickly a fire truck can get to the middle of each runway.
There is no such requirement for ambulance response times to the terminal.
Federal regulations under the Federal Aviation Administration's (FAA) Part 139 require at least one fire truck to make it to the middle of each runway within three minutes. Atlanta's airport has to meet even more stringent requirements from the FAA because of how busy it is.
That's why there were five fire rescue stations ringing the airport. That 2019 working group was primarily motivated those FAA requirements, which the airport can meet without Fire Station 32.
There are now four fire stations, all far from the domestic terminal, but close to the airport's five runways. The airport can't stay open without them.
The airport can operate without a terminal or so-called 'land side' fire station until the end of 2022, but the 7.5 million passengers moving through the airport each month face extra minutes of emergency response time when seconds count.
The Reveal is an investigative show exposing inequality, injustice, and ineptitude created by people in power throughout Georgia and across the country.
More from The Reveal: