'Not acceptable': Former Atlanta police chief says officer should have been off force before breaking man's ankle
In the wake of this case, Chief Erika Shields recommended policy changes for disciplining officers accused of using unnecessary force that were never implemented.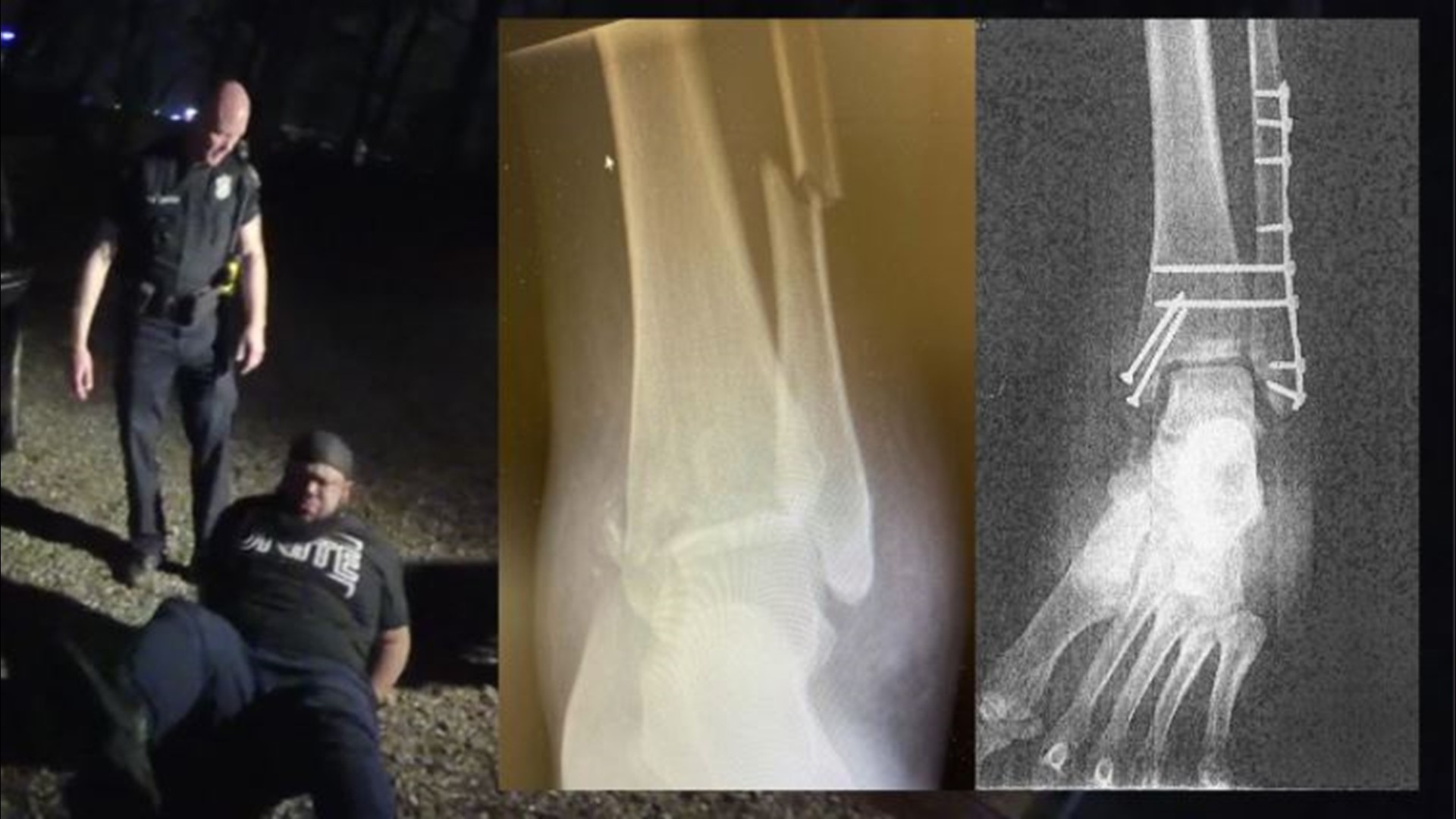 11Alive has learned Atlanta's former police chief warned the city that it needed to reform the way it disciplines officers accused of using unnecessary force after discovering flaws in its system. More than a year and a half later, her recommendations have never been implemented.
Former Police Chief Erika Shields' recommendations were outlined in a December 2020 court deposition as part of a pending federal lawsuit involving a current officer accused of using unnecessary force.
The deposition occurred while she was employed by the city, but was no longer leading the department.
► WATCH | Video depositions of former Chief Shields' and officer Vickers below
"UNNECESSARY" POLICE FORCE
:
Attorneys who filed the lawsuit claim Atlanta officer Donald Vickers used unnecessary force when he tackled their client, Tyler Griffin, in April 2019 during a traffic stop. The incident broke Griffin's left ankle.
Vickers and another officer believed Griffin was drinking and driving. When Griffin got out of his car as requested, he brushes an officer's hand away pointed in his direction. Vickers tackled him in response.
Officer Vickers, a 15-year-veteran on the force, mocked Griffin when he couldn't stand on his injured ankle. "You sound like a little girl right now," Vickers is heard saying on body camera video.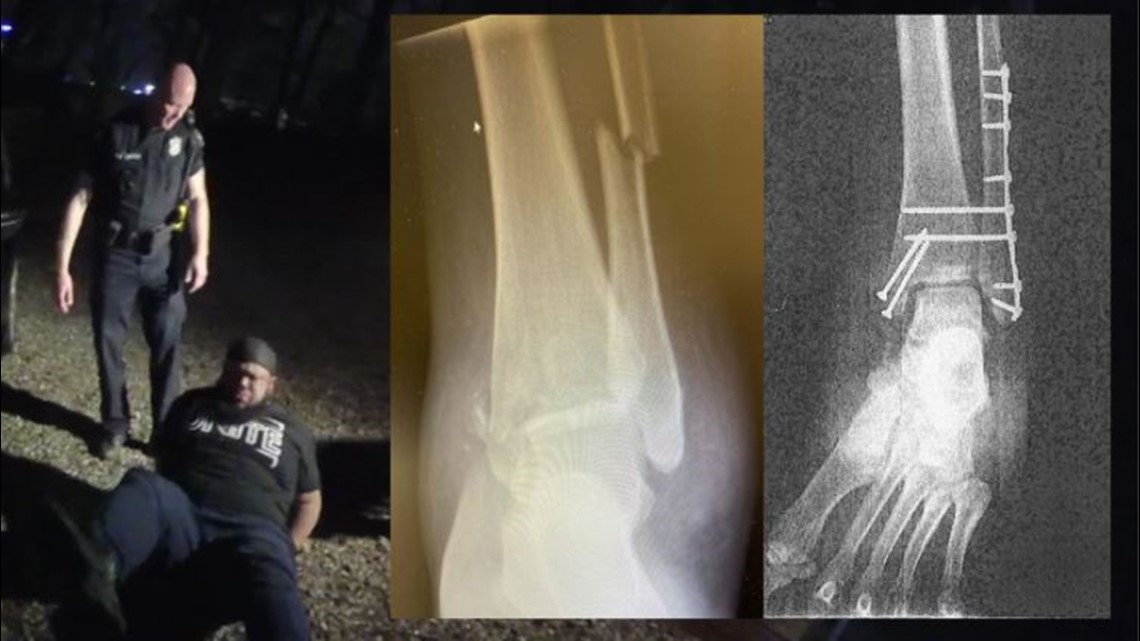 Six months after it happened, Griffin told 11Alive's investigative team, The Reveal, he didn't understand why the officers tackled him.
"I've never been in any trouble with the police at all. So, it was just one of those things like, 'Why am I being attacked like this?'" Griffin said in November 2019.
"There is not a universe in which this is acceptable. We need to see big changes at APD, and those changes need to start yesterday," said Jeb Butler, an attorney for Griffin.
During Shields' deposition, she said Vickers' actions were not warranted.
"I think it was just, it was unnecessary," Shields said. "I would not support Vickers' decision-making."
Shields isn't the only one who believed Vickers used unnecessary force. In separate depositions involving the same lawsuit, two high-ranking department officials also called the tackle excessive. That includes Patrick Fite, an Atlanta Police training instructor.
"From what I saw, I wouldn't think so," said Fite when asked if Vickers' actions were justified.
Internal affairs investigator Arthur Nixon, who investigated Vickers' case, echoed a similar sentiment during his deposition.
"I wouldn't have tackled somebody like that for a swiping of the hand...I would not have tackled," Nixon said.
In December 2019, the department's Office of Professional Standards (OPS) cited Vickers for breaking multiple police policies, including temporarily cutting off his body camera and failing to provide medical attention, but did not punish him for unnecessary force.
In fact, the city exonerated him. That means, it believed Vickers' actions were justified.
When Shields learned this during her deposition, she was visibly shocked.
"It's a huge problem. Because, clearly, if OPS exonerated this, that's a much larger issue. I didn't realize that," Shields said. "I'm wondering why that file didn't make it to my office."
After The Reveal asked Reid to review the video showing Vickers' tackle, he doubts the ACRB would have exonerated Vickers.
"I don't think so. I don't think so," Reid said. "The question to me is, how did they even get to that point?"
PREVIOUS USE OF FORCE COMPLAINTS
:
This isn't the first time someone has accused Vickers of hurting a citizen during an arrest.
In 2017, someone claimed they witnessed Vickers at Grady Hospital "ramming [a man] into a door while he was handcuffed" so hard that it made him "lose consciousness." Internal affairs investigators recommended a two-day suspension. A supervisor disagreed with their findings and overturned the suspension.
Outside a convenience store in 2010, someone accused Vickers of kicking him in the back during an arrest. Internal affairs recommended a five-day suspension. Again, another supervisor wrote a letter reversing the internal affairs ruling.
That same year, police arrested Vickers for reckless conduct for allegedly pointing an AR-15 rifle at three men outside Underground Atlanta while off duty. Internal affairs recommended another five-day suspension. A supervisor reduced his suspension to three days and he was not charged.
"The pointing of the rifle alone would have seemed to have risen to the level of a dismissal. He does not need to be on the payroll," Shields said in the 2020 deposition about Vickers' off-duty conduct.
"NOT ACCEPTABLE"
:
In her deposition, Shields said Vickers' cases illustrate the city's need to change the way it disciplines officers. She said it was clear that the department's top brass need to sign off on all use of force files before handing down disciplinary action.
"You're going to have to prescribe that the deputy chief, the assistant chief, and the chief will all sign off on all use of force files," Shields said. "What we're seeing today is there's definitely some stopgaps... that just are not acceptable."
"Chief Shields got this right – if officers like Vickers can slip through the cracks, APD has a 'huge problem' with failing to discipline officers who use excessive force," said Matt Kahn, an attorney representing Griffin.
More than a year-and-a-half after Chief Shield's deposition, her recommendations have never been implemented.
"If the chief said it's a big problem, then yeah, it's a big problem," Reid said.
The ACRB investigates some use of force cases, but not all. Last year, a change in police policy now requires the department to notify the board about deadly force cases and incidents that involve severe bodily injury.
Griffin's case would have qualified, but the change went into effect after his tackle. The board can also launch investigations from complaints it receives from the public.
Reid said having the former chief's recommendations would have been a step in the right direction, but it doesn't go far enough. He believes every use of force case should be reviewed by the board.
"We're independent of the police department," Reid said. "That investigative stage, how we get to the point of that decision, is transparent because we talk about it in our board meetings."
WHERE ARE THEY NOW?
:
Current Police Chief Rodney Bryant, who once worked under Shields, declined to be interviewed.
"We appreciate the opportunity but will have to decline an interview on this case due to the connection to a pending lawsuit," said Steve Avery, an officer in the department's public affairs unit.
Vickers remains on the force and declined to be interviewed. In an October 2020 deposition, he denies ever using excessive force against anyone, including Griffin.
"Once you swipe an officer's hands, you become a threat at that point, and I alleviated it," Vickers said, explaining why he tackled Griffin.
For the first time since leaving the department in June last year, Shields' deposition also revealed that her resignation was connected to a disagreement with Mayor Keisha Lance Bottoms.
"I don't necessarily think that the mayor and I were on the same page, and given the environment of the city at the time, I felt that it would be more damaging for us to publicly disagree," Shields said.
Shields is now the police chief in Louisville, Ky. She resigned from Atlanta's post following high-profile use of force cases captured on video and the mayor's call for the officers' immediate termination without a formal investigation.
One of them includes the shooting death of Rayshard Brooks, who was killed by an officer after pointing a police taser at the officer as he was running away from them. Mayor Bottoms quickly called for the officer to be fired. Shields resigned the same day.
Another incident involved two college students who were tased and pulled from their car near an event protesting police brutality. Two officers involved were fired within 24 hours.
Since then, all of the terminated officers were reinstated after the Atlanta Civil Service Board concluded the city didn't afford the officers their right to due process.
The Reveal is an investigative show exposing inequality, injustice, and ineptitude created by people in power throughout Georgia and across the country.
MORE FROM THE REVEAL: