SANDY SPRINGS, Ga. — Get caught with cocaine in Atlanta, and you'll be arrested on felony drug charges. In Sandy Springs, you could be let go with nothing more than a ticket for cocaine possession.
That's what happened to two suspected gang members in September of 2018. Sandy Springs officers stopped the young men for illegal window tint, and ended up searching the car because of a strong odor of marijuana coming from the vehicle.
The search turned up a baggie of cocaine.
"Whose is that?," the officer asked, holding up the cocaine in front of the two suspects. "It probably got stuck to our feet. We went to the restroom and all that, you know," answered one of the men identified by police as a gang member.
"Alright," said the officer. "I'm just gonna give you a ticket for it and y'all can go."
The officer handed the citation to the suspect at his car window, saying, "I'm giving you a warning for the window tint, you're not getting a ticket for that, just the cocaine."
Under Georgia law, cocaine possession is always a felony. There is no such thing as a ticket for cocaine, so Sandy Springs invented its own drug law.
Disorderly Conduct
Sandy Springs added a catch-all drug offense to its city ordinance for disorderly conduct.
In addition to the standard "breach of peace" offenses that are part of the state's misdemeanor charge for disorderly conduct, the Sandy Springs municipal violation includes being, "in or about any place where gaming or illegal sale or possession of alcoholic beverages or narcotics or dangerous drugs are practiced, allowed or tolerated, for the purpose of or intent to engage in gaming or the purchase, use, possession or consumption of such illegal drugs, narcotics or alcohol."
After seeing a police report for heroin possession that resulted only in a disorderly conduct ticket, investigators with The Reveal filed a series of requests under the Georgia Open Records Act for every single disorderly conduct arrest and incident report from Sandy Springs for a 20-month period.
We manually reviewed more than nearly 4,000 pages of police reports covering all of 2018 and the first eight months of 2019.
Out of more than 700 disorderly conduct incidents in Sandy Springs, 64 percent were drug related. Drug possession outnumbered all other kinds of "disorder" in Sandy Springs — combined.
Drugs confiscated in Sandy Springs lead to only disorderly conduct tickets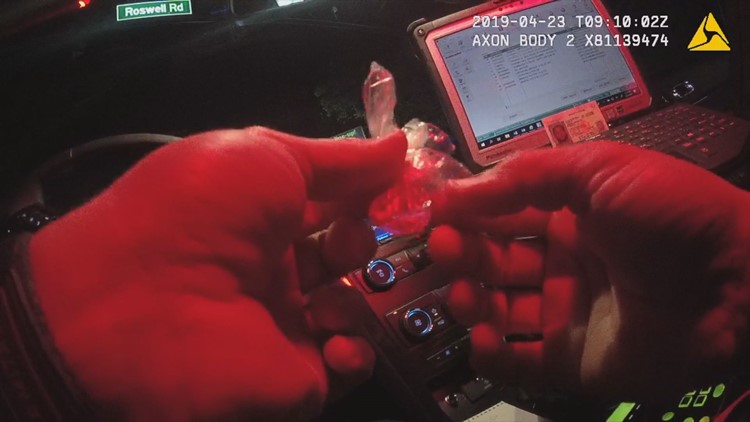 ► WATCH | The Reveal Sundays at 6 p.m. on 11Alive
Most of those cases involved marijuana, which many other jurisdictions have decriminalized. In fact, Georgia law now allows municipalities to use city ordinances to enforce marijuana possession in low amounts.
But 98 of the 448 drug-related cases charged as disorderly conduct in Sandy Springs involved harder drugs.
One out of every five disorderly conduct drug cases in the suburb involved possession of cocaine, heroin, meth, crack, PCP, hydrocodone, MDMA, GHB, ecstasy or other Schedule I or Schedule II narcotics and pills that would have been charged as a felony by Atlanta and other police departments in Fulton County.
No Criminal Record
City ordinance violations, such as Sandy Springs' disorderly conduct tickets, are considered lower than misdemeanors in Georgia.
While a speeding ticket conviction is treated as a misdemeanor, heroin possession charged as disorderly conduct is considered less severe.
As a result, a guilty plea or conviction for heroin, cocaine, or meth possession in Sandy Springs Municipal Court is not reported to anyone. Defendants may have to pay a fine, serve probation, or attend drug treatment ordered by the court, but they will not end up with a criminal record.
One of suspected gang members caught with cocaine in Sandy Springs seemed perplexed when the officer told him he would be letting him off with just a ticket. The suspect pressed the officer to explain what the disorderly conduct city ordinance meant.
"It stays off your record," the officer explained. "You don't get a state charge. You just go through the City of Sandy Springs and that's it. So, we have a city ordinance violation for drugs, that's all you're getting cited for. It's like the easiest way instead of taking you for a felony possession, which this would be, a felony possession," the officer added before letting the men go with a warning for the illegal window tint and citation for the cocaine possession.
Officers from other departments were similarly perplexed, according to our review of police body camera footage.
Inside the county jail booking area, an Alpharetta officer asked a Sandy Springs officer if he was swearing out an arrest warrant for crack possession. The Sandy Springs officer answered no.
Alpharetta officer: "DisCon (Disorderly Conduct) for crack?"
Sandy Springs officer: "Huh?"
Alpharetta officer: "DisCon for cocaine?"
Sandy Springs officer: "Our city charges are more…"
Alpharetta officer: "That's insane."
Sandy Springs officer: "Our city charges are worse."
Alpharetta officer: "Yeah, I know, us too, but…"
Sandy Springs officer: "But that's crazy, right?"
Alpharetta officer: "Yeah! I mean, if y'all can do that, more power to you."
That officer had recently transferred to Sandy Springs from another department, and was instructed by fellow officers how to charge the crack suspect earlier that same night, according to body camera recordings The Reveal obtained through our records requests.
Officers: "What are you hitting him with?"
Arresting officer: "Schedule, what, two? (felony). Cocaine is two, yeah. So, dangerous drugs."
Officers: "How much crack is it?"
Arresting officer: "Just two little stones."
Officers: "DC (Disorderly Conduct). More time with the city."
Arresting officer: "Really?"
Officers: "F**k yeah. County's just gonna throw him right out. Oh, absolutely. He'll be back here smoking crack at this same spot."
Arresting officer: "Really? So DC?"
Officers: "You do DC-city, he'll be gone for at least six months."
City Drug Problem Hidden
Sandy Springs city government prides itself on transparency. Our records requests were handled quickly and records were provided with minimal redactions.
Data for every single arrest the city has made since its founding is available in online at crimereports.com
The website allows anyone to map specific offenses, to track crime trends in their neighborhoods.
Looking at a recent six month period, there were 279 "disorder" incidents, but only 42 "drug" incidents displayed. By applying the statistics that we uncovered through our analysis, roughly 178 of those disorderly incidents were likely drug related.
That would mean there were actually 220 drug incidents and only 59 true disorder incidents, virtually inverting the statistics the public can see online.
The only way to know which cases involve hard drugs is to request individual police reports, which cost us hundreds of dollars and 40 hours of meticulous review. The city admits it does not distinguish between ordinary disorderly conduct and drug possession charged the same way and as a result, requested two delays in providing statistics for drug treatment ordered by the court.
Mayor Blames County District Attorney
Mayor Rusty Paul was blunt when asked about the Sandy Springs practice of ticketing suspects for hard drug possession.
"We just found that they never get prosecuted within the Fulton County system because it's overwhelmed," Mayor Paul told The Reveal.
"If we give them state drug charges, they go to the Fulton DA and the Fulton court system. It disappears. They never get the help that they may need," the mayor added.
Mayor Paul, one of the founders of Sandy Springs and a former member of the George H.W. Bush administration, said his city is one of the only municipalities with its own drug treatment program.
According to the city, 159 defendants were sentenced to drug evaluation and treatment last year by the Sandy Springs municipal court. Another 47 were required to have random drug screening or treatment without a drug evaluation, according to the city.
City records also show the municipal court turned about a million dollars in profit last year collecting fines, probation fees, and other revenue that exceeded the $1.5 million Sandy Springs taxpayers spent to run the court.
One thing the city court can brag about is how quickly it delivers justice. While it can literally take years for a Fulton County drug case to get to court, most Sandy Springs defendants enter a plea within weeks of their arrests, closing those cases quickly.
District Attorney promises reform
Fulton County District Attorney Paul Howard broke some news during an interview with The Reveal, after acknowledging the delays Mayor Paul described.
"I believe that the system is too slow," D.A. Howard said. "I believe that our current Fulton County Criminal Justice System is in great need of overhaul."
The district attorney is not ready to release details, but promised to approach the Georgia General Assembly next month.
"My office, along with other offices in the county, we're going to be making a recommendation to the legislature this year, to see whether or not we can change that," D.A. Howard said, referring to the delays.
The district attorney admitted it can take a year or longer just to bring an indictment in a drug case, but he pushed back on the notion that the cases are never prosecuted.
"Well that's just not true because our statistics show that 98 percent of the cases that are sent to my office by municipalities in this county are prosecuted," the D.A. said, indicating that only two percent of cases from Fulton County cities are declined.
Convictions in Sandy Springs don't affect probation or bond
One of the side effects of this practice of using disorderly conduct to charge cocaine and heroin possession is that it happens in a vacuum. Defendants on parole, probation, or bond from state charges are not violated by an arrest or conviction in Sandy Springs.
Again, that's because drug charges in Sandy Springs are city ordinance violations, and not even misdemeanors. Statewide, convictions in municipal court for city laws aren't reported to Georgia's crime database, and the city doesn't notify outside probation or parole officers, as a general rule.
A major drug dealer who was awaiting trial in Fulton County was out on bond when he was arrested for cocaine possession in Sandy Springs.
Police raid home of major drug dealer thought to be using dark web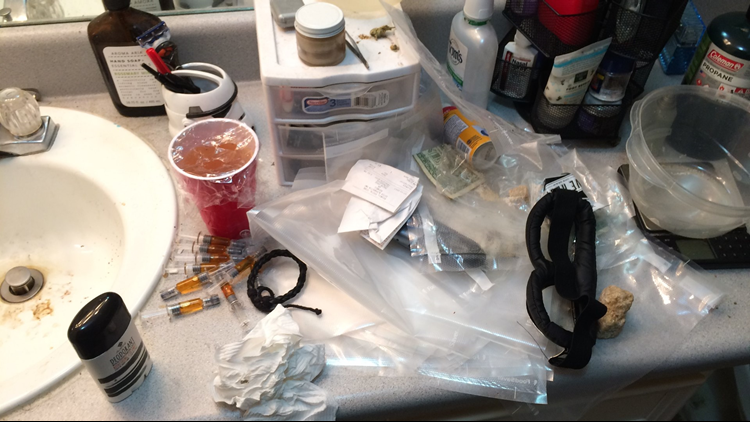 A Fulton County grand jury indicted Alexander Casey Lascik on a dozen felony counts in October of 2017, after Roswell Police raided his apartment with a search warrant. Police photographs show they found a drug factory with MDMA, LSD, amphetamines, oxycodone, a handgun, and cash.
Police accused Lascik of dealing drugs on the dark web.
Lascik pleaded guilty to drug trafficking and possession of a firearm in the commission of a felony in September 2018.
While out on bond after his arrest but before that plea, Lascik was pulled over in Sandy Springs in February of that year. Officers found a scale, marijuana, and cocaine, according to their report and police body camera footage obtained by The Reveal.
Even though Lascik was awaiting prosecution on multiple felony counts of drug dealing in the county when he was caught with cocaine by Sandy Springs police, he was charged only with that city ordinance violation of disorderly conduct.
A Fulton County judge sentenced Lascik to ten years, to serve at least six years in prison, however the prison sentence would be suspended on payment of a $200,000 fine.
Sandy Springs sentenced him to six months probation and a $500 fine, before he was sent to prison by Fulton County. Lascik is currently serving that sentence at a work prison in Columbus.
Prosecutors were not informed of his drug arrest or conviction in Sandy Springs before his plea in Fulton County Superior Court.
District Attorney Paul Howard said that's a problem.
"That means law enforcement and prosecutors are not advised that this person has in fact violated a probation, has now committed another charge, and is now a state repeat offender. And when you are not charging them with the appropriate felony, that's one of the dangers that I see," Howard said.
More of The Reveal:
The Reveal is an investigative show exposing inequality, injustice, and ineptitude created by people in power throughout Georgia and across the country. It airs Sunday nights at 6 on 11Alive.