If you're a black person looking to be a firefighter or a police officer in Cobb County - good luck.
The Reveal exclusively obtained data laying out the county's apparent racial problem when it comes to hiring in the county's police and fire departments. And even though the Cobb County government was first made aware of the issue about 30 years ago, little has changed.
Michael McIntosh, a 25-year veteran of the Cobb County Fire Department says while he enjoyed his time as a county employee before retirement, the race problem was always the proverbial elephant in the room.
"I was the only black person on my shift," McIntosh explained. "Nobody made me feel a certain way about it, but in my mind, of course I definitely noticed."
And so did Russell Clay, who also recently retired from Cobb Fire.
"It's not many of us there. Most of the time, I was the only African American," Clay recalled.
The Reveal obtained the fire and police department's equal employment opportunity statistics showing that both of their experiences seem to be part of a pattern.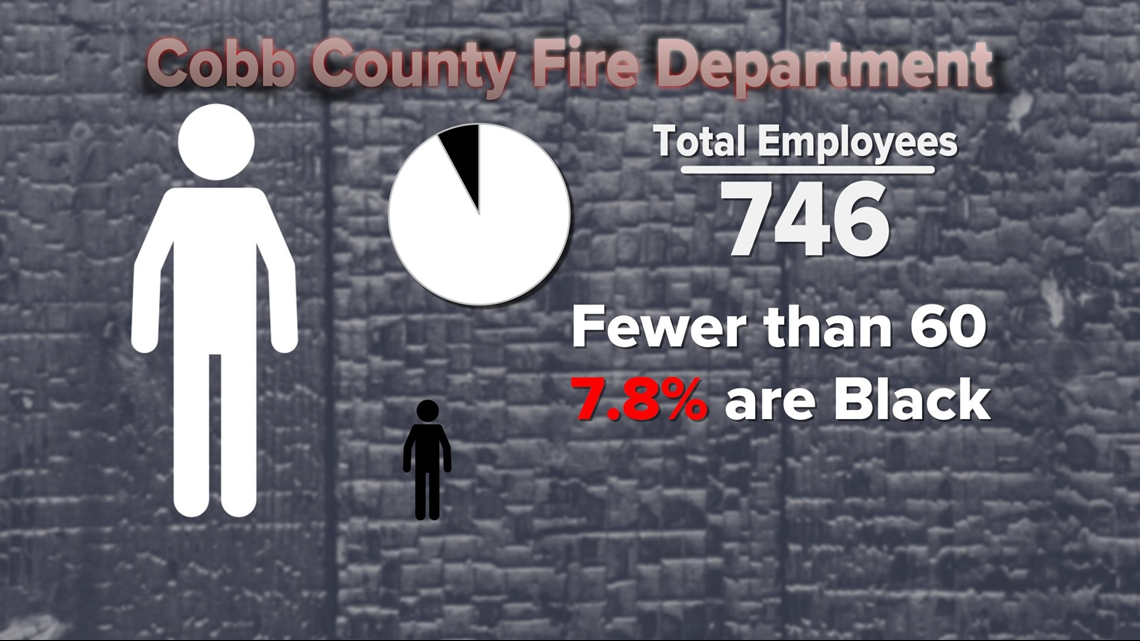 Out of 746 employees in the Cobb County Fire Department, fewer than 60 of them – or 7.8 percent – are black. The numbers in the police department are only slightly better. Of 709 employees, 120 – or 16.9 percent – are black.
Compare that to the county itself, whose black population is currently around 28 percent. In plain language, it means the racial makeup of Cobb County's police and fire departments does not reflect its own community.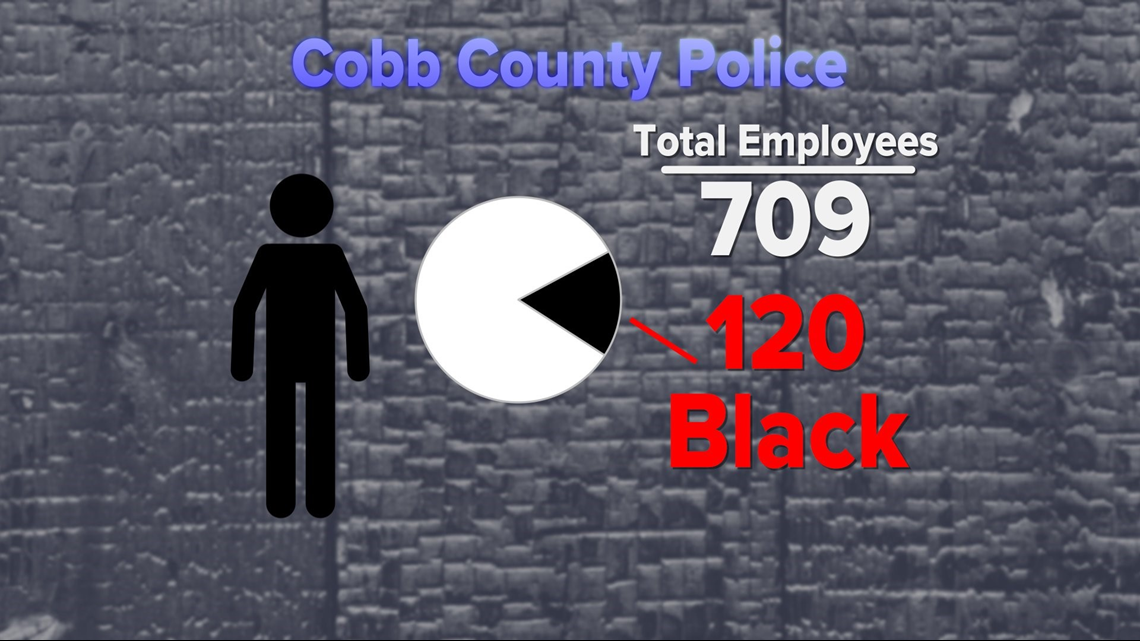 ► WATCH | UpLate at 11 p.m. Wednesday for more of The Reveal investigation
The county's public safety director Michael Register admits, that's a problem.
"I think that all humans want to be represented equally and fairly, and they want to feel like justice is served," Register said in an interview discussing the apparent need for more diversity in the county's hiring for its police force and fire department.
The Reveal uncovered that 422 black citizens applied to work with the county's fire department last year. Of those, 126 took the test. Almost all of them, 112 candidates, passed, but Cobb hired just six of them.
At the same time, fewer white people - 319 citizens - applied for the same jobs, yet Cobb County ended up hiring five times more white candidates - or 30 - than black.
At the county's police department, records show 788 black citizens applied for positions in 2018, yet the county recorded hiring just one of the black applicants. At the same time, when 400 white citizens applied, the county hired four white candidates.
"It's absolutely no excuse other than systematic racism," Clay responded after looking at the data.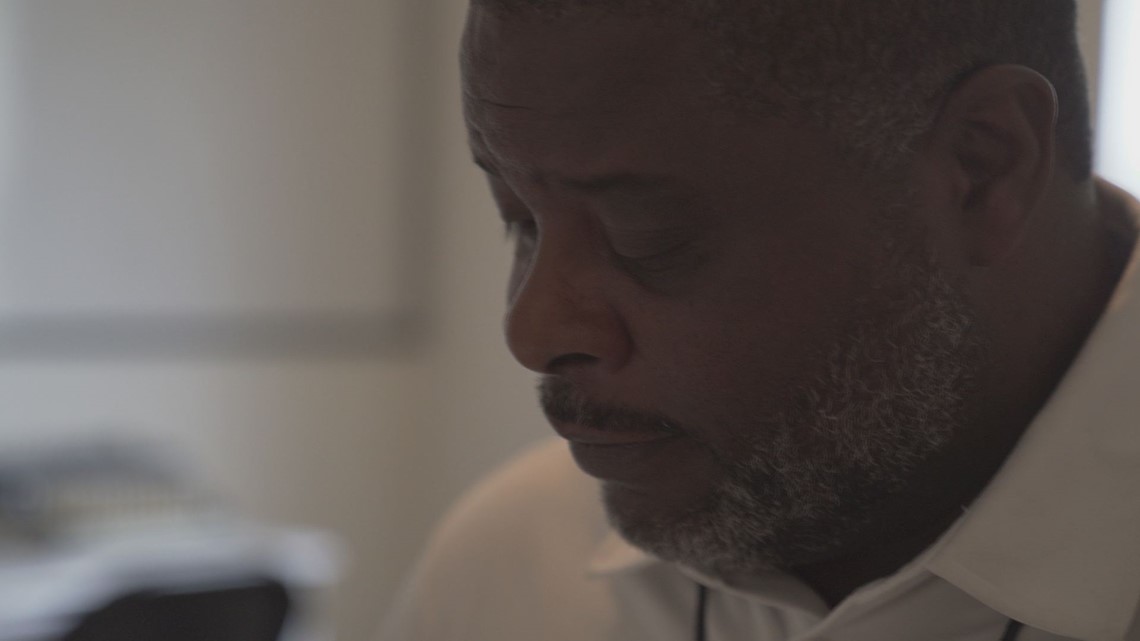 "Unfortunately race is still an issue. Wish in this day that it wasn't," Jeriene Grimes, the president of the Cobb County NAACP said. "We've had firefighters that have voiced concerns about the hiring practices, the lack of promotions."
The concern expressed by civil rights advocates is that by keeping the number of black hires low, the county also inadvertently limits the opportunity for those that would be available to progress up through the ranks, something Register himself mentioned during the interview with The Reveal's Faith Abubey.
"When you look at diversity in the department, it's not just hiring, but also, it's diversity in the upper echelons of the department - the command structure," Register said.
So why hasn't Cobb made more progress when it comes to the diversity in its fire and police departments? For retired firefighter McIntosh, he doesn't think it was intentional.
"I just think maybe it wasn't a priority," he said.
But, records show it was the county itself that said it would make diversity a priority.
An internal memo obtained by The Reveal shows the county personnel director saying "as vacancies occur, however, we will exert every effort to recruit, employ, and advance minorities and females."
That was in 1992, four years after a federal investigation exposed that Cobb had issues with the hiring practices in its police and fire departments.
"I mean, what am I going to say? We're still not struggling with that?" Register asked rhetorically. "I do believe what we need is a definite plan of action - a strategy."
Investigator Faith Abubey: Just to be clear, it's not that black people are not applying. It's not that they're not qualifying for the test. It's just something that's happening along the way that they're not entering the workforce.
Michael Register: I think that's one of the drop-points we're looking at.
Abubey: Cobb County has had an EEOC plan since 1973, they adopted that affirmative action plan in 1989. At what point does this just become lip service?
Register: I don't know. How about April 23, 2019 when I was put in as Public Safety Director? Because, that's my commitment to the community, that's my commitment to public safety.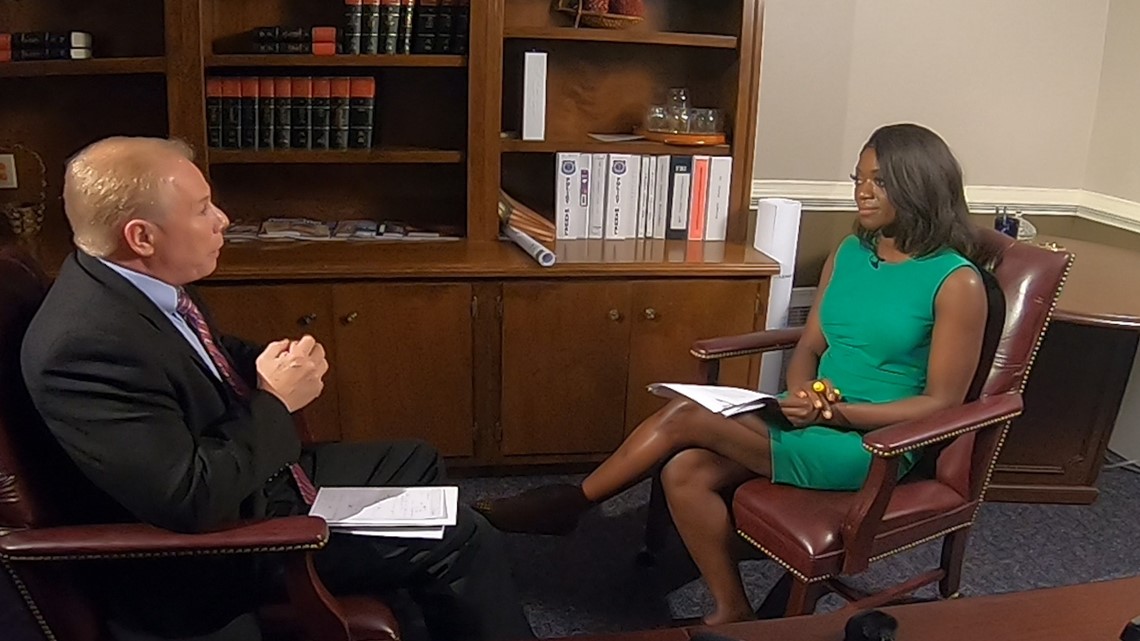 Register says he's already started the ball rolling on making a change and bringing equality into the hiring practices in Cobb.
"Hopefully, when you come back to see me, I would love to have the fire department be right around the 20 percent mark give or take," Register added.
Abubey: Within two years?
Register: Uh. Within two years
After 30 years of hearing similar promises, civil rights advocates are skeptical. But the NAACP's Grimes says she sees hope in the new public safety director.
"In this day and age, we've got to do better. We have to do better," Grimes said.
"We have to start having conversations that may make some folks uncomfortable. But they need to be had so that we can make the change."
One of the first things Register plans to do to address the issue is to hire a full-time recruiter. He also recently announced pay increases for both the fire and police departments, a move he says will help with recruiting more applicants.
He also plans to change the annual fire department tests to make them more frequent so there are more chances for minorities and females to join the workforce.
They will also review the whole hiring process to see where they might be unintentionally blocking minorities and women.
The Reveal is an investigative show exposing inequality, injustice, and ineptitude created by people in power throughout Georgia and across the country. It airs Sunday nights at 6 on 11Alive.
More of The Reveal: