The Department of Agriculture has come under fire for not moving fast enough to rescue hundreds of dogs living in inhumane conditions. But Georgia Department of Agriculture Program Manager Mark Murrah said the agency doesn't have the power to arrest, prosecute or force the surrender of a breeder's animals.
"I do think there's a misunderstanding," Murrah defended. "One of our largest initiatives is cooperating with our local animal control organizations and law enforcement."
The GDA said it will be working this year to better build those relationships and provide training.
What the GDA can do right now is impose financial penalties. In the past three years, the department has issued an administrative order on eight facilities. Georgia Puppies is one of them.
The Reveal's Rebecca Lindstrom, as part of an ongoing investigation, obtained photos taken in February and March when inspectors were on the property.
New pictures expose 'deplorable' conditions breeder kept over 700 dogs in
Grey was arrested for obstruction after deputies said he tried to hide dogs in the closet of his home. At the time, all of the animals on his property were supposed to be gone - surrendered to the shelter or animal rescue groups. But deputies and animal control said they found 98 more animals that day.
Grey remains out on bond, now charged with 16 felony counts of aggravated cruelty to animals. 11Alive also learned through an open records request that the GDA took administrative action against the breeder.
While Grey voluntarily relinquished his pet dealer license, he is still subject to a $500,000 civil penalty for violations found at his facility. Grey has asked for a hearing to appeal the order.
The fines stem from the department's visit to the property on Feb. 28. He is cited for failing to provide humane care because, according to the order, "all long-haired dogs were matted and that several dogs appeared to need veterinary care."
Grey was also fined for "adequate ventilation" noting, "the smell in buildings was so strong that [rescue] personnel could not stay in the building for any extended time."
Under the waste disposal and sanitation section, the order says, "feces was piled under enclosures throughout the facility."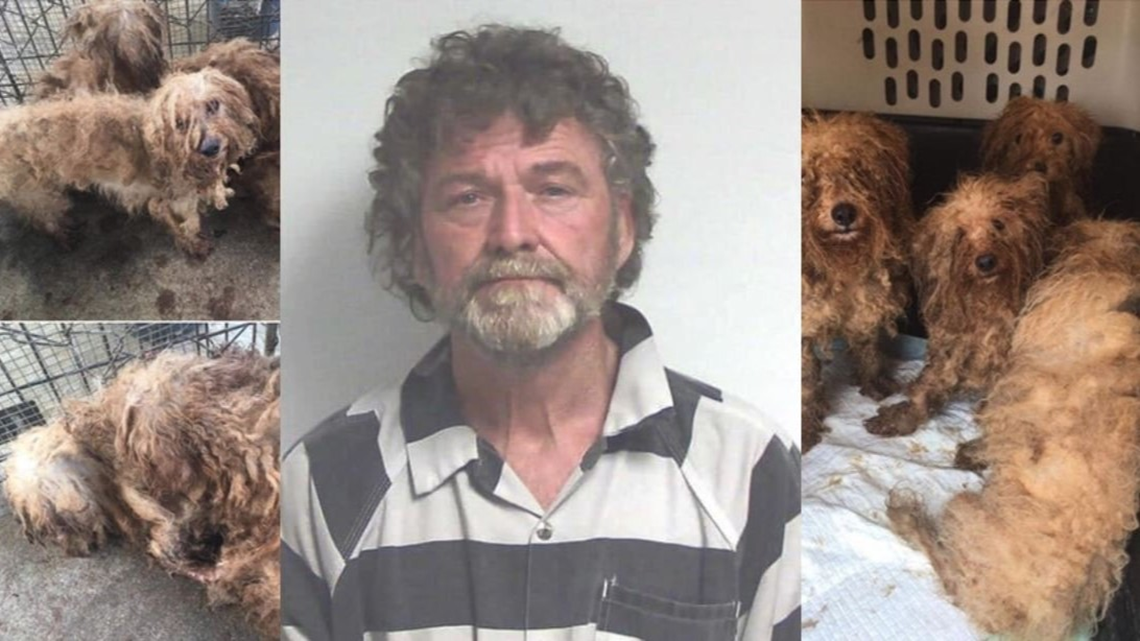 The administrative order also said the floors in some of the cages were rusted out and too small for the dogs that were living in them.
Animal welfare advocates 11Alive spoke to question if Grey will be able to pay the fine, pointing to the lack of care provided for the dogs.
According to federal court records, Grey filed Chapter 7 bankruptcy in 1987 and again in the Middle District of Georgia in 2016. The records for his first bankruptcy no longer exist, but in 2016, a judge discharged $225,000 in debt.
In that filing, Grey claimed he did not have any businesses or dogs. Yet, according to the Georgia Secretary of State's Office, he formed Georgia Puppies in July 2016. According to the GDA website, he's been a licensed breeder since 2013.
The GDA is only required by law to retain records for one year, so it's unclear if he had dogs at the time he filed for bankruptcy.
After the arrest and mass surrender of dogs by another breeder, Angela Powell, GDA's Murrah made a list of other high-risk establishments. Georgia Puppies was on that list.
Caged in cruelty investigative series:
The Reveal is an investigative show exposing inequality, injustice, and ineptitude created by people in power throughout Georgia and across the country. It airs Sunday nights at 6 on 11Alive.