Like most people, April, a mother of two, goes to the grocery store so often all her visits there feel the same.
Except this one particular day.
The 51-year-old remembers pushing her shopping cart into an aisle lined with shelves of canned vegetables.
Her two kids were in tow, as they usually are.
For a quick second, she turned her back to grab a can of one of the vegetables. Before she could turn back around and place it in her cart, a stranger had walked by and sexually touched her 11-year-old daughter.
"To be honest, I was going to jump on him and tear his face off," April recalls. "That's how quick it was."
Video footage from inside the store helped police identify the 73-year-old suspect.
He was arrested and charged with three counts of sexual battery.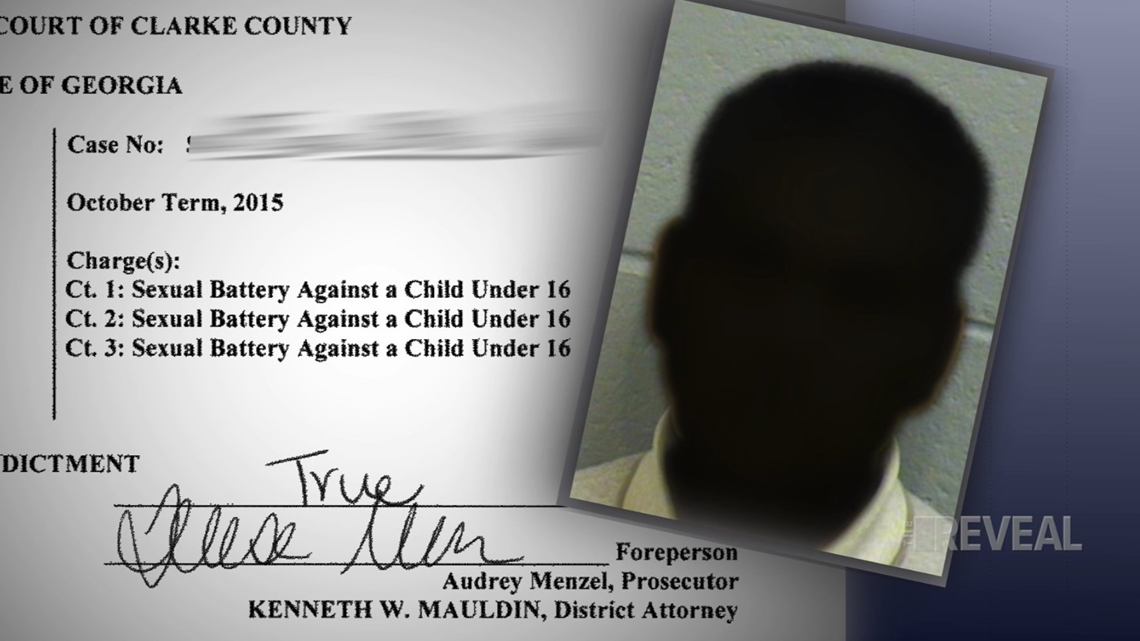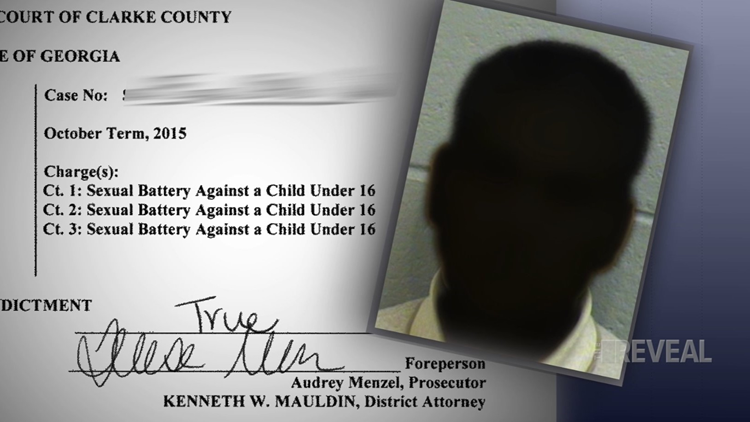 Several months later, when the case closed and the suspect was penalized, April and her family thought it was finally over and justice had been dealt. They thought they could finally put the incident behind them.
"I just wanted to find out more," she said.
April searched the suspect's name and what she saw left her frozen in front of her computer.
"I was just in shock," she explained.
She was staring at her daughter's name next to every painful detail of what happened to her. And, if she can see it, she realized anyone with internet access could read it, too, without ever stepping foot inside a courthouse.
"When you report [sex crimes] to police and you go through the court system, they always promise you your name will not be released, no one will know your name. 'We really protect the name of sexual assault victims. Don't worry about that.' They promised us that, too. And now it's on the internet. For anybody to see," April told 11Alive Investigator Faith Abubey.
An 11Alive investigation discovered that it wasn't just April's daughter.
The names and details about sex crimes committed against several other children have been posted to the court clerk's website, uploaded in entire case files.
All we needed to begin the search was a suspect's name -- which is why 11Alive is not identifying the suspect and has changed April's name to protect her child's identity.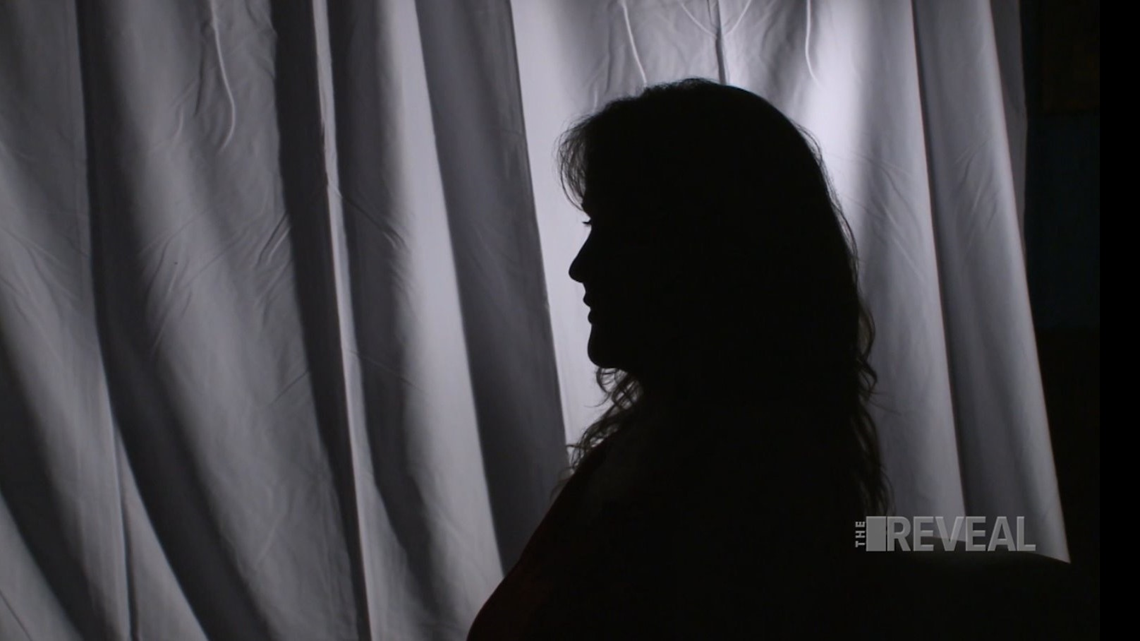 Just think about it: juvenile offenders' cases are off-limit to the public. However, the names of juvenile victims in other court systems are available and open, and now online.
"It's just bad," Andrew Agatston, the CEO and General Counsel for the Children's Advocacy Centers of Georgia (CAC) said about the practice. "One, it's re-victimization. Two, there's privacy concerns. Three, there's security concerns. Four, when the child is old enough, the child may Google him or herself and see that information."
It's exactly the kind of potential harm the CAC has worked for years to try to minimize when kids become victims of sex crimes.
WATCH | The Reveal Sundays at 6pm on 11Alive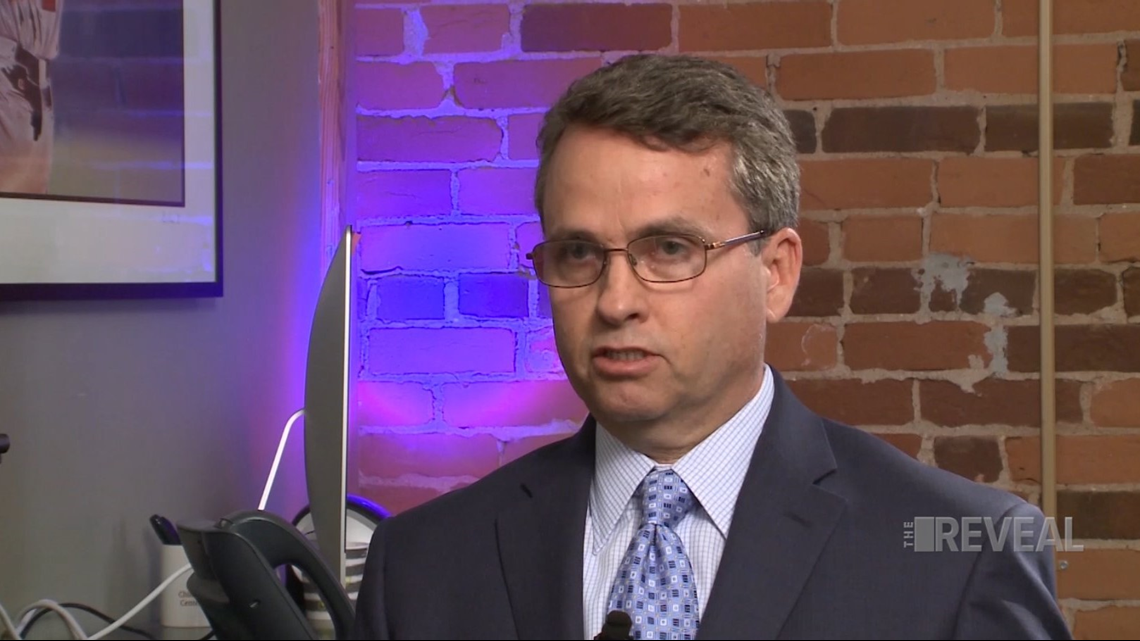 Agatston said publishing juvenile victim names online, after the case is over, violates them again.
"Justice may have happened in the courtroom, but life continues past the courtroom," he added. "And so, this is one of those things that seem little but it's really big and it's one of those things that we need to put a stop to."
When the 11Alive investigators reached out to her by phone, she said no one ever complained about the county posting un-redacted documents about sex crime victims on their website.
"I can see where that can be disturbing but we did it as a service to the public," she added.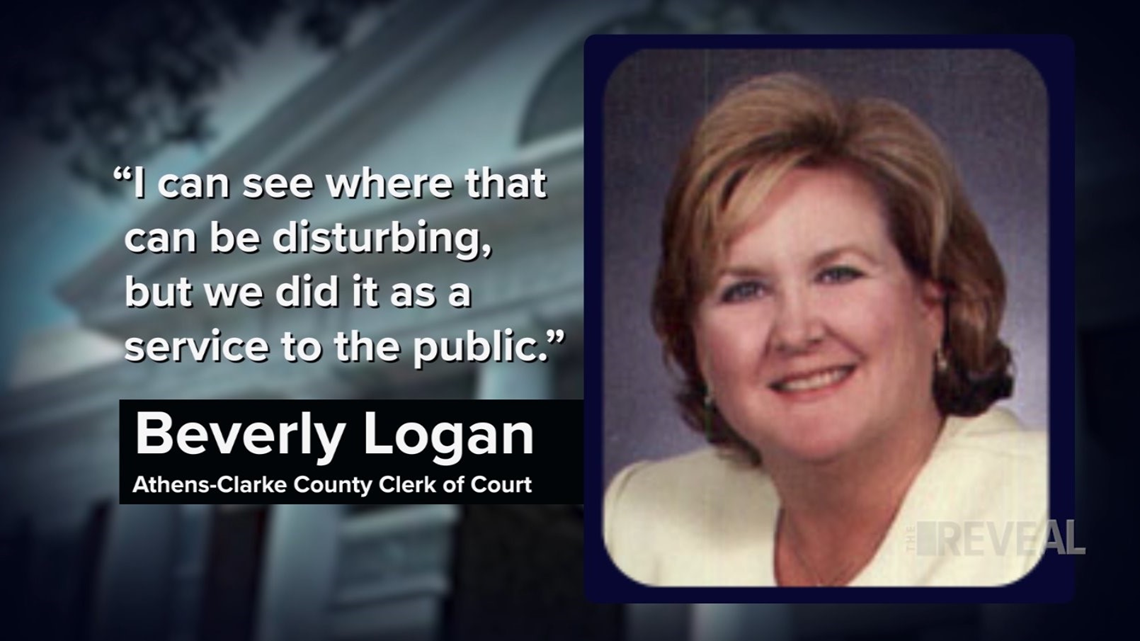 For the last several years, more and more court systems across the country have been moving toward posting their records online. The process makes it easier for the public to have access to those documents under the Open Records Act.
In Georgia, all State and Superior Courts are legally required to use e-filing in civil cases by January 1, 2019. There's no such mandate for criminal cases, but a growing number of counties already offer that as a public service, including uploading documents for the public to access online.
"It's incredibly efficient but as you can see, as you found in your reporting, there's things that they still need to do," Agatston told 11Alive. "It's a gap that something fell through that I think is preventable…and we need to fill the gap."
Athens-Clarke County isn't the only county publishing the names of sex crimes victims online.
Several of Georgia's 159 counties are facing the same dilemma as they move their court records online.
There's currently no law prohibiting any of those court clerks from posting documents that identify sex crime victims on their websites, unless it's been sealed by a judge for a myriad of reasons.
That's a detail April finds surprising.
"It just blows me away," April said in frustration.
In contrast, Cobb is one of a few counties taking steps to minimize any potential harm.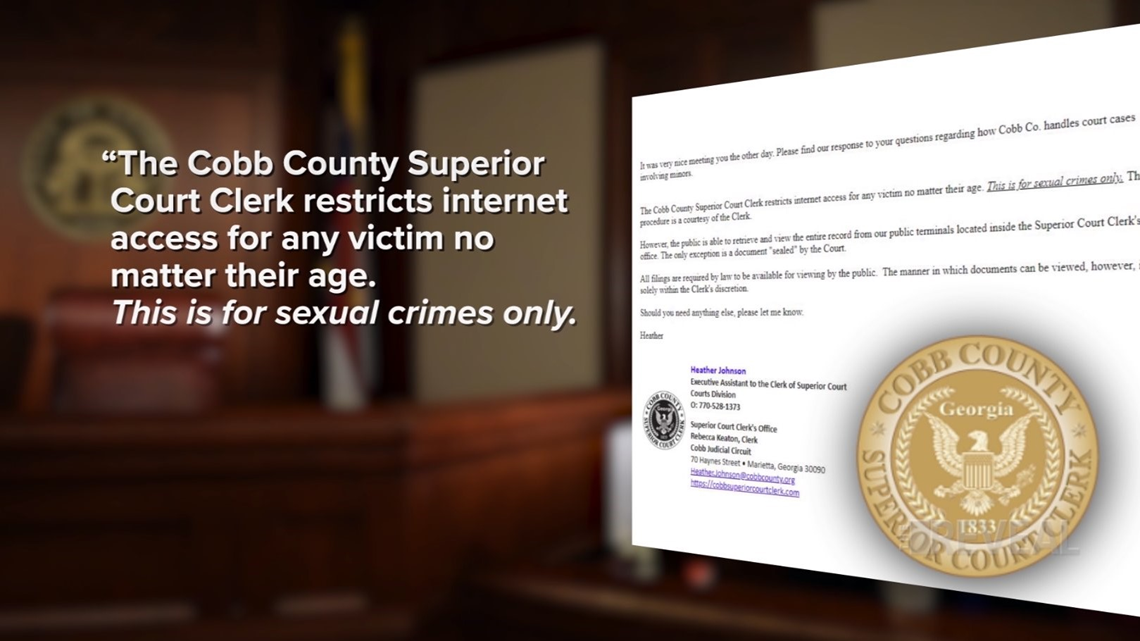 In a statement, the Cobb County Superior Court Clerk told 11Alive that the office: "restricts internet access for any victim no matter their age. This is for sexual crimes only. This procedure is a courtesy of the Clerk.
However, the public is able to retrieve and view the entire record from our public terminals located inside the Superior Court Clerk's office. The only exception is a document 'sealed' by the Court. All filings are required by law to be available for viewing by the public. The manner in which documents can be viewed, however, is solely within the Clerk's discretion."
While reporting this story, the 11Alive investigators found at least one record related to a sex crime victim that slipped through to the Cobb County clerk's website. Once notified, the office said it was an oversight and immediately began to block online access to it.
It's a courtesy other counties like Athens Clarke don't offer right now.
In fact, Logan said her office had never even thought about the impact of posting the un-redacted documents identifying sex crime victims online.
In the phone call with the 11Alive Investigators, Logan said she'd rectify the situation by reaching out to Cobb to see how that county decides which records are posted.
Weeks later, Logan sent 11Alive a statement, saying, "I do not plan to change our online docket."
An attached statement prepared with the help of the county went on to say:
"I am confident that the court files entrusted to my office are maintained in a manner consistent with public policy and all relevant rules, regulations and laws. Although some citizens may contend that some court records should be restricted from public view, I have no authority to deny the public access to any court records. Georgia courts do allow judges to seal cases on a case-by-case basis where they have determined that such action is necessary to protect the welfare of a victim, particularly where it involves child victims. I have not received a complaint and if I had, I would have directed them to the procedure for requesting to seal or restrict records. However, in the absence of such a ruling by a judge, I cannot restrict access to court records, including those made available online for the convenience of the public or physically in my office."
When the 11Alive Investigators pressed further, Logan clarified her response saying:
"I haven't changed my mind, I just don't have an answer for you at this time. I am reaching out [in] several directions, one to the District Attorney who places the names in the indictment to see if he, like other DA's, can just use initials, and to my vendor who may can help us with other options. I just don't have an answer for you. I'm not saying I plan to do nothing, but I can't say what I plan to do. I want to do what's best for all and still provide a public service. "
April says it's not a matter of legality but rather an ethical question about what's right and what's wrong.
"Off the internet – that's all I want," April told 11Alive. "Because who knows if one day someone is going to google a persons' name and that'll pop up? I don't know if it'll get to that but it could because it's there."
For now, no one outside April's family knows about that day inside the grocery store. And she prays it stays that way.
"That's a right as a victim you should have. You're not the criminal. You're the victim. All you did was live that day and somebody came and ruined your day. Ruined your life," the mother of two added.
Back in Agatston's office, he said that not posting documents that identify sex crime victims online seems to be a no-brainer.
"I don't want to suggest that the clerks offices are doing that in ill-will or maliciously, but it's just that sometimes you don't know what you don't know and now they know," Agatston said. "And so at some point, once you know something that is causing harm, you've got to address it."