Halo German Shepherds. Georgia Puppies. Sweet Basil Farm & Kennels. They sound like vacation destinations -- certainly happy havens for dogs to roam. At least, that's what shoppers looking for a furry friend, would like to think.
But in reality, inspectors say they found dogs living in tiny cages packed with so many animals they had to sleep standing up. Others were left in muddy, feces-filled dog runs with no dry ground to place their paws.
In three months, more than 1,200 dogs have been rescued from three dog breeders across Georgia. The Department of Agriculture, GDA, had concerns about all of them, yet many animal activists feel it's the state agency that allowed the animals to suffer.
The criticism has exposed limitations in the state's inspection system that can easily be abused.
"The nation is looking at us as a mockery. This is unacceptable," said Darcy Butkus, who heads Inspector Bark, an organization that tries to expose cases of animal abuse.
Indeed, U.S. Senator Dick Durbin of Illinois sent a letter to the U.S. Department of Agriculture, asking it to step up its own inspections of breeders, citing another massive pet rescue in Georgia.
► RELATED | Animal Rescuer: Properties where 300 German Shepherds lived in neglect were like 'third-world country'
Dogs rescued from 'horrific conditions' in South Georgia
On a spring day, Reveal investigator Rebecca Lindstrom traveled to Montgomery County to meet a dog named Boss. The beautiful, silvery white German Shepherd commanded attention, even as he stood from a distance. Boss was the last of nearly 300 German shepherds rescued from Halo German Shepherds earlier this year.
"He won't let me touch him," Commissioner Greg Palmer said. "He probably never will."
Palmer stayed on the property several nights during the rescue and built a bond with Boss. The dog was found in an enclosed patio at the house. He was the guard dog, but Palmer knew it was Boss that needed the protection.
► RELATED | Puppy mill survivors: 'He's one of the lucky ones'
"It was just horrible, horrible conditions," remembered Palmer.
Months before, Angela Powell, the owner of Halo German Shepherds, was arrested for cruelty to animals. Police reports and email chains show concerned citizens in two counties repeatedly contacting animal control, law enforcement and the GDA, demanding better care for the dogs.
"There were several times I thought, 'they're coming.' The cavalry's coming, you know," Donna Hensley said while fighting back the tears from months of frustration.
WXIA
What's missing in the email chains provided to Lindstrom, documenting the community's efforts to raise awareness about Powell -- is a sense of urgency.
Those who were complaining wanted the dogs rescued immediately. They said they were instructed to avoid media, file reports and let professionals conduct the investigations.
An inspection report from the GDA in March 2018 of her home in Montgomery County stated, "upon completion of the inspection it was evident that much work has been put into attempting to correction violations."
Later it reassures the owner, "this will take some time and I let her know that as long as progress is moving forward and corrections are noticed during each visit that she would be given adequate time to make necessary repairs."
That is where, for animal welfare advocates, the problem with our system begins. The issues with waste disposal, lack of drainage and problems with sanitation did not emerge overnight.
Butkus, who helped with the rescue in Montgomery, described the conditions. "What I saw was unbelievable. Not only did I see, but I smelled, a bunch of dogs living in squalor. Up to my knee in mud and feces."
Inspectors need to think differently, proactively.
An inspection offers a snapshot of conditions at that time, but facilities should have to prove their ability to meet state standards for drainage and sanitation year-round. Dirt may be a suitable surface in dry weather, but animal advocates argue, logic tells you it will turn to mud when it rains.
"You can have as many laws as you want, but they're worthless if you're not going to enforce them," said Shelly Strange, a resident who fought to protect the dogs.
► RELATED | Caged in cruelty: 'Emaciated' dogs found living with decaying pigs
WXIA
Strange says inspectors, animal control and local law enforcement need to go beyond the book and think about the types of animals involved.
For example, German Shepherds are pack animals. Those involved in the rescue reported dozens of skeletons on the ground, likely from the dogs fighting over territory, food, or access to igloos for warmth or comfort.
Strange says it's not just about having enough space for the animals to roam, but having the proper number of animals in each pen to prevent attacks.
Each time local law enforcement and even animal control would visit, the animal's welfare seemed to revolve around food, water and shelter.
It took a group willing to break the law, to get the evidence those agencies claimed didn't exist, or had no legal authority to gather themselves. The pictures, they say taken from Powell's properties, show what it appears to be the fur of a dog covered in blood and dogs eating one of their own.
Still, Clint Braddy said it wasn't enough to convince law enforcement or the District Attorney in Montgomery County. So, he posted it on social media.
NBC affiliate WSAV in Savannah took notice, further exposing their concerns.
The reaction prompted GDA Program Manager for the Companion Animal Division, Mark Murrah, to create a list of other breeders that might need a second look. That's when inspector Ben Thornhill had to admit, he had failed to follow up on his inspections at one of the extremely concerning properties on that list.
Once the department finally went back to check on the animals on Reason Gray's property in Berrien County, they found over 700 dogs in deplorable conditions.
► RELATED | Owner of apparent puppy mill where nearly 700 dogs rescued charged
Dogs found on south Georgia property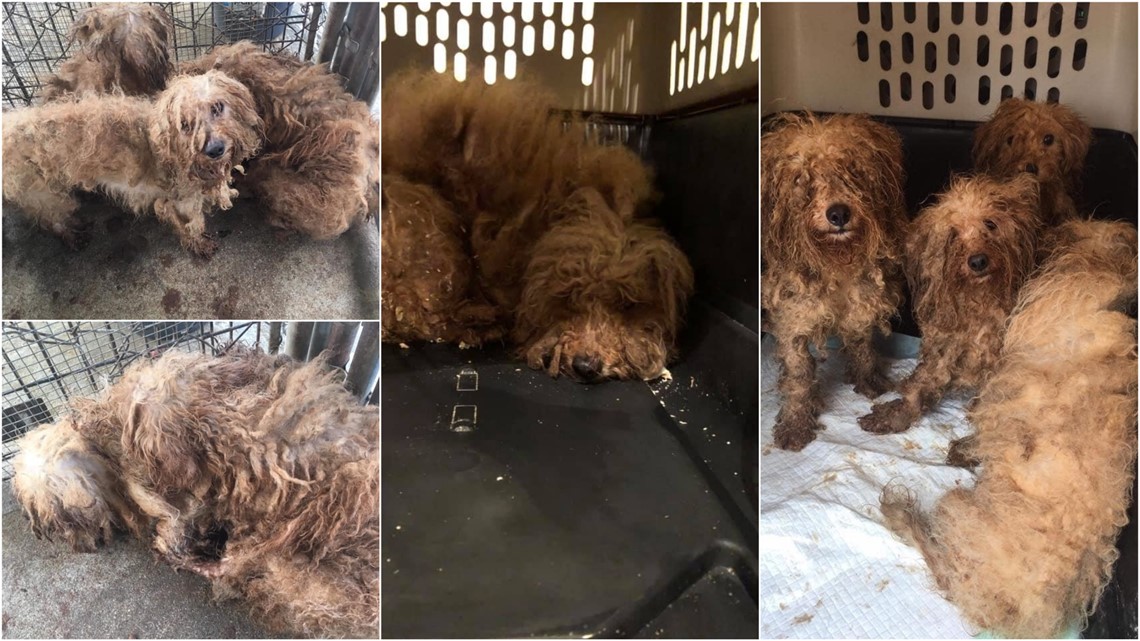 To prevent problems from building, violations should have set timelines for completion, with penalties for those that fail to comply. If someone doesn't have the money to run their business properly, then they shouldn't be in business, advocates said.
Murrah says the IT Department is working on software updates to track inspection dates and send alerts when a facility is past due. He would also like to see the program flag troubled facilities.
Other state agencies, such as the Department of Early Care and Learning and the Department of Public Health, post their inspection reports of daycare facilities and restaurants online. Murrah said to be open to the idea, but lawmakers would have to allocate more money.
GDA says its in the early stages of the procurement process to better understand its needs and the costs associated.
When asked whether he feels the GDA is doing a good job holding pet breeders accountable he replied, "I think we're holding them accountable the best we can as the rules are written."
WXIA
Do the rules need to be rewritten?
Animal welfare groups want a cap in the number of animals a breeder can keep, or a tiered licensing system to keep numbers in check.
"We don't have the authority to make a pet dealer reduce their numbers. It is something that we're looking at in future rules changes, initiatives. I think that would be a good thing," said Murrah.
But they can be more aggressive in their inspections to issue stop orders when breeders can no longer provide proper care.
Another proposed change would give the state authority to continue monitoring facilities after they surrender their license, to ensure violations are still fixed and puppies aren't sold illegally.
Some argue the GDA has always had this authority, if not the resources or desire. The rule change, if approved, would clarify that responsibility.
► WATCH | The Reveal airs Sundays at 6 p.m. on 11Alive
"Somebody with 400-plus animals who is surrendering their license, it's hard to imagine they're just going to stop doing what they do," said Animal Law attorney Claudine Wilkins.
In 2017, and inspector noticed a jump in the dog population at Halo and reported problems with drainage causing some dogs to live in mud. Others had no shade.
In 2018, a complaint brought inspectors back. The number of dogs had more than doubled. There were accusations of dogs fighting, animals being beaten with a shovel, and dead dogs left to decompose on the ground.
WXIA
Powell was issued six violations, told to downsize her operation and given a stop order until the problems were fixed to prevent her from legally breeding any more puppies. Powell ultimately decided to surrender her license instead, removing the Department's authority over her.
Even though she was no longer allowed to breed and sell puppies, Wilkins said she never stopped.
"When we arrived, there were male and females inside cages, intact allowed to breed. There were mothers with puppies, mother's pregnant. Definitely still breeding," said Wilkins, about the Montgomery property.
According to inspection reports, in May when Powell surrendered her license, she was told, "Any movement of animals must be pre-authorized by a Georgia Department of Agriculture Representative." But according to the department, no reports were ever made.
But inspectors know many of the dogs were moved. In July, she purchased 23 acres in Candler County. A deputy responding to a trespassing call talked with Powell and asked about the dogs.
In the body camera recording, obtained by Lindstrom, Powell told the deputy, "This is supposed to be a sanctuary basically for us and the dogs. I don't want problems."
Powell called the dogs her babies and told the deputy they were tucked under the trees on the lot for shade. She hoped the dogs were far enough off the road so that they would be, "far enough away from everybody that they don't bother anybody."
But it was the community in Candler county that would eventually protest the loudest, obtaining the evidence that led to her arrest.
Graphic pictures that prompted action to save dogs from Georgia breeder
At last count, Powell had 397 dogs. Authorities seized 167 from her property in Candler County. Another 94 from Montgomery County. Police have no idea whether the remaining 136 dogs have gone. Investigators are trying to determine if they were the killed, sold, or if Powell is hiding them, to begin her breeding business again.
Lindstrom tried to talk with Powell about the accusations, but she declined to comment.
WXIA
The state can't do it alone
The Inspector General is conducting an internal audit of the Companion Animal Division within the Department of Agriculture. No timeline has been given for the completion of that report. But, some of the suggestions already discussed have been open to public comment for the past month.
GDA says many of the changes would require approval from the legislature before they could be enacted and animal welfare advocates have started a series of meeting with Commissioner Gary Black to discuss other ways to hold pet dealers accountable.
But there are changes that can happen locally, and perhaps more quickly to make a difference.
When Powell surrendered her license, she was only subject to local ordinances and Montgomery County. It has no rules on how many animals a person can own.
The Agriculture Department did meet with local law enforcement, asking them to prosecute the violations, but Montgomery County Sheriff Doug Maybin said the District Attorney didn't feel he had enough to prosecute. The sheriff admits, he never sent his deputies out to gather more.
At the time, Powell was involved in a civil suit with her parents. Her kennels had spilled over onto their land and they wanted the dogs off. The judge ordered Powell to downsize and, Maybin admits, he was hoping the problem would resolve itself.
WXIA
Maybin said his deputies know how to check whether a dog looks in good health, has food, water and shelter. But they don't have the training to recognize abuse.
Guardians of Rescue, a group out of New York, says it was in talks for days with Powell and local law enforcement to help her surrender the dogs. It wasn't until the gruesome pictures emerged, that there was any talk of prosecution.
"The collaboration with the department of AG and local police departments has to change. This is the year it's going to change," Wilkins said.
Both law enforcement in Montgomery and Candler County said they are coordinating with the state and animal advocates to provide that training for their staff.
GDA says its Animal Industry division has recently created a training coordinator position, to make training with its community partners a priority.
► RELATED | Why do puppy mill owners face little to no jail time?
Commissioner Palmer wants the county to create a permitting process or cap on animals to help catch unlicensed breeders and curb hoarders.
Candler County was quick to respond after the incident, capping its pet population to 20 without a permit.
Montgomery is holding a public listening session on May 7 to discuss the idea, but residents there may have to go a step further. Right now, they don't even have an animal control officer.
"I'm just totally in awe about the whole process. I thought there was a more cut-and-dry or concrete way of, when people are not doing right. I've really lost a lot of confidence in the system," Palmer said.
But, the Commissioner hasn't lost confidence in Boss. The German Shepherd doesn't get too close, unless you have cheese, but Palmer has no doubt, Boss knows now how much he's loved.
"Boss? I know he's happy. No doubt in my mind," Palmer said.
The Reveal is an investigative show exposing inequality, injustice, and ineptitude created by people in power throughout Georgia and across the country. It airs Sunday nights at 6 on 11Alive.
More of The Reveal:
Third Roswell officer fired, fourth resigns amid 11Alive investigations
The dog was dropped off at the groomer. By the end of the day, he was dead
Two children trapped in foster care, as four years later adults still debating how sibling died