In 2016, Dustin Daigle was trying to start over. He was six months clean from heroin and willing to talk to 11Alive about eight friends he recently lost to the opioid crisis.
Flipping through a 2012 Chattahoochee High School yearbook, he pointed out their pictures for the camera. When asked about mourning and grief, he said he only attended one funeral.
"All you really think about when you're using is, you're going to be the next one, and that's going to be your funeral that all your friends are at crying … your family, crying," Daigle said more than three years ago.
On Wednesday, his own words hang heavy as Daigle's mother announced her son died of a suspected overdose the night before in Palm Beach County, Florida. Daigle had moved there in hopes of finding long-term recovery.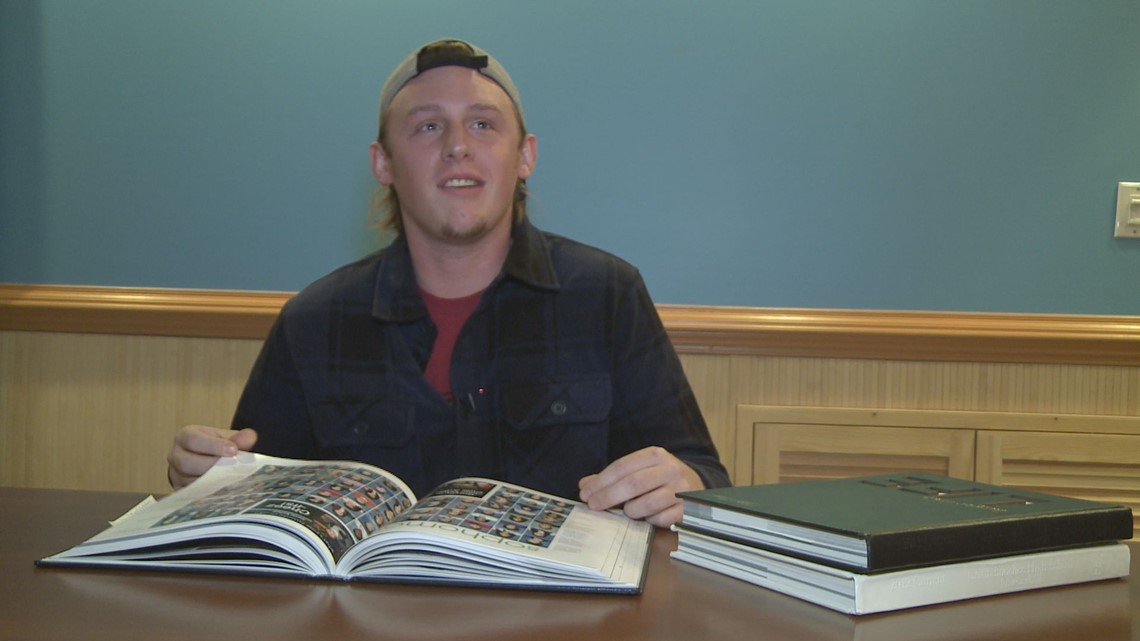 "Everyone here today is united by the same vital goal: to liberate our fellow Americans from the grip of drug addiction and end the opioid crisis once and for all," Trump told the crowd of elected leaders, along with health and law enforcement officials.
He told the crowd that his administration secured $6 billion in federal funding to fight the drug epidemic over two years and said "nothing is going to stop" him from wiping it out. But, he admitted, change doesn't happen overnight.
Now, more than three years after 11Alive began tracking heroin-related deaths in Georgia, the number of lives lost remains well above the national average.
In 2016, our team uncovered a 4,000 percent spike in heroin-related deaths inside an area we called "The Triangle."
That's a geographic region just north of Atlanta that stretches from Marietta, up to Alpharetta and down to Johns Creek and Sandy Springs. It also spans northward into portions of Cherokee and Forsyth counties.
In a 2017 Facebook message, Daigle let us know he was leaving metro Atlanta because it was too triggering to stay here.
Daigle died in Lantana, a sunny beach town in Florida's Palm Beach County. Lantana Police confirmed that he died of a suspected drug overdose and was found by his girlfriend.
Police said the couple shared the struggle of addiction but were working toward finding recovery. Daigle worked a job in an office building in town. When he didn't come home on Tuesday, his girlfriend stopped by his work. She called his cell phone and heard it ring from inside a men's restroom, police said.
Officers arrived and found him unresponsive in the bathroom, drug paraphernalia nearby. In response to his death, Lantana police investigators tell 11Alive News they are working to find out who sold him the drugs.
When he was 21 years old in 2016, Daigle told 11Alive he and his friends from metro Atlanta "got caught up in a lot of things." He recalled one time that his dealer put a gun to his head "for no reason." He said he had been stabbed, once.
He even knew Whitney Houston's daughter, Bobbi Kristina Brown, who died at her home in Alpharetta. Daigle said they did drugs together – and even before her autopsy was released, he believed she died from a heroin overdose.
When asked if he had any doubt, Daigle replied, "Nope. Absolutely none."
Bobbi Kristina Brown through the years
During his interview, Daigle was asked why he cared to participate.
"I want to raise a little bit of awareness, you know? The problem is really bad up in Johns Creek and the Alpharetta area," Daigle said. "I'm tired of losing friends, I really am. It's terrible to see your friends die before they even reach the legal drinking age or anything. It's terrible to see what it does to their families and how us, as their friends, react to it. I'm tired of it."
On Facebook, Daigle's friends have been tagging him in posts showing smiles and happier days. But the conversation ping pongs from remembering the good times to sadness, grief, and anger.
"It never gets easier when you learn of a friend losing their battle to addiction. If there's one thing I can describe about Dustin, it's how genuine he was," said his friend Travis Perrotta on Facebook. "I love you very much Dustin. I'll never forget you."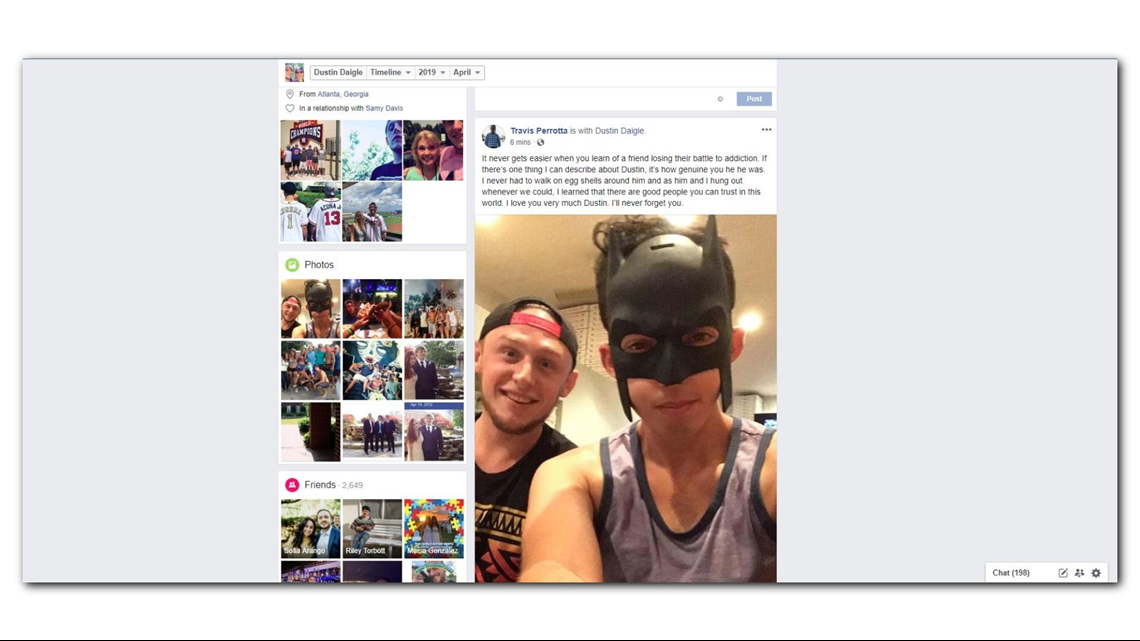 "Does it even shock us anymore? Close friend or not. You hear of a young friend passing these days who has struggled with addiction and you don't even know the real cause of death, but we all just assume it was an overdose and 99 percent of the time it turns out it was. How sad is that? The fact that we now live in a society where if someone young dies, most likely it was drug related," his friend, Caryssa Rouser, posted.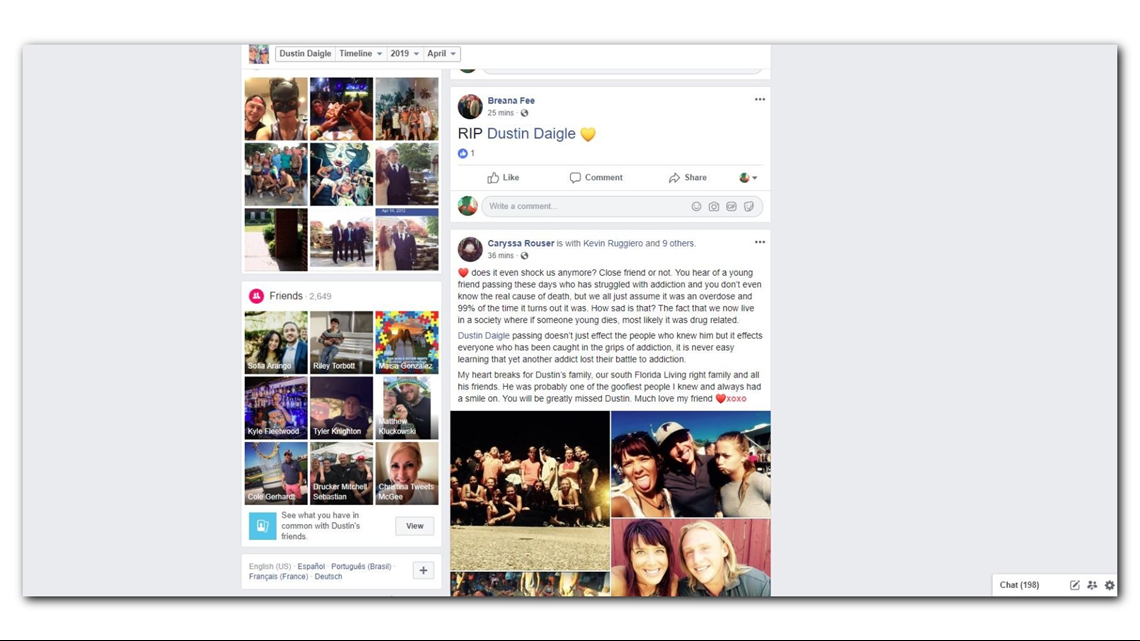 Daigle's sister also shared a message about her brother online.
"I woke up this morning to learn my youngest brother Dustin passed away. I was so proud of the progress he made on his journey," she wrote. "I was hopeful that one day soon, me him and my dad would be reunited again. Life is short. He was only 25. Addiction is real."