In 2016, our team uncovered a 4,000 percent spike in heroin-related deaths inside an area we called "The Triangle." With the release of new state records in 2017, the loss of life remains at a record high and "The Triangle" has expanded.
The new area affected broadens beyond Kennesaw, Acworth, Cartersville, Cumming and the surrounding cities. "The Triangle" also now spans northward into portions of Cherokee and Forsyth Counties.
"The Triangle" still includes the communities where we found high numbers of heroin-related deaths among young people. This original area starts just north of Atlanta, and it stretches from Marietta, up to Alpharetta and down to Johns Creek and Sandy Springs. It to stretches across parts of Fulton, DeKalb, and Cobb Counties.
"The Triangle" doesn't mark the highest numbers of heroin overdoses, those have consistently been in the Bluffs area of Atlanta. Instead, it highlights the alarming rate of growth.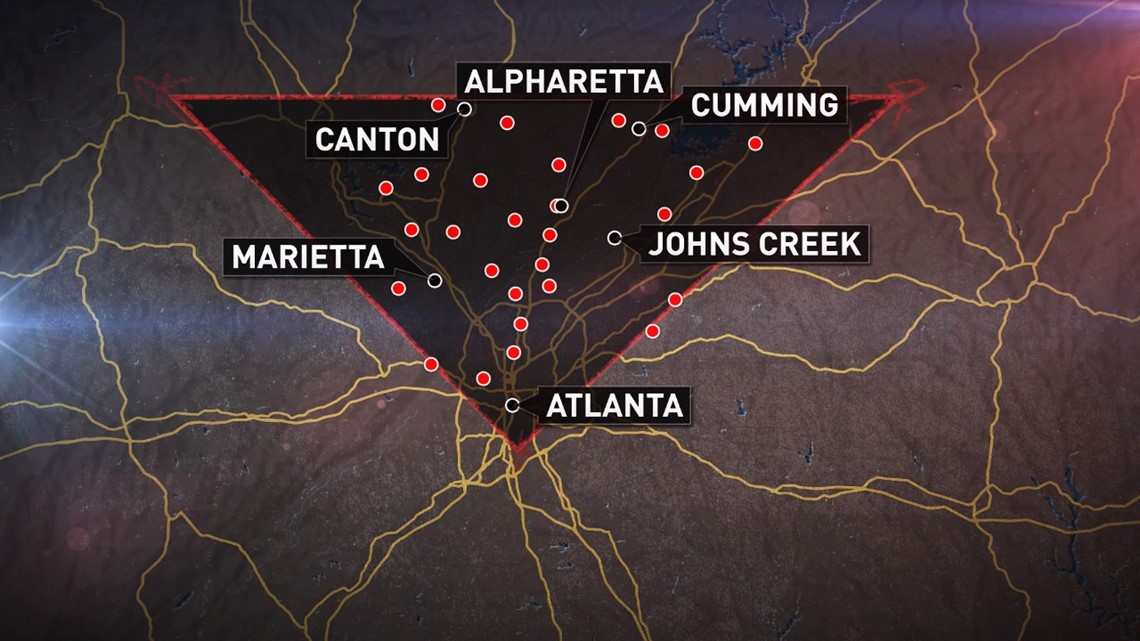 Our investigation began by gathering names of heroin-related deaths from 2010 to present day. Getting accurate data was difficult at first. Even after we had people telling us they had friends die of heroin overdoses, the cause of death wasn't always tracked accurately.
The data we were able to uncover took months of research, and often started with a tip about a death inside the areas highlighted by the GBI as growing hot-spots.
Over the past 18 months, Georgia's Medical Examiners started working together to streamline reporting of heroin-related deaths. This change is helping our investigators more accurately track the number of deaths linked to heroin from 2015 to present day. Due to this more complete data, we realized it was necessary to expand the boarders of the Triangle to show the full scope of heroin in our communities.
Stories from The Triangle:
'She asked me to understand her' | Triangle testimonies
Standout student and the triangle tragedy | Triangle Testimonies
"There's nothing like losing a child." | Triangle Testimonies
A Mother's Plea: 'Please stop. We love you.' | Triangle Testimonies