If you serve your country, the Department of Veterans Affairs is supposed to pay for most of your medical care. It's part of the deal for joining the military and risking your life.
An 11Alive Investigation uncovered, however, that the VA has denied paying for thousands of emergency room visits for Georgia veterans over the past few years. It's not because the veterans did not have an emergency, it's because they did not visit a VA doctor enough.
Army veteran David Riggs is one of those veterans. Last year, the 55-year-old Brooklet, Georgia veteran went to the ER at East Georgia Regional Medical Center in Statesboro after suffering from intense stomach pain so bad he couldn't walk.
"I was in so much pain, I didn't know where to turn," said Riggs.
After a few hours in the ER, a quick scan identified he had kidney stones. Medical emergencies for Riggs are rare. Over the past 10 years, Riggs says he's only needed to see a doctor about two or three times.
"He wasn't raised to go to the doctor if I sneeze," said Riggs' wife, Ginger.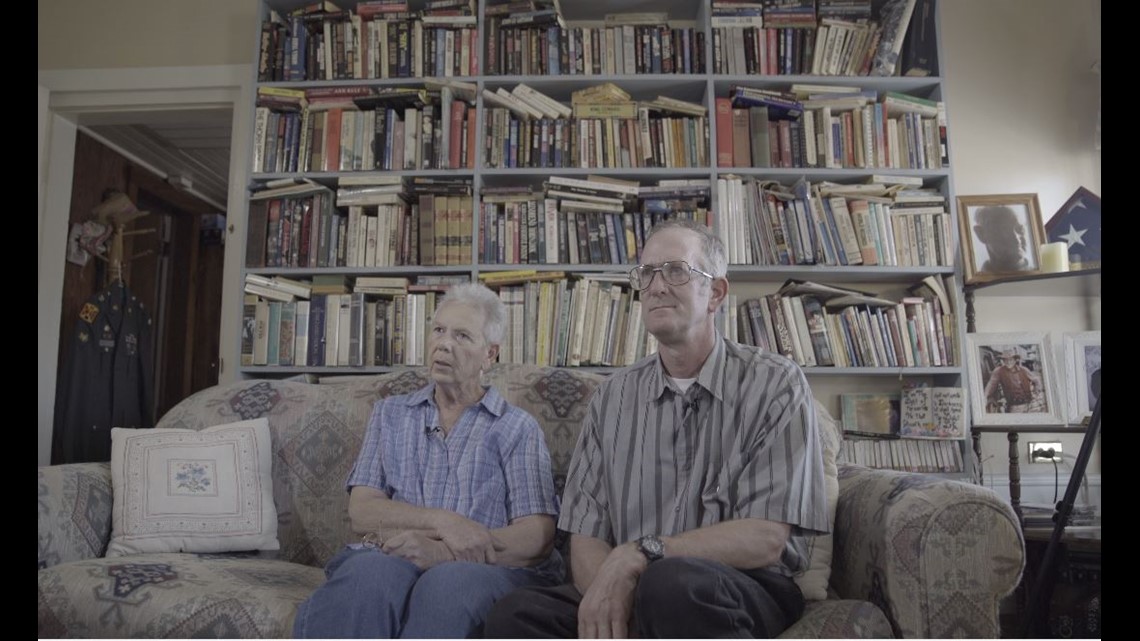 "Unless it was life-threatening, you didn't do anything for it except just keep it from bleeding and keep on going," Riggs said.
A few months later, he received a bill from the hospital for $12,186. At first, Riggs wasn't worried because he's covered by the VA.
So, he was surprised when he got a letter in the mail from the VA denying his claim because "he had not received VA treatment within the past 24 months prior to the emergency room visit."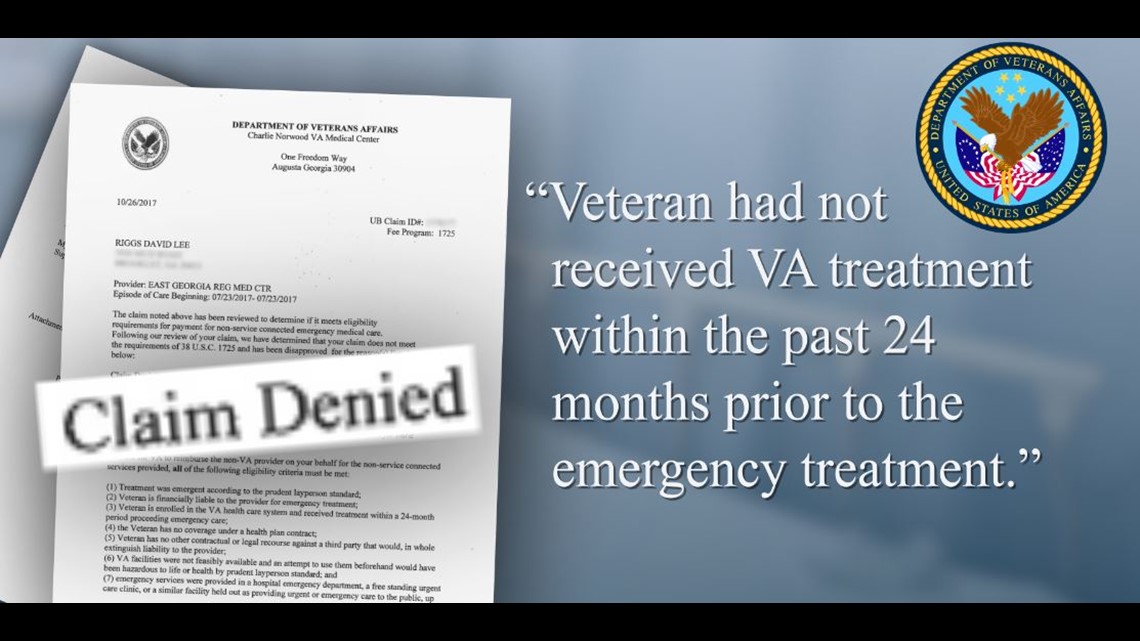 You read that correctly -- the Veterans Administration said he wasn't seeing a VA doctor enough to remain eligible for emergency room reimbursement. It's a rule covered under a law called the Millennium Act passed in 1999, and approved after Riggs left the Army.
"My reaction to that was, 'Well, I didn't know this rule was in effect,'" said Riggs. "I'm being penalized for being healthy and not having to use the doctor very often."
The 11Alive Investigators uncovered evidence that Riggs isn't the only veteran who's never heard of the rule. A 2014 Government Accountability Office report found that "most veterans" are "not knowledgeable about the Millennium Act."
Randy Williamson is one of the authors of the GAO report and testified before Congress about the problem. "Some veterans do not always understand their eligibility for coverage of emergency care from a non-VA provide," Williamson said during his 2014 address to Congress.
Since the testimony, the 11Alive Investigators discovered the VA denied at least 7,132 ER claims in Georgia due to the 24-month rule, costing veterans more than $29 million. Nationally, the numbers jump to 219,681 ER claims, with a $791 million price tag.
Nearly three years after testifying before Congress, Williamson says, it's still a problem.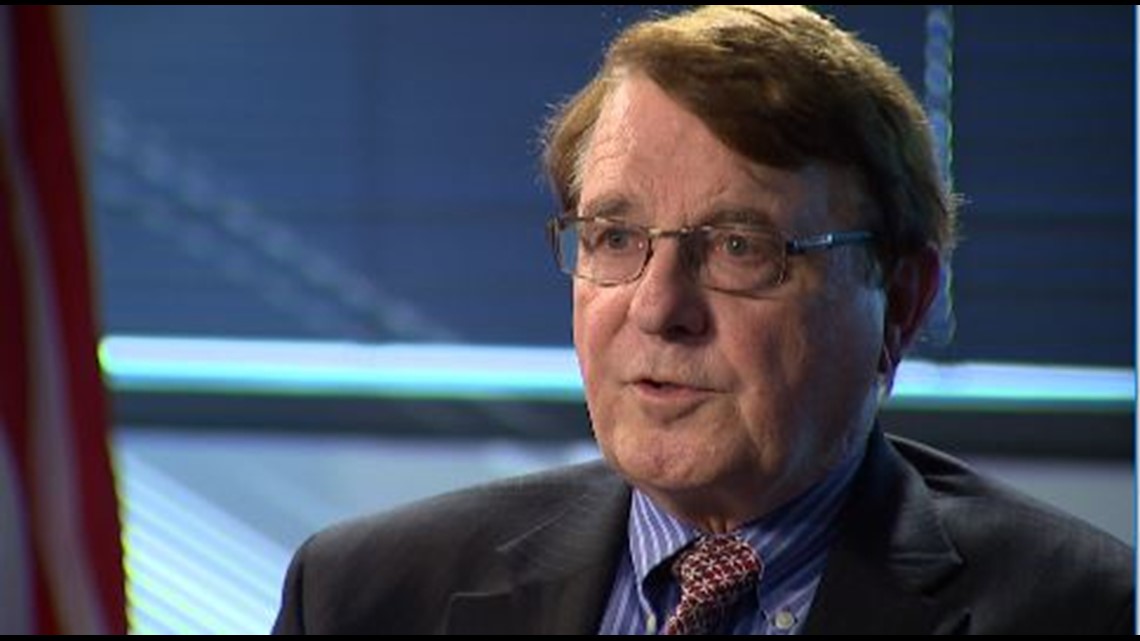 "One of our recommendations that VA needs to do a better job informing veterans and finding out what the knowledge gaps are," Williamson said.
After sharing 11Alive's findings with U.S. Senator Johnny Isakson, the Georgia Republican lawmaker pledged to take action. "After this problem was brought to our attention recently, we inquired into the matter with the VA, and I intend to follow through with continued pressure on this matter as we continue working to provide the department with the tools it needs to provide veterans with the service they have earned," said Isakson.
"The U.S. Department of Veterans Affairs (VA) has made important strides over the last year in working with Congress to improve its service and communication with our nation's veterans. This is another area where improved communication of stated policies and procedures would be beneficial to our veterans," said Isakson.
The VA both declined requests for an interview and did not detail what it is currently doing to better inform veterans about the rule. Instead, a spokesperson emailed, "These rules are in place to ensure VA has enough resources to provide timely and high quality care…"
"A system in which VA approves every emergency room claim for every veteran regardless of service connection or insurance status would be fiscally unsustainable."
The VA's 24 month rule isn't the only issue veterans have with emergency room reimbursement. 11Alive's Minneapolis sister station, KARE 11, has reported on a series of stories of about the VA improperly rejecting ER claims.
PREVIOUS VA INVESTIGATION: Distance, Delays and Denial: