ATLANTA — The City of Atlanta is making a bold move with Mayor Keisha Lance Bottoms signing off on historic legislation that's aimed at closing the Atlanta City Detention Center.
Last year, Mayor Bottoms called for the jail's closing, citing the declining number of inmates housed there and the increase of costs to operate it.
Tuesday, supporters stood by her side as she discussed her vision for the facility, calling it another step in efforts to reform the criminal justice system in Atlanta.
"My dream for this jail, for this physical facility, is that it becomes a center of equity," she said. "I see this as a place that we will have access to childcare, GED training, vocational training, also perhaps some type of housing in this place, workspace."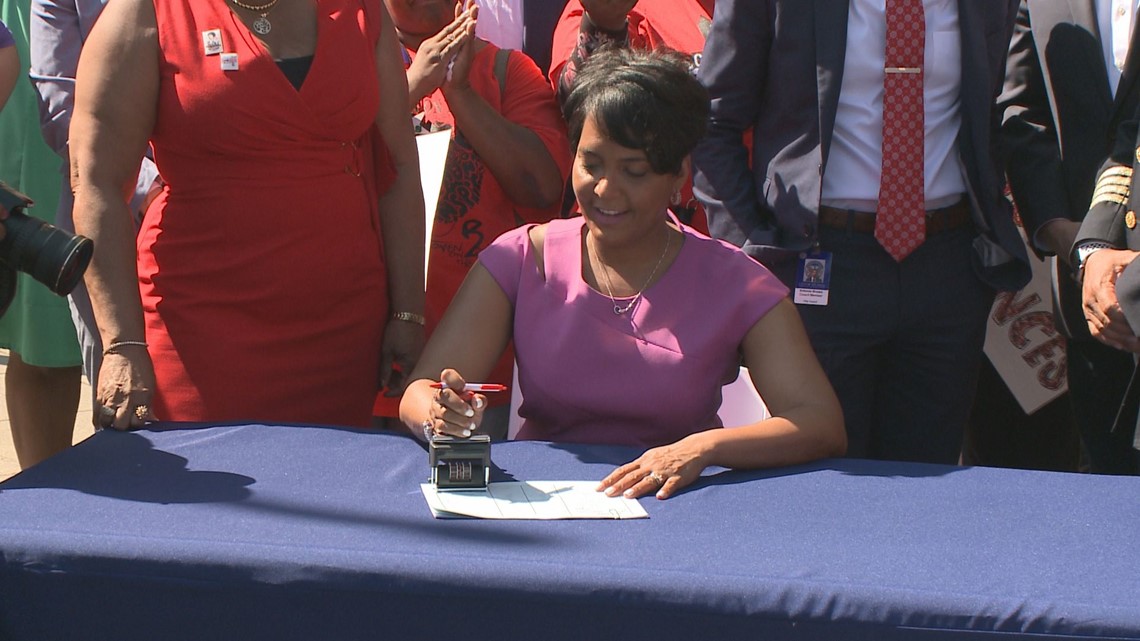 "What that mans is simply because you are poor and you can't get out of jail you no longer sit in the jail," she said.
The mayor said just because they want to re-purpose the space for the detention center, it doesn't mean there won't be a place to house inmates in the city.
"But it doesn't have to be in this over 400,000 square-foot facility," she said. "There is a much better use for this facility."
She also mentioned that the concept of transforming the jail does not mean the city will be soft on crime.
"We are taking a proactive step of being one step ahead of crime in our city," the mayor said. "We know that when people are arrested for quality of life offenses, quite often it's because they don't have any other choices."
"We aren't talking about violent offenders, we aren't talking about people who have been arrested for felonies. These are people who've been arrested for quality of life offenses," Bottoms said.
She believes access to programs will help people make better choices.
"It is my hope that as we formally take this step - to formulate the committee, the commission that will give us input, and public input on what this jail it will be, that this will really be a model of the country," she added.
The city will now create a task force that will come up with recommendations of what the jail should be used for. The group will be comprised of representatives of local government and residents selected from the nominations submitted by the public.