ATLANTA — Governor Brian Kemp is denouncing Congress for failing to act on a bill that would bring disaster relief to south Georgia. Hurricane Michael clobbered southwest Georgia last fall, and Congressional bickering has stalled the bill in recent weeks.
"I've lost thirty thousand trees," said Eric Cohen, a pecan farmer in Seminole and Decatur counties, on the Florida line. The loss represents 80 percent of his trees. "I mean, you lose 30,000 trees – that's hard to get over."
It was right at harvest time, income wiped away by the hurricane. Now, Cohen said he needs cash to clean up much of the mess that was once his pecan orchard.
RELATED: Hurricane Michael destroys 6-decade old pecan farm
"I'm at eight or nine hundred dollars an acre alone, just in cleanup costs. Just to get where I can replant," Cohen said. Disaster relief, he says would help.
Congress hasn't delivered it, despite efforts by Georgia's congressional delegation – despite prodding from Governor Kemp, who told reporters Wednesday that Congress's indecision will add layers more of devastation.
"You create financial issues with the banks, the local suppliers. They're not selling seed. They're not selling fuel. They're not selling parts. That affects the whole regional economy down there. I mean the whole thing ends up blowing up," Kemp said. "It's almost like starting your business all over again."
Cohen says any new pecan trees he plants now would take eight or ten years to mature enough to produce nuts. Time is essential, he says. The politics, he says, is petty.
RELATED: Disaster aid for Georgia and other states stalled amid Senate fight over Puerto Rico
"We've gotten zero money from the federal aid. And it's all because of (disagreements over hurricane disaster aid for) Puerto Rico. They received $91 billion. The hold up is giving them six or seven hundred more million. Give them the money!" Cohen said. "I'm pretty annoyed. It's pretty heartbreaking to be honest with you. Because there's a lot of people down here (in south Georgia) suffering."
Kemp, a Republican, did not blame Democrats or Republicans specifically for the impasse. He says he's examining state options but says the state has nowhere near the billions of dollars that the region needs and has hoped to get in a disaster package.
"It"s really hard to fathom why there's not bipartisan support for this when you look at the states that would benefit and need this disaster relief fund. Because there's Democratic represented states that got hit just as hard as Republican ones," Kemp said.
Pecan farms destroyed by Hurricane Michael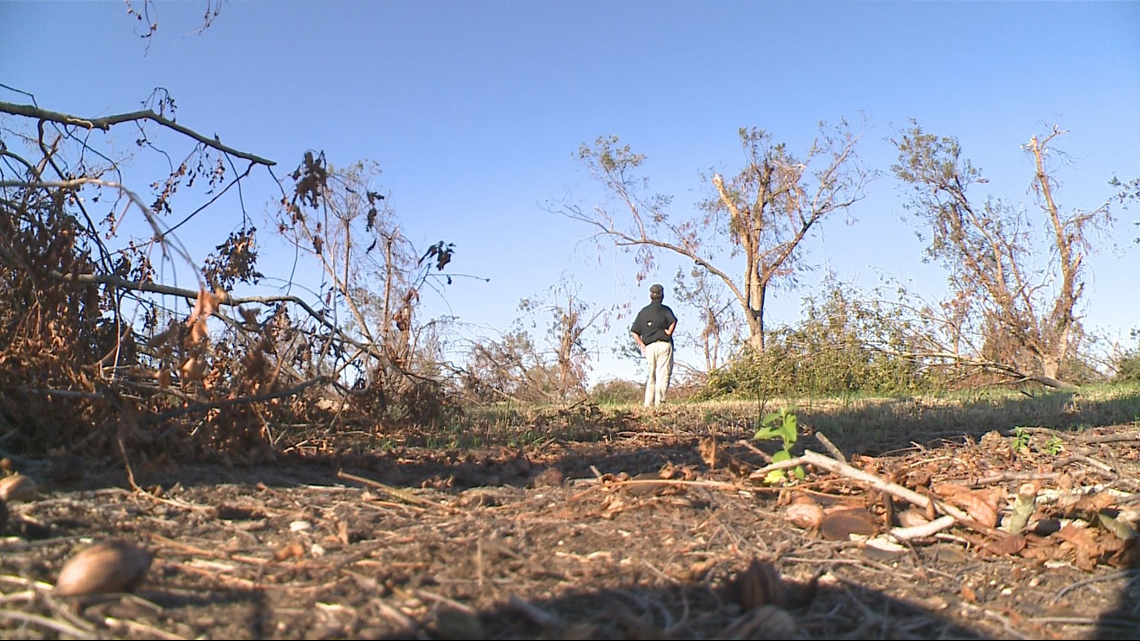 MORE |