BUFORD, Ga. -- Just as most people in metro Atlanta, the homeowners in a home in the 1600 block of Primrose Park Road in Buford were awakened by loud thunderclaps Saturday morning as strong and severe thunderstorms rolled across north Georgia.
One big difference at this home, however: One of those thunderclaps came when a bolt of lightning struck the home, blasting a hole in the roof of their home.
"I think it was about 6:30 -- it was early in the morning. We heard a loud bang, so we got up," said Buford resident Ian McKenzie. "I dozed off but I woke up about 20 minutes later."
McKenzie said he began to smell smoke.
RELATED | When will Saturday afternoon's second round of strong storms arrive?
"It wasn't until -- it must've been smoldering at the top, because when I opened up the attic door, that's when I saw just a little bit of smoke that was coming between the ridge vent, and that's when I knew that it hit," he said. "We have a lot of Christmas decorations up there, so I didn't know if anything was going to catch on fire."
PHOTOS | Lightning strikes home in Buford during Saturday's storm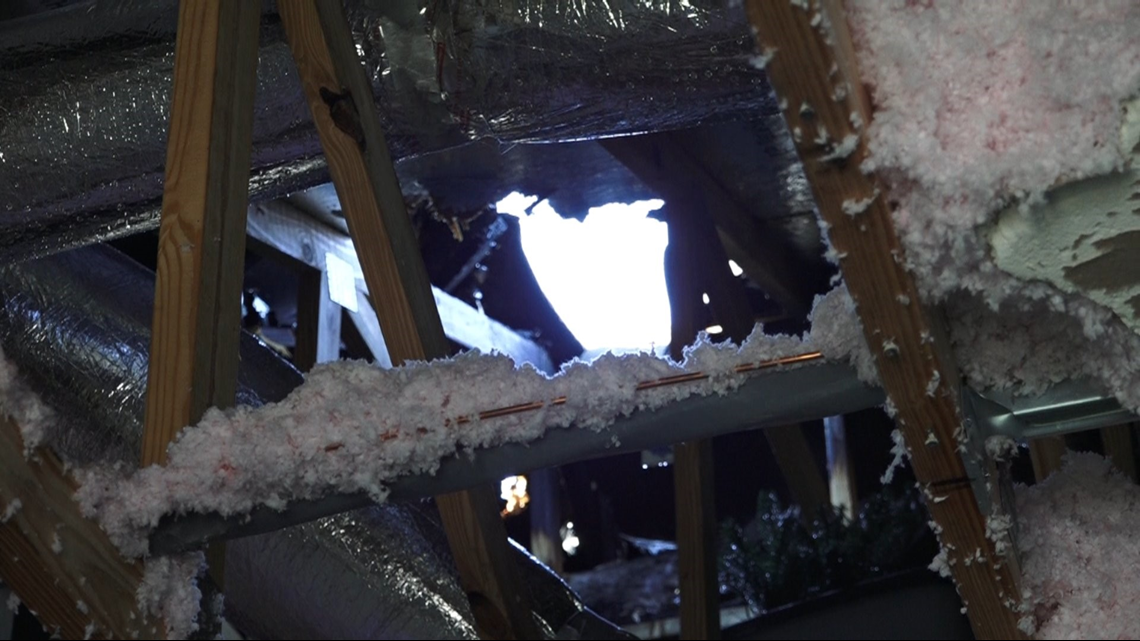 According to Gwinnett Fire Capt. Tommy Rutledge, there's extensive damage to the roof and attic space.
"There is pretty extensive damage to the roof and to the attic space," Rutledge said. "There is water and smoke damage to the main living area, but firefighters did a good job of getting in and stopping the spread of this fire -- but not before it caused extensive damage to that roof and into the attic area."
"It's kind of heartbreaking because this is our first house together and we just bought it two years ago, so it's still brand new to us," McKenzie said. "We have a big hole in the top of the roof right now that we are trying to get tarp and just the technical stuff (for)."
Rutledge warned about the anticipated second round of strong storms expected Saturday and advised caution.
"We may have a second round of storms coming later today. We ask our citizens to stay Weather Aware," Rutledge said. "If you're home and you suspect a lightning strike, and you begin to smell smoke or see fire, evacuate the home immediately."
Rutledge says that while surge protectors and lightning rods can help, they are no guarantee for homeowners. They began to monitor for Saturday's weather conditions on Friday.
"Making sure we were looking ahead and prepared," Rutledge said. "We will be monitoring from our command center, for this was a pretty intense storm with a lot of cloud-to-ground lightning. In fact, I woke myself to the storm this morning and began to hear the calls going out over the radio."
After everything was said and done, McKenzie says there were two sets of holes in his house. The ones in the roof that were made by the lightning, and the ones in the ceiling made by firefighters to battle the smoldering in his attic.
Despite it all, he says he's just glad they are safe.
"Thank God we were home," McKenzie said. "They said because of all the fires and alarms they were having, they would have only responded with one truck if the alarm had gone off, because it was so bad from the storm."
PHOTOS | Severe storms move through north Georgia - July 21, 20108