This week marks one year since a 21-year-old Georgia Tech student was shot and killed by a campus police officer.
Scout Schultz's death raised concerns about resources for LGBTQIA students on campus. But some students believe not enough has changed.
Fliers have gone up recently on campus, questioning if enough has been done with all that's been promised since the death of Schultz.
Police responded to a 911 call at an 8th Street dorm about a person with a knife. It was later determined that Schultz made the call.
When officers arrived, they made contact with Schultz, who officers said was armed with a knife.
Officers said they made multiple attempts to get Schultz to drop the weapon, but that he did not comply. They claim he tried to advance on the officers and that's when he was shot. Schultz was transported to Grady Memorial Hospital in downtown Atlanta and died there.
Students, faculty and the community brought up concerns about mental health resources for the student body and the need to also implement inclusive policies.
The shooting sparked several protests on campus. Now the incident is being brought up again. This time, some say not enough has been done.
The Fulton County District Attorney's Office says it's still investigating it and that the officer involved, Tyler Beck, is still on administrative duty.
PHOTOS: Tech students mourn the loss of one of their own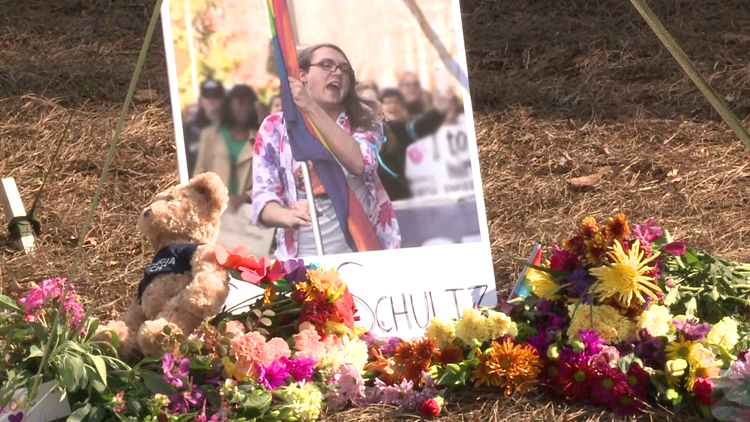 A spokesperson for the school says it now has a departmental standard to have 100 percent of GTPD sworn officers complete the 40-hour Crisis Intervention Team Training.
The 21-year-old's family says Schultz suffered from depression and anxiety. The fliers criticize the school president's program "Path Forward" that was launched in response to the shooting, saying all their recommendations have not been met.
The school says they have more resources on campus now, including an LGBTQIA Resource Center.