UPDATE: On April 3, 2018, the Fulton County District Attorney confirmed they will present the case to a Fulton County Grand Jury on April 10. Click here for details.
He was missing for 45 minutes before anyone realized it, according to the parent's attorney.
Benjamin 'Kamau' Hosch, III was one of several children who attended Camp Cricket, a day camp held at Cochran Mill Nature Center near Atlanta.
On Friday, camp officials took the children near a rock ledge to eat lunch, slide down a waterfall and swim. But Kamau couldn't swim.
It wasn't until the hike back to the nature facility that day camp staffers realized he was missing, according to the family's attorney, Christopher Stewart.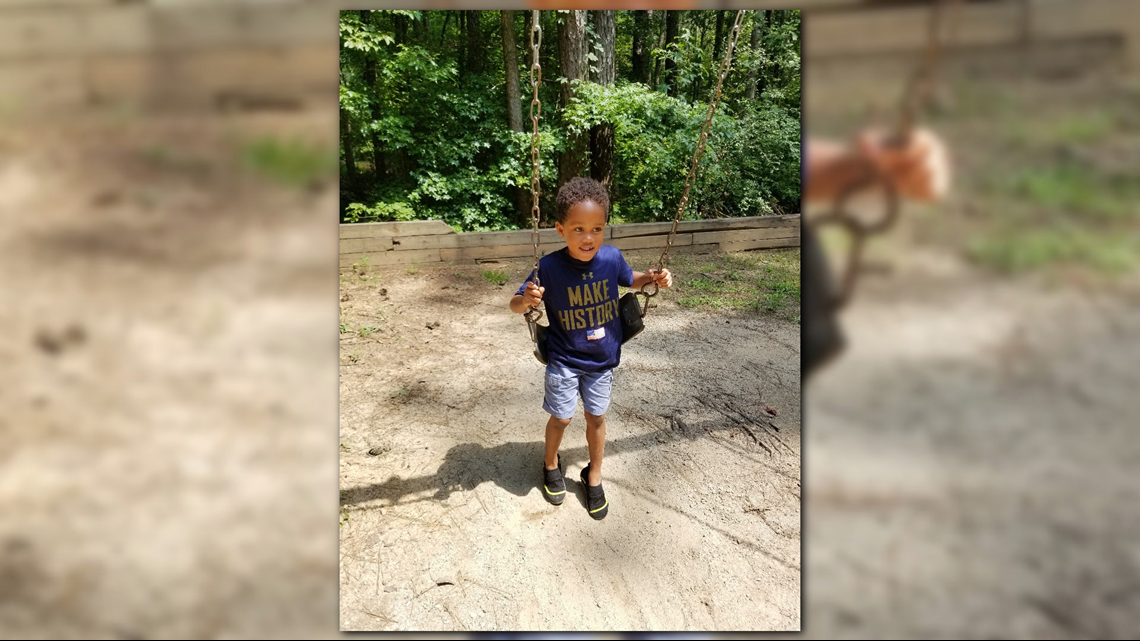 Chattahoochee Hills Police and fire department, as well as surrounding jurisdictions like Fairburn, Palmetto and county police responded to a missing child report and saturated the area to search according to Chattahoochee Hills officials.
Chattahoochee Hills City Manager Robbie Rokovitz told 11Alive News that investigators interviewed the camp director, counselors, and others that responded to learn about what happened. They also talked with family.
The 5-year-old's parents were told he was submerged in the small pond for up to 20 minutes, according to their attorney.
In light of their son's death, the parents want to inform other families about the safety of day camps.
"What happened to my son shouldn't happen to anyone," the boy's mother, Ayisat Idris-Hosch, said during a Monday afternoon news conference. "No one should ever feel as broken as I feel right now."
The parents said they would not have allowed their son to swim without his life jacket and camp officials never asked for parental consent to take their child to the waterfall. Now the family intends to file a civil lawsuit. Through their attorney, they want to know why the day camp left a 5-year-old child unattended and did not get their permission.
"This is what they did to us. I have to live, that I gave them money to kill my son for the rest of my life," the grief-stricken mother said.
Chattahoochee Hills Police detectives will meet with the district attorney to discuss if any charges will be filed.
The Georgia Department of Early Care and Learning said it too is investigating Camp Cricket after finding it had no license.
Camp Cricket Summer Day Camp at Cochran Mill Park is an unlicensed program that was unknown to the State of Georgia until the reporting of this incident today. We are currently investigating this incident. Georgia law allows for situations where a child care service can be exempt from state licensing requirements based on the ages of children, duration of the program, hours of operation, specific activities, or where services are offered free of charge. It appears that Camp Cricket was neither licensed nor had it applied for and received exempt status from the state. Due to the pending investigation, that is all the information I have at this time.
The Cochran Mill Nature Center has released a statement regarding the incident:
The Board, Staff and Volunteers of the Cochran Mill Nature Center are heartbroken and distraught over this tragedy.
On Friday, July 21, a group of 13 children attended day camp at Cochran Mill Nature Center. This small group of children, supervised by 4 adults, walked down a nearby trail for a lunch outing. Following lunch, the children were allowed to splash in a shallow adjacent creek. When the group gathered to leave the creek, the adults realized that one child was missing. The child was found a short distance away in a pool of water in an area that had not been visited by the group. CPR was administered and the child was transported by EMS to the hospital.
Cochran Mill Nature Center has hosted summer camps and other outings for children of all ages for 23 years. The camps focus is on nature and the outdoors. Thousands of children have attended the camps over the years without incident except for minor scrapes, bumps and bruises. In 2016, over 15,000 children visited.
Cochran Mill is a non-profit organization whose mission is to help injured wild animals and provide educational tours and camps for children.
PHOTOS | Parents of 5-year-old who drowned speak out