Emanuel Jones is a lot of things. A car dealership owner. A state senator. An engineer. A Columbia University graduate. A father of three.
Just don't tell him he's "made it."
"You're right, I don't like people saying that about me," said Jones in a recent interview at his McDonough, Georgia Legacy Ford dealership this past February. "I don't ever think I've made it. My life started on Bankhead Highway…my life will end on Bankhead Highway."
The 58-year-old grew up in a small home on Bankhead in the 1960s. His father passed away when Emanuel was 9. Two years later, Jones and his five siblings became orphans when their mother died from an illness.
Communities surrounding Bankhead Highway haven't changed much in the past 30 years. Jones thinks some parts are actually worse. Bankhead is often known for its eye sores, economic disparity and black inequality, often echoed in the rap music industry. "It's extremely frustrating because there are so many good people over there and they need essential services," said Jones.
Bankhead's problems mirrors the findings in a new report by the Economic Policy Institute, which looked at the state of African Americans since 1968. The report shows educational attainment is the biggest improvement. In 1968, just over half of African Americans had high school diplomas. Today, it's more than 92 percent.
That's where the good news ends. College graduation rates for blacks still substantially lag behind whites.
"They are also more than twice as likely to have a college degree as in 1968 but are still half as likely as young whites to have a college degree," the report highlighted.
Pierrotti, Andy
"We gotta figure out to how integrate people of color fully into the fabric of this great country. That hasn't happened yet," said Jones.
Black homeownership has essentially stayed unchanged. Over the past fifty years ago it's stayed at about 41 percent.
Pierrotti, Andy
Unemployment got worse for blacks. In 1968, unemployment was 6.7 percent. In 2017, it climbed to 7.5 percent. The typical black worker still only makes 82 cents on every dollar earned compared to the typical white worker.
Dr. Maurice Hobson is a history professor at Georgia State University and author of a new book called The Legend of the Black Mecca: Politics, Class in the Making of Modern Atlanta.
"A black person would need to live 230 years to catch up with the generational wealth of a white person and we're not talking about wealthy people. We're talking about what we'd consider normal," said Hobson.
The historian says that income disparity will eventually drive blacks out of historical African American Atlanta neighborhoods, like Auburn Avenue. "This thing is going to flip…black people cannot afford to live in this city. Urban renewal and gentrification has skyrocketed," said Hobson.
"This was black hallowed ground and that is being erased. There is no respect for preservation in this city," said Hobson.
The most troubling disparity in the report includes incarceration rates of African Americans. From 1968 to 2016, the share of blacks behind bars, tripled.
Pierrotti, Andy
Jones and other lawmakers have worked on legislation to address the issue in Georgia. Since taking office in 2004, Jones authored and helped pass laws aimed at reducing the disparity of student discipline in state schools, reducing high school dropout rates and cutting the pipeline to prison cycle of young African Americans.
"It starts when those kids are young. It starts in the school system. It starts when making sure that kids don't have disparate treatment just because of their color," said Jones.
Remembering the Dream:
PHOTOS | Dr. Martin Luther King, Jr. through the years
PHOTOS | Dr. Martin Luther King, Jr. through the years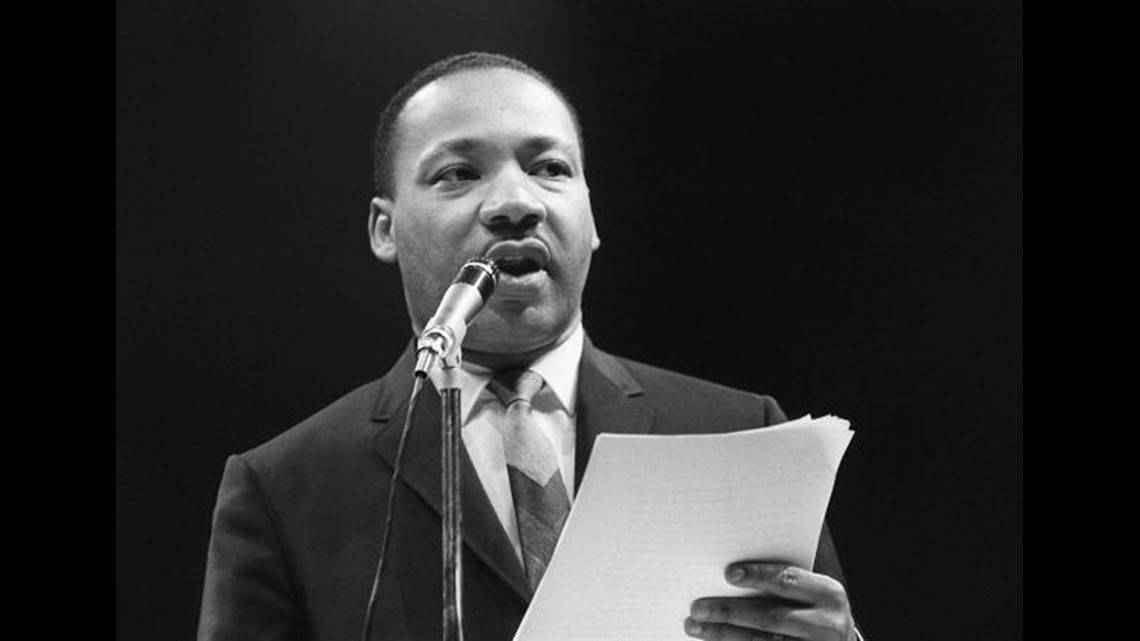 EVENTS: Dr. Martin Luther King, Jr.: 50th Anniversary of the Assassination
STORY: This is how MLK Jr.'s kids found out he'd been shot
Watch Remembering the Dream, an hour-long special, Wednesday night at 7 on 11Alive.