76 gunshot wounds, 0 police cameras, countless questions
<p>US Marshals killed a wanted man and body cameras didn't capture the events that led to his death. They don't wear them. Ever.</p>
Jamarion Robinson was a runner.
His mom's house is filled with trophies stretching back to elementary school. You know, the gold, plastic trophies with a runner frozen in time.
In the photos, he's outfitted in a black helmet with yellow and red pads for Tuskegee University. The white lines of the field pass him in a blur as he runs with a football tucked under his arm. He ran his way to player of the year as a freshman. He ran his way into adulthood, surrounded by a loving family.
And he ran from police. Until the day the U.S. Marshals office kicked in the door and shot him 76 times.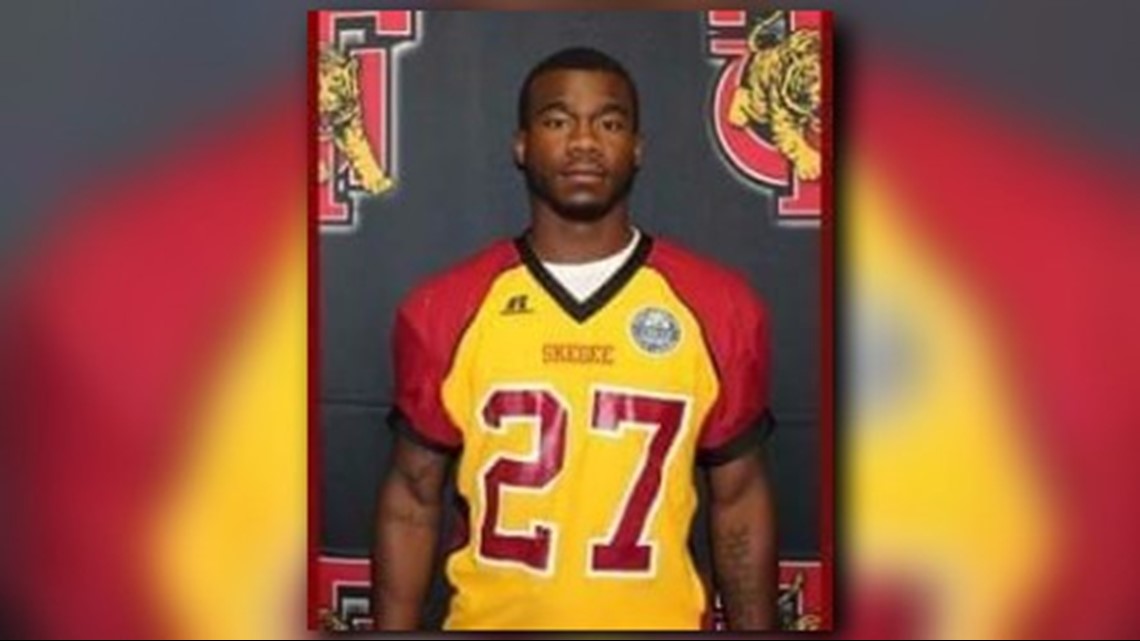 Jamarion Robinson was shot 76 times.
Jamarion was killed in August after a series of rapid fire while inside his girlfriend's East Point apartment. From the first warning shots until it was over, nearly 3 minutes of gunfire was captured on the cell phone of a resident standing nearby.
Investigators have not said how many shots Robinson fired, but the Fulton County medical examiner said he was hit 76 times.
"His head, hands shot off, arms, entire upper and lower torso area, down his thighs, his shins, his feet," said Robinson.
Jamarion Robinson | Medical Examiner's findings
Community activist Nicole Borden walked through the apartment after the Georgia Bureau of Investigation processed the scene. She believes, as does the family, the use of force was excessive. On the walls you can see the investigator's markings, counting the number of bullet holes.
"As you're going up the stairs the numbers keep getting larger. Fifteen, 20 and you start to think like, when are you going to stop counting? I mean, number 68. Can you imagine going to a crime scene and you see number 68 bullet?" asked Borden.
U.S. Marshals said Robinson had a gun. But Borden questions how he could get six bullet wounds – one in the palm of his hand – if he was continuing to hold and fire a weapon.
She also wants to know why it took a private investigator hired by the family to find two bullets fired straight down into the ground, where Robinson's body was laying.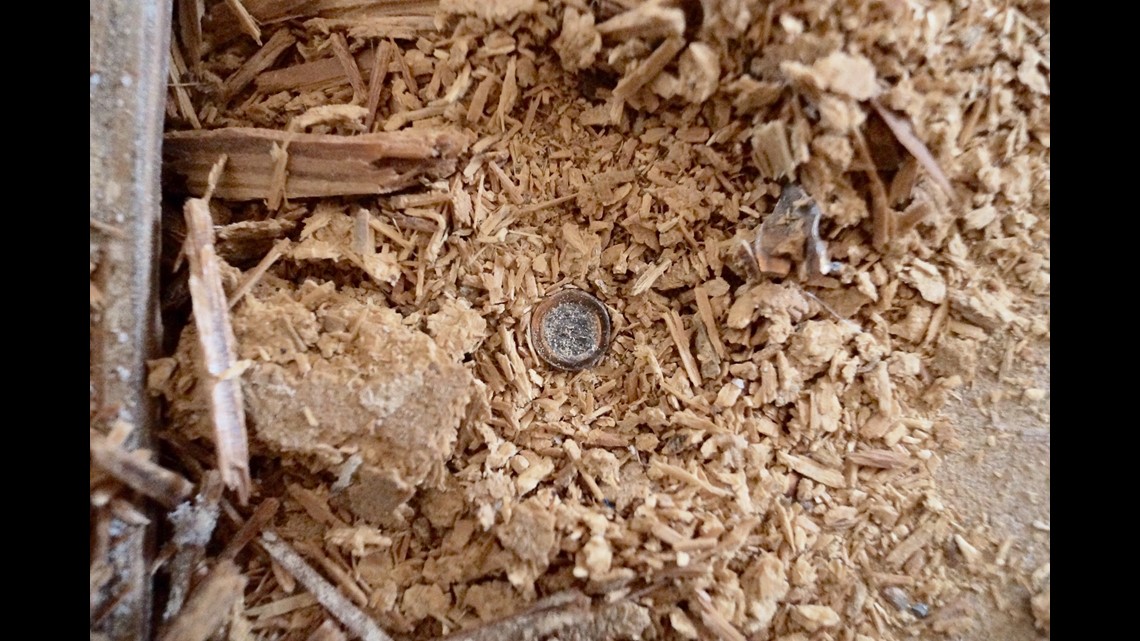 The GBI is now investigating, but some believe without body cam video to help narrate the events, there's a key piece of evidence missing.
The events leading to Jamarion Robinson's death were not caught on camera.
U.S. Marshals don't wear body cameras, even when serving arrest warrants. Marshals are federal agents within the Department of Justice. Even though the DOJ has given more than $20 million in grants to support body camera programs at local police departments, they don't equip their own law enforcement with them.
11Alive Investigator Rebecca Lindstrom asked for an interview with U.S. Attorney General Loretta Lynch to explain why not. The only response she received was a written statement from a spokesperson saying, "The Department of Justice is looking into the use of body cameras and has been consulting with our federal law enforcement components."
WARNING | Witness video contains explicit language
"They have enormous power, they need to be subject to these checks and balances," said Jay Stanley, a senior policy analyst with the American Civil Liberties Union (ACLU).
The ACLU took the U.S. Border Patrol to court demanding that, in certain situations, officers wear body cameras. The border patrol has started to implement them, slowly. The ACLU says it may take aim at U.S. Marshals next.
"I think it's a real problem if the federal government is asking and encouraging local police forces to use body cameras, but not its own police forces like the U.S. Marshals when they're engaged in the same activities."
Fulton County District Attorney Paul Howard has launched his own investigation into Robinson's death to determine if any of the Marshals should face charges.
"If we had body cams, a lot of the issues that have been raised about that case would go away," Howard said. "But that videotape doesn't exist."
East Point police were at the scene to assist the U.S. Marshals. They have dash cam recording devices, but the department said the officers that day drove the new police cars which did not have cameras installed.
Howard believes that if an agency has the equipment, the community's expectation is that they will use it. He said every law enforcement officers working in the field should now be wearing body cameras - even U.S. Marshals.
"There's no difference if somebody's shooting at you, whether it's a U.S. Marshal or not," Howard said. "And if the U.S. Marshal doesn't want to wear body cams, then my position is, they shouldn't be involved in the arrest."
Jamarion Robinson was a wanted man.
"There's so much going on now with innocent people being killed at the hands of the people who are supposed to be able to protect and serve us," Monteria Robinson said.
She considers her 26-year-old son one of those innocent people and has set up a Go Fund me account to try to investigate and hold law enforcement accountable.
Robinson's mother doesn't understand why so many law enforcement officers were needed to arrest her son - or why, since police were aware he had recently been diagnosed paranoid schizophrenic, Marshals didn't show up with a mental health professional to assist.
After the fatal shooting, marshals said they went to arrest Robinson at the request of the Gwinnett and Atlanta police departments. They said just a few weeks earlier he had poured gas on the floor beneath his bed and in front of his mother's bedroom.
According to the arrest warrant, a friend stopped him before anything happened. Robinson's mom said she called police, not to have him arrested, but to get him mental health assistance.
Atlanta police had their own arrest warrant - this time for allegedly pointing a gun at officers while being confronted at a friend's apartment complex.
In the past 2 years, Robinson had left a paper trail in courts across metro Atlanta. He pleaded guilty to a series of traffic violations in Gwinnett for charges ranging from driving without a license plate to giving officers a false name, all of the offenses misdemeanors.
He plead not guilty to charges in Cobb County for possession of a controlled substance and was arraigned in Union City for failing to stop at a stop sign. Robinson was killed before he could defend his actions on those allegations.
His mother says he thought his problems were behind him and he was preparing to return back to school to finish his biology degree. He had already alerted his football coach about his return.
Jamarion Robinson isn't alone.
This isn't the first time an arrest by U.S. Marshals has raised questions. A year earlier, Michael Smashey was killed as U.S. Marshals tried to arrest him in Cobb County. Sheriff's deputies on the scene had cameras, but when Lindstrom asked to see the video, she was told it didn't exist.
Lindstrom learned officers intentionally didn't use them. In Cobb County, the sheriff's policy allows deputies to turn off their cameras "when undercover agents such as federal marshals and narcotics agents may be recorded."
Georgia Congressional response | US Marshals body cams
Simon Araya, who helps create the technology behind Utility's Body Worn cameras, said it's not his place to set policy. But he said his company's redaction software can conceal the voice or physical identity of an undercover officer in a matter of minutes.
"It doesn't matter where he is in the video. The software will keep looking for him and when he comes back into view it will redact him," Araya said while demonstrating the technology.
Jamarion Robinson's family is pushing for change.
Robinson doesn't know what happened inside the apartment where her son died, but she does know something needs to change.
"Someone has to eventually stand up and that's going to be the Robinson family," she said. "Someone has to stand up and say no more. And that's going to be the Robinson family."