HALL COUNTY, Ga. — A Hall County Sheriff's deputy was killed in the line of duty Sunday night. Here's what we know so far:
His identity has been released: In an afternoon press conference, the Hall County Sheriff's Office said the fallen deputy was 28-year-old Nicolas Dixon.
He had a wife and children: Hall County Sheriff Gerald Couch said he left behind a wife and two children, a 9-year-old boy and 4-month-old infant son.
A suspect was also shot: The gunman who fired and struck Deputy Dixon was identified by Sheriff Couch as Hector Garcia-Solis. He was also struck in return fire by deputies and taken to the hospital where he is being treated for his injuries and is in critical condition.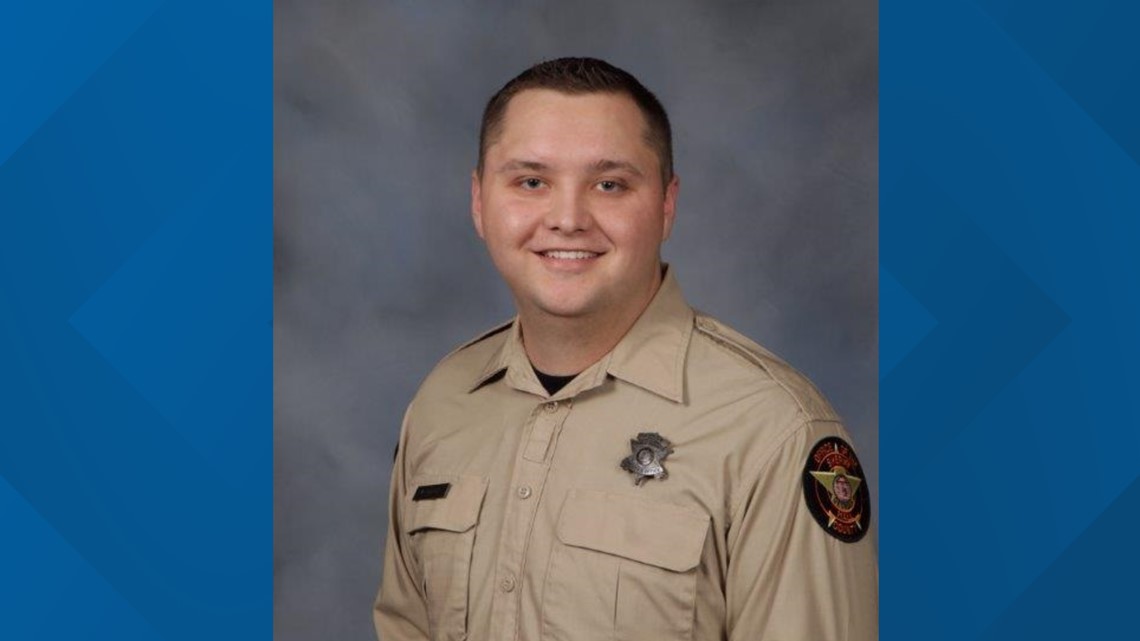 One other suspect was taken into custody: This suspect has not been identified, but Sheriff Couch said he was discovered and apprehended behind a residence.
Two other suspects were apprehended Monday afternoon: The sheriff's office tweeted that the two at-large suspects were in custody after a daylong search on Monday.
All four suspects are in custody: By 3 p.m. Monday, the Hall County Sheriff's Office said that all four suspects involved in the shooting were in custody. The sheriff's office confirmed they are all 17 years old. They are Hector Garcia-Solis (alleged gunman), Brayan Omar Cruz, London Clements and Eric Edgardo Velazquez.
Charges for the teens: Garcia-Solis is being charged with felony murder. The other three suspects will be charged with party to a crime, felony murder.
The suspects were allegedly involved in a string of thefts: Sheriff Couch said the individuals who fled the car were suspected in a string of thefts in Gainesville and Hall County over the past few days, including one of a "large number of firearms."
The alleged gunman had been arrested and released days earlier: Garcia-Solis was released from the Hall County Jail on July 2 after being arrested on June 27 for allegedly driving under the influence of alcohol, driving with a suspended license, felony obstruction of an officer, possession of an open container and striking a fixed object.
"Persons of interest" are being interviewed: In an update early Monday morning, the Hall County Sheriff's Office said persons of interest and "other parties" are currently being interviewed.
The shooting happened in Gainesville: The chase ended near the intersection of Jesse Jewell Parkway and Highland Avenue. Police warn people in the area that the suspects on the run are "armed and dangerous."
Deputy Dixon was hit in an exchange of gunfire: Sheriff Couch said the deputy was hit after the suspects left a car and fled on foot. As deputies pursued, a gun battle broke out in the side streets off Jesse Jewell Parkway.
Multiple agencies are involved in the search: They include the Hall County Sheriff's Office, Gainesville Police Department, Georgia State Patrol, Gwinnett County Police, and the Bureau of Alcohol, Tobacco, Firearms and Explosives (ATF).
It happened Sunday night: Authorities said an exchange of gunfire occurred around 11:15 p.m.
He's the first deputy killed in the line of duty in Hall County in decades: Sheriff Couch said he believed the last time a deputy from his sheriff's office was killed was in the 1920s.
The deputy's body has been taken to a funeral home: Deputy Dixon was taken to the Georgia Bureau of Investigation crime lab Monday morning and then transported by police procession to a funeral home in Gainesville.
Authorities are asking for the public's help: Anyone with information is asked to call the Hall County Sheriff's Office at (770) 533-7693.
Deputy killed in Hall County