LILBURN, Ga. — Brian Jones' life changed in 2018 after a sleep-deprived truck driver slammed into him on I-85 South in Atlanta, leaving him paralyzed.
"The doctors told me that I would never be able to move anything, and I just couldn't handle it," he recalled. "I just prayed, prayed to God, let me move again, I've got young kids."
Jones spent eight months in the hospital before moving to Pruitt Health in Lilburn.
"I was able to bend my knees up a little bit while I was in the hospital," he said. "But once I got to the nursing home. I got no physical therapy or anything."
Jones said he's since reported several instances of alleged abuse and neglect to his ombudsman, a government-appointed advocate tasked with investigating complaints.
"I have been left sitting in feces and urine for 7 to 8 hours," he said. "I've been verbally abused. Feeding me they just shove food down my mouth. I have anxiety attacks all the time."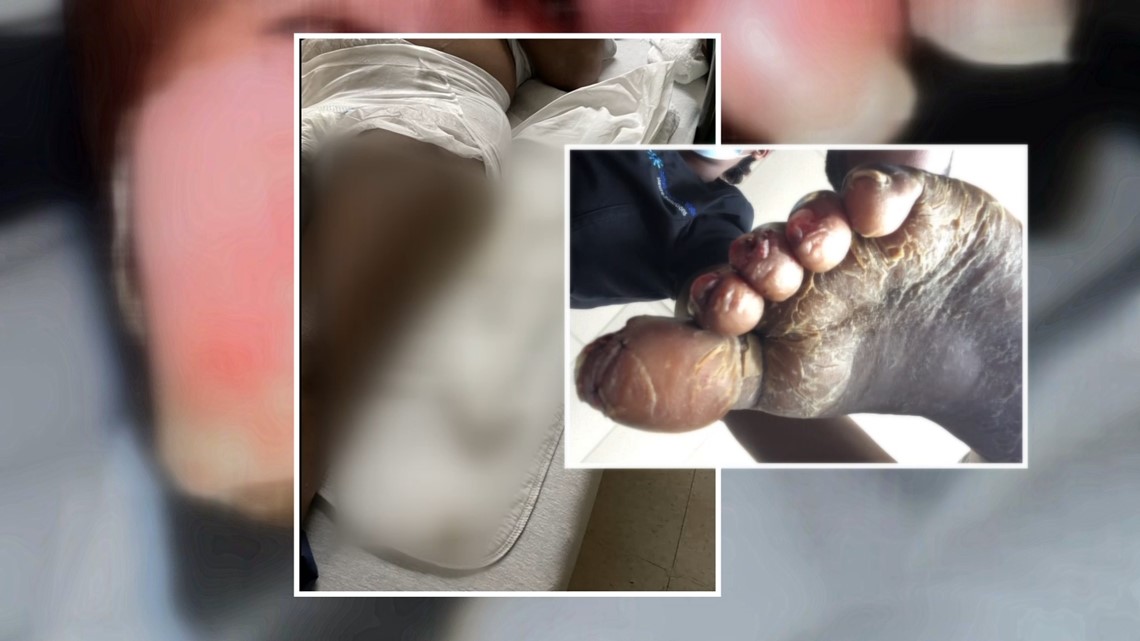 Adult protective services investigations in Georgia are confidential and closed, but 11Alive investigators pulled police records and found that officers in Lilburn have investigated at least three recent allegations of abuse at the facility.
One patient had significant facial bruising; another suffered a broken shoulder while moving from the bed.
Another patient alleged being raped.
Those cases were marked as closed or inactive for being unsubstantiated or due to lack of evidence.
"I've talked to the state representatives and told them my situation, what's going on is nothing ever happens," Jones said.
Frustrated, he recently created a TikTok account to start sharing his concerns.
"My roommate fell out of his bed it took them two and a half hours to come down here and get this man off the floor," Brian said. "My followers called EMS to come up here to get him off the floor."
Medicare.gov has a nursing home rating system based on inspections, staffing, and quality.
Pruitt Health Lilburn has three of five stars.
Among the noted concerns: more than 18% of long-stay residents had pressure ulcers from staying in one position too long. The national average is 8%.
They are also 16% higher than the national average for short-stay residents re-hospitalized after being admitted to the facility.
After 11Alive Investigators started making calls, Jones said he was approved to start rehabilitation.
"I said look this is my first time in physical therapy I don't care how much pain is gonna take me or what I gotta do, and I'm willing to do it," he said. "And they was amazed at how well I was doing. It was like, if this would have happened right after my accident, I might have been able to walk again."
11Alive reached out to Pruitt Health about Jones' allegations.
A spokesperson said in a statement:
"At PruittHealth, the safety of our patients and employees is our absolute highest priority. We follow all state and federal regulations and reporting guidelines. We are committed to caring for our patients, and we are confident we provide personalized care tailored to individual clinical needs.
PruittHealth partnered closely with the state ombudsman and the patient's family to provide a safe, dignified transfer to another skilled nursing center to meet the patient's personal requests."
Jones said he hopes to live independently, something he knows isn't yet financially feasible. His TokTok followers have raised money via Jones' online fundraiser to get him started.
"Mentally its draining. I mean, literally draining me," Jones said. "I've got pictures of my kids on a wall and that's what motivates me. I want to get out of here but even when I do get out of here, I'm still going to advocate for people who can't speak up for themselves."
If you suspect elder abuse in a Georgia care facility, you can file a report online with the Department of Community Health here or call 1-800-878-6442. You can remain anonymous.