ATLANTA — 11Alive can confirm that representatives from Amazon were in the city this week as part of the search for their second global headquarters.
"We were excited to have the opportunity to welcome Amazon to Georgia this week," said Pat Wilson, the commissioner for the Georgia Department of Economic Development. "Being able to showcase our exceptional assets first-hand will ensure that Georgia remains on their minds."
Eight areas in Atlanta were offered up to Amazon for development:
Assembly: The property used to be the General Motors Doraville site, and is located next to the Doraville MARTA Station as well as near I-285, I-85 and the Peachtree-DeKalb airport.
The Gulch: The railroad property, which sits between the Five Points MARTA Station and the CNN Center Station, is expected to be developed by real estate firm CIM Group. Richard Ressler, the brother of Atlanta Hawks owner Tony Ressler, is a principal with the firm.
Fort McPherson: The City of Atlanta still owns more than 100 acres at the former army base. The property sits between two MARTA stations.
Aerotropolis/Mountain View: A development next to Hartsfield-Jackson Atlanta International Airport. It is in Clayton County, which passed a MARTA sales tax in November 2014 that would permit the county to provide rail to the Amazon site.
The Stitch: This site likely would involve bridging over the Downtown Connector to create a site that stretches from the city-owned Civic Center property towards the Civic Center MARTA Station.
Midtown: Amazon likely would be located across several blocks. Some people have suggested bridging over I-75/I-85 to connect both sides of Georgia Tech.
Possible sites around the Dunwoody MARTA Station.
The Westside: A site that used to house the Overlook housing development would extend to the Bankhead MARTA Station.
The newly-incorporated City of Stonecrest also placed a bid for HQ2, offering to create a new city-within-a-city to be named "Amazon," Georgia.
While the state did not confirm any more information about which sites Amazon's reps visited while here this week, sources close to the situation told 11Alive they did not visit the proposed Doraville location. 11Alive's Rebecca Lindstrom reached out to that city's mayor to ask if they could confirm a visit. Their office said if any reps from Amazon did visit, their office was not part of any cite visit. The mayor of Stonecrest told 11Alive they were in a similar situation. However, both remained optimistic about their prospects.
11Alive also reached out to City of Atlanta officials to confirm which cites were visited, but they declined to comment.
Atlanta is among the short list of 20 cities vying for the global company's second headquarters, including Boston, Chicago, Dallas and Washington, D.C.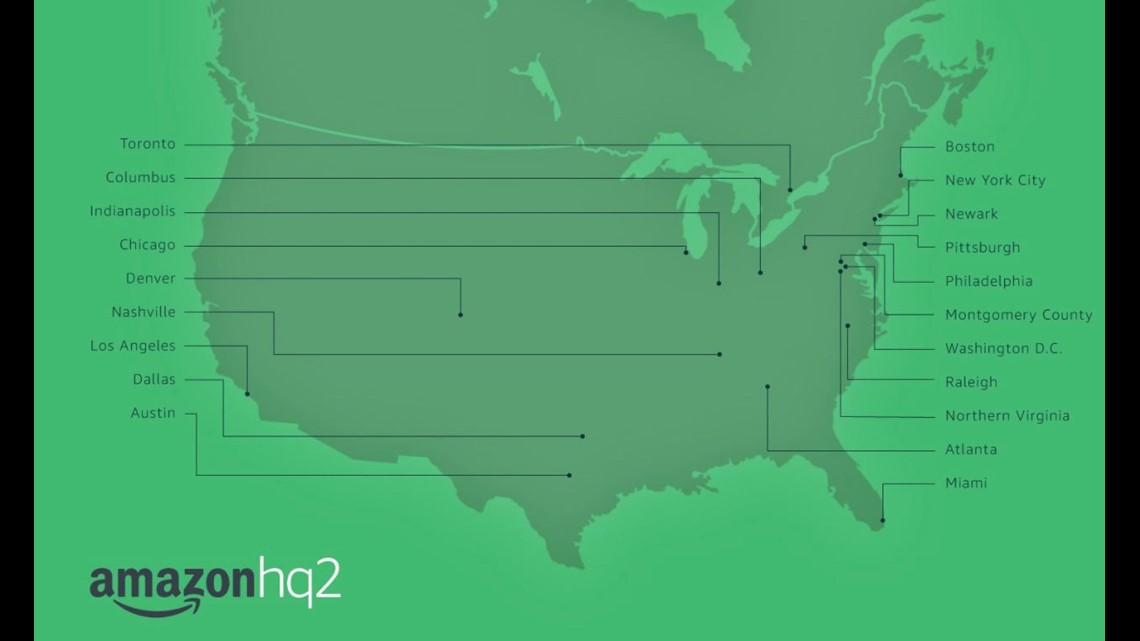 Amazon is promising to make a $5 billion investment in the winning city, including 50,000 jobs. According to both state and the City of Atlanta, the bid to lure Amazon is the largest in state history.
"As we've said before, we truly believe that Metro Atlanta is the best location for HQ2," Wilson continued in his statement. "We've invested and prioritized in mobility, workforce development and education which is evident in our thriving pro-business climate."