ATLANTA — Atlanta's police department said it is taking its officers off of federal task forces.
In a statement Tuesday, a spokesperson for the department told 11Alive it is in the process of pulling its officers from federal task forces, including the FBI and U.S. Marshals.
The move comes after a controversial police shooting and after the department changed its policy on body cameras.
Earlier this year, a man was killed by an Atlanta Police Department officer serving on an FBI task force.
Jimmy Atchison, 21, was killed by APD officer Sung Kim in late January.. He was working on a task force with federal agents as they served a warrant when the shooting happened.
RELATED: Family, activists rally in support of man shot and killed by Atlanta police officer
The FBI said Atchison ran and was killed after leading officers and agents into an apartment. However, the family of Atchison claims he was unarmed and shot in a closet while surrendering.
The officer was not wearing a body camera, but it's important to note that federal policy doesn't allow them.
"Mayor Bottoms and Chief Shields have said repeatedly that they believe in creating a culture of transparency at APD through widespread deployment and use of body-worn cameras," APD Public Affairs Officer Stephanie Brown said in the statement.
In the new bodycam policy, APD chief Erika Shields wanted strict penalties for officers who fail to activate their body camera: for the first offense, a 16 day suspension, and firing for the second offense.
RELATED: Atlanta's new bodycam rules not enough says family attorney of man killed by police
Brown said after the deadly shooting, the mayor and the chief insisted APD officers wear bodycams while serving on task forces when on duty.
"When it was made clear that APD officers would not be allowed to wear body-worn cameras while serving on these task forces, the decision was made to pull them from those duties," Brown said.
"The City believes that the public trust we lose from not wearing body cameras is not worth whatever gains we achieve by continuing to serve on these missions without the accountability that body cameras can provide," she added in the statement.
Just last week, Atchison's family and activists hit the streets of Five Points near Peachtree Street to raise awareness about his case and demand accountability from police.
PHOTOS: Jimmy Atchison rally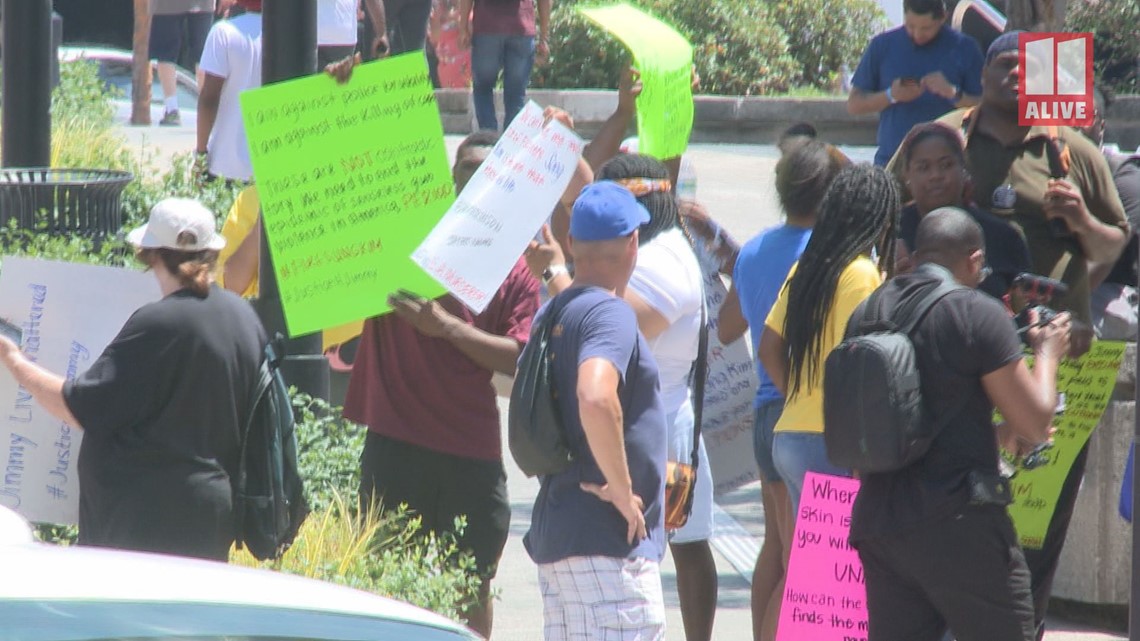 RELATED:
APD could miss out on cash from seizures due to new bodycam rules | Here's how
'Say his name!': Protesters interrupt town hall meeting demanding answers about deadly police shooting
Months after he was killed, family still has no answers from the FBI on why