ATLANTA – Amazon just cut their long list of 238 potential sites for their HQ2 to only 20 and Atlanta made the cut.
Atlanta, along with Nashville, Austin, Dallas, Miami, Los Angeles and more are in the running for Amazon's second headquarters.
Amazon expected to invest over $5 billion in construction, grow the second headquarters to include as many as 50,000 high-paying jobs and it will be a full equal to the campus in Seattle, according to Amazon.
For Atlanta to become to the new location, Amazon stated they are looking for cities with strong local and regional talent, particularly in software development and related field. They also want a stable and business-friendly environment to continue hiring and innovating on behalf of their customers.
The Atlanta bid is actually a metro Atlanta bid that includes the cities of Doraville and Stonecrest. The downtown Atlanta area of the gulch is also a part the bid.

Atlanta Mayor Keisha Lance Bottoms said teamwork helped get the city on the list.
"This is truly a collaborative effort and I believe our success is a direct result of our teamwork and our willingness to focus on results. The city worked very closely with the state to develop a competitive bid that represents our strengths," she said at a Thursday morning press conference.
"Our workforce is highly educated and nimble and has an enormous amount of experience in working with established tech sector companies."
When asked what effects the city would feel if Amazon didn't choose Atlanta, Bottoms said whatever the outcome, "Atlanta rises to the top."
Stonecrest Mayor Jason Lary is excited about the possibility.
"We are excited that our efforts are paying off. Members of the state's economic development office applauded our marketing and branding efforts and credited us for helping shine a positive light on this area," Lary said.
He said he's spoken with Bottoms about collaborating to get them here.
Governor Nathan Deal praised the announcement saying, "We are excited to learn that Atlanta has been included on Amazon's short list."
The state government is prepared to call a special session of the legislators to pass legislation meet Amazon's needs. Some of those needs include tax incentive adjustments that could include broadening the limitations of the laws already on the books, like job creation. Another legislative matter could be infrastructure. The state may need to build a exit ramp, MARTA station ro some other infrastructure to accommodate Amazon.
"This has been a cooperative effort by the entire region, and we truly believe that Metro Atlanta has the talent, transit and logistics that provides the best location for Amazon's second headquarters. We look forward to the next steps, and making sure our region remains at the top of the list," Deal added.
Tom Smith, associate professor of finance at Emory University, said Atlanta and Georgia can't afford a misstep to take it out of the running.
"Amazon isn't looking to take a vacation. They're coming to set up a business for the next 20 to 30 years, and they want to make sure their employees are in a city and a state that is welcoming to them."
Austin, Texas, according to Smith, is Atlanta's main competitor.
"Austin is the city that meets all of the qualifications a company like Amazon wants," Smith said. "You want a city with good education; that is affordable; has a solid foundation with an airport and infrastructure; gives your employees a sense of stability and security, and a sense of moving forward."
Atlanta, Georgia
Austin, Texas
Boston, Massachusetts
Chicago, Illinois
Columbus, Ohio
Dallas, Texas
Denver, Colorado
Indianapolis, Indiana
Los Angeles, California
Miami, Florida
Montgomery County
Nashville, Tennessee
New York City, New York
Newark, New Jersey
Northern Virginia
Philadelphia, Pennsylvania
Pittsburgh, Pennsylvania
Raleigh, North Carolina
Toronto, Canada
Washington D. C.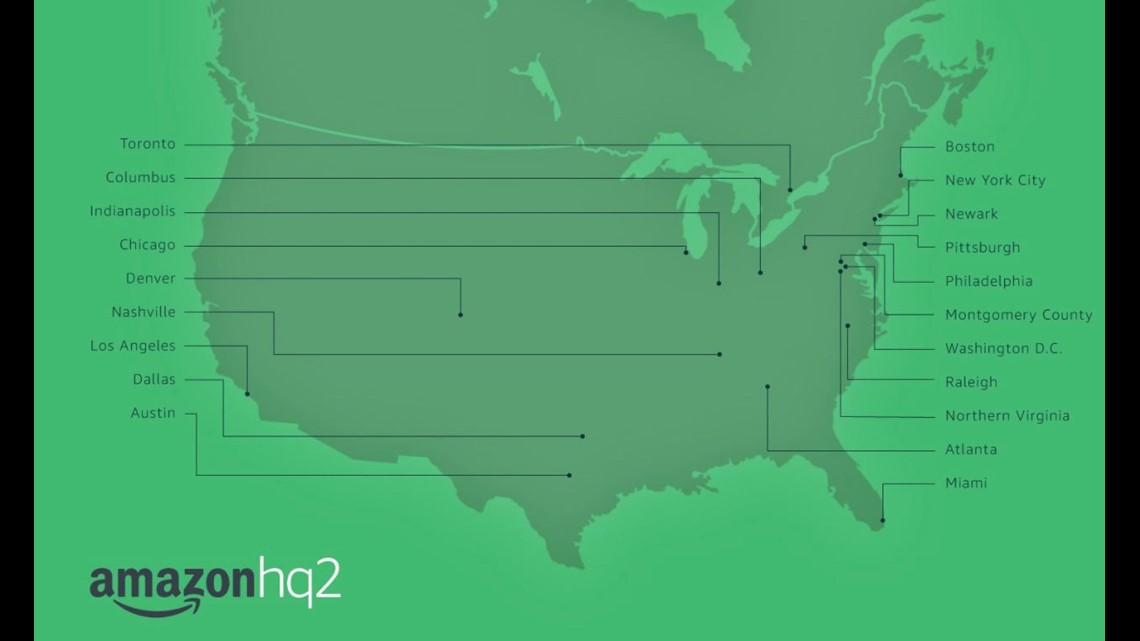 Since Seattle is Amazon's current home, 11Alive's Joe Henke spoke with a reporter there about what have been their pros and cons.