FOREST PARK, Ga. — Para leer esta historia en español, oprima aquí.
Vendors of the Atlanta State Farmers Market say they are on edge after a string of robberies turned violent.
Ediht Carranza, who has been a vendor there for over a year, says robberies began in January.
"I've seen robberies in the middle of the day, at noon, at 1 p.m.," Carranza said in a Spanish interview that has since been translated into English.
Surveillance video that 11Alive got ahold of, shows thieves stealing vehicles, cash, and merchandise, many times in broad daylight.
"They have taken $4,000 here, $5,000 there from people who really are making an effort to build their business and have a better life here," Carranza explained. "Then thieves come here and take it all away. It hurts."
Several vendors have locked up their merchandise to prevent coming to work the next day to nothing.
Carranza witnessed a robbery in March, where a client's wallet was taken from his back pocket.
As he tried getting his wallet back, Carranza says the driver threatened to shoot him. The video then shows the client getting dragged through the alley, then letting go of the car.
She says the client has since recovered and is back at work, but vendors are shaken up from incidents like that one.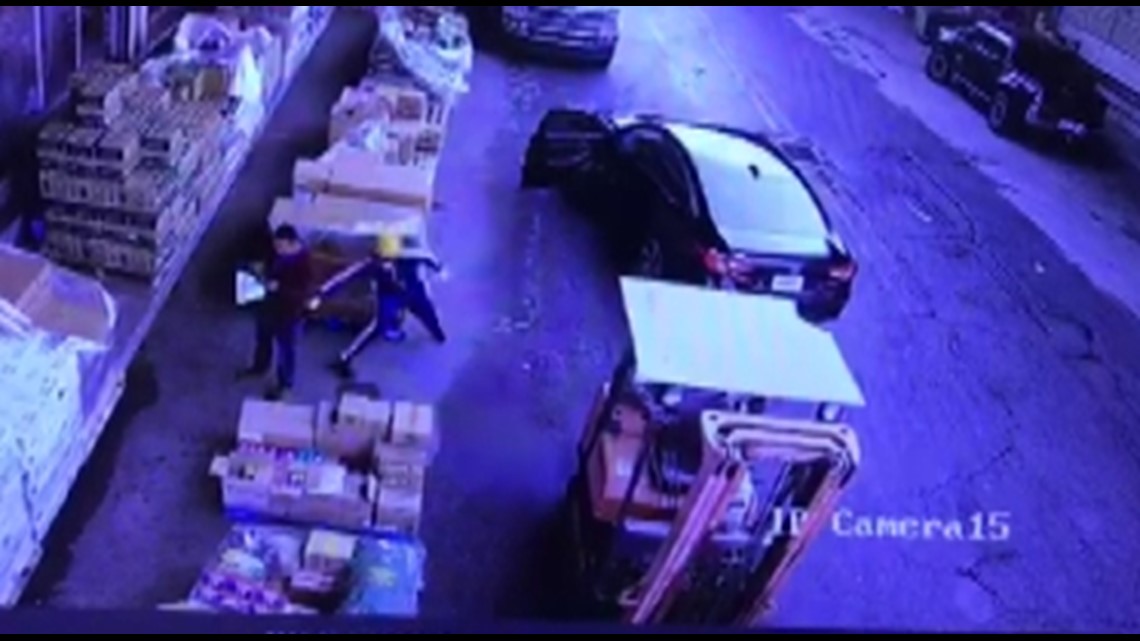 "It really traumatized me to see that," she said. "I thought he was going to die. If it happened to him, it can happen to any one of us."
Across the way, from Carranza's business, is Gaby Guerra Martinez's store.
Both of them work as wholesale vendors, selling merchandise to clients in different stores, including Mexican and American stores.
"Our clients normally own Latin and Hispanic stores," Carranza said. "They normally come here to buy merchandise and they are only used to using cash as a method of payment. It seems the thieves have picked up on that."
Guerra Martinez says thieves have stolen from her business alone more than four times since the start of the year.
"But in the whole market, there have been about three to four robberies a week since January," Guerra Martinez said in a Spanish interview that has since been translated to Spanish.
She says they have called Forest Park police for each incident and adds that officers did show up, but didn't follow up or make any arrests.
Guerra Martinez says many vendors even recognize one of the thieves, who she says was a former employee of another store here.
"We don't feel safe. What are the police waiting on? Is it going to take someone dying for them to react? I don't think that's fair," she said.
11Alive reached out to Forest Park police but has not heard back.
Guerra Martinez and Carranza hope to get more security in the area so that robberies like these don't become the new normal.
"It's unbelievable," Guerra Martinez said. "In the videos, it looks like they're going on a shopping spree. They steal slowly and calmly, they take their time, and we have seen no arrests."
Vendors say they are scared, not only to lose business– which has already been happening– but mostly, scared to lose a loved one.
"It's really scary. We work every day with boxes, with cash," Carranza said. "We are businesses. We pay taxes, we pay rent... why can't we have security? Why are we being ignored?"