GWINNETT COUNTY, Ga. — In the months to come before a child is born, most mothers have already planned out their deliveries.
But one metro Atlanta mom said her plan had to be tossed out the window when her baby boy decided to come six days late. She ended up having him in the parking lot of Pappadeaux Seafood Kitchen.
That moment came full circle this week for Courtney Ruben and her son, Lennon Weston, who is now 1 year old. They got the chance to meet the first responders who helped with the delivery.
She remembers that day, Oct. 26, 2018, just like it was yesterday - and so do the Gwinnett County first responders who got the call to come to her rescue.
Fire medic Bennett Guthrie said it was a busy night for them. They had already been on the clock for about 20 hours when they got the call about a pregnancy.
She said normally when they respond to calls like this, it would just be the mom having contractions. But this time was different.
"The baby was crowning," he said.
Ruben said she had previously been at the hospital that day but doctors sent her home. They didn't think it was quite time. But little Lennon was coming.
"He came along with a bang," she said.
When she returned home, she went into labor.
"It was very intense and my water broke and I just told my mom, I was like, 'We gotta get back to go have him'," she said.
They didn't make it to the hospital. She said they made it only a few exits down the interstate.
READ: Dashcam: Utah trooper saves driver stuck on tracks as train approaches
Courtney Ruben
"It gets scary when your're doing it right in the middle of traffic on Jimmy Carter Boulevard," she said.
She felt him coming so her mom pulled over at the first thing they saw.
"It was freezing and pouring down rain in the Pappadeaux parking lot off Jimmy Carter," Guthrie said. "And it was a beautiful thing."
The crew was there within minutes of the 911 call, Ruben said.
"He was born at 6 a.m. right in the middle of traffic," the mom added.
"I just couldn't believe it," she said. "I think I was in shock. All I could do afterwards was take a selfie in the middle of the ambulance with the shocked look on my face."
Courtney Ruben
READ: 6-year-old with cerebral palsy walks without walker for first time
Lennon celebrated his first birthday on Saturday. Tuesday, Ruben and her son got to meet the crew who helped her. She wanted to tell them thank you.
"That right there was as rewarding and as whole as it gets," Guthrie said. "And to see him healthy and running around is an awesome thing."
They gave the family a tour of the fire station and Lennon also got to see the med unit he rode in to get to the hospital from Pappadeaux.
(Story continues below the gallery)
PHOTOS | Mom reunites with crew who helped deliver baby in parking lot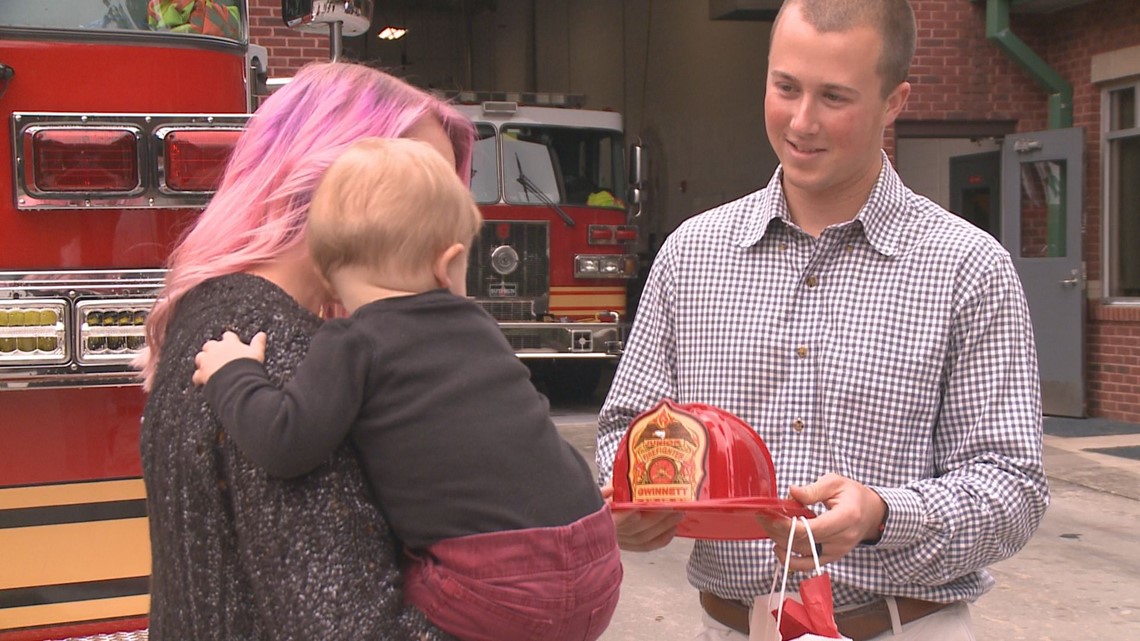 Guthrie said even though they are trained to handle situations like this, it's always a bit nerve-racking.
"You're not really at ease until it's all said and done," Guthrie said.
Lennon also left the fire station with a toy fireman's hat and other gifts.
MORE ON 11ALIVE.COM:
Nurse crochets Halloween costumes for NICU babies
Firefighter goes out of his way to help make little girl's day
World War II veteran asked for 100 cards for his 100th birthday — he received more than 100,000
Sophie's Nightmare: How a Georgia mother allowed her boyfriend to impregnate her 10-year-old