It's only been weeks since a new scooter ride-share company set its wheels down in Atlanta and the new transportation is already raising questions as early-adopters take to streets, sidewalks – and trails where they technically shouldn't even be.
Bird announced it had introduced its dockless electric scooters to Atlanta on May 3 – the first city in the southeast where the company has opened its doors. Since then, it's already become a popular mode of transportation.
"This lets me go to places I love going, like food spots, but I don't get a taxi.," said Usman Shahid, a Bird rider.
In short, Bird lets riders use its smartphone app to find scooters parked near them. From there, a rider is charged $1 to start a ride plus 15 cents for each minute used.
"We spent like 30 minutes trying to find the ones we're on," Shahid said.
"We started Bird with the goal of getting people out of cars, especially for the two out of every five car trips in America that are fewer than two miles long," said Travis VanderZanden, founder and CEO of Bird.
The company said the scooters are designed as "last-mile" transportation from subways or bus stops. The company also said they are meant to be driven in the bike lanes of area roads.
"A lot of times I don't want to ride on the road, it's too fast traffic, so if I go on the sidewalk, you're going through where cars pull out, that's super dangerous," Shahid said.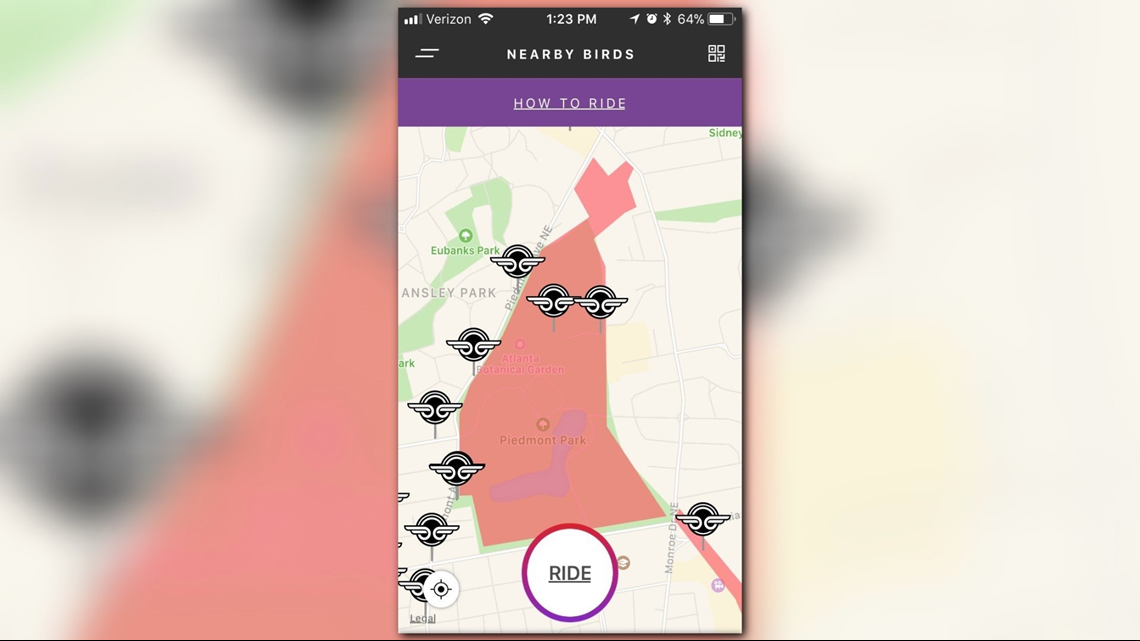 11Alive's Kaitlyn Ross even spoke to a couple using the electric rides in Piedmont Park – which is mostly off limits on paper. For their part, the company behind the scooters labels restricted areas on their maps suggesting other routes.
But riders looking for the quick ride aren't always listening, forcing groups like Piedmont Park and the Atlanta BeltLine to decide whether these low-speed rides should get a pass. That's not the case so far, but maxing out at just 15 mph riders could argue that they aren't any faster than traffic already on pedestrian trails where bikes are allowed.
"I like cruising," Madiha Memon said, who is also a Bird rider.
The company said they are working closely in cities where they operate – including Atlanta – to handle issues they've already seen arise.
One of those partnerships has resulted in them signing the "Save Our Sidewalks" Pledge and challenging other scooter and bike-sharing companies to do the same.
"Companies that take the pledge will commit to actions to prevent American cities from suffering the same fate of many Chinese cities where out-of-control vehicle deployment has led to piles of abandoned and broken bicycles over-running sidewalks and polluting public areas," the company said in a provided statement.
That pledge includes a promise to pick up vehicles daily, not increase the supply of scooters beyond what's being used and offering $1 per vehicle per day to cities. That money is supposed to go toward building more bike lanes, maintaining infrastructure and promoting safe ridership.
Bird is headquartered in Venice, California but recently expanded into several other major California cities, Washington, D.C. and more.
However, some cities have reacted more negatively than others with some, like Nashville, Tennessee ordering a cease and desist letter after just two days in operation. The city gave them 15 days to get their rides of the roads until officials could create some sort of local regulatory or legislative framework.
The scooters are now back in the town and the company is paying people to gather and charge them; however, they faced similar scorn when they arrived in San Fransico.
Meanwhile, San Diego city officials rejected an attempt to ban the motorized vehicles from boardwalks in Mission Beach, Pacific Beach, Mission Bay and La Jolla.
Santa Monica is also considering votes to ban them, but they haven't done so yet.
So, in the end, Bird's future in Atlanta could rest on a combination of rider responsibility and how accepting the city is to a new industry.