ATLANTA -- Black Lives Matter members are calling Monday night's meeting with the mayor the police chief a victory. At least some say, for now, they don't plan for any further demonstrations. But because there are several different Black Lives Matter chapters and groups that support them, the next steps are a bit unclear.
"Our city is doing the right thing. That's why we're out here, to find out what we can do to move our police department to a better place," Greater Atlanta Black Lives Matter President Sir Maejor Page told a crowd of protesters Monday night.
Atlanta protests: Day 4
A standoff outside the Governor's mansion ended with a truce and a planned meeting between activists and city leaders set for next Monday.
"We're very excited," Page told 11Alive's Valerie Hoff. "We look forward to the meeting with the mayor and the chief of police."
VIDEO | APD Chief George Turner speaks to demonstrators at Governor's Mansion
He says in the wake of the shootings in Minnesota and Louisiana, the meeting is a step toward healing: "We have the opportunity to get our emotions and our feelings out and maybe we can come to a consensus."
Page plans to ask city leaders for more transparency into Grand Jury investigations of police shootings and more public information about officer's Internal Affairs records.
PHOTOS: Protesters and GSP on Downtown Connector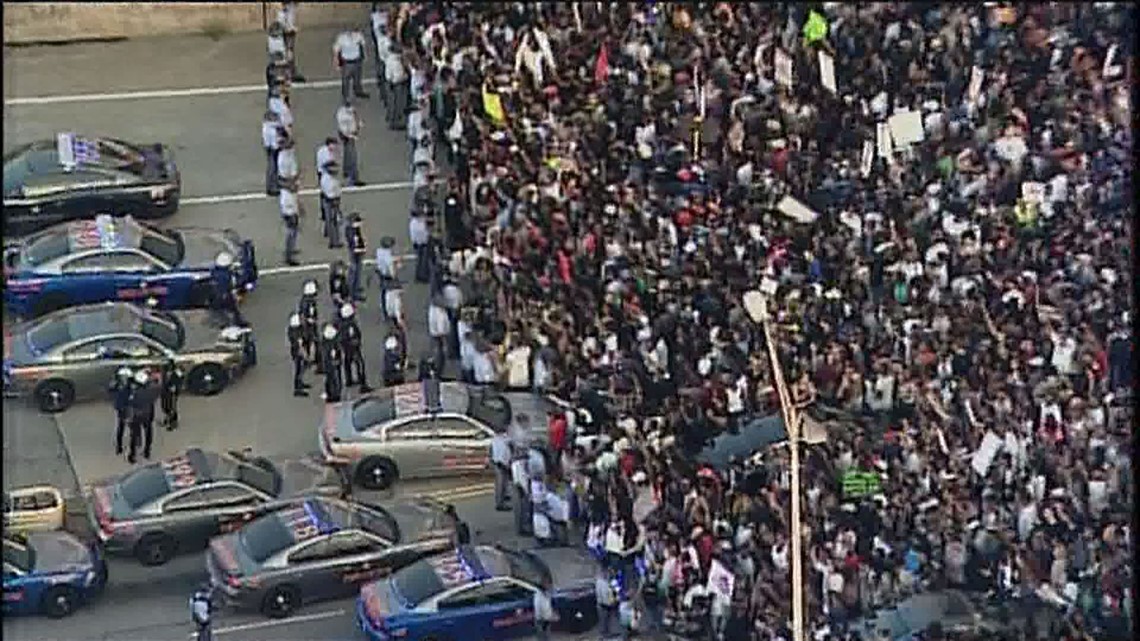 "We want databases made public of officer corruption and misconduct. We want that public, so citizens can go online and see complaints against officers," he said.
His group also wants criminal charges filed in the case of Officer James Burns, an Atlanta Police Officer who's been fired for fatally shooting 22-year-old Caine Rogers last month in Midtown.
Page's Black Lives Matter chapter is one of several organizations that have protested in the past five days, but he's not planning anything for the next few days.
"I think it's safe to say we're having a cooling point as the mayor talked about," he told 11Alive. "So at this time, I don't foresee at this time [more protests]."