CLARKSTON, Ga. — Many people in metro Atlanta woke up Wednesday morning to the sound of their phones buzzing around 5:18 a.m. to the scary news that authorities were searching for a 1-year-old child.
It took authorities more than 36 hours to locate Blaise Barnett.
Here is how the investigation began and the timeline of events. Barnett was allegedly was inside a 2002 Ford Explorer when it was stolen from an apartment complex off Montreal Road in Clarkston, Georgia.
Timeline of Blaise Barnett's disappearance
Wednesday, Nov. 10, 2021
1:06 a.m. - Family members tell 11Alive that they were returning home from when the dad brought the nephew and some groceries inside the apartment. He said he left the keys in the cup holder of the car when he went outside. They said "30 seconds later" they came out and the car was gone.
5:18 a.m. - An official Amber Alert is sent to Georgia residents.
6:45 a.m. - On 11Alive Morning News, Blaise's mother, Deonna Bray pleaded with whoever took the child to return him safely. She said not to get irritated with him if he's crying.
11 a.m. - The vehicle is located behind a condo complex along Memorial College Avenue. The baby and the car seat are not inside, but a blanket is, according to police. They say they have no suspect.
12:30 p.m. - The vehicle is at the Georgia Bureau of Investigation (GBI) headquarters.
2:30 p.m. - The Clarkston Police Department's Public Information Officer said there is no new information and they have no viable leads. He said they have active searches going on throughout the area with the help of GBI, FBI, and Dekalb County local agencies.
Thursday, Nov. 11, 2021
5:26 a.m. - Sgt. Dustin Bulcher said there are no new updates and "nothing has changed since the last update."
10:20 a.m. - Blaise's mother, Deonna Bray, is seen leaving Clarkston Police Department. She told our cameras that "We're just waiting." In a conversation with 11Alive News reporter Brittany Kleinpeter, she said there was a miscommunication with police and that they weren't bringing in groceries, but they were bringing in bags of clothes.
2:30 p.m. - Authorities received a call from a woman reporting a toddler was in a vehicle on her driveway. Investigators did not clarify if it was her vehicle.
2:45 p.m. - The search for Blaise ended after he was found Thursday afternoon. The child was located in a car at a home on Rogers Street, less than a mile from where he went missing Wednesday morning.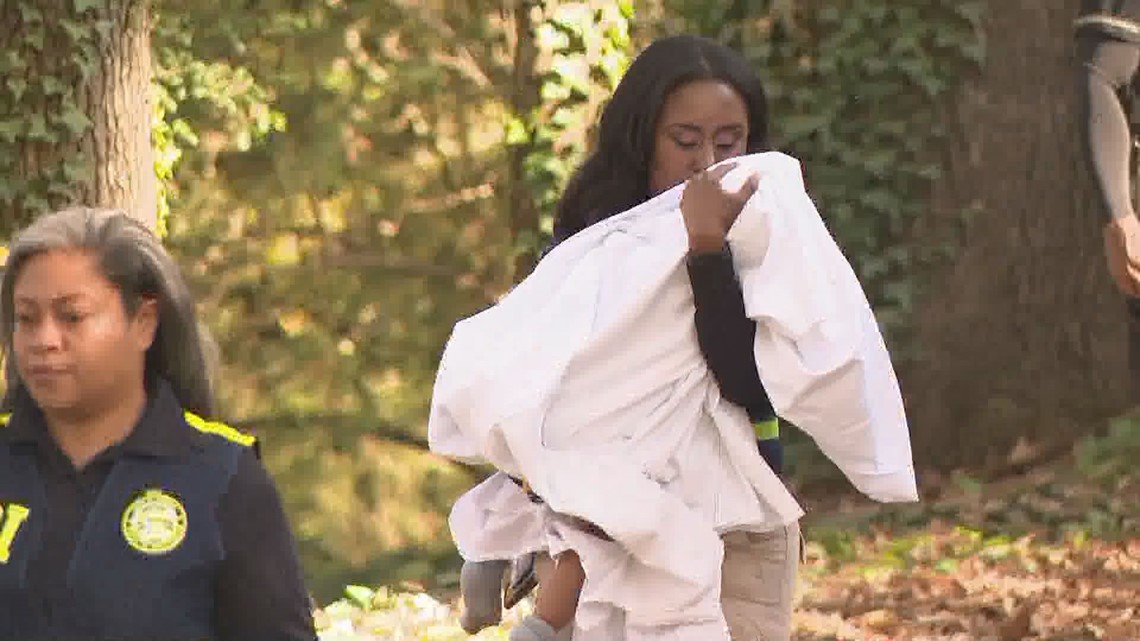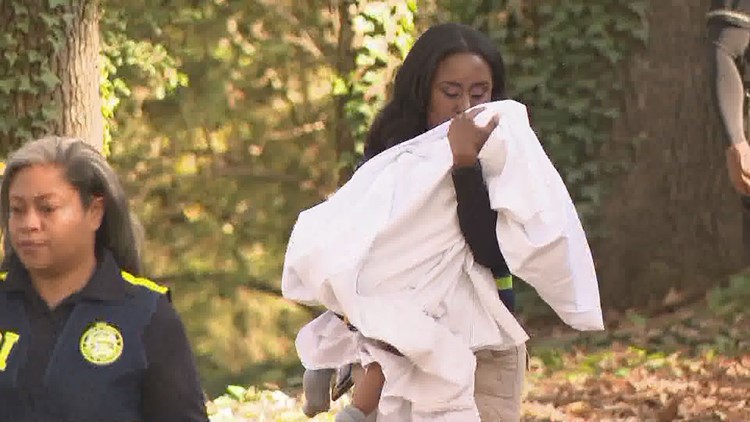 3:15 p.m. - Authorities provided an update emphasizing the child was found safe but they did not know how Blaise ended up at the home. They are still collecting tips and are urging anyone who might have any information to call Clarkston Police, 404-557-8956. Police said there are no suspects at this time.
Monday, Nov. 15, 2021
11:30 a.m. - DeKalb County Police confirmed a deadly shooting that happened last week could be connected to the case. On the same day the child was taken, DeKalb County Police said they investigated a fatal shooting in the 6600 block of Singleton Lane around 11:40 p.m. Investigators believe the 38-year-old suspect was at the location with several others when a 60-year-old was shot and killed. The shooting happened in the same area where authorities found the family's car.
While investigators believe the motive for the shooting is related to Barnett's case, they said there is no evidence to suggest that the person who died had any involvement in the child's disappearance. Two arrests have been made in connection with the shooting. The investigations continue for both incidents.
Photos: 1-year-old Blaise Barnett | Amber Alert