ATLANTA -- As late as the Thursday before the deadly shooting outside the Capitol City Club near Brookhaven in NE Atlanta earlier this month, officers of the Visions Unlimited youth mentoring program said the 17-year-old in their care who would later be charged in the murder, Jayden Myrick, did not show any indications of problems.
According to Leonard Dungee, the program's Chief Operating Officer, who is the son of the founder, Gwen Sands, Myrick, that day, was at the Atlanta-Fulton County Library branch on Metropolitan Parkway, SE, studying for his high school G.E.D.
Myrick is accused of gunning down Washington, D.C. resident Christian Broder outside the country club just after midnight on Sunday, July 8, as Myrick and three others waited for an Uber following a wedding reception.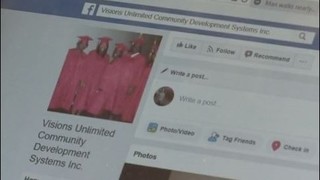 At the time of the shooting, Myrick was on probation for an earlier crime, and had been ordered by a judge to participate in Visions Unlimited, which Dungee said specializes in helping troubled youth reform, go back to school, get a job, and become productive and law-abiding members of society.
Fulton County Superior Court Judge Doris Downs had high praise, during Myrick's sentencing hearing last year, for the effectiveness of Sands' and Dungee's program. And Judge Downs decided to order Myrick to participate in the program after he had pleaded guilty to an earlier armed robbery. The judge said she believed he should have a second chance, rather than go to prison for years.
Dungee said Judge Doris Downs was fully aware that the program was not a residential program when she placed Myrick with the program.
"Myrick attended the program daily. He was gainfully employed," Dungee said. "Let's keep in mind, he is 17-years-old. Who is responsible for the first 17 years of his life? We got him after he committed a crime."
Over the past 12 years, Dungee said, the program has worked with more than 300 at-risk youth, sent to the program by Fulton County judges, and Dungee said this is the only time they have had any sort of problem with any of the youth.
"All we did is to help him get a GED and help him get a diploma," Dungee said. "He was under my supervision when he was with me, and when he was with me he wasn't committing any crimes."
Fulton County District Attorney Paul Howard told 11Alive News last week that Myrick, during the time he was on probation, was continuing to participate in violent gang activities. Howard said that in May, weeks before Broder was shot and killed, he said he asked Judge Downs to revoke Myrick's probation, but the judge did not.
Downs has opted not to discuss the problems with Myrick's placement right now, but Judge Robert McBirney issued a statement last week placing responsibility for Visions Unlimited squarely with the probation department.
The Superior Court does not maintain a roster of external community organizations or agencies or provide financial support for any such program. It also does not directly supervise a defendant's participation in such programs. That is the role of the State Department of Community Supervision, commonly known as the Probation Department. The Probation Department has the responsibility of bringing to the Court's attention any non-compliance with conditions of probation, to include failure to participate in a private provider's program.
Such private service providers typically become involved in criminal cases at the behest of the defendant and his attorney. As part of a sentence recommendation, defense counsel, often accompanied by a representative of the agency or organization, will present to the Court a set of services to be offered to the defendant by the provider. The prosecutor is given an opportunity to comment on the proposed resolution. If the sentencing judge determines that that set of services would be useful and appropriate for a given situation, the judge may – but is not required to – order that the defendant participate in a particular program. Judges appropriately rely on the representations from sworn officers of the Court such as defense counsel as to the nature and extent of services to be provided. The Court makes no payment to the program on behalf of the defendant; funding, if any, comes from outside sources such as private donations or State assistance. - Judge Robert McBurney
Dungee says his heart goes out to the families of the victims of the Brookhaven shooting.