CHEROKEE COUNTY, Ga. — After making the Peach State proud by winning Season 22 of NBC's hit show "The Voice," Georgia native Bryce Leatherwood was given yet another honor on Tuesday.
Cherokee County Board of Commissioners officially honored the up-and-coming country music singer by deeming Jan. 24, 2023, Bryce Leatherwood Day in the county.
Leatherwood is a Woodstock native who grew up in the Hickory Flat area -- where he attended Hickory Flat Elementary School, Dean Rusk Middle School and Sequoyah High School. District 2 Commissioner Richard Weatherby, who represents the Hickory Flat area, invited Leatherwood and his family for the proclamation.
"I was so impressed with Bryce's talent and how he represented Cherokee County competing on 'The Voice.' He's a humble, respectful young man, and he represented our county with class," Weatherby said. "I felt it was important that we, as a Board, recognize the accomplishments of this young man raised here in Cherokee County."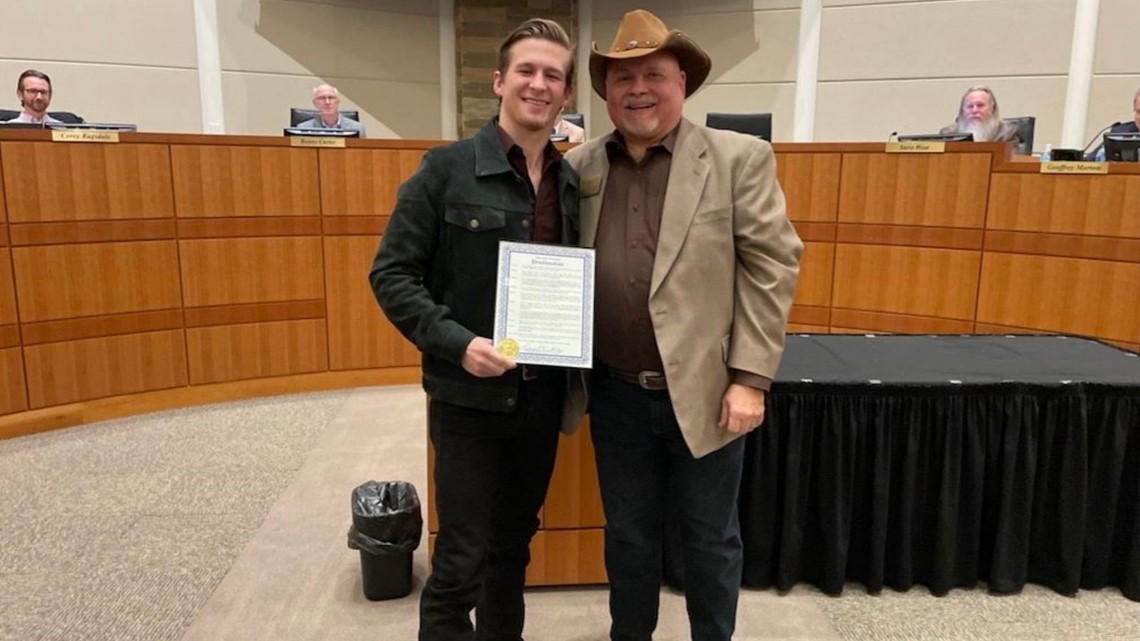 Leatherwood became an instant hit among country music-loving Georgians by singing classics from George Strait, Travis Tritt and Keith Whitley.
"Being recognized is an honor to not only have a voice for Georgia but to also represent the people of Georgia," Leatherwood said. "This proclamation by Cherokee County and my hometown is a dream come true."
Leatherwood, who was coached by country music superstar Blake Shelton this past season, recently made the move to Nashville, Tenn., to pursue his dreams after winning a record label deal with Republic Records after his win.
"I will be moving to Nashville to continue writing, recording and performing music for my fans all across Georgia and around the world," he said.
He added that while he may be moving to Nashville, Cherokee County "will always be home."
After graduating from Sequoyah High School in 2018, Leatherwood attended Georgia Southern University where he graduated with a degree in business.
"My time on 'The Voice' was a one-in-a-lifetime experience," he said. "I'm just very glad to have represented my hometown well and to have put country music to the forefront of the nation."