CORPUS CHRISTI, Texas — After a year of many events being postponed or canceled, one community festival that many love and enjoy is back, Buc days.
"We feel like the event itself is one that we went a full year without having it, it's time to get back into the saddle if you will," said President and CEO of the Buc Commission, Johnny Philipello.
Although the event is back, Philipello says it's going to look a bit different this year due to the COVID-19 pandemic starting with the canceling of barbeque on the bay
"It's an event that we certainly love, but it's designed to be big parties we just knew that would be very hard to socially distance," said Philipello.
The junior parade is another event that won't be happening this year, but not to worry the night parade isn't going anywhere
"We will have limited seating in the arena, socially distanced so families can come and sit together with a reserved ticket for that and then six foot spacing between the next group," said Philipello.
"What we're encouraging is families to set up a TV in their backyard and enjoy like they were barbequing right on that parade route for many years."
The rodeo will also go on as planned, but it will be limited to about 35% capacity.
"You can still come and enjoy a two-and-a-half-hour rodeo, you won't be able to see the concerts this year. Financially it just didn't make sense at that limited capacity," said Philipello.
Although there won't be any concerts this year there will be two days of bull riding and you can still get dizzy on a ride or two at the carnival.
"The rides will be spread out more, we'll have reduced capacity on the event, we'll have queuing lines, when you hop on a ride you'll be given sanitation wipes to clean off wherever you feel you might touch and then when you get off there's hand sanitizer readily available," said Philipello.
Philipello says they want to make sure everyone can have a fun time all while staying safe.
"I'll tell you we're not pioneering anything here, we're taking events from other places that have worked successfully and implementing them here," said Philipello. "It's not this big massive event coming together at one time it's pieces of events socially distanced."
The 2021 Events and Dates are:
CITGO presents Buccaneer Days April 29 - May 9, 2021
Stripes Carnival April 29 - May 9, 2021
PBR Velocity Tour Buc Days Chute Out April 30 & May 1, 2021, 7pm presented by Coastal Bend Chevy Dealers
Wings Over South Texas May 1 – May 2, 2021, 1pm
NavyArmy Night Parade & Parade Pachanga Sunday, May 2, 2021
Rodeo Corpus Christi presented by Miller Lite May 6 - May 9, 2021
May 6th, 7pm: College Night presented by Valero
May 7th, 7pm: Dia del Vaquero presented by Laredo Taco
May 8th, 7pm: Port of Corpus Christi Night May 9th, 3pm:
Military & First Responder Night Robotics Rodeo presented by CITGO May 8, 2021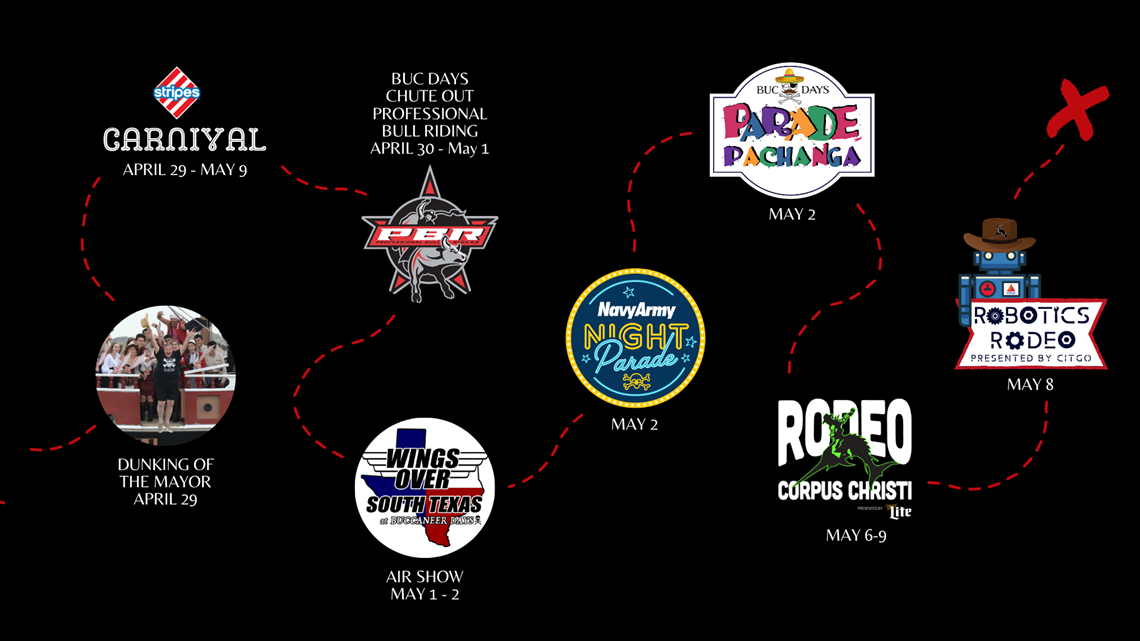 For the latest updates on coronavirus in the Coastal Bend, click here.
More from 3News on KIIITV.com: