CLAYTON COUNTY, Ga. — A special election will determine who will be Clayton County's top cop.
The special election was triggered as part of the fallout from embattled former sheriff Victor Hill. The four-term sheriff was suspended after his indictment, and then departed permanently after his federal conviction. A jury determined Hill violated the rights of six inmates in the Clayton County Jail.
Chris Storey, a longtime law enforcement officer with the Clayton County Sheriff's Office, said he's seen the agency take a turn and wants to course correct.
"I decided that I could be the best candidate because of my experience and my passion for my county," Storey said. "I have some moral character and honesty and integrity which is needed right now in the Clayton County Sheriff's Office."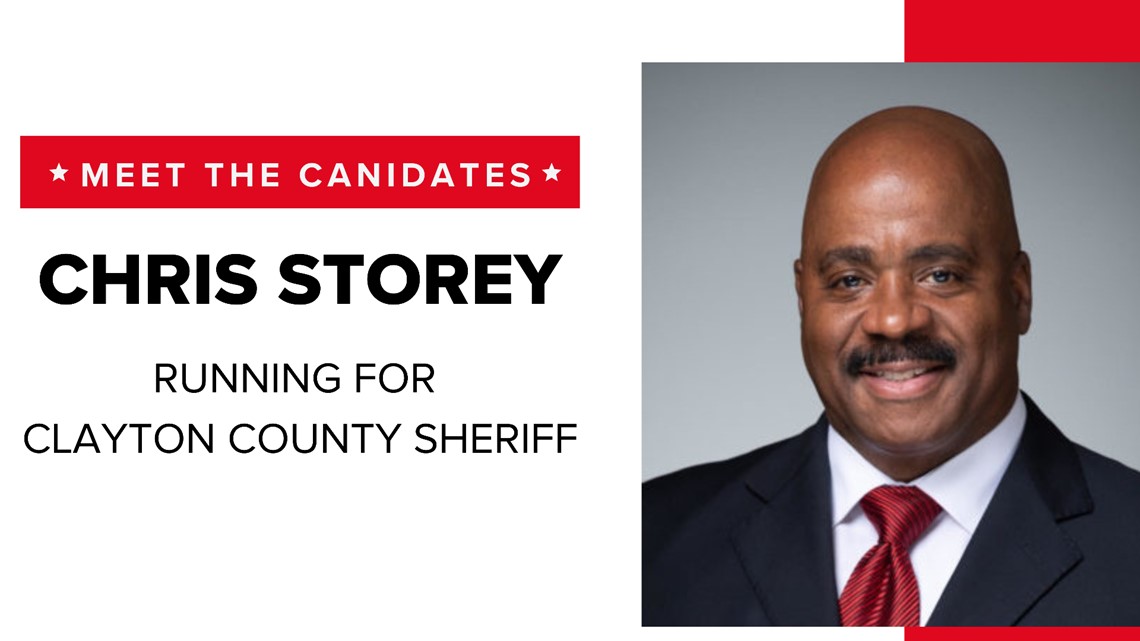 Storey has served in the office for more than 23 years, rising to the rank of major and commanding the field division and SWAT operations. He retired from law enforcement in August 2022 but sees this as an opportunity to restore integrity to an agency he says helped him discover his passion to serve.
If elected, Storey says his priorities are to address the jail, serve warrants that are contributing to the backlog, and inspire more community involvement.
Improving the Clayton County Jail
Storey said the jail is no longer serving its purpose and lacks transparency, describing it to be in distress.
"There is a lot of things that take place in this jail that the citizens of Clayton County don't know about," Storey said.
Hearing from community members, he's heard over and over again that families are concerned for their loved ones who are being detained.
"The jail is not for punishment," he said. "The jail is for housing and to hold safe until they make bond or go before a judge."
Beyond making it a safe place for detainees, he said the sheriff's office says it needs to do more for the staff.
"We've got to make sure the jail is safe for the employees that work in it," he said.
By improving conditions, the sheriff's office can improve staffing and ease community concerns.
Address unserved warrants backlog
When warrants aren't served, charges linger and consequences aren't faced, Storey said. That's why he wants to go back to serving warrants that kickstart the criminal justice process.
"The sheriff's office has taken the priorities that are not really necessary but we've got to get back to serving warrants," he said, calling it a crucial step to make the county safer.
Engage the community
Hoping to inspire more community involvement, Storey is looking at some of the county's youngest residents starting with the Explorer Post.
The program trains a group of teenagers as law enforcement officers. They're recruited to have a certain GPA and make at least a C average and compete against other law enforcement agencies.
"So we get a chance to test drive law enforcement," he said.
If all goes well, it can also help teens and their families build trust in the agency while building up their pride.
Storey says he hopes to bring more positive deputy presence onto local campuses as well.
"We're going to go back to networking within the schools so that we can kind of detour some of the behavior before it comes to us having to use law enforcement tactics in arresting teens," Storey said.
The sheriff's office can change its policies and clean up its jail -- but its relationship with the community is truly the key to running a successful agency.
"We have to get more community involvement," he said.
Because according to Storey, it will take the entire community to work with him to fight crime.
Learn more about him here:
11Alive is committed to helping you vote confidently by understanding who is running for Clayton County sheriff and how the election impacts you. Our goal is to educate and inform our audience about the election process. We plan to do that by verifying facts, providing context, and explaining the system while profiling each candidate. You can find our sheriff election guide here and get more election resources at 11alive.com/vote.