CLAYTON COUNTY, Ga. — Five candidates are vying for votes, hoping to offer stability and safety as the county's next chief law enforcement officer. Residents can vote between five candidates for Clayton County's next sheriff during the special election on March 21. Early voting is already underway.
The effort to become the county's top cop comes as part of the fallout for embattled former sheriff Victor Hill.
Veteran law enforcement officer Clarence Cox is hoping to be Hill's successor to clean up the sheriff's office and crime in the county.
"We've got to have some stable law enforcement," Cox said. "I've seen some things that I don't necessarily agree with in the sheriff's office and I feel it's time to make a change."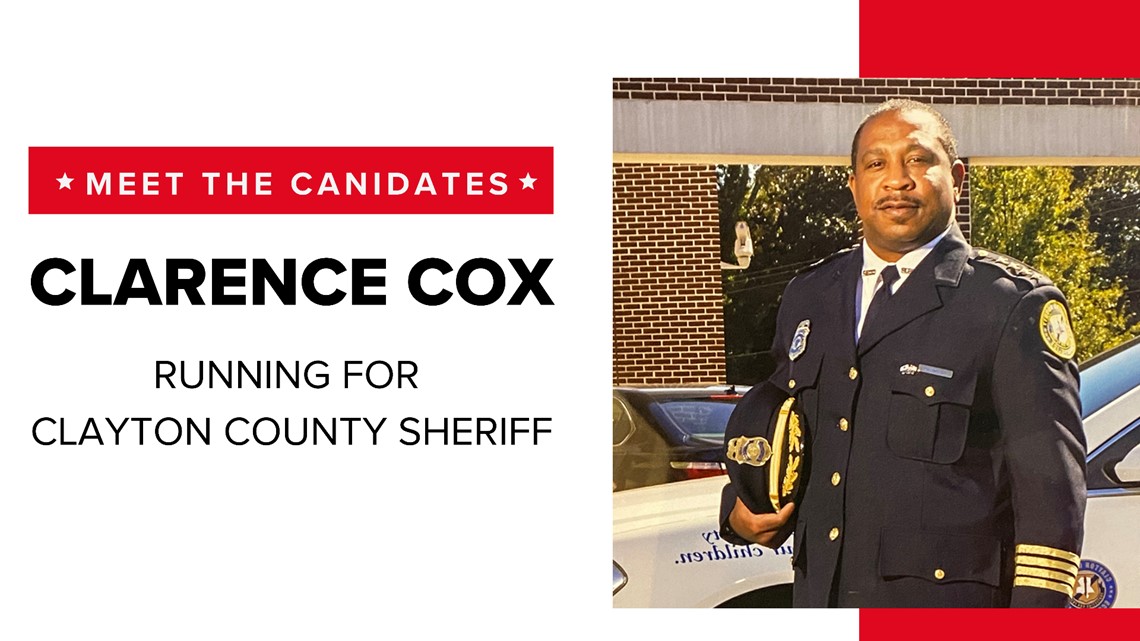 Cox started with the sheriff's office in 1982, according to his campaign website, and currently serves as the chief investigator for the Fulton County Solicitor General's Office. Throughout his 38-year law enforcement career he's worked his way through the sheriff's office ranks - retiring as a major, founding and leading the Clayton County Schools Police Department and working on various task forces with an emphasis on community involvement outside of serving within law enforcement agencies.
"I believe that in order to make a change, you've got to get involved. I have a passion for the community I live in," Cox said.
He said there are three areas he's hoping to improve:
Improving the Clayton County Jail
"I plan to make the jail a place that we don't have to concern ourselves with our loved ones when they're incarcerated," he said. "It's a detention facility and not a correctional institute."
Cox said he wants to reform jail operations. This could ensure the safety of detainees and staff. By improving jail operations, he said the sheriff's office can also regain some dignity.
"Everybody wants to know if I'm going to be tough on crime. I'm going to be tough, but I'm going to be fair," he said, adding that he will enforce state laws and policies that have already been established or establish them himself.
"I can enforce those by doing it the right way -- and not violating somebody's constitutional rights," Cox said.
Crime rate
When it comes to Clayton County's crime rate, Cox said it starts with warrants.
He is hoping to clear the backlog of unserved criminal warrants in the county, a trend the nation is seeing and now Clayton County is part of.
"The crime rate is up around the country, but specifically in areas where the outstanding warrants are not being served," he said. "Clayton County is one of those areas where we're not serving warrants and civil papers, the processes that are our constitutional duties as sheriff."
In serving warrants, he said this can put the justice system in motion and figuratively tie up suspects from committing more crimes.
Youth and community programs
Cox is committing to building a safer community for the county's youth.
"When I created the school police, I put on the front of the cars 'serving our community while protecting our future,'" he said. "We're no longer protecting our future. We've got no programs that are sustainable enough for these young folks to get engaged in and mentor."
That's why he wants to bring back the Explorer Program and potentially a junior deputy program.
Cox said the programs not only assisted with recruitment and retention efforts but community buy-in with law enforcement.
"I think we can build a better community, a better department with pulling from our community because 21st-century policing dictates your agency looks like your community," he said.
11Alive is committed to helping you vote confidently by understanding who is running for Clayton County sheriff and how the election impacts you. Our goal is to educate and inform our audience about the election process. We plan to do that by verifying facts, providing context, and explaining the system while profiling each candidate. You can find our sheriff election guide here and get more election resources at 11alive.com/vote.