CLAYTON COUNTY, Ga. — Five law enforcement veterans are hoping to become Clayton County's top law enforcement officer.
Voters can make their pick for sheriff during the special election on March 21. Early voting is already underway and the race for sheriff is heating up.
The special election is a consequence of embattled former sheriff Victor Hill. The four-term sheriff was found guilty of violating the constitutional rights of six inmates, the federal trial overshadowing sheriff's office operations and bringing scrutiny to the agency for years.
Dwayne Fabian believes he can work through the scrutiny and serve his neighbors in Clayton County.
"This is my calling," he said. "I've given the citizens of Georgia 31 years of my life -- my job is not completed, it is not done."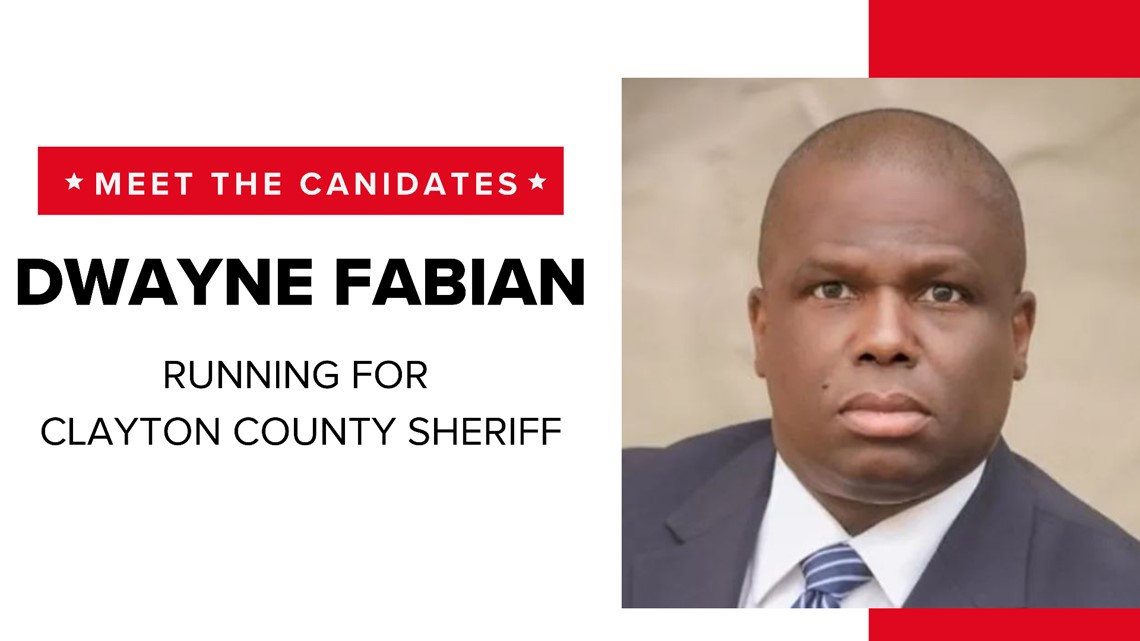 Fabian is a retired trooper. He served 20 years in the Georgia State Patrol, and before patrolling the state's highways he was a police officer in Savannah.
After retiring, he's been active in his church and in community service organizations. He knows firsthand the concerns the people of Clayton County have and believes he can ease their worries.
"Our mothers, our grandmothers, our seniors shouldn't have to feel fear of going out of their house, their homes, and be accosted by an individual or an assailant," he said. "I am here to fight the crime that is plaguing this community."
He says his platform is simple.
"It's about law and order, fighting crime and the safety of citizens," Fabian said.
If elected, he wants to roll out his plan to restore integrity to the Clayton County Sheriff's Office.
Restore law and order
It begins by emphasizing that the sheriff's office is an authoritative force and violence won't be tolerated.
"That's going to be right out the gate," he said.
This will be accomplished by taking a closer look at how the sheriff's office is spending its money. Fabian intends to reduce wasteful spending and focus funds in hiring more deputies and detention officers to make the sheriff's office a true force.
Improving the integrity of the sheriff's office and its credibility, he believes, will further build trust in the community.
Clearing unserved criminal warrants backlog
Restoring law and order will also happen if the sheriff's office addresses its backlog of warrants that have yet to be served, according to Fabian.
He wants to arrest criminals that he says are just walking around the streets and let them know there is no safe haven in Clayton County.
"We are going to go in with everything, with all forces, to get these criminals off the street, all the ones that have been backlogged in the system," he said.
Fabian believes the sheriff's office can restore some of its credibility by not letting criminals escape. In kickstarting the judicial process by serving warrants, he believes he can make the community a safer place.
Clean up the jail
Fabian wants to clean up the Clayton County Jail - literally.
"We're going to sweep that jail from the front to back, top to bottom, remove any type of shanks, drug paraphernalia, cell phones, get the job back where it needs to be - under control," he said.
This won't just be a sheriff's office effort, Fabian plans to call in reinforcements.
"We have a problem with our jail," he said. "I'm going to partner with the Georgia Department of Corrections; I'm going to ask the commissioner of that department to bring in a CERT team."
With the extra help, he believes he can make the jail safer for anyone who has to interact with it.
"That goes for the employees, that goes for the detainees because all of them have a right to be protected under my watch," he said.
11Alive is committed to helping you vote confidently by understanding who is running for Clayton County sheriff and how the election impacts you. Our goal is to educate and inform our audience about the election process. We plan to do that by verifying facts, providing context, and explaining the system while profiling each candidate. You can find our sheriff election guide here and get more election resources at 11alive.com/vote.