CLAYTON COUNTY, Ga. — Voters can now choose who they want as Clayton County's top law enforcement officer and there are five people working to convince residents that they're the best man for the job.
The race to become Clayton County's next sheriff will be decided in a special election on March 21 and early voting is already underway.
This election comes as part of the aftermath of former sheriff Victor Hill's federal trial. Hill served four terms as sheriff before he was found guilty of violating the rights of six inmates while they were under his supervision in the jail.
Terry Evans is on the ballot. He says Clayton County deserves better.
"There's a situation where the citizens in court made a decision and we're forced to deal with change," he said. "And change should be better. It shouldn't be the way it was. I think I bring something better."
Evans has made it clear that its time for the community to move past the turmoil Hill brought to the sheriff's office and county.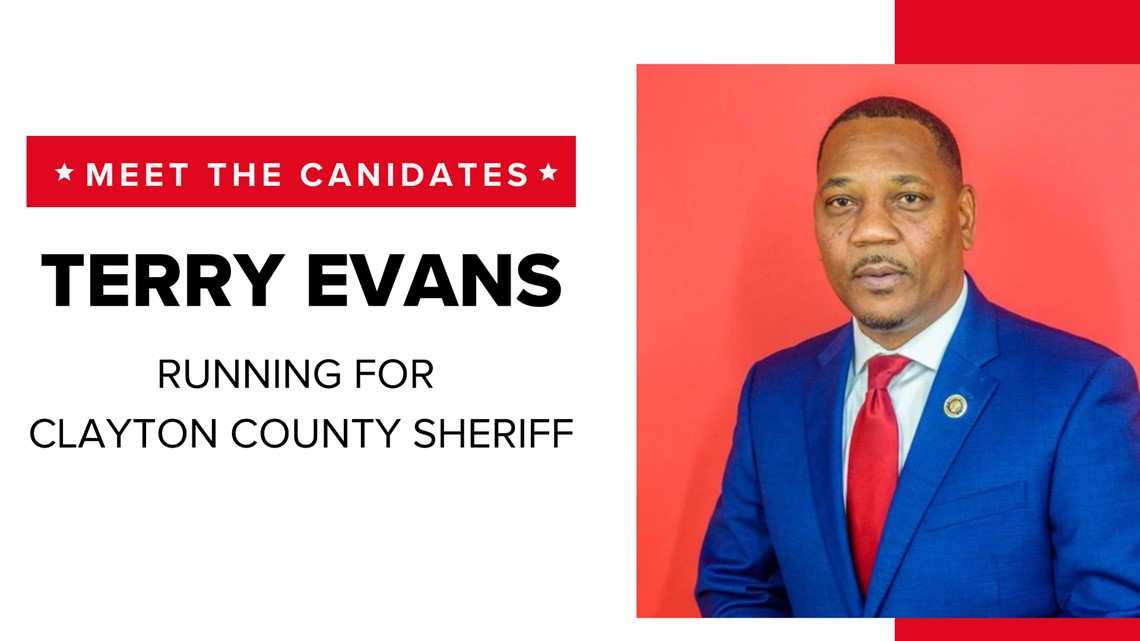 A U.S. Marine and combat veteran, Evans worked for the Georgia Department of Corrections for seven years before working two decades within the Clayton County Sheriff's Office.
Evans worked under three sheriffs and was part of the command staff and a major when he resigned in 2021. With his rank, he oversaw the jail, deputies in the field and clerical staff.
"I pretty much supervise everywhere," he said. He intends to bring those skills to improve the sheriff's office and make sure staffing and training is up to par, he added.
When asked about his priorities, he said they surrounded two issues community members continue to bring up: crime and youth.
He said it's tough to address when the sheriff's office is understaffed and undertrained. Evans said this puts jailers at risk while criminal gangs grow.
He intends to address those concerns in the following ways:
Arresting and prosecuting gang members
Georgia has a gang issue and Evans wants to prosecute members who commit violent crimes, he said on his website.
Organizations can organize crime and this is why Evans wants to prevent gang presence from growing. He believes in arresting and prosecuting those in the community that are causing harm.
Early intervention to save at-risk youth
"I've had the opportunity to work in all of our units that dealt with the youth," he said.
He believes by focusing on at-risk youth can prevent gang recruitment and redirect promising talent to realize their full potential.
Evans, on his website, said he believes by cracking down on truancy, violent gang crimes and treating youth with respect could help keep young people off the streets.
Improving the Clayton County Jail
"I've seen the jail run properly," he said. "The jail is there because there's a judicial process that has to happen. You're not there to harm anyone."
He said this is where his value of respect also comes into play.
"You're there to treat people properly and give them what they require and what they need," he said. "And in the midst of that, allow their families have access to them."
As a former correctional officer and commander, he said the jail is going to be a priority.
He plans to bring in professional command staff office-wide and believes it will have a trickle-down effect on all departments.
"And we're going to train them," he said. "We're going to train them to be the best that they can be so they serve the people."
Independent audit of the spending at the sheriff's office
Evans said his first order of business if elected sheriff would be to give the county an opportunity to audit the sheriff's office.
"We got to do an audit," he said. "We got to allow the county to say 'hey everything is good with the funding' and things of that nature due to some of the reports that's been put out."
The sheriff's office can change course according to what is found in the audit and help earn trust and credibility in the community again.
"If you have an open door, then people don't think that you're doing something behind the scenes," he said.
11Alive is committed to helping you vote confidently by understanding who is running for Clayton County sheriff and how the election impacts you. Our goal is to educate and inform our audience about the election process. We plan to do that by verifying facts, providing context, and explaining the system while profiling each candidate. You can find our sheriff election guide here and get more election resources at 11alive.com/vote.